70 Scrap Wood Projects to Make with Leftover Wood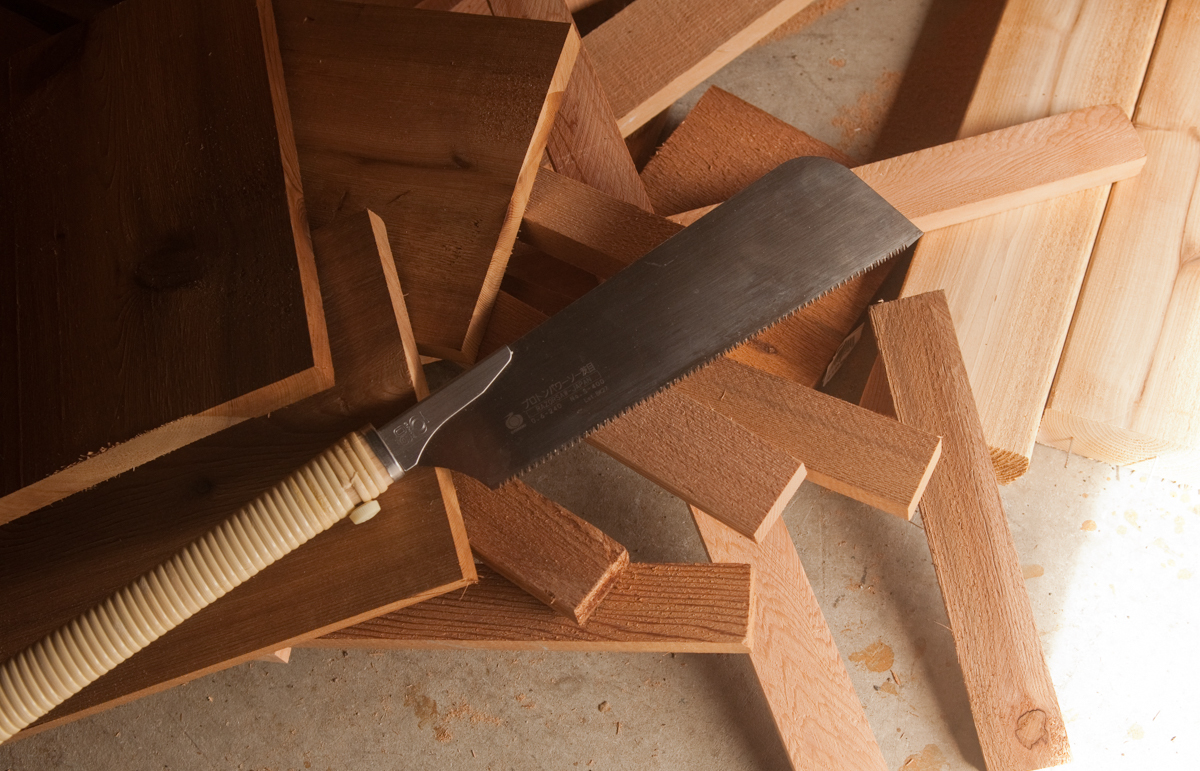 From every project I've ever made, I always have a small amount of leftover lumber or scrap wood from cuts that needed to be made. I have a feeling that I'm not alone in that category. Many times, those small pieces or scraps sit in the bottom of my woodpile for months or even years until I find a need for them. Eventually, I'll work on a project that needs a small piece of walnut, oak, pine, etc. and that's when I am thankful I kept those small pieces of lumber. It's a great way to minimize waste and get the most out of the wood that you purchase, maximizing efficiency.
There are simple and functional projects that can be done without a large time commitment. These beginner woodworking projects make great use of your scrap lumber. Here are 70 of the best things to make out of scrap wood.
1.) Mountain Wall Art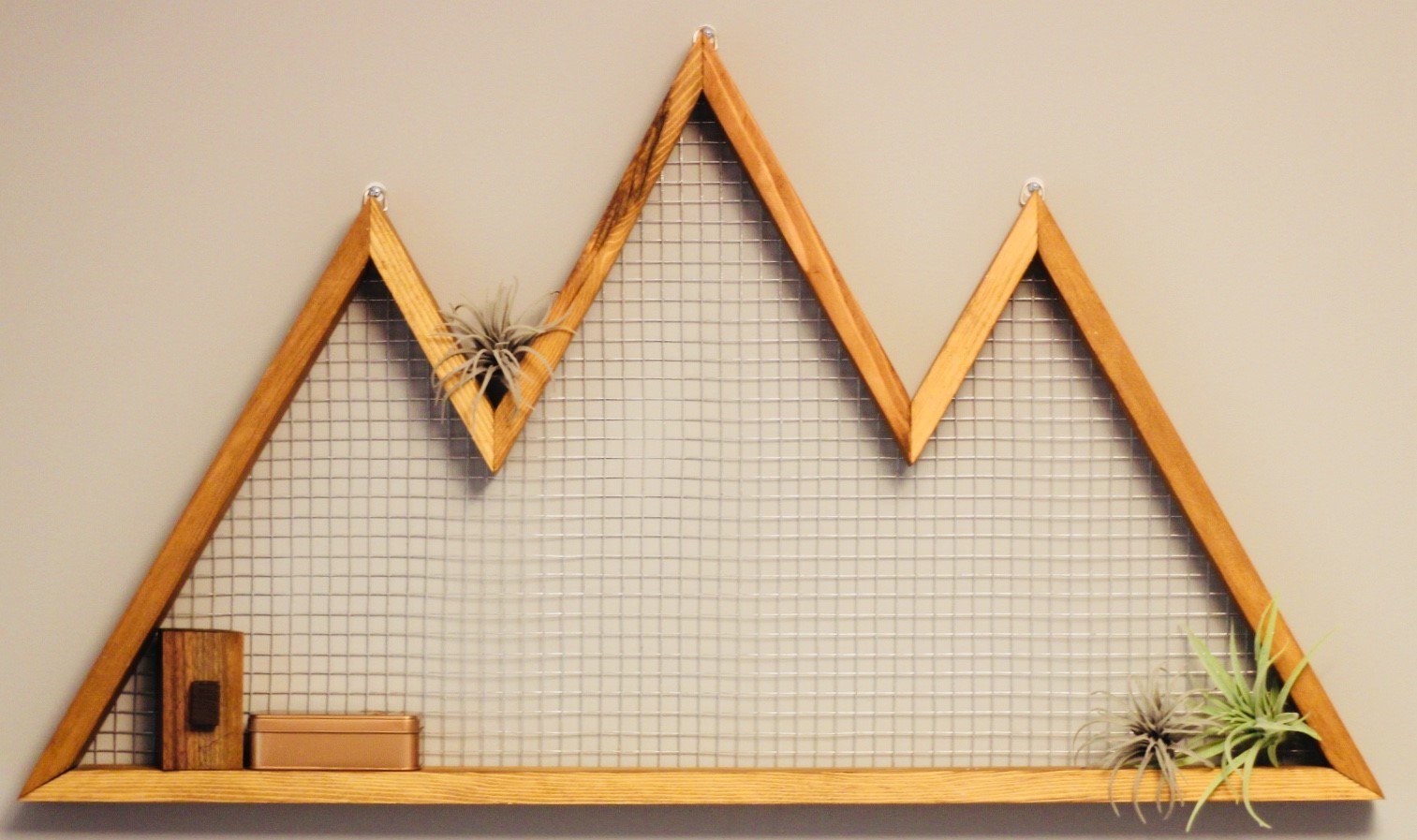 I built this mountain wall art project with leftover pine from the dining room table I made last summer. This entire project was about 1 1/2 board feet of pine and can easily be completed in an afternoon.
2.) Scrap Wood Coasters
Making a wooden coaster set can be done in under an hour. Not only do they stand out as a beautiful accessory to your table, but they also protect that table. If you have a dining table or coffee table that you built yourself or just a table that you love, you'll want to protect it with a set of quality coasters.
3.) Scrap Wood Cutting Board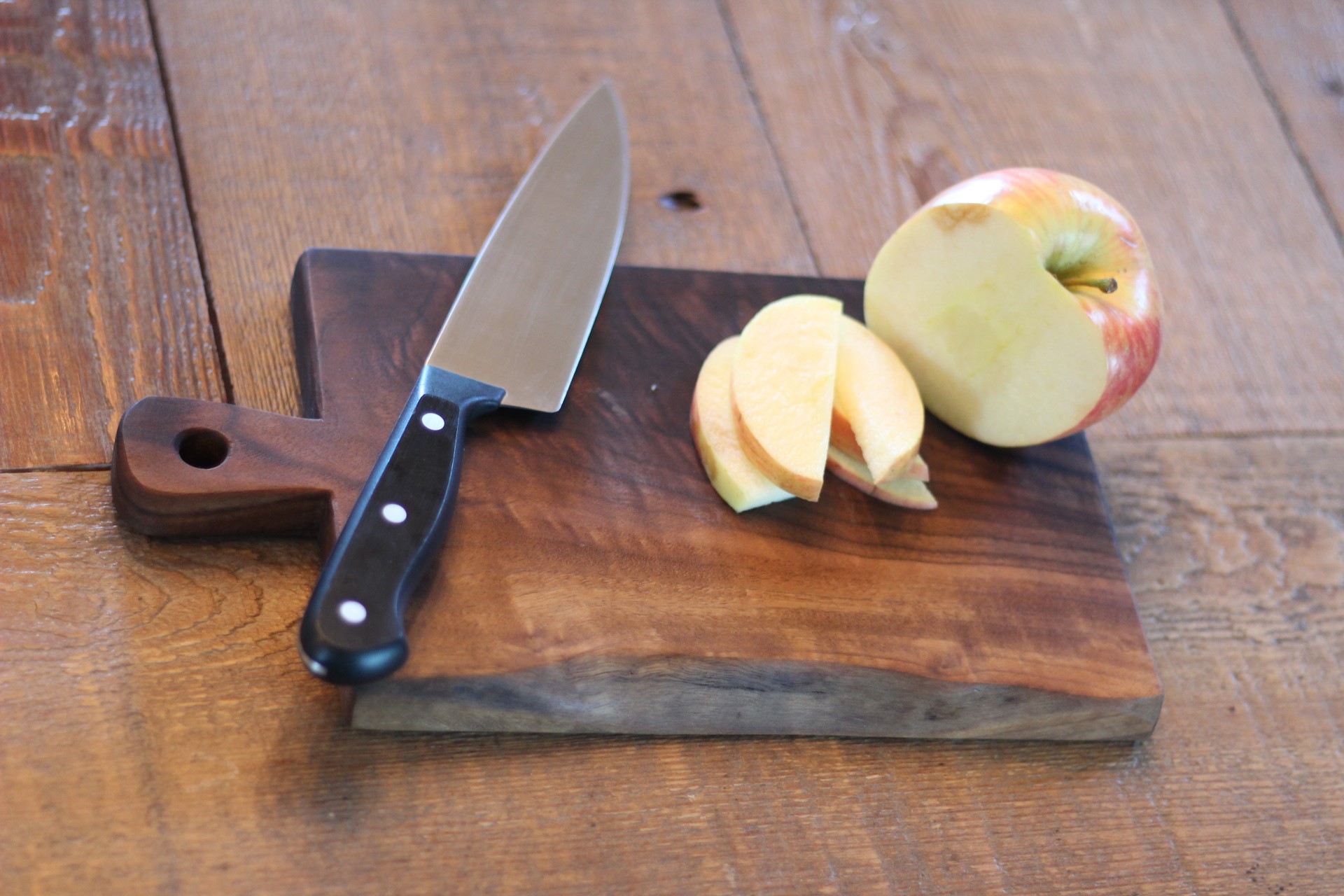 A wooden cutting board or serving tray is an easy project that can be completed in one afternoon. If you have a board foot or so of scrap hardwood laying around, this is a great project or a cool gift.
4.) Handmade Cribbage Board
With a small piece of scrap lumber, you can easily build a handmade cribbage board. You create a cribbage board with a drill press, cordless power drill, or hand drill. You also purchase a small cribbage board template that will make your board look like it was professionally done. No surprise this also makes an excellent woodworking project that you can make and sell.
5.) Handheld Bottle Opener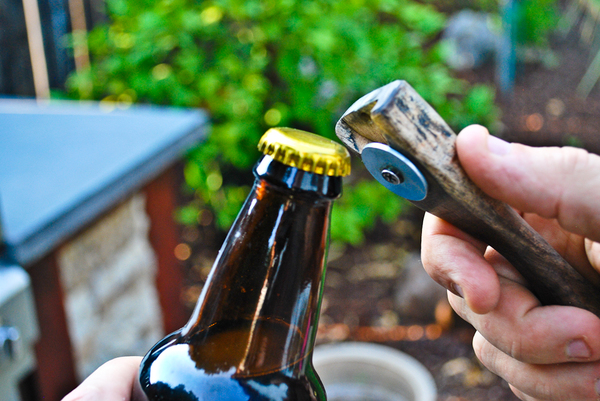 There is always a need for a handheld bottle opener around the house. This custom bottle opener is a simple tool that can be used every day and everyone at your party will love it.
6.) Simple Chisel or Hand Tool Organizer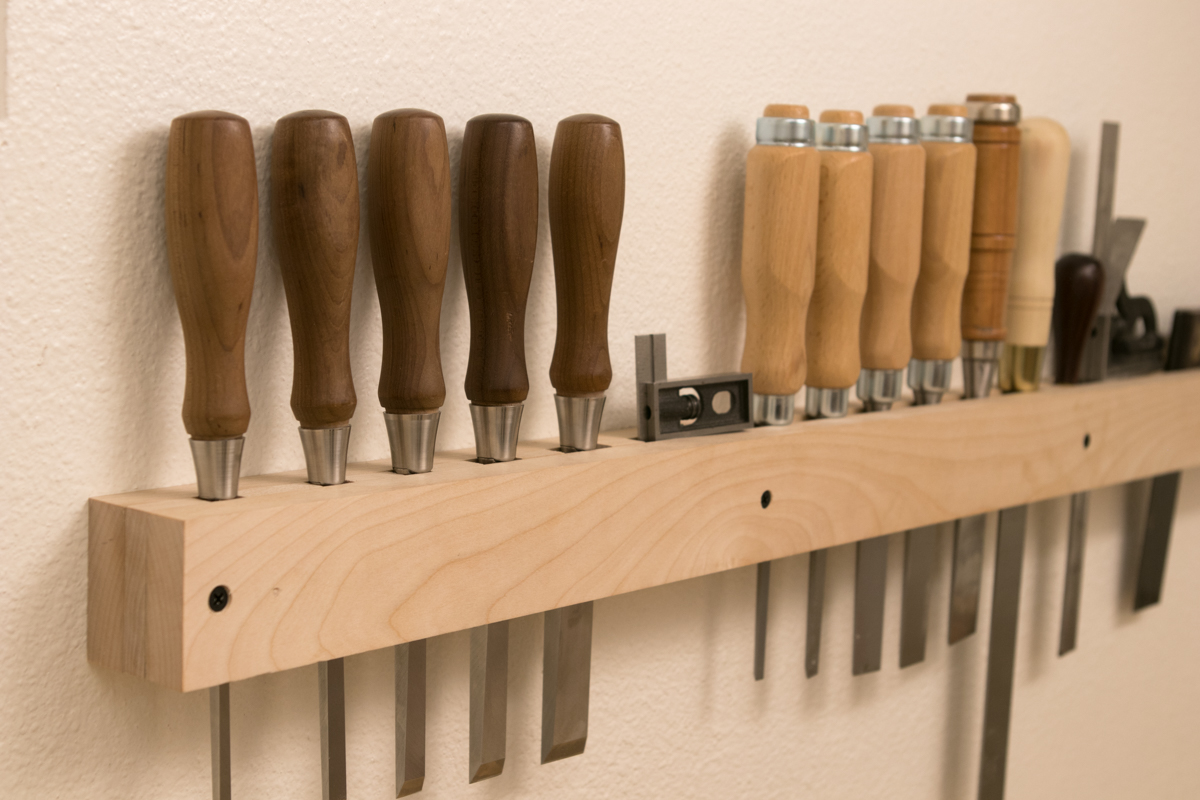 Have some long cutoffs that are just too skinny to make anything else from? Attach them to the wall to organize your hand tools. This chisel holder is nothing more than two lengths of scrap wood separated with a few spacers. They're screwed (and not glued) to easily adjust or add dividers.
7.) Floating Shelves
You can make these floating shelves with leftover 2 x 4s and scrap pine. Each shelf can be completed in less than an afternoon and they can be stained to match any existing wood in the room.
8.) Smartphone Speaker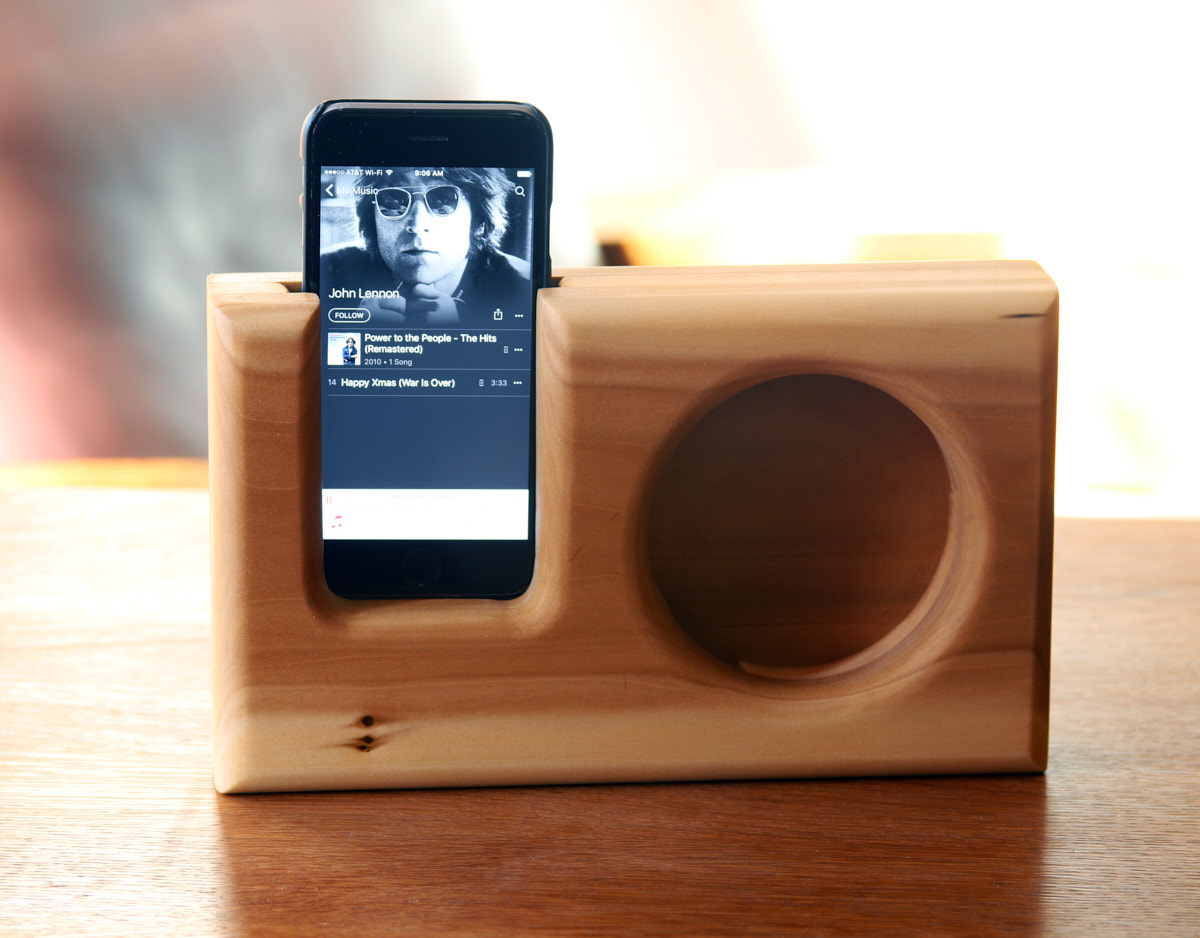 There are hundreds or even thousands of tutorials available online to help you make a speaker amplifier. There are varying levels of difficulty, but each of the speakers can be built from your scrap woodpile. Depending on how extravagant you go, this smartphone speaker can make a great gift for woodworkers.
9.) Scrap Wood Candle Holder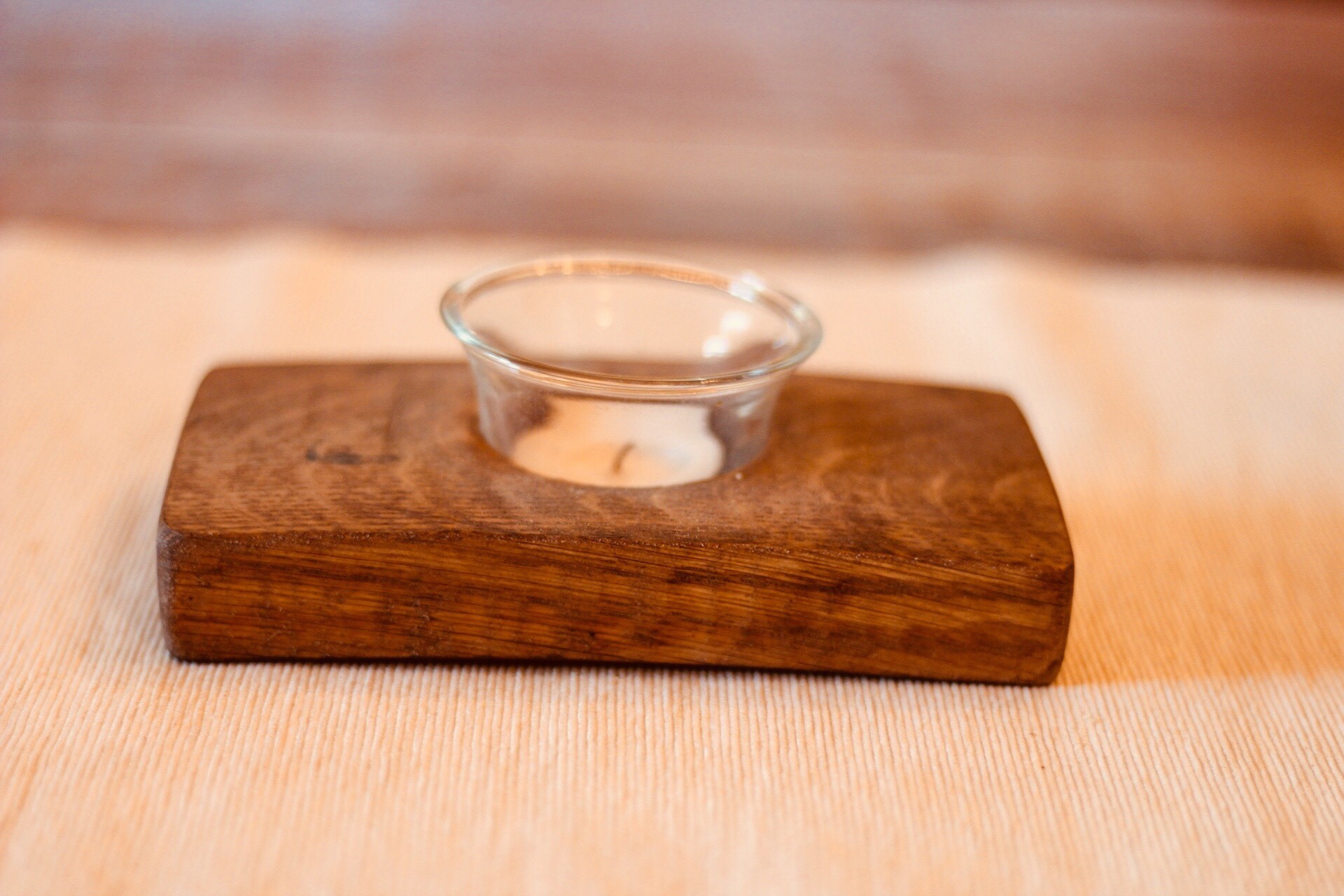 You can find tea light candles for less than $5. With a piece of scrap lumber and a large drill bit, you can quickly make a stylish candle holder.
10.) Smartphone Charging Block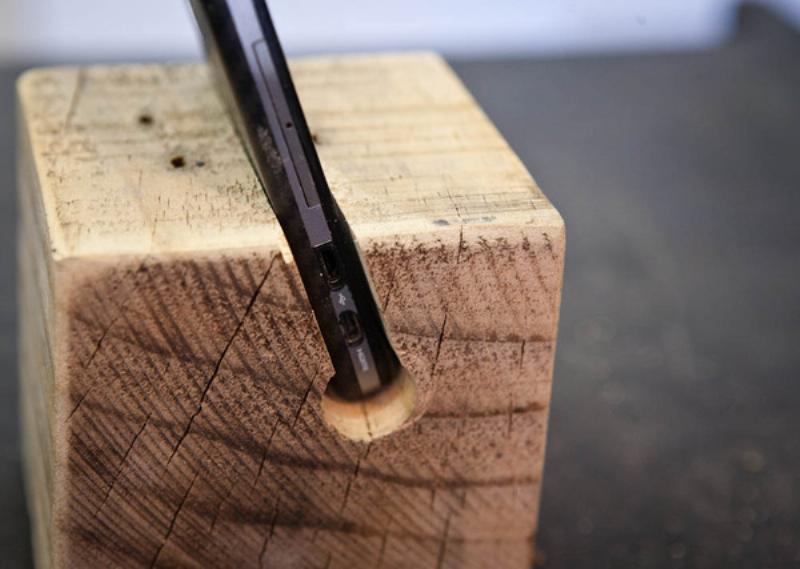 A leftover pallet spacer becomes a simple and rustic way to charge your phone.
11.) Hexagon Wall Planter
Planters are one of the most commonly-made projects using wood of any kind. That is because they are relatively straightforward to make. With a few simple angled cuts, creating a hexagon wall planter or two can be a great way to make the most of that scrap wood. They are easily customizable as well all it takes is your favorite stain or paint to create the kind of look that suits your style.
12.) Rice Knife Block
There are more complicated knife blocks out there than this one. The beauty about a project of this nature is that it can be just about anything you want it to be. The purpose of making it a rice knife block is two-fold. The first is that it is easier to simply make a rectangle shape without having to cut differently-sized holes. The second is that the rice, if properly packed, can provide a gentle spot for the knives to sit. All for a simple, easy project.
13.) Magnetic Wooden Shelf
Wooden shelving is all too common for woodworking projects. Sometimes, with a little bit of creativity and scrap wood, you can do a bit more than that. By implementing a few magnets, you can create a magnetic shelf that is great for holding items like razors and scissors in place. All it takes is a little wood, a few magnets, and some glue to create a simple but effective magnetic shelf.
14.) Bath Table
There is nothing quite like kicking back and relaxing in the bath. Even better when you can do so with a glass of wine, a book or your favorite tablet, and enjoy the quiet. All of that can be simpler and more convenient with the help of a bath table! It is one of the simplest projects out there and great for those pieces of scrap wood that you aren't quite sure what to do with.
15.) DIY Luggage Rack
Luggage can be cumbersome unless you have a designated space to keep it. But even then, it can wind up crammed in some hard-to-reach spot that is a pain to access. So, why not create your own luggage rack to hold it all? With a little bit of scrap wood and a few pieces of leather, you can have a luggage rack that can hold up to most luggage sizes simply and stylishly.
16.) Raised Plate Shelf
Keeping dishes organized can be a pain if your cabinets don't quite accommodate. When it comes to larger cabinets, organization can be downright impossible. Unless, of course, you implement a raised plate shelf. It is a great way to create separation for your plates and bowls, with the plates sliding effortlessly underneath. Great for creating compartmentalization in your cabinets.
17.) Spice Rack
Any kitchen that gets used fairly regularly has a fair amount of spices. Storing them in cabinets can get unruly and make it difficult to find what you are looking for. That is why using scrap wood can be great for making a spice rack to house them all. Even better, you can get creative in the design to make each spice more easily accessible and still fit the aesthetic of your kitchen.
8.) Desk Planter/Card Holder
There are a ton of DIY planter projects out there. After a while, they can all start to blend together. So, why not get the most use out of your desktop planter by making it into something more? This planter is more than a planter: it is a planter and card holder as well. It is great for maximizing space while still implementing a little bit of nature into your work or study area.
19.) Decorative Sign with Storage
There are a ton of those generic, store-bought signs that all have the same message. After a while, it can be tiring and you just wish that they would say something original. Well, why not make your own sign using scrap wood instead? Whether it is a family name, a quote that has stuck with you, or some other kind of art or message, the possibilities are endless.
20.) Wall Hooks
Having smaller bits or chunks of scrap wood can be difficult to repurpose unless you really think outside the box. Thankfully, those chunks of scrap wood can be repurposed into something totally practical. Wall hooks can be left in their square form or cut down into a shape that serves a better purpose for your needs. They are simple but highly effective, making for a great DIY project.
21.) Hanging Plant Holder
Planters have been done before and sometimes you don't necessarily have enough scrap wood to do something more comprehensive. So why not go a bit simpler and make a hanging plant holder? All it takes is a piece of scrap that has been cut evenly, a few holes, and some rope to create a simple but effective plant holder. Great for accommodating different planter sizes, too.
22.) Modern Pencil Holder
The pencil holder has been done quite a bit as well. Still, if you are looking to make the most out of your scrap wood, there are few projects as simple yet creative as this. You can make a more modernized pencil holder, something that has a little more style and flash to it than the classic rectangle pencil holder. Get as complex and creative as you can with smaller amounts of scrap.
23.) Chalkboard Menu
If you are looking for something to do with that scrap wood, look to the kitchen. There are so many uses for DIY woodworking projects that you will be able to find something in no time. A functional way to use scrap wood is to make a chalkboard menu. You can create a style that suits your needs all while being able to plan out the meals for the week. Practical and stylish all in one.
24.) Marble and Wood Cutting Board
One of the most common issues with using scrap wood is that there may not be enough to take on an entire project. Surely that means tossing the wood in the trash, right? Well, with a few pieces of wood and another material like marble, you can create a cutting board that looks different than all of the other woodworking cutting boards out there.
25.) Plywood Arch Mirror
Plywood is one of the cheapest and most abundant materials there is. So, it only stands to reason that there would be some leftover after a recent project. The good news is that with a little bit of finesse and some radial cuts, you can create an arched mirror. It can make for a great vanity mirror, smaller in stature but a perfect use for scrap plywood.
26.) Square Napkin Rings
Perhaps the simplest project on this list but it is effective no less. Having smaller blocks of scrap wood can mean being limited in what can be done with it. If you are really trying to stretch the most out of your scrap, drilling through the center and creating square napkin rings can work for you. Super simple yet effective.
27.) Wooden Lap Desk
In this day and age, fewer and fewer people are sitting at a desk to get their work done. They are looking to take their laptop all around the house to find greater comfort and flexibility. But still, it helps to have a flat work surface. That is why creating a lap desk can be just what the doctor ordered. Even better, it can be customized for size and you can add things like cupholders or a pen holder if you wish.
28.) Picture Ledge
Many want to keep their cherished memories as close to them as possible. While it would be fun to post pictures on a headboard, there just isn't enough surface area. So, why not create a picture ledge using a few pieces of scrap timber? Another simple yet effective project, it can be as simple or ornate as you want it to be.
29.) Rustic Blanket Ladder
If you live in a colder climate, blankets are a must. But keeping them readily accessible without looking thrown about can be a tough task. Baskets are fine, but getting to the blankets at the bottom can be a task. This is why creating a rustic blanket ladder out of scrap wood can fit your needs. It is rustic chic while also providing easier access to the blanket you want.
30.) Hanging Shelf
Shelves can all blend together after a while. But with a little bit of a creative touch, you can have a shelf that stands apart from the rest. A hanging shelf can be simple to create with a plank of wood and a few pieces of tough, tensile material. Instead of having to use nails and ensure that everything is level, all it takes is a nail to have a beautiful hanging shelf that you can move easily.
31.) Aztec Wall Art
Whenever you have scrap wood available, getting creative with it can be the best use. Sometimes that means creating local cultural art. Whether that be Aztec wall art or something local to your area, you can adorn your home with a beautiful, artistic touch. The designs can be as simple or as ornate as your desire or skill level accommodates.
32.) Scrap Wood Houses
There is something to be said about simplistic woodworking projects. Whether you are just starting out or simply hate the thought of leaving scraps, creating scrap wood houses can be a quick and effective way to make the most out of that scrap wood. The woodworking part is simple and you can get as creative as you want with stains, paints, and decorations as well.
33.) Vertical Wall Garden
A lot of these DIY projects are about space utilization. There are some things that we want in life that we may not have the room to accommodate without the proper ingenuity and creativity. If you want to have a garden but don't have the space in the yard, why not build one on your wall? Create different-sized planters and before long, you will have a vertical wall garden you can be proud of.
34.) Wooden Coasters
Simplicity can go a long way, especially when it comes to DIY woodworking projects. Even though wooden coasters have been done time and again, it is a great way to make the most of scrap wood. Depending on your creativity and skill level, they can be cut into any shape and adorned with any design that you want to apply. A quick, easy project for making the most of that scrap wood.
35.) Rustic Serving Tray
More and more DIYers are looking to create their own rustic treasure. Thankfully, with a little bit of scrap wood and the right stain, you can make a rustic serving tray quickly and easily. As you can see with a good many of these projects, customization is key. Being able to make a serving tray that doesn't have strict dimensions or cuts can be hugely valuable, especially for beginner woodworkers.
36.) DIY Yard Dice
Let your creativity shine through! Not every woodworking project has to be the most practical thing in the world. One way to make the most out of that scrap wood can be by creating DIY yard dice. The cool thing is that they can be made to any dimension, meaning you can use smaller chunks or scrap or slightly bigger boards to essentially build a box for larger dice.
37.) Raised Dog Feeder
More and more people have pets these days and they treat those furry friends more like furry family members. That means wanting the best for them and that may not be something you can find at a pet store. For practical purposes, giving them a raised dog feeder can mean easier access to their food and water while also giving purpose to that scrap wood you had laying around.
38.) Tiered Plant Stand
There are more than a few projects on this list that are actually quite simple despite looking quite a bit more complicated. The tiered plant stand is one of those. With the right adhesive and a few smaller tiles of wood, you can create a simple but effective plant stand that contains as many tiers as you want. Great for adapting to different-sized living spaces.
39.) Bathroom Shelving
Storage in the bathroom is oftentimes at a premium. There are a variety of ways to get that and often times it comes in the form of shelving. Having scrap wood means being able to create simple bathroom shelving that is tailored to your needs. Being able to keep things like cotton swaps, toothpaste, and other simple bathroom items has never been easier.
40.) Wooden Canvas for Painting
When it comes to paintings, we tend to think of painting on canvas. But what if you could use the scrap wood around your workshop to create a wooden paint canvas? You can experiment with different types of paint to create an abstract masterpiece that you can proudly hang in your home. One of the simplest and most creative ways of making use of scrap wood.
41.) Wood and Copper Candlestick Holders
Thinking outside the box, simple woodworking can be combined with other materials and design elements to create something really cool. That is where wood and copper candlestick holders come into play. All it takes is a simple block of wood drilled out to accommodate the copper holder. From there, the candlesticks can be changed out when they have been exhausted while maintaining the simple but cool holder.
42.) Folding Cupcake Stand
Who doesn't love cupcakes? If you like to bake in your home but don't quite have the room to accommodate a bunch of cupcakes, think again. With a folding cupcake stand, you can have a simple, practical, stylish cupcake stand ready for the occasion. Even better, it can fold up for easy storage so that it is out of the way until it is next ready for use.
43.) Cookbook Stand
Getting busy in the kitchen can be a fun endeavor, but counter space limitations can make things more difficult. Instead of wasting a ton of counter space on a cookbook, why not create a cookbook stand instead? Not only can you save a little space, but you can also keep your cookbook from getting coated in flour, spices and any other cooking ingredients you may be using that day.
44.) Wall-Mounted Coat Rack
Simplicity and practicality can be achieved in one project. No matter where you live, a coat is going to come in handy at some point. Where a closet is not available or convenient, a simple but effective wall-mounted coat rack can go a long way. The hooks can also be made of wood or can be simply purchased at a local hardware store and screwed into the board.
45.) Fawn Print Serving Board
Yes, a serving board was covered above but this is simply too cool a design to ignore. Having a serving board can be highly useful, especially if you like to entertain. But when cool designs can be implemented, it makes the entire project more fun. With a little bit of scrap wood and some paint, you can create a fawn print serving board that is both fun and rustic.
46.) His & Hers Key Rack
Losing keys is a very real and very regular part of life. Thankfully, with a little bit of creativity and scrap wood, that can be remedied quickly. Creating his and hers key racks is a cute way to create a solution to the lost key problem while also making something that represents each person in the relationship. It can be customized to show off personality and create something totally unique for the home.
47.) Wood Embroidery
With a little bit of time, a drill, and a rounded piece of scrap, you can create one of the most unique woodworking projects out there. Creating wooden embroidery is a lot easier than it may seem on the surface. All you have to do is draw out the pattern, drill the appropriate holes, and thread the string or yarn through. It takes embroidery to a new level.
48.) Wall Installation
If you have a lot of scrap wood pieces and aren't sure what to do with them, consider making them into a larger project. Sometimes a wall could do with sprucing up and there is no better way than creating a custom wood wall installation. You can use the same type of wood if you choose or mix it up and implement different types of wood. It is highly customizable and easy to do.
49.) Indoor Herb Garden
There is nothing quite like growing your own herbs, fruits, and vegetables. For those living in smaller spaces, like an apartment, it may seem impossible due to the space limitations. But with an indoor herb garden, you can utilize your space to grow fresh herbs to use in your kitchen. Even better, it takes a few pieces of scrap and some elbow grease to make happen.
50.) Wooden Doormat
As you can see from this list, the limits are only your imagination. The more creative you want to get, the greater the possibilities are. Having scrap wood can mean creating something like a wooden doormat, for instance. It is another project that can tailor to skill level, as it can be done simply or entail some engraving work to create custom designs and wording.
51.) Tall Planter Stand
The cool thing about planters is that they are pretty versatile. With a little bit of creativity, you can do something different than the norm. If you need to keep your planter up and out of the way of children or pets, what better way than a tall planter stand? It can act as low storage or be simply done to keep your planter up and away from prying hands.
52.) Wooden Letter Board
For couples and families, there can be fun little ways of giving someone you care about attention. Leaving notes is one of those ways, but there are more creative ways than pen and paper. For instance, with a wooden letter board, you can create custom messages to be displayed for others in the home. Not only that, it can test your ability by cutting the various letters if you want.
53.) Laptop Desk Stand
Organization is paramount when working at a desk. It is all too easy for things to get cluttered and misplaced. Sometimes, with a little bit of ingenuity, more space can be created. Like when using a laptop stand. Whether you work from the laptop or plug it into a dock, keeping it up and out of the way can be a great way to maximize your desk space.
54.) Candle Lantern
There is a focus on simplicity on this list and for good reason. But sometimes it is cool to go more ornate and creative, like with this candle lantern. Though it takes a bit more skill to pull something like this off, there is nothing like having it adorn a wall in your home and provide that rustic look that so many homes covet.
55.) Pallet Charging Station
Finding a balance between modern convenience and simple rustic can be a balancing act. Not everyone likes the ultra-modern aesthetic. That said, there are modern conveniences like smartphones that can't be ignored. So, why not combine the best of both worlds into a pallet charging station? That handmade look combined with modern amenities comes together in the perfect package. Have more pallets laying around? Check out our list of the best DIY pallet projects.
56.) Wood Clock
Though most of us probably check the time with our smartphones, there is nothing quite like having a clock adorning your wall. Instead of buying a cheap plastic and metal thing at the store, make your own. A wood clock can be as simple or ornate as you want and finding battery-powered clock components is both cheap and easy, too.
57.) Wood Photo Block
The beautiful thing about woodworking is that it can be what you want it to be. Sure, it takes the requisite skill to pull off the more complicated endeavors, but generally speaking, you can make what you can think of. When it comes to making use of scrap wood, a wood photo block is both simple and practical. No better way to show pictures of loved ones than with something you created.
58.) Magazine Rack
Though magazines are becoming less and less common these days, every home no doubt has a need for mail, magazine, or book storage. The good news is that with a little bit of scrap wood, you can create a simple magazine rack to accommodate. Even better, it only requires a few pieces of scrap to create something basic that serves its purpose in your home.
59.) Tiered Stand
Similar to the tiered plant stand in a lot of ways. The only difference here is that it isn't housing plants. You can do a vertical tiered stand that houses small plates and cups or even act as a little garden bed if you so desire. The possibilities are endless but it starts by building a couple of rectangular boxes and anchoring them to a central wooden rod. It is a perfect piece for rustic homes.
60.) Under Desk Footrest
Working at a desk for long periods of time can be uncomfortable. Sometimes all it takes is to bend the knees a little and get the blood moving. This simple DIY under desk footrest can be great for getting your feet up and sitting comfortably at your desk. It requires a few planks of wood and then two angled pieces to complete; stain it if you are feeling particularly adventurous. The entire endeavor should take no more than a half-hour for even the most novice of woodworkers to complete.
61.) Children's Bookshelves
This is very similar to the magazine rack but it typically involves a more neural stain. That said, creating children's bookshelves – not a bookshelf that stands alone – can be a great way to store away those books that seem to get everywhere. Even better, you can create more than one to adorn the walls, providing as much storage space as you can accommodate. The simple nature of this shelf also makes it the perfect woodworking project for kids.
62.) Dice Tray
Playing games is a great way to pass the time and enjoy the company of others. There are plenty of dice games that one can play, but the trick is having a space to use them. And far too often, dice have been known to bounce and roll off of tabletops. This is why a gaming dice tray can make for a great addition to any home that loves gaming. With a compartment for storage and another for playing, it is a simple design that requires a few cuts and a few pieces of scrap to complete.
63.) Mail Organizer
Mail, when not properly stored, can get everywhere. It is all too easy to leave it laying around, whether it be an end table, a kitchen table, countertops, or a million other places. By creating a mail organizer, that will never be a problem again. This is a great project to work on engraving, putting a family name or simply "mail" on the front of the organizer.
64.) Scrap Wood Coffee Table
Hairpin legs are very in right now, being used on a multitude of furniture both DIY and store-bought. So, why not get in the crazy by creating a scrap wood coffee table for your living room? A darker stain does well in this instance, going with most design aesthetics while also hiding spills and stains a bit better than others.
65.) Bird Doorstop
Smaller scraps can be used to easily create a doorstop, but that's a little too boring, isn't it? Why not test your skills and creativity by turning that traditional doorstop into something a bit more complex? A bird door stop requires cutting at a radius; this is a great way to practice those skills. While a doorstop isn't the most exciting thing in the world, it serves a practical enough use while also honing those woodworking skills for the better.
66.) DIY Storage Bins
Do you enjoy eating fruits and vegetables on a regular basis? Why not create a simplified storage option for them? Using a few scrap planks, you can create DIY storage bins for your pantry or countertops easily. Even better, you can work on your engraving skills by labeling each of the compartments accordingly. Some of the simpler projects are great practice for working on your skills while creating something practical and useful.
67.) Farmhouse Message Board
The farmhouse look is very in fashion right now, especially among those seeking that rustic look. A great way to keep the feel of the farmhouse is with a farmhouse message board. Any notes, drawings, letters, cards, and other things that need to be seen can be clipped to the board easily. Distressed wood is great for this purpose, though a lighter stain could certainly work as well to achieve that aged yet chic look.
68.) Scrap Wood American Flag
Showing patriotism is very much in style, especially these days. While waving a flag is simple and something that anyone can do, it takes a bit more time and effort to create a wooden American flag. Depending on your ambition and how much scrap wood you have to play with, you can do something simple for a countertop or large enough to adorn a porch.
69.) Desk Hutch
Maximizing space is never a bad thing. When it comes to desktop space, there can be a premium for it, especially in smaller, more confined spaces. So, making use of the vertical space on a desk can be the next best move. With a desk hutch, you can use that scrap wood to build spaces of different heights and widths to accommodate your needs. All of which can sit right on top of your desk.
70.) Coffee Filter Holder
There is seemingly never enough countertop space in the kitchen. With several different appliances and a litany of accessories, space can get cluttered in a hurry. So, finding useful ways to store things becomes important. Creating a simple coffee filter holder is a great way to keep your filters stored away so that they are easily accessible but out of the way at the same time.
All of the small scrap wood projects above are fun and easy projects that can be completed with scrap wood. Many of the projects are great beginner projects for yourself, or if you're having a fun DIY afternoon with a friend, significant other, or a youngster. Remember – with creativity, it's not just firewood.