60 Best Gifts for Woodworkers [2023]
If you are looking to give a gift to someone who enjoys woodworking in your life, then there is no shortage of options to choose from. Hand planers, calipers, squares, saws, pencils, combo kits, tool rolls, and more all make for fine gifts. There are also plenty of books available that can help even the most amateur of woodworkers take their skills to the next level. Finding the perfect gift has never been easier and there are so many that you can give again and again. Here we present the 60 best gifts for woodworkers!
It is probably safe to say that any woodworker will do work relating to the hinging of a door at some point. If that hinging involves a wooden door, having a hinge template is a huge help. This one, in particular, has eight different hinge sizes, starting at 2.5 inches and ranging up to six inches in size. The lock-in pins make it super easy to set up, perfect for getting precisely the hinging that you are looking for.
Maneuvering a lever can be difficult, especially if you aren't the most coordinated of woodworkers out there. That is why having a laser level can be an invaluable tool to have. A laser level is perfect for not only leveling, but aligning, angling, and squaring lines. It even has a full 360-degree rotating wall attachment, making it possible to project lines at just about any angle.
A hand planer is one of the more versatile tools available in the woodworking arsenal. It can perform a wide array of tasks, including truing an edge and smoothing flat stock. While it is ideal to have an electric planer as well, a hand planer is a must. They come with an adjustable throat plate and comfortable, wood handles for a superior grip. There is nothing like the level of precision that a hand planer offers.
Proper protection is a must in any woodworking shop. Whether it is eye protection, gloves, or an apron, they all work together to keep woodworkers safe while they ply their trade. This is why having steel-toe work boots is a must. It is all too common for things to slip and fall, leaving you open to potential injury. Keep your toes safe with a steel-toe work boot. Oh, they're non-slip, too.
If accurate measurements are what you are looking for, there may be no better tool to have at your disposal than digital calibers. Depending on the calibers you choose, the measurements can be adjusted between millimeters and inches measurements. It can be set back to zero with just the touch of a button. Highly versatile and can get accurate down to a granular level.
There are more than a few ways to coat a project, be it a stain, paint, or even ink. A brayer generally is used when it comes to spreading ink but carpenters and woodworkers also use it when spreading wood glue. If you plan to apply a lot of glue in one shot, a brayer can be a really handy tool. With a detachable handle, you can take everything apart and clean it easily and also keep glue from the work surface using the built-in stand.
Not everything on this list is going to be an essential tool but they are cool nonetheless. If you know a woodworker or carpenter, getting them a beautiful wood watch means giving them the ability to check the time while also being able to show off their affinity for woodworking. It is a clean, beautiful design that lends itself to those who take their burgeoning hobby seriously.
For those new to woodworking, it can be confusing as to the difference between standard drill bits and countersink bits. The former is good for driving screws into wood, but you can drive into harder wood or even high screws using countersink bits. With a small set, you have a wide array of options before you, being able to screw at awkward angles with more force as well.
Accuracy is paramount when making cuts. In order to make the most accurate cuts, it means making the most accurate measurements and markings. That is why a ruler can be a vital tool for woodworkers. The stainless steel ruler has a pocket clip allowing for easy access and the black graduations are super easy to read. The table on the back even allows for conversion from fraction to decimal.
There are more than a few tools that land on the "must-have" list for any woodworker. A carpenter square is one of those tools. Though they seem simple in nature, the saw is essential for more than a few tasks. With a small carpenter square, woodworkers can keep one stored away in their pockets, pulling them out whenever they are needed to make a quick measurement here and there.
A good saw or two is a must in any woodworking shop. There are a huge variety of saws out there to choose from, each of which has its own unique set of benefits. One of the saws any woodworker should have at their disposal is the mini Dozuki panel saw. It is ideal for cutting through smaller pieces of wood and is extremely light at just over a quarter pound. The jagged teeth are durable, making it an effective cutting tool.
Though it is generally used by the more advanced woodworkers out there, fire can be a useful tool in the hobby. It is not uncommon to find a torch somewhere inside the average woodworker's shop or garage. While utilizing these torches, a little extra protection is a must. Having a heavy-duty leather apron means flame-resistant capabilities. Even better, there are a plethora of pockets to keep the important tools on hand.
For the most part, when we think of woodworking we think of the tools involved in the craft. But let's not forget about the most important part of woodworking: the person doing the work. Over time, their skin can become worn and dry. But with quality hand cream, you can give all-important moisture back to the skin without any smelly fragrances. Even better, creams like this work for the face, arms, hands, and any other parts that need a little boost.
It is no secret that woodworking can get really loud most of the time. The litany of saws means being inundated with practically deafening noise. This is why having a quality pair of earmuffs can go a long way. Though they are not noise-canceling, they can at least give you some reprieve from all of the ear-splitting noises that can permeate a woodworking shop or garage.
No good woodworker, or handyman for that matter, should be without a proper tool roll. There is a difference between some cheaply made roll and one that has been constructed of solid materials. You should have more than enough pocket space to hold several tools and even pouches for nails and any other small parts that you need to keep on you.
While it may seem like a pencil will do all the marking you need, that isn't necessarily the case. Making marks on oily and dusty surfaces using a pencil or marker can result in frustration. But with a fine-point permanent marker, you can make sure you have a proper marking tool no matter what the situation or setting. One of these should be alongside your pencil at all times.
In woodworking, steadiness is crucial. Whether it is in marking a cut or making the cut itself, you need the workpiece to remain as steady as possible. Having a clamp set means being able to hold anything in place easily. Even the mini clamps have 150 pounds per square inch of pressure, meaning you can hold everything easily.
Having a quality measuring tape is an absolute must for woodworking. With a reverse measuring tape, you can measure accurately up to 16 feet. It has fractions that are easy to read so you can get the most precise measurement possible. Not only that, it even has a pencil sharpener built-in so that you can keep your writing utensil sharp at all times.
When you are woodworking, it is about the old saying: measure twice, cut once. Part of the measuring process means accurately marking off where your cuts will be. If you think that any old no. 2 pencil will do the job, there is nothing quite like Ticonderoga pencils. They come in different sizes and hardness levels so that you can have the right pencil for the job no matter what.
Every good woodworker needs a quality drill bit set. With an assortment of sizes to choose from, they will be able to find the perfect size in a snap. Even better, the bits come in a clear storage case, showing you each of your options before you even open the case. Each bit also has a web taper to it, so that the chances of breaking are much less than some lesser quality bits.
If you are a woodworker and think that you have enough clamps, think again. Having clamps of different sizes is a must and they are among the most valuable tools in a workshop. Having a larger clam means being able to keep your larger projects steady without much effort. Even better, they reduce bowing or cupping all to ensure a better quality workpiece at the end of the day.
Proper lighting is one of the most underrated aspects of any workshop. While most woodworkers think they have ample lighting, it isn't until they have to combat shadows over their work that it becomes apparent just how much light is needed. With super bright LED garage lights, it is simple to light up your space properly so that you can see even the smallest of details easily.
Let's face facts: sawdust is just a part of life when you are into woodworking. It also tends to get just about everywhere and in copious amounts. While there are a plethora of different tools out there meant to contain the spread, there is nothing like a dust collection system. They are better than the standard shop vac, creating a more effective means of keeping the shop clean and free of sawdust buildup.
Sketching out the project is something that every woodworker does. It helps to visualize the project, establish dimensions, and so much more. Sketching things out can be hard to store and catalog, especially over a long period of time. But with a grid notebook, you can scale drawings simply and easily. Best of all RocketBook has an app that allows you to store and sort drawings digitally for easier accessibility.
Woodworkers can fall into some of the same habits. Whether it be building the same thing, cutting the same kind of joints, or even using the same kind of wood. But trying new things is what makes the hobby fun. So, if you know a woodworker stuck in their habits, a box of exotic wood can be a good way to break them of those old habits. With different types available, it can mean a new project each time and exposure to different wood species.
Making a square cut is crucial in woodworking. The jointer is meant to not only flatten but to square two sides of the board. Generally speaking, this means one edge and the face of the board. From there, you would be able to use a table saw or planer to square it. While there are other preferable tools, a jointer can make dimensioning lumber quite easy. This is recommended for more seasoned woodworkers, especially given the costs.
A good hand-held saw is a must no matter the level of skill or experience. There is a little bit of a misconception that hand-saws mostly use a push motion. This one, however, utilizes the pull motion and provides a more precise motion with a lot less effort. Even better, they are far less likely to rip the wood versus the traditional push hand saw. A great, easy-to-use tool that should belong in any workbench.
For the more advanced woodworkers out there, the creative possibilities are endless. There are some who like to work with a chisel, creating more refined projects. There are a bunch of different chisel sets out there, but the more diverse the size, the better served you will be. Having different sizes means getting a more accurate, precise chisel on the project.
29.) S SATC 5-inch Sanding Discs
While most of us think of cutting, gluing, and screwing for woodworking projects, there is a lot of sanding to be done as well. For seasoned woodworkers, they know that a good product and a great one comes down to the sanding. That means going through a lot of sandpaper. By having quality sandpaper discs on hand, you can be ready to apply the proper sanding effort to the next project.
Don't overlook the basics. While this list focuses on the tools that make woodworking easier for beginners and help experienced woodworkers do more, no one can do without the basics. That includes having quality wood glue. Simply put wood glue is the quickest and most effective way of holding projects together. With quality wood glue, you will never have to wonder how your project will hold together.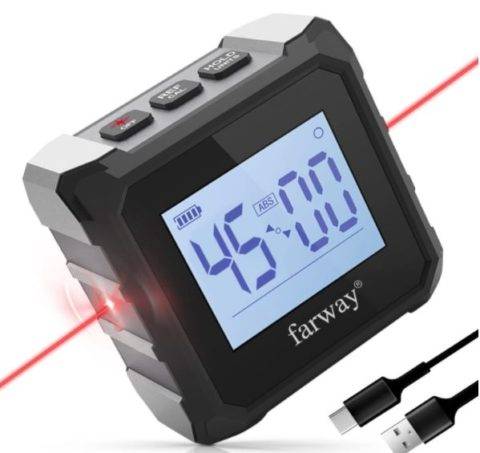 A lot of woodworking is based on calculating, doing it again, and then making cuts at specific angles. It requires a lot of math and not all of us are all that great at it. That said, figuring out angles is a lot easier when you have an angle finder by your side. It means matching outside and inside angles, finding the angle between two points, or even locking an angle into place. It does everything angle-related you could need.
Let's face facts: there are a ton of ways to join two pieces of wood together. One of the best and most straightforward is through the use of dowels. Dowels work fine, so long as you drill the holes accurately. A doweling jig can come in handy to help line up holes precisely so that the joint is right where it should be. Even better, a doweling jig supports different sizes of dowel and even has a self-centering feature.
Speaking of dowels, you can never have too many on hand, especially if a doweling jig is used on a regular basis. This is one of those tools that gets consumed a lot, meaning you can't ever quite have enough of them on hand. Even better, a dowel jig kit comes with a variety of different size dowels to accommodate any situation or setting. This is an easy gift because it can come in handy at any point.
There is a lot of marking and measuring that goes into woodworking. Making the most precise cut lines can result in a better quality project. For the most part, woodworkers rely on a pencil to make their marks. That said, pencil lines can not only be inaccurate, but too large. Having a scoring knife means cutting a thinner, more accurate line in the wood so that the most precise cut possible can be made.
In the course of developing woodworking skills and compiling tools, there are more than a few squares that will pop up. Being square is one of the most important aspects of doing a project and there isn't much more frustrating of a feeling than finding out your project isn't square. A woodworking square will make sure that doesn't happen. It is precision machined to ensure the utmost squareness in any project.
Not every woodworker has steady hands. Without the right tools, that can lead to major frustration and inaccurate drill holes. Since woodworking involves a ton of drilling, that means having a drill guide can ensure accurate drill holes.
For the woodworker who has never used a router, it is a necessity for any shop. Having a router bit set means having access to all of the tips and bits that you could need for cutting decorative trim edges, dados and route channels, and even joint wood pieces in a precise manner.
Having a flat workspace is of the utmost importance no matter the piece. Being able to make even, accurate cuts is a lot easier with a router table. It means keeping the bit pointing up and the machine stationary, simply running the workpiece up against it. All for a smoother, more consistent operation.
Similar to a tool roll in a lot of ways but with more durability in mind. A tool bag is ideal for any woodworker who likes to have their important tools right there on hand. There are hooks to hang hammers, pockets for nails and markers, and the main pouch to keep larger tools. A must-have if you don't like walking back and forth to your tool bench or box.
Most woodworkers have pencils and measuring tape, but what if you could combine the two into a much more convenient package? That is what a beam compass can do for you. It combines a pencil scribe and measuring tape into a single, compact tool that can fit in any pocket, woodworking, or regular pants. The marking device is able to mark parallel and straight lines as well as circles and arcs, too.
There comes a point for most woodworkers where they aren't quite amateurs but they haven't figured out how to be effective at finishing quite yet. With Taunton's guide, any woodworker can have the step-by-step process on how to glaze and tone as well as the different tools and techniques needed to get the job done. Great for those who are ready to take the next step in the woodworking process.
This is a great option for experienced woodworkers who are looking for new tips and tricks. A monthly subscription to Fine Woodworking is the kind of gift that keeps on giving. Full of step-by-step guides for how to build certain projects, plus plans and diagrams to make visualizing everything all the easier. Even better, the magazine offers advice from professionals and experts for even more assistance.
Woodworking offers the potential to get creative. Of course, the more creativity involved, the higher the level of skill. There are some woodworkers who can take a block of wood, whittle, and chisel and carve it down to look lifelike when finished. Having a woodcarving kit means getting all the essentials: a whittling knife, sharpening supplies, sandpaper, wooden blocks, and any of the accessories you may need. The guided instructions makes this the perfect beginner woodworking project!
Carhartt is one of the premier names in the power tool industry and with good reason. So, it only stands to reason that their polyester tool bag is one of the best quality options on the market today. It offers a plethora of pockets for organized storage and easy access. Not only that, the internal frame means that the bag won't collapse on itself and make finding things in the main compartment difficult. The reviews speak for themselves and makes this tool bag one of the best gift ideas for woodworkers.
45.) Milescraft Rolling Knee Pads
No matter what age woodworker, it is never easy getting down on hands and knees to perform tasks or projects. For that reason, rolling knee pads can become a must. Not only does it alleviate pressure on the knees while installing flooring, tile, or carpeting, but it means easily moving from place to place and turning quickly and easily, all without the pain that can normally come from being down on your knees.
With the endless amount of noise emanating from a workshop, being able to reduce or eliminate that noise can be more than welcome. With noise-canceling earbuds, you can tune out all those unwanted noises for something more welcome. Whether you listen to music – it can be paired with devices easily – or just like the sound of silence, it can reduce noise all the way up to 35 decibels.
One of the most trusted manufacturers of power tools in the game, you can't go wrong with any Makita tools. That said, circular saws are part of the regular array of tools in a woodworker's life. This saw in particular woodworkers are able to frame walls, roofs, and flooring. That's not mentioning its ability to make more accurate cuts, rip particleboard, and break down dense structural panels as well. It is as versatile a tool as one could hope for.
For those who are just starting out in woodworking – or as amateur DIYers in general – getting started can feel like a tall task. That is where a cordless drill combo kit can become the best gift possible. A kit like this includes a sander, drill, jigsaw, impact driver, oscillating tool, and a plethora of router attachments. Each of them can connect and disconnect quickly making it easy to swap them out seamlessly.
When woodworkers advance their level of skill a bit more, they can start playing around with plunge routers. The goal is simple: to create clean circles in the wood, sometimes without punching through to the other side. With a plunge router kit, it is easier than ever before to plunge through even the toughest of woods out there. The kit comes with everything that you could need from bits and bases to a dust collection unit for easy cleanup.
Each woodworker has their own preferences. Some choose to find the best combination of mobility and storage, making it easier than walking back and forth between a worktable and toolbox. That is why this storage/worktable all-in-one unit is so great. It can even be tailored to fit specific needs, allowing for easy access to tools while also providing a stable workstation. Best of all, it can be folded and taken down in a pinch for easy transport.
Cutting contours and corners can be difficult, especially for beginning woodworkers. By having an accurate construction ruler for those contours, you can ensure that even the most complex of projects goes off without a hitch.
Cuts happen all the time in a woodworking shop. While they won't do much to keep your hand from a powered saw, these cut-resistant gloves can definitely help when it comes to slipping and cutting your hand with knives, chisels, and any other handheld tool. Your hands will thank you for keeping them protected.
When cutting materials, there are factors that can make the cuts less accurate and a lot messier. But with a good aerosol lubricant, cutting friction and sliding can be reduced for just about all materials. What results is a cleaner, more accurate cut and a lot fewer splinters or split material ends.
Making use of a wide array of cutting tools means that sooner or later, they will dull out. To keep this from happening, a good wood carving sharpener can go a long way. Keep hand chisels and carving tools sharp so that they can make the precise cuts that they are known for.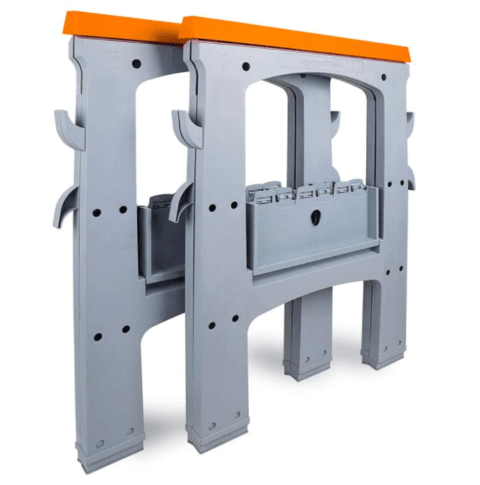 Sawing and cutting are about having a strong base. Whether it be a table of some sort of a folding sawhorse, slips and inaccurate, messy cuts are often because the cutting surface is not stable. With folding sawhorses at your disposal, you can have a reliable cutting surface no matter where you are with easy, compact storage as well.
The more complex the woodworking project, the more accurate the cuts need to be. For that reason, a handheld CNC router can be invaluable. It uses automated programming to move over the surface of the wood, using location tracking as well as a moving spindle to make more precise, detailed cuts.
It will become apparent the further along into the hobby one gets that it is all about measuring and marking before making a cut. Having a height gauge set means being able to accurately measure the height of the workpiece and making more accurate marks along the way. Having a set of height gauge setup blocks means being able to tackle a much wider variety of potential workpieces.
Having a handheld planer is great, but it can be seriously tiring on the hands with enough use. For larger jobs, it is time to bring in the electric hand planer to save you and your hands the trouble. Starting with the electric planer and moving to the handheld can be a great, effective way to tackle larger projects.
Holding workpieces in place is one of the most essential aspects of woodworking. As any experienced woodworker knows, there can never be too many grippers/clamping fixtures in a workshop. The more there are, the more versatile the options are. When it comes to more complex projects, having a wide array of methods for holding workpieces into place becomes essential.
An oscillating tool is one of the most versatile tools in any toolbox. It can make a plethora of cuts, from trimming screws to making plunge cuts, trimming floorboards and wood to even sanding. With a multitool kit, it means having all the different attachments that you could want to make the oscillating tool even more effective than it already is.