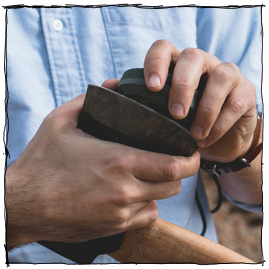 How to Sharpen Your Axe
Mid-century modern is an umbrella term that describes the popular industrial design taste ranging from the mid-1940's to the mid-1970's across all disciplines—architecture, interior design, product design, and graphic design. It was huge shift in its time, orbiting around the desire to strip away excessive ornamentation and get things down to their most basic shape elements. Despite the changing aesthetics of the 1970's onward, it continues to endure—in the words gallery owner Patrick Parrish, "It's been the new cool thing five times in the last 50 years."
Of course, no design era is the pinnacle of perfection. Elements of mid-century interior design can oversaturate our eyeballs—does anyone else completely overlook the Eames chairs placed in the corner of perfectly-styled rooms on Pinterest—and after living in post-Soviet East Germany for a year, I gotta say that the stark minimalism of Brutalist architecture can get really depressing in a snowless winter. (I also have to admit that sometimes even the word "design" is so overused that it feels like a gnat swarm to the face on a muggy day in August.)
Yet, I can't help but love the work of French-born, NYC-based designer Raymond Loewy (1893–1986). You probably don't know the name, but the guy was so prolific that unless you've been living in a cave, I guarantee you've seen his work. Let's take a look at some of his greatest hits.
If you do woodworking and DIYing in inches, a solid understanding of fractions is essential. Being able to calculate that half of 4 1/4" is 2 1/8", or that 1 1/2 + 1 3/16 = 2 11/16" is basic shop math that will keep your projects moving quickly.
But often, bringing fractions into the process is, well, completely unnecessary. Let's say you have a board that you'd like to divide into equal parts. You could measure it, then bust out a pencil, paper, and the calculator app, and eventually have to Google a decimal-to-fraction converter to figure out the size of each section. Then, you'd have to find that crazy number on your ruler, and carefully add the units together to mark out your parts. Or... you could just do this.    
Apple pie. For my money, it's the best dessert to grace our tables and slide down our gullets in the past bazillion years. Sweet, tart, warm, gooey, and crumbly... it's no wonder it's an American icon. But why limit this goodness to your oven? Let's take a journey with the recipe, step out of the kitchen, and head into the great outdoors (or your backyard) to create a rustic cast iron apple pie cooked over an open flame.  
Summer is the season of fresh, lively cocktails: Collinses and flips and spritzes and 'garitas. But as the weather chills down, it's time to switch into a more subtle mode. Fall cocktails are all about deep, earthy, and woodsy flavors, those that match the smell outside and the sorts of rustic, homey dishes that taste so perfect on a cool evening. 
The cooler months bring boots, jackets, and best of all: sweaters. Worn well, they echo the classic men of yesterday. Investing in one or two quality pieces made from 100% wool is preferable than several from acrylics or blended fabric, as they'll stick around for many falls and winters to come, and look better in the process. (Not to mention keep you warmer.) If you take care of them well, they'll last until your beard goes gray, and you can pull off the weathered fisherman with a warm heart look of Mr. Hemingway here.
1. Don't dryclean or machine wash.  Not only does hand washing keep your wool clean, it'll actually make your sweater
For my whole life, the idea of foraging has had a romance that I can't quite put my finger on. Way before it became a punchline about hyper-local hipster foodies, to be a forager was a signal of a deep wisdom about the land. To know what could be eaten was to have access to riches that were all around us. In a world beset by industrial foodways, foraging is a reminder that the world can sustain us (or at least some of us) without our machines, if we would simply let it. 
The trouble with foraging, though, is that unless you grew up in the style of Katniss Everdeen or the Girl of the Limberlost, most of the earthly wisdom and insight needed to forage well is beyond you. And this is definitely a wisdom that you need to gain through practice. Ideally, some Italian-born wood elf––someone like Angelo Pellegrini or Angelo Garro (who at least is still alive)––would appear to teach a willing learner how to gather and find and hunt out the best things available on the earth. But that's pretty unrealistic. So, the only thing to do is to just do it––after all, if we start small, build up some confidence and awareness, and then keep going, before long we might rediscover some of that lost knowledge so that we can pass it along ourselves.      
So, from the experience of one free food fan who hopes to be more, here's how to get started as a forager.
So... I like this project. I really like it, and I'll tell you why. First, it's made entirely from off-the-shelf parts from the home center. Then, because the parts are readily available, the only tool you need to make the entire thing is a cordless drill, which is awesome. And lastly, the attention
The random orbital sander is one of the first tools any maker or DIYer should own. In fact, I can't think of another powered tool that I use more, on nearly every project involving wood. The design is simple, and right there in the name - they move, in a random circular pattern, to sand wood.
A huge improvement over its predecessor, the pad or orbit sander, these guys use special shaped sandpaper disc to get your project smooth fast and with minimum swirl marks. Well, at least faster than sanding by hand, and with much less energy. But with great power comes great...opportunity to mess things up. These wondertools work, but there are
I did not grow up in a "crock pot" family. We had one, an old avocado green job my parents got from their wedding registry. And, though I'm sure it got used, it wasn't something that characterized the food in our house. My wife's parents, on the other hand, were both doctors working day shifts, and according to her, nearly every thing her mom cooked came from the slow cooker. And, says my wife, protein + a mix of canned foods = dinners, all which tasted basically the same... like "crock pot food."
One of the great conundrums of woodworking is this simple fact: you need a workbench to build a workbench. 
In fact, in order to build a proper workholding system replete with vises, rock-solid joinery, and a sturdy wood top, you also need a complete shop full of power tools to mill the wood to size, a fleet of clamps to laminate the top, and tons of experience to know how to use all that stuff in the first place. And to build it from hard maple or other appropriate wood, it'll cost at least $700 for the lumber alone.