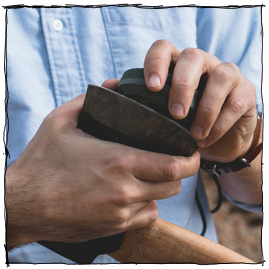 How to Sharpen Your Axe
Knot tying. It's a thing. If you read any "men's lifestyle" content, you've no doubt seen an exhaustive list of "essential knots every man needs to know." You proceed to read their list of seven, or ten, or fourteen, and by the time you get to the bottom of the list, you can't even remember the name of the first one, let alone how to tie it. 
There's a great adage in the home decor and organization field...you've probably heard it on one of those room makeover TV shows. The phrasing varies, of course, but the central idea, "When you run out of floor space, you've got to go up."
In order to be your best, you need to make the most out of your mornings. More than anything else, how you begin your day sets the template for how the rest of it will go. Here are nine things you can, and should, do every single day to be your most productive self. 
1. Make Your Bed (2:oo)
When this becomes first thing you do after you wake up, you accomplish so much more than flat blankets and straighten pillows. First, you immediately achieve a goal; the very first thing that happens during your whole day is a success. Secondly, though it might sound dramatic, you've ordered chaos. What was a mess is now straight and clear

The first week of January is often about adding things to our list. "This year, I'm going to do this every day, or execute a hundred of those..." Instead, perhaps this is the year you drop some of the stuff that just isn't serving you well. We have a few ideas.    
There is lots of scientific research on why setting goals on January 1 never really works out, and why, by March or April, we've all backslid into our old habits. Often, it's because goals aren't specific enough, or we haven't found the best way to track the work we've done. Or, perhaps we don't actually believe we can achieve that new version of ourselves for the long term.   
I think I was eight. Maybe seven. It was my birthday, and a family friend who'd taken a mentor role with me stopped by to give me a small gift. I don't remember what was in inside, but I can so perfectly and vividly recall that it was wrapped in the full, CMYK color of Sunday comics section, and it blew my freaking mind.   
No offense, but I don't love your grandmother's cookie recipe. I know you do, and that's amazing. And I know it's more about making them that eating them, and that's nice, too. But, if I'm going to go crazy with some unhealthy eats this holiday, I want that extra sugar to be inside something that I care about. Specifically, these cinnamon rolls, baked in cast iron skillet.
Because the season of indulgence is here, and you might as well make sure those calories taste amazing. 
I have a few shirts I just can't seem to part with. They don't really fit me (they're much too big and baggy) and I never wear them. Ever. Some are at least five years old, and barely holding together. 
As far as holiday gifts go, it's hard to beat something to sip. And this year, you can do a little better than swinging by the grocery store and grabbing a bottle of wine. 
This wood-infused project only take a tiny bit more work than buying something from the liquor store, but boosts all kinds of flavor benefits and handmade points, turning the spirits into a proper gift. 
Make some in bulk for everyone you know, and your holiday shopping is done.    
We'll never be the ones to hate on the holiday standards, but sometimes, we need a fa-la-la and sentiment-free movie night this time of year. So, check out this list of classic, masculine films set in the frozen winter months that will really remind you how frightful the weather outside can be.