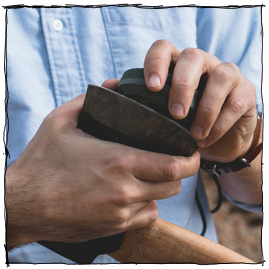 How to Sharpen Your Axe
A few weekends ago, my wife and I went out for a special dinner to celebrate our sixth wedding anniversary. We opted to enjoy a few beers with our meal, but the table next to us had ordered cocktails. They each showed up with the glass half full of color - slanted, with the liquid on top. Initially, I thought it was simply a triangular shaped glass, where the bottom angle was simply solid. But as I looked closer, I realized, in fact: it was a frozen wedge of solid ice, attached to the glass so it maintained the effect. 
I asked the server how it was done, and she told me the bartender had a bunch of little rubber molds that fit the glass, and the whole thing goes into the freezer. She said they were cool, but only fit the certain glass they came with; so only a certain number of cocktail recipes are served in them, and they run out each night.
A few days later, I looked it up to see if I could pick up one or two. I found the product - it's a glass with a custom silicone insert that freezes the ice at a perfect 45° angle, cutting right down the center. They cost about $20 each, and are kinda cool.
But - they're also unnecessary. Because you can achieve the same effect without spending a dime, using any rocks glass you already have. Here's how to do it.       
We wanted find the best travel coffee mug out there. Why? Because a travel mug is a simple device. So simple, that it's so notable when so many models get things wrong. And then you use the perfect one, and you realize all the care and design that goes into the things we use everyday, and it's amazing. 
There's a travel coffee or tea mug that keeps your drink warm for hours, you can throw in a bag and never worry about it spilling, and provides a safe and pleasant drinking surface from which to sip. And it costs $20. And that mug is the Contigo Autoseal Stainless Steel Travel Mug with Easy Clean Lid. It's the best travel coffee mug you
Dirty dishes in the sink. Putting your clean socks away. Replying to that one email that's been sitting at the top of your inbox for longer than you'd be willing to admit out loud.
We all have that small handful of tasks and chores that weigh the heaviest on our souls and our to-do lists. Most often, they're the things that occur multiple times a week, so that when you look at them, you think, "Didn't I just do that? And doesn't it take forever?"     
And that's where our brains lead us astray. Because, although, yes, you did probably just do that – no, it doesn't take forever. 
---
For years now, Michael Pollan has become the authority on the relationship that human beings have to food in the modern mechanized, industrial world. He has written on gardens, the inter-relationship between specific plants and their human users, the food systems that operate in our world, the ethics of our diets and the deeper meanings behind our cooking traditions. In short, he has become one of the most influential authorities on what we put in our stomachs. In the process he has helped foster a whole new approach to food that has manifested in artisenal pickle shops, kombucha in every store, and a renewed focus on locality in our food
What's not to love about a vegetable garden at the zenith of the growing season? More than a sum of its parts—a patch of dirt with some roots sending shoots out of it—a garden gives more than it takes. The average American spends 90% of his or her day indoors, and I use my garden to beat that statistic. I revel in its smells and textures and the satisfaction that comes from the results of tangible work. However, there are certain tasks I find needlessly tedious, and when I expanded my garden by about a hundred square feet this year, I began to count manually watering it with a hose as one of those tasks to eliminate with a timesaver.
But after I decided to set up my own DIY irrigation system, I quickly figured out that I didn't want to use soaker hoses (too expensive for the quantities I'd have to buy) or a rigid structure of PVC pipes (too permanent for the constantly changing setup in my current plot).
The solution was a pleasant surprise:
Keeping up with pop culture can feel like a chore, especially if you find yourself in crowds where making casual reference to what you watch and listen to is part of day-to-day communication. Some aspects of the culture are just too vast to ever totally simplify. (Call me old, but I can never keep track with how quickly pop singers come into huge popularity and then seem to disappear.)
But more manageable than music are movies, which don't tend to get to reference-able level until it has not only saturated the audience, but also soaked deep into our memetic fibers. But in some cases, this takes a long time, and some of the films people
I don't remember when it happened, but one day I decided to become a journaler. No history, no discipline. I just took a simple notebook and filled it up with my thoughts, dreams and goals. A basic notepad was nice, but after a while something like that became so personal it was only natural to upgrade such a personal item.  
To the non-DIYer, dedicating an entire blog post to this process may seem like overkill. But anyone who wields their cordless drill on the regular can attest: the issue of making an existing hole larger comes up all. the. time. Whether repairing something around the house, replacing a part or piece of hardware, or just because you didn't quite get it right the first time, any maker, woodworker, or generally handy person knows how frequently one needs to enlarge a hole, and how surprisingly difficult it can be to pull off. 

"One does not inhabit a country; one inhabits a language. That is our country, our fatherland –– and no other."    –– Emile Cioran
We're living at a weird time when it comes to the question of learning a new language. On the one hand the world is becoming so globalized, so intercultural, and so communicative, that there has never been a more relevant time to learn Korean or Farsi or Finnish. On the other hand, digital tools for translation––both in written and spoken forms––are becoming so capable and intuitive that language is no longer the high water mark for understanding a culture. 
For centuries of especially European history, learning languages was a crucial part of being an educated and informed person. After all, in a world full of different languages, it was a necessity to be able to communicate. But in a bizarre way, global society has actually made us LESS dependent on learning a foreign language. English has become the internet's lingua franca, and tools like Google translate and other translation software has made navigating multi-lingual spaces easier. And tools like Duolingo give us exactly the amount of language access we need, which seems to be enough Spanish or French or Mandarin for our vacations. Language courses and requirements are disappearing from schools and unless you are born into a family that speaks a language different from the culture around you, its harder and harder to learn.  
Often, when it comes to DIY projects, we create our own circles by starting from a center point. Whether a compass, string guide, or specialized cutting jig, a circle emerges from our pencils or saws precisely because we've created an established and consistent distance from a single origin. 
But, what happens when the shape already exists, and you need to know how to find the center of a circle? You can do it in less than a minute without any specialized math, memorizing a formula, or even knowing what pi is.