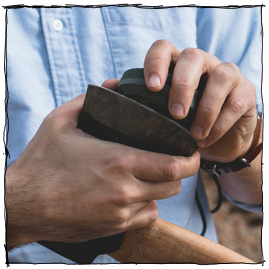 How to Sharpen Your Axe
This just in: there's a giant ball of fire up in the sky, and it's really hot. 
When it's 80 degrees and sunny, I have a hard time finding a good reason not to harness that free energy, instead of pulling in electricity from the burning fuel at my local power station (in my case, I think it's the nuclear plant just south of Raleigh) all to just dry some clothes.
A clothesline is a fantastic supplement to your laundry routine, so if you're like me and you've been putting off building one, here's a simple plan you can follow on a single Saturday—a shopping trip in the morning, a building session the afternoon.
We've said it before: yes, every man needs an apron. They're indispensable in the workshop, the kitchen, the garage, around the grill, even when shining your shoes.   
With the temps warming up, it is most certainly time to get mouths a-watering for barbecue season. Whether gas or charcoal, most of us have a backyard grill, but a dedicated smoker can be a luxury. They take up space, can cost a lot, and while they make sense for true smoked food fans, might not be necessary for the average grill fan.
 
In fact, they're not necessary at all. Cause with a little creativity and DIY ingenuity, you can turn the grill you already own in a smoker that can turn out tender, fall apart food fused with the flavor of fire. 
I'm sure the original makers of Altoids had no concept of survivalism, let alone having any inkling that they were providing a vessel for emergency lifesaving tools. Yet here we are: this humble, yet curiously strong, breath mint has inspired scores of tutorials for intrepid would-be wilderness warriors.
Rather than reinventing the wheel, we at ManMadDIY have scoured the tutorials, and we've honed in on what we think are the best basics for that quintessential Internet favorite, the Altoids tin survival kit.
Let's dig in!
Podcasts. You know 'em. You listen to 'em. You're moved by them. You laugh and are entertained by them. But are you inspired by them? Do they light a fire under your butt and make you want to get into your work space as fast as possible? Do they make you want to complete your workout faster so you can get home and make stuff? Do they make you thankful for your creative bent, and the creative work of others?   
Here's our thinking: podcasts, as a medium, are great accompaniment for a lot of things. There are certain podcasts you listen to on your commute, specific shows that work best for cleaning the house or cooking dinner, those to
You can buy cold brew coffee at a coffee shop. But, if it happens to be from a certain Seattle-based java-serving monolith named after a Melville character, or an pink and orange East Coast chain known for selling fried rings of dough for, uh, "placing" into your coffee, then what you're actually getting is cold coffee...that is, hot coffee that's been iced down.
Cold brew is an entirely different beast altogether. And with the weather warming up, it's time to cool our coffee down. Or, more accurately, never heat it up to begin with. 
Any time of year, gin is a favorite spirit. It mixes well while retaining its character, and its aromatics complement a great range of flavors. But there's something so special, so obvious, about gin and springtime. If flavors had colors, gin's would be green, and it's a perfect chance to start putting ice back in our cocktails because the external temperatures are finally bearable.   
At its core, a chair is simply a seat with a back. And while they often have legs and arms and complex joinery for strength, sometimes, a little physics can accomplish the same thing.    
Want to make no knead bread in a Dutch oven? It's not nearly as hard as it sounds. 
Gluten is my homeboy. I don't care what the fad-diets say (and apologies to those of you who are truly gluten-intolerant). Paleo-be-damned, I'm grateful our ancestors developed agriculture, so we could stop foraging and eat mostly bread (and also develop science, art, culture, etc.). 
Great bread is easy to make. This is a no-knead recipe! Meaning, you don't, um... knead it. Duh. It's based on the Jim Lahey no knead bread recipe.
Here's how I do it:    
1. Get a sourdough starter from a friend (or make your own, or order one online).
2. In a
In college, my roommate Adam returned from the holiday break with a new alarm clock he'd received as a Christmas gift. (My dorm days were a bit before the smartphone era and we all still used actual bedside clocks to wake up for our 8:00am classes). This particular alarm clock was special; it featured a