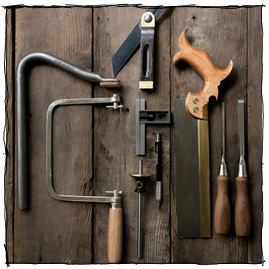 The Best Woodworking on Instagram
This just in: there's a giant ball of fire up in the sky, and it's really hot. 
When it's 80 degrees and sunny, I have a hard time finding a good reason not to harness that free energy, instead of pulling in electricity from the burning fuel at my local power station (in my case, I think it's the nuclear plant just south of Raleigh) all to just dry some clothes.
A clothesline is a fantastic supplement to your laundry routine, so if you're like me and you've been putting off building one, here's a simple plan you can follow on a single Saturday—a shopping trip in the morning, a building session the afternoon.
Just like how many Americans think they don't have accents, I used to believe I was totally free of regional snobbery... until I moved away from Maryland after high school. 
See, I grew up just between DC and Baltimore, I've got roots in the Chesapeake Bay stretching back at least 4 generations, so I know—Maryland doesn't really have a ton of nationally-recognizable cultural touchstones, except for one thing: the Chesapeake Bay blue crab. Marylanders are also persnickety about preparation methods, of which there are only three acceptable options: deep-fried softshell on a sandwich; fried up as a crab cake with extremely sparse filler; and steamed with Old Bay, hand-picked and dipped in melted butter.
So when I left my hometown and found other crustaceans being touted as "crab," my gut reaction was Man, that's not crab.
You know what, though? I love all kinds of seafood, so I was eventually willing to concede that here are a lot of other types of crab out there, and they were probably delicious. So I took it upon myself to try out Alaska's most famous seafood exports: the Alaskan king crab.
The first time you go to the lumberyard can be a little overwhelming if you don't know what you're doing.  Even if you think you know what you're doing, all the different species of lumber, the different dimensions of the lumber, different locations within the lumberyard, etc. can seem daunting for finding the perfect piece for your project.  With just a little bit of simple math, one area where you can be totally confident is calculating the cost of your chosen board.
Most home centers sell lumber by the linear foot, which means that the price of the board is determined by the length of the board. You pay a little extra for the convenience of a home center and you likely aren't getting the best piece of lumber.  The lumberyard, on the other hand, sells their lumber by the board foot.  A board foot takes into consideration the thickness, width and length of a board.  There are several apps board foot calculator apps to help you figure out how many board feet are in your chosen piece, but all you need to remember is one simple formula and you can calculate board feet anywhere.
I am unpacking my library. Yes, I am. The books are not yet on the shelves, not yet touched by the mild boredom of order. I cannot march up and down their ranks to pass them in review before a friendly audience. You need not fear any of that. Instead, I must ask you to join me in the disorder of crates that have been wrenched open, the air saturated with the dust of wood, the floor covered with torn paper, to join me among piles of volumes that are seeing daylight again after two years of darkness, so that you may be ready to share with me a bit of the mood - it is certainly not an elegiac mood but, rather, one of anticipation - which
One of the first big projects I completed when I bought my house was digging a large garden in the backyard, and we just barely made it in time for a summer full of tomatoes, cucumbers, okra, eggplant, peppers, and squash. The 20 x 30' patch somehow wasn't big enough for both eating and canning, so when spring rolled around again, I set out to expand our patch. Gardens are never finished, after all! (Check out our tutorial on how to hand-dig a garden here.) 
The only thing I wasn't interested in expanding, though, was my water bill. Since we get on average 4 inches of rain per month during the growing season here in North Carolina (Apr–Nov), it was time to let the clouds handle the water supply rather than the city. Since this is mostly a money-saving project, I kept my budget really low because I preferred to have the materials pay for themselves as quickly as possible.
Read on for how to make a rain barrel on a budget!
The internet didn't intentionally invent the idea of tickling your brain by seeing things get perfectly peeled, scooped, pulled or stripped. Yet, there are whole Youtube channels dedicated to things that fit perfectly, people breaking the pristine surface of a jar of peanut butter, people peeling the thin plastic sheet that covers most electronics. Comments on these videos are part of a shared sense of deep satisfaction, and you can find some of the most mutually joyful, least acrimonious interactions on the internet among people who are just eveling in that feeling of deep gratification. 
So, in the
I spend quite a bit of time setting up for projects on the tools. It's amazing how much time it takes to make a few simple yet complex cuts. For the type of cuts that happen often, it makes sense to make a few go-to jigs to help with those annoying set-ups.  
This summer, ManMade is organizing a Alaskan adventure for our community, where we'll gather for DIY workshops and day trips to some of the most beautiful places in North America. In homage of the trip, each of our team members will be reflecting on their own impressions of Alaska.  
The sauna, correctly pronounced "sow – nah," is a Finnish word that means "bath" or "bathhouse." They are believed to have been around for over 2000 years. (!) The process is quite simple, you build a fire to heat the Sauna room to 165-190° F and then sit in the room for approximately 20 minutes.  Then you cool down by taking a cold plunge in a lake.  Then repeat, at least two-four times.  Of course, that is over simplifying the process, but there are hundreds of articles and videos out there how to properly prepare and enjoy the Sauna.  So this article is geared more towards the Alaskan experience of the Sauna.
Chisels are probably the simplest of all woodworking tools, yet versatile enough that you'll likely use them on every project. To maintain the best cutting edge, they should be cared for and sharpened regularly: ground, honed, and polished until there's a razor fine edge that cleanly slices through the wood fibers. 
So, why have mine been just sitting in a box for the last year and a half? I actually don't have an excuse. I mean, lack of proper storage is the answer, but why I haven't done anything about it since I finished my workshop build in late 2016... I really can't justify it.
So, over the weekend, I decided to do something about it, and built a simple chisel holder and hand tool rack to keep things organized, within reach, and to protect those finely honed edges. The design is adaptable enough that you can make one of any size, and put the whole thing together in under an hour.    
Dads: we've all got 'em. They impact our lives enormously, whether present or absent. And boy, that father-son dynamic—it's a particularly potent combination, especially as sons grow into men. The relationship between dads and sons can be really satisfying, or really sour. 
One thing's for sure: whether he wants to admit it or not, every man wants to hear some form of a hearty, sincere "good job, son" from his dad. And when he doesn't get it—either from straight-up disapproval or, more often, distance, the relationship strains under the weight of the son's resentment. 
Whether your dad's your hero or your frenemy, whether you're mourning his loss or you want to live on the opposite end of the world as him, here's a short Father's Day list of father-son film pairings guaranteed to give you a bad case of sweaty eyes.