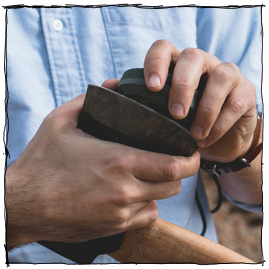 How to Sharpen Your Axe
If you want gap-free joinery and a perfect, long-lasting fit for both strength and aesthetics, precise measuring and marking of parts is essential. But, each step of the process — measuring, transferring marks, and cutting — can introduce tiny little errors of 1/64 or 1/32", which, over the course of a project, can add up significantly. So here's a simple little trick that takes no extra time, but creates much more accurate results.    
No offense, but I don't love your grandmother's cookie recipe. I know you do, and that's amazing. And I know it's more about making them that eating them, and that's nice, too. But, if I'm going to go crazy with some unhealthy eats this holiday, I want that extra sugar to be inside something that I care about. Specifically, these cinnamon rolls, baked in cast iron skillet.
Because the season of indulgence is here, and you might as well make sure those calories taste amazing. 
I think I was eight. Maybe seven. It was my birthday, and a family friend who'd taken a mentor role with me stopped by to give me a small gift. I don't remember what was in inside, but I can so perfectly and vividly recall that it was wrapped in the full, CMYK color of Sunday comics section, and it blew my freaking mind.   
I love using the internet to find inspiration, design ideas, and cool materials for my next big project. But, I still think there's a lot of value in a simple, compact physical volume to invite both new makers and folks looking to step up their game into growing their craftsmanship.
So, I want to recommend to you a new book Handmade: A Hands-On Guide. It's a primer full of beginner and intermediate level projects from all across the makersphere, many of which are provided by some of your favorite bloggers, YouTubers, and online content creators. (Including, full disclosure, yours truly.) It's written by my friend and colleague Asa
Giving gifts? It's the best, right? Not cheap plastic things, and certainly not gift cards. But thoughtful custom - and most of the time handmade gifts - that I know someone will enjoy for years to come. Take a look at our list of 50 gifts for men here, and gifts for women here.
Of course, the gift has to be wrapped in something special as well. So, why would I want to use lame paper gift tags from the discount store after all that work? Here is a simple project to make some name tags that are as thoughtful as the gift.   
As far as holiday gifts go, it's hard to beat something to sip. And this year, you can do a little better than swinging by the grocery store and grabbing a bottle of wine. 
This wood-infused project only take a tiny bit more work than buying something from the liquor store, but boosts all kinds of flavor benefits and handmade points, turning the spirits into a proper gift. 
Make some in bulk for everyone you know, and your holiday shopping is done.    
A quality jigsaw is one of my favorite tools, and a seriously good DIY best buy. Armed with the right blade, you can cut all sorts of materials into nearly any two-dimensional shape you please. And most-importantly, do it safely. 
But it's flexibility as a creative tool is also its liability. Like a pencil, it can go in any direction, but in the hands of a human being, those directions will never be without the marks of our innate imperfection. Straight lines can be accomplished with a fence, but a perfect circle. You can't draw one by hand, so don't expect yourself to be able to jigsaw one either. 
At least, not without a little help.    
I've been trying to up my host game lately, especially in the drinks department. Solid glassware, proper bar tools, and better presentation go a long way towards concocting a quality experience. That's why I was excited to come up with a great gift project for those that want to ditch the cheap plastic in their classy mixed drinks. These simple straws are hefty enough to really stand out as a stocking stuffer, or on their own as a solid holiday gift.   
We'll never be the ones to hate on the holiday standards, but sometimes, we need a fa-la-la and sentiment-free movie night this time of year. So, check out this list of classic, masculine films set in the frozen winter months that will really remind you how frightful the weather outside can be.
I have gone on record, in this publication and elsewhere, about why the hot toddy is the perfect cocktail to be sipping in December. It's warm. It's spiced. And at least according to folk wisdom, and able to heal a nasty wintertime sore throat, it's good for your health, and can help to heal a nasty wintertime sore throat. But, to be honest, until last Tuesday evening, I didn't actually like a hot toddy. 

They were fine, but not delicious, and not really an improvement over a simple glass of neat whiskey. 
In truth, hot toddys (toddies?) always disappointed: never quite hot enough to truly enjoy, and somewhat ... harsh. There was something I never liked about adding acidic lemon juice to a healthy glug of bourbon, then heating the whole thing up. It seemed to bring out all the rough, grain-y flavors, and hid the tasty warm and spicy barrel-aged notes that make whiskey, well, whiskey.