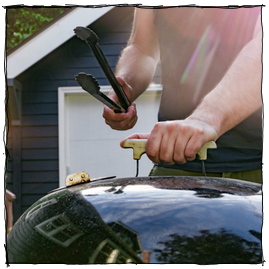 How to Improve Your Charcoal Grill
There are times I feel trapped by men's clothing. It feels sometimes like my options are, 1.) an imitation of the Brawny paper towel man 2.) a skater pining for the good-ole-days of 2004, or 3.) a retiree who wears primarily golf shorts and pleated khakis. Of course, there are other options than these, but if you are on a budget and don't want to commit a ton of time to meticulously curating your wardrobe, its easy to feel like you are working against your clothes choices rather than embracing them. 
Nothing is as scary as men's clothing in the summertime. In the summer, everything is more brash, more colorful, more dramatically what it is. Skater shorts now come with embroidered dragons, and the golf shirts are somehow incandescently shiny and metallic.
And shoes. Ooph. Shoes are the worst. Because when it is hot and humid, having feet that are sweaty and uncomfortable is particular kind of awful. And if you are looking to be comfortable without completely foregoing a sense of style and taste, shoes can be a minefield. So, with that in mind, here's my take on how to navigate summertime footwear.             
"Beloved, we join hands here to pray for gin. An aridity defiles us. Our innards thirst for the juice of juniper. Something must be done. The drought threatens to destroy us... Children, let us pray." –– Wallace Thurman
Gin has some great quotes attached to it. Thurman's is one. Then there's Churchill's quote about a martini being a drink of cold gin while looking at a bottle of vermouth (Churchill has quite a few gin-specific quotes). Gin is there in the art of the 18th century, its in bathtubs during prohibition and in martini glasses in the roaring 20s. It pairs with tonic and soda, but is supreme in a true martini.            
For me, completing a wood project brings a sense of great accomplishment. I've taken a raw piece of lumber and turned it into something beautiful and functional. However, that pat-on-the-back stops short when I remember that I still need to apply a finish to protect the wood! Applying finish is easily my least favorite part of any project, and an area where I am not as skilled as I'd like to be (everything's a learning process). Still, applying a finish is that important last step that protects the project for years to come. Applying finish is easy enough - it's knowing what type of finish to use that's the bigger battle. There's a wide variety of protective finishes out there, and all those options can easily become overwhelming. Let's start with the basics. Here's a quick guide to the differences between polyurethane, varnish, shellac and lacquer.        
Remember that old clubhouse in the vacant lot of your childhood neighborhood that the local kids hand-built from scrap wood and castoff rusted sheet metal, with "KEEP OUT" scrawled in red paint on a sign nailed over the threshold, which you could only cross by whispering the secret phrase of the day?
OK, my childhood never really had that, either. But as this millennium's second decade blazes to a close and the tangible machinery of my life increasingly vanishes into the vapory world of binary code, it feels like several new secret forts pop up every month. Not only does each online account demand its own covert entry key, but with cybercriminals stomping on the gas for data breaches every year, it's becoming more and more important to be able to create unique, hard-to-crack passwords for each one. It's a tall order to balance security with memorability—let's explore how to do it!            
You've built the bookshelf, covered it with great books, but it needs a little something more. Some classic records perhaps? Why not treat yourself to this essential guide to the greatest collection of jazz albums in the history of recorded time – bar none?
Among the true believers, there's a fair consensus that when it comes to grilling: charcoal simply tastes better than propane. No disrespect to the gas grill; it can turn out great results. But when the true taste of summer is the priority, nothing can beat the smoky, open-flame flavor of food grilled over hardwood coals.
Well, except for food cooked over an actual hardwood fire, with coals freshly made from whole logs that you just ember-ed down yourself. This is easy enough to do in a backyard firepit, or even in the same kettle grill you likely use with your charcoal.   
Quick! There are only a few weeks left of summer, and clearly, you're not going to spend money on buying a brand new pair of shorts. So today we present you a super easy, super affordable, super badass way of making your own. This project is awesome (if I do say so myself), 'cause you customize the length to your personal preference, and you don't have to know how to use (or have access to) a sewing machine.
As this point in the DIY movement evolution, no one is surprised to learn that the strength and construction toy-like versatility of plumbing pipe makes it awesome fodder for building all sorts of projects. You've probably even seen it applied to lighting and lamp projects before. But, there's still room to improve on a classic, and we think this piece by Alyssa does exactly that.    
At home, I am the cook of our family. I love to make meals, and… let's be honest, I really just love food in general. I also do all the grocery shopping. Typically, I'll take one big shopping day at the grocery store during the week and maybe a couple short trips if I need specific items. But, whenever I announce I'm taking a trip to the Asian market, my entire family eagerly jumps in the car with me.
If you're not in the habit of shopping at your Asian grocery store, 1) you're missing out on an entire hemisphere of goods, 2) it'll open a new world of food and sundries that'll keep you coming back, and 3) food, kitchen supplies – everything – is extremely affordable. 
In short, tons of flavor. Great value. Win. Win.   
I'm a lucky guy. My family has allowed me to dedicate half our basement into a dedicated shop space, complete with a custom woodworking bench and a growing collection of tools. It's bright, clean (at least right now), and I'm slowly turning it into a functional workspace that will allow me to be as productive as possible. 
But it took me a long time to get here. For nearly fifteen years, I worked out of dining rooms and back porches and portions of the garage, lugging my tools around in plastic totes and home center toolboxes, setting up shop on the washing machine, folding tables, and 1/2" plywood scraps screwed to 2x4s.
And, in the early days, it was that lack of a proper workbench that prevented me from thinking I could could use hand tools. Without a vise and hold downs, how could I safely secure my work for handplaning, chiseling, or sawing?The answer: a batten, which will take you 5 minutes to make and turns any flat surface into a work bench. Let's make one!