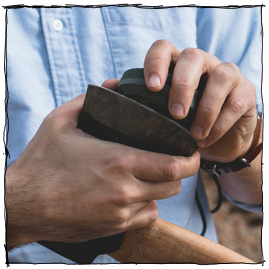 How to Sharpen Your Axe
Get out your leather hole punch, 'cause sooner or later, you're gonna have to do it. It may be because you lost a little weight, and now it's time to notch over one more, and you're plumb out of holes. Maybe it'll be due to the fact that different pairs of pants sit on your body at different places. Or it may be that you'll simply had that belt for a little while, and the leather has stretched a bit. But, at some point, you're gonna have to make a hole in a belt. And if you do it right, it can look perfectly in line with the others, like it's been there the entire time.
I love watching new things get made. But as equally invigorating? 
Watching old things get repaired and restored.
There are plenty of reasons to fix old things: keeping them out of the landfill, learning how they're made, making a little extra jingle, appreciating the products around us that we take for granted, cultivating the mindset of taking better stewardship of our surroundings.
Thankfully for the world, there are a lot of people doing this for the love of the act, because they spend countless hours in their workshops and upload their process videos for free viewing on YouTube.
Read on for our top picks of tool (and other) restoration YouTube channels!
A kitchen knife is an unusual tool, in that the point of contact between the tool and the medium upon which it works is actually extremely delicate. Imagine if a wrench were as delicate as an X-acto blade that had to be replaced regularly, or if bar clamps would routinely stop holding things in place because they became all wonky with use. Most non-cutting tools are blunt, hearty and reliable. But blades have to be cared for, stored carefully, and sharpened (somewhat) regularly. 
But if there is an abused and neglected blade in your home that is used frequently but cared for rarely (okay, maybe not YOUR home, Mr./Ms. Attention-to-Detail––but the average home), it is the knives in your kitchen. Unless you are a professional ice sculptor or sword swallower, it is likely that the knives in your kitchen are the ones that get the most daily use. And if you are anything like me, it is way too easy to just grab one, use it, and put it back without special care for these knives. Despite my best intentions, it is easy for me to leave a dirty one on a cutting board, haphazardly toss one into the sink, clean in the dishwasher and store them in less-than-ideal ways (i.e., cluttered together in a drawer. I know. I'm an animal.) 
Everyone loves pizza and brick oven pizza is about as good as it gets. The whole point of the brick oven is to bake pizzas between 800 and 1000 degrees giving you that crispy layer of thin char over an airy breaded crust. Much better than the paltry results you can get with a conventional oven that only runs about half that heat.      
I love using the internet to find inspiration, design ideas, and cool materials for my next big project. But, I still think there's a lot of value in a simple, compact physical volume to invite both new makers and folks looking to step up their game into growing their craftsmanship.
So, I want to recommend to you a new book Handmade: A Hands-On Guide. It's a primer full of beginner and intermediate level projects from all across the makersphere, many of which are provided by some of your favorite bloggers, YouTubers, and online content creators. (Including, full disclosure, yours truly.) It's written by my friend and colleague Asa
A few months ago, in the midst of a day full of projects, I had a bit of an a-ha moment. I was in my workshop, using the table saw to slice up some Baltic birch plywood, when a timer on my phone went off, reminding me to take a break and go chop a bunch of vegetables to add to the slow cooked stock I was simmering in the kitchen. 
There are plenty of times when a small wooden board is all you need to set out or serve something when entertaining. And it's even better when they look awesome and make whatever you're sharing look that much tastier. If you have a few scraps of hardwood (like walnut) lying around after a project, this is exactly what you should do with them: make a walnut cutting board!
Halloween has its horror and December its infinite loop of sparkle-strung classics. Good or bad, they're the established traditions of their seasons.
But, if you will, allow me to make the case as November as perhaps the prime month for festive film watching. We can't all relate to being chased by ax murderers nor having the carolers sing as we find our soulmate under the mistletoe just as the snow starts to fall outside. But everyone knows the experience of returning home to break bread and spill gravy with family, or, perhaps, what it's like to strike out on your own for the first holiday not spent at your grandparents. The Thanksgiving table (and four days of being stuck in the same place) is the perfect setting for drama, comedy, and everything in between. Plus, all those sweaters. Here are our faves that get it right. 
My first "workbench" was a simple table-style surface. 2x4 legs, 1/2" plywood top, held together with black drywall screws. I built it in my first apartment when I was twenty-two, with my first (and only) power tools: a circular saw and a drill. 
In the back left corner, I mounted a shiny, new, bright blue Irwin swiveling bench vise. It was awesome to have it there when I needed it - holding metal stock and angle iron for cutting, helping me bend rod and pipe, even keeping dowels and small wood parts in place while working on them. Unfortunately, these activities constituted a very small amount of the projects I was doing, and mostly, the vise just got in the way during the other 97% percent of tasks.
So, for the past few years, that vise has just been in a storage crate, and I get it out and try to hold it in place when I need it. Which, in case you can't guess, does not work. Ever. So, I wanted to come up with a solution that would allow me to install a machinist's style swiveling benchtop vise, without having to permanently install it, or drill holes in my benchtop and have to thread and tighten nuts and bolts every time I use it.    
Maintaining your shop tools starts with keeping those blades sharp and well lubricated. Here's a quick overview on how to tune up your cutting edges.