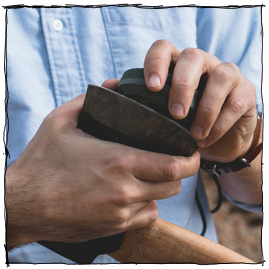 How to Sharpen Your Axe
Yesterday, I offered the thesis that if you're only going to learn to tie one knot, it should be the bowline: it's simple, can be easily untied, and is incredibly versatile for all sorts of situations. 
And all that is true. But, it's not the "knot" I employ most often. Because the reality is, most of us don't handle rope on a daily basis. We do, however, in the age of smartphones and podcasts and the entire history of recorded music available at your fingertips, engage with another long, stringy thing that needs to be dealt with on the regular: your headphones.
Or ear buds. Or ear phones. Or whatever you call those wired transducers that deliver all that sweet, sweet audio to your brain. And because you take them with your everywhere, they regularly get knotted and tangled up in your pocket or bag.
This is completely unnecessary. Because there's a five-second "knot" that can completely eliminate this problem, and it doesn't take any longer than other storage methods. So, now, I present to you, the actual most useful knot in the world.    
You know the phenomenon. No matter how hard your try, eventually, the little plastic tip on the end of your shoelaces (the official term is "aglet") will get crunched up, and slowly, you find yourself with a set of frayed laces. You could do the classic trick of burning the ends with a match to seize the fibers, but that's a temporary solution, and eventually, you'll end up exactly where you started.
Shoelaces are, of course, replaceable, and if you simply need a white or black pair for sneakers, or perhaps the classic golden variagated laces often found in leather workboots, you can switch them out if you like. But, so many pairs of shoes rely on the complement and/or contrast of the laces as a design element, and so often, you can't find a replacement.
So, instead, let's figure out how to fix shoelaces so they stay compact, useable, and fray-free.
Spring seems to have arrived overnight, and with it comes the explosion of green as everything wakes up from its winter nap. First up? Time to fend off the weeds. . . and please don't reach for that toxic stuff. It's nasty for you, your yard, and everything around it. Instead, try this safer and super effective recipe.   
Our love for beer is sincere and it grows stronger every year (and so does our beer belly, but it's so worth it.) Like whiskey or quality tequila, it can be perfect just by itself, in a glass, alongside a meal and preferably outside.
But beer's unique flavor profile - bitter, sweet, acidic, malty - as well as its texture and carbonation also make it a great backbone for cocktails. And in this ManMade Guide, we're giving you the basics to make the perfect beer cocktails.
Now that the days are warming up the thought of a hot latte with milk and cinnamon sure adds a drop of sweat to my brow. It's usually this time of year, I swap my typical addiction to hot coffee to sweet, syrupy iced coffee. I just can't get enough of the stuff!
With the temps warming up, it is most certainly time to get mouths a-watering for barbecue season. Whether gas or charcoal, most of us have a backyard grill, but a dedicated smoker can be a luxury. They take up space, can cost a lot, and while they make sense for true smoked food fans, might not be necessary for the average grill fan.
 
In fact, they're not necessary at all. Cause with a little creativity and DIY ingenuity, you can turn the grill you already own in a smoker that can turn out tender, fall apart food fused with the flavor of fire. 
A few years ago I was driving to a lunch meeting with a publisher for a book project and the conversation turned to old stuff making a comeback. I took her by surprise when I mentioned handkerchiefs, and even more so when I produced one from my back pocket. I had never really thought much of it, because carrying handkerchiefs is my way of classing up a serious problem with allergies, where my sinuses go DEFCON 1 and launch sneezing attacks at a moment's notice. (Like my man Sneezy says... "When you gotta, you gotta.") 
But I'm not the only one looking to supplement tissues with fabric. The resurgence of handkerchiefs is part of the larger picture of kids born in the 80's reaching back into Grandpa's closet and workshop for a feeling of concreteness and authenticity. Regardless of your position on reaching for retro, I'd argue that the handkerchief, far from being a relic relegated to nostalgic millennials, is a useful tool... and not just for catching sneezes.
Here's a list of some of the things you can use handkerchiefs for in your everyday life.
You can buy cold brew coffee at a coffee shop. But, if it happens to be from a certain Seattle-based java-serving monolith named after a Melville character, or an pink and orange East Coast chain known for selling fried rings of dough for, uh, "placing" into your coffee, then what you're actually getting is cold coffee...that is, hot coffee that's been iced down.
Cold brew is an entirely different beast altogether. And with the weather warming up, it's time to cool our coffee down. Or, more accurately, never heat it up to begin with. 
I know it's a small thing, but your choice in writing implements can say a lot about you. Do you carry a simple plastic tube with cheap ink, or do you hold a solid, well-made piece that makes an impression? Or do you not carry anything at all? A pen holds stories and signatures, words and dreams, and you can make one that leaves an impression every time you put some words to that page.
That's why you should carry something impressive, and why you definitely should make your own.
At its core, a chair is simply a seat with a back. And while they often have legs and arms and complex joinery for strength, sometimes, a little physics can accomplish the same thing.