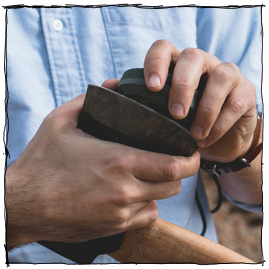 How to Sharpen Your Axe
You can barely imagine what the world was like in the proto-suburbs of the Pacific Northwest for a child who had traveled there––entirely on his own, with his mother at home and his father awaiting him––from a small Tuscan village. This was before "a small Tuscan village" was even a thing on the radar of America at large. And it was before America had its culturally and politically dominating century. It was before anyone knew what the Pacific Northwest would become, foodwise.
And yet, that is where Angelo Pellegrini settled. His childhood of 12 or so years in Tuscany gave him an uncanny experience to bring to pre-depression America, including an adult life that coincided with the Cold War in which his heritage could not have been less relevant. He was born at just the right time to enjoy America in a way that few others had. But he was also born just a bit too early to have been the celebrity he would have been if he had emerged in the age of Alice Waters and the Food Network.    
From every project I've ever made, I always have a small amount of left over lumber or scrap wood from cuts that needed to be make. I have a feeling that I'm not alone in that category. Many times, those small pieces or scraps sit in the bottom of my wood pile for months or even years until I find a need for them.  Eventually, I'll working on a project that needs a small piece of walnut, oak, pine, etc. and that's when I am thankful I kept those small pieces of lumber.  But! Those scraps don't always need to sit on the shelf until you need them for the next big build.
There are also masculine, scrap, and easy projects that make great use of your scrap lumber.  Here are ten of our favorites:
You've built the bookshelf, covered it with great books, but it needs a little something more. Some classic records perhaps? Why not treat yourself to this essential guide to the best jazz albums in the history of recorded time – bar none?
If your water resistant rain shell doesn't seem as water resistant as it use to be, it's time to give the coating a little revitalization to keep those beads forming, and your body dry.   
One of my all-time favorite aphorisms is that Victorian era gem that shines from its facets of order, efficiency, and thrift:
A place for everything, and everything in its place.
I consistently use this idea to recalibrate the way I see my home and studio. My wife and I are work-from-home freelancers; we're in our house 90% of the week and share it with our very active toddler and three cats, working and playing and cooking three meals a day, so we make a lot of mess. Without direct intervention, entropy reigns supreme, with total anarchy its final goal. Thus I constantly ask myself when I put something down: Is that where it lives? If the answer is no, put it away for real.
Well, let's piggyback off the idea of "a place for everything" to deliberately use our physical space to make good habits.
My entire kitchen-consciousness shifts in the summertime. And I wouldn't have it any other way.
The mindset moves from something that is predominantly focused on the oven and range to one that is all about live fires, crackling wood, and smoke. This usually leads me to the meat and hard veggies side of my pantry and fridge. After all, it can be difficult to cook rice, quinoa, or other grains on the grill without special equipment, and I've yet to find a way to manage cheese over charcoal. But an underrated grill item may be one that coincides with the best that summer has to offer: the explosion
Pocket hole joinery has a lot going for it. An affordable jig makes the process fool-proof, it comes together in less than a few minutes, and the joint itself is super strong.
The Kreg jig itself does most of the work, but a little knowhow makes the pocket hole clean and precise. This is especially important if the pocket hole will be visible, plugged, or filled.
Ready to make nice, sharp pocket holes? Let's go!    
As this point in the DIY movement evolution, no one is surprised to learn that the strength and construction toy-like versatility of plumbing pipe makes it awesome fodder for building all sorts of projects. You've probably even seen it applied to lighting and lamp projects before. But, there's still room to improve on a classic, and we think this piece by Alyssa does exactly that.    
This great project keeps all the basic grilling supplies close at hand, but out of the weather when the fun is done. With a large preparation space and room for the essentials it's a great upgrade for the outdoor chef.  
I spend quite a bit of time setting up for projects on the tools. It's amazing how much time it takes to make a few simple yet complex cuts. For the type of cuts that happen often, it makes sense to make a few go-to jigs to help with those annoying set-ups.