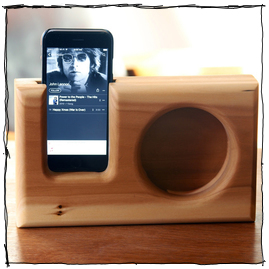 How to: DIY Wooden Smartphone Speaker
These are thoughts, the artwork, the news stories, the tools, the food, the conversations, and whatever else we just can't get out of our heads this month.     
Your kitchen stove is a recent development in human cultural evolution. For millenia, all cooking was live fire cooking. From traveling groups building a bed of coals in the wilderness, to stone and earth homes centered around the hearth, the use of wood as fuel for flame represented what it meant to be human for tens of thousands of years.
These days, cooking over an open flame makes a meal an event. Live fire cooking is portable, sure, but more importantly, it adds flavor and ambience your electric oven can never achieve. Whether grilling over glowing hardwood or slow roasting in a cast iron pan, cooking with real fire makes the meal the point of the evening.   
The stock phrase "greater than the sum of its parts" is relied on a bit too much, but sometimes, there's simply no better way to describe why something so straightforward becomes so intangibly amazing: The Beatles, a perfectly made PB&J, or the memories formed of an epic vacation with someone you love. 
To that classic canon, allow me to submit a new nomination, something so simple yet je ne sais quoi-y that it's a wonder we haven't been doing this for decades already.   
This was the year I finally outgrew IKEA. There's still several pieces in my house, but I'm ready to move on from them as soon as possible. It's probably the byproduct of now being a home owner, and knowing that I can finally buy intentional pieces to fit in specific spaces, and they'll work there for as long as we decide to keep them.
It's not IKEA's fault. And I still think that buying attractive, clean-lined particleboard furniture from IKEA is better than faux-Tuscan and laserprinted woodgrained particleboard furniture from the discount store. But, while it worked in my twenties, I'm ready to surround myself with things that will last.      
I've wandered through the Etsy offerings in the past, sometimes for inspiration, sometimes because something interesting has caught my eye. But lately, more and more great ideas are popping up on the handmade-centric site, and they're amazing. Here's a collection of Etsy's wooden offerings that are really worth highlighting.  
I won't make that mistake again. A few Octobers ago, I was at a medium-sized dinner party, and volunteered to be the guy who ran down the block to fill the three growlers the group would enjoy for the evening. The spot only had six taps, so I tasted every one, and came back with the three things I thought were the most interesting: a Northwest Pale Ale, a Cascadian Dark Ale, and a Semi-Dry Honeycrisp cider.
After struggling to juggle three (full and very cold) 64 oz. glass jugs in my lowly two arms, I "knocked" on the door with my left foot, entered, and declared my haul to eight very thirsty guests. Growler One? Good to go. Growler Two? Great, let's try it. Growler Three?
People, I drank Growler Three all by myself. Not all in the first night, but the semi-bubbled leftovers were all mine.
Turns out, absolutely NO ONE else in that group was even remotely interested in a hard cider.    
You've built the bookshelf, covered it with great books, but it needs a little something more. Some classic records perhaps? Why not treat yourself to this essential guide to the greatest collection of jazz albums in the history of recorded time – bar none?
I've gone on record countless times about my love of the standing desk, the research I've seen on the perils of sitting all day, and my own personal solution for long days on the laptop: the 5-second standing desk (on which I'm currently working.)    
Legacy Overland restores and rebuilds classic off road vehicles such as Toyota Land Cruisers, Range Rovers, and Land Rover Series & Defenders. We sat down with founder Robert Madeira and team to find out more about who they are, and what it takes to preserve such iconic machines while maintaining functionality for the practical uses for which they were intended.    
When I think back to my first office job, I learned two key takeaways: 1) always share your process and thinking with your supervisor, and don't hold out til the end to show them the completed project and 2) drink a bunch of liquids all day long so you'll have to get up to go the bathroom. 
Seriously. Moving about the office gets you up and out of your seat, your eyes off the computer screen, and the ability to mingle a bit with your coworkers. And while we recommend switching to water after 11:00am, it's nice to enjoy a few small personal mugs of coffee vs. a huge thermos. It always stays hot, and remains fun to sip the whole morning