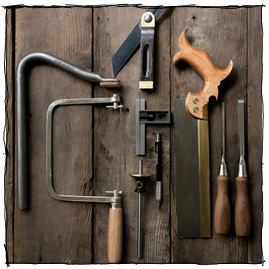 The Best Woodworking on Instagram
It's impossible not to love the grill, especially in summertime. And at ManMade, there's enough of that love for grills of all kinds: gas grills, kamado cookers, offset cookers, vertical smokers, hibachis, and whatever else helps bring your food that flame kissed flavor. 
But for all-around versatility, our vote goes to the charcoal kettle grill. This design has remained basically unchanged for nearly seventy years, and it has stood the test of time as an affordable, adaptable, and portable way to make dinnertime that much more enjoyable. Kettle grills such as the ubiquitous Weber are, as much as a pair of Ray-Ban Wayfarers or the Eames Lounge, a classic.    
Chances are that somewhere in your town––either far away from the big box stores or in some area that is under-visited or out of the way––there is an amazing Asian grocery store. They exist in towns and cities of all sizes, so don't assume there isn't one near you until you actually look into it. Asian grocery stores are an immigrant's lifeboat, and they are one of the few, authentic cross-cultural locations you can find in most of America that isn't a temple or cultural center. They tend to have an array of products that confuse nearly all shoppers due to the sheer diversity of products that fall under the category of "Asian." 
While the meat offerings and seafood tends to be absolutely exceptional and exceptionally inexpensive, the thing that routinely blows me away at my local Asian market is the produce. My god, the produce! Where your standard grocery store will have a small range of Asian ingredients, an Asian market will stagger you just in its section of radishes. Its refreshingly overwhelming, especially when you see something familiar––a bunch of cilantro or garlic or something––and recognize their exceptional quality. This is a place you should certainly familiarize yourself with, and return often.
And while you're there, you should use some of the wonderful vegetables that are, unfortunately, out of our Western culinary vocabulary. In an effort to help you navigate, here are some of the tastiest ones to look out for. This list is anywhere near exhaustive (we love you, too, ong choy), but a great way to start to learn to use some of the classic produce you just can't find at you local megamart.    
Leatherworking may start out as a hobby, but somewhere along the way, you're going to get hooked. So whether you're just getting started or well into the craft, here are a few free content channels to give you a boost down that well-tanned road.
We've said it before: yes, every man needs an apron. They're indispensable in the workshop, the kitchen, the garage, around the grill, even when shining your shoes.   
It's the time of year when grills grace backyards with fragrant charcoal smoke, chins drip with fresh watermelon juice, and the gentle drone of neighborhood lawnmowers beat back that evergrowing green tide. Every day pushes sunset a little later into the edge of night, and in the morning you can smell the dew steaming off from the tips of grass. Summer is here... and it's brought baseball along. 
One of the things I look forward to in the middle of the year is setting aside the latter half of a day, soaking in the ambience of a ballpark while trying to avoid mustard stains on my pants, and adding a new scorecard to my collection. I first started keeping score on a whim several years ago at a Durham Bulls game on the 4th of July, the first baseball game I had been to in about a decade. I'm a pretty obsessive notetaker, so when I gave it a shot...
I was totally hooked. As my poor pregnant wife completely roasted in her outfield seat next to mine (and eventually took solace in the shade near the concessions... sorry Ashley!), I watched the game—no, took part in the game—with an awareness so keen it almost felt like I had picked up several new senses.
The sun is out, sleeves are getting short, and that means: it's time to update your look for the season.
We have created two easy DIY projects that will add a nautical touch to your wardrobe without breaking the bank or having to buy a boat. Learn how to make your own knotted bracelet and...come sail, uh, away?
This just in: there's a giant ball of fire up in the sky, and it's really hot. 
When it's 80 degrees and sunny, I have a hard time finding a good reason not to harness that free energy, instead of pulling in electricity from the burning fuel at my local power station (in my case, I think it's the nuclear plant just south of Raleigh) all to just dry some clothes.
A clothesline is a fantastic supplement to your laundry routine, so if you're like me and you've been putting off building one, here's a simple plan you can follow on a single Saturday—a shopping trip in the morning, a building session the afternoon.
Just like how many Americans think they don't have accents, I used to believe I was totally free of regional snobbery... until I moved away from Maryland after high school. 
See, I grew up just between DC and Baltimore, I've got roots in the Chesapeake Bay stretching back at least 4 generations, so I know—Maryland doesn't really have a ton of nationally-recognizable cultural touchstones, except for one thing: the Chesapeake Bay blue crab. Marylanders are also persnickety about preparation methods, of which there are only three acceptable options: deep-fried softshell on a sandwich; fried up as a crab cake with extremely sparse filler; and steamed with Old Bay, hand-picked and dipped in melted butter.
So when I left my hometown and found other crustaceans being touted as "crab," my gut reaction was Man, that's not crab.
You know what, though? I love all kinds of seafood, so I was eventually willing to concede that here are a lot of other types of crab out there, and they were probably delicious. So I took it upon myself to try out Alaska's most famous seafood exports: the Alaskan king crab.
The first time you go to the lumberyard can be a little overwhelming if you don't know what you're doing.  Even if you think you know what you're doing, all the different species of lumber, the different dimensions of the lumber, different locations within the lumberyard, etc. can seem daunting for finding the perfect piece for your project.  With just a little bit of simple math, one area where you can be totally confident is calculating the cost of your chosen board.
Most home centers sell lumber by the linear foot, which means that the price of the board is determined by the length of the board. You pay a little extra for the convenience of a home center and you likely aren't getting the best piece of lumber.  The lumberyard, on the other hand, sells their lumber by the board foot.  A board foot takes into consideration the thickness, width and length of a board.  There are several apps board foot calculator apps to help you figure out how many board feet are in your chosen piece, but all you need to remember is one simple formula and you can calculate board feet anywhere.
I am unpacking my library. Yes, I am. The books are not yet on the shelves, not yet touched by the mild boredom of order. I cannot march up and down their ranks to pass them in review before a friendly audience. You need not fear any of that. Instead, I must ask you to join me in the disorder of crates that have been wrenched open, the air saturated with the dust of wood, the floor covered with torn paper, to join me among piles of volumes that are seeing daylight again after two years of darkness, so that you may be ready to share with me a bit of the mood - it is certainly not an elegiac mood but, rather, one of anticipation - which