60 Profitable Woodworking Projects That Sell in 2023
There is nothing quite like a handcrafted item to adorn your home. There are so many mass-produced items out there made of inferior materials and quality that it can feel like the only option available. But there are a ton of options out there from beginner woodworking projects to ones that are a little more advanced.
If you fancy yourself a DIY woodworker, there are plenty of things out there that can be crafted to sell. From dog bowl stands to bathtub caddies, toy chests to wall art, there are hundreds of woodworking projects that can be turned into profitable endeavors.
1.) Butcher Block
Don't overlook the value of simplicity. Just because something isn't huge or elaborate does not mean that it can't make for an effective, marketable woodworking project. Something like a butcher block might appear simplistic, but with the right amount of care and the right finish, you can have a custom-made woodworking project that anyone will clamor for.
2.) Modern Picnic Basket
As popular as rustic style is in this day and age, there is just as much (if not more) demand for modern pieces. So, why not combine the best of both worlds with a modern wooden picnic basket? You can have a beautiful, practical basket to take with you on the go or a wonderful decorative piece that will work in any kitchen setting. The versatility of this "basket" is unmatched.
3.) Hanging Spice Rack
There are millions whoa re finding more reason to stay in the kitchen and try out recipes of their own. So, instead of keeping spices tucked away, they can implement a stylish hanging spice rack instead. The great thing is that these racks are highly customizable. That means being able to make them as big as small as needed, accommodating amateur chefs as well as those who take their work a little more seriously.
4.) Toy Airplane
You will no doubt see a lot of DIY racks and benches out there. But if you really want to stand out in your woodworking projects, this is the way to go. With a wood toy airplane, it can make for the perfect adventure for the little ones. Miniature pilots can climb into this airplane, which can be tailored and customized to create a truly unique toy.
5.) Wooden Bench
There is nothing out there that will replace a classic. A wooden outdoor bench can serve multiple purposes. With the right outdoor cushions, it can make for comfortable seating throughout the year. Even if you aren't the outdoors type, it can make for the perfect aesthetic complement your outdoor design which makes this bench a great project to build and sell.
6.) Cat House
Pets are viewed in a much different light than they were 20 or 30 years ago. Now, they are considered family members much more than pets. This means pet owners want to give the best to their furry friends. This is why a custom-built cat house can be a great woodworking project that will sell well. It can be customized with pet names and any other decorative touches, too.
7.) Entryway Hooks
Finding ways within the home to stand out is becoming more important to homeowners. Standing out in a good way can start right when you come through the door. For that reason, entryway improvements can be a great seller. Whether it be a table or an entryway hook for bags and coats, you can make any entryway a focal point for the better.
8.) Shoe Cubby
Speaking of entryways, they can become chaotic in a hurry without the proper organization. That is where a shoe cubby can really come in handy. The best part is that these are relatively simple woodworking projects that can wind up being quite lucrative. All it takes is a great paint or stain to really transform this project from simple DIY to beautiful custom.
9.) Tiered Plant Stand
Finding room for plants can be a tough thing with limited space. So, appealing to those who want more greenery in their life but don't have a lot of space to work with is key. That is why a tiered corner plant stand can be invaluable. It can fit multiple sizes of plants without infringing on the little space that may be available. Perfect for big city areas where space is at a major premium.
10.) Mail Organizer
There is something to be said about staying organized. Shoes can take up a lot of space but don't overlook the clutter of mail, keys, and other accessories being everywhere. Building custom mail organizers can be a relatively simple yet highly sellable woodworking project. It even allows for creativity, coming up with different variations of the same basic design.
11.) Narrow Floating Nightstand
More and more homeowners are finding value in maximizing space by their nightstand. Whether that means filling said space with stuff or simply getting rid of the legs holding the table depends. For those who like a modern, clean look, a floating nightstand can be a great way to present the illusion of more space. With a thinner design, it can be the appealing modern look that so many desire.
12.) Clothing Ladder
Rustic chic is very much in demand. Those tired of the "modern" look that has become so popular are looking for something sturdy, durable, and rustic to go in its place. Something simple like a clothing ladder can be a great woodworking project to take on. The cuts are relatively simple but with the right stain, you can create a piece that will stand out in any room.
13.) Play Kitchen
Kids have big imaginations which require big toys. But there are plenty out there tired of buying the same piece of plastic from the toy store. With a little woodworking magic, however, those big playsets can be recreated. A custom-made play kitchen can be the type of toy that gets love now and for generations to come thanks to a much sturdier design.
14.) Lego Bin
LEGOS are some of the most popular toys out there. They began as a sensation decades ago and have had a resurgence in recent years. But stepping on them can make for a really unpleasant time. So, with a custom-made wood LEGO bin, it can be the perfect solution. Even better, those in the rustic-chic crowd can get the storage their kids need without compromising their stylistic element.
15.) Wooden Bird Clock
One of the major elements of the rustic look that remains so popular is nature. Natural materials, animals, and other elements of the outdoor become far more important. So, by combining the best of both worlds by creating a wooden bird clock, it becomes the perfect mix of custom woodworking and outdoor aesthetic.
16.) Chalkboard Shelf
A little creative element can go a long way. Creating a shelf with a chalkboard background can be a simple woodworking project with big potential. Buyers can create their own chalk designs on the chalkboard, make notes for organization, and just about anything else that they could hope for. It is a versatile, easy woodworking project that can go a long way.
17.) Floating Shelves
Don't overlook the value of simplicity. Though they may be quite common in both the woodworking and mass-produced design world, floating shelves have immense popularity. Make floating shelves that stand out from some of the others on the market with a quality stain or finish and you will have a simple, effective, stylish product that will fly off the shelves (pun intended).
18.) Storage Chest
Counter and tabletop storage is vital, especially in smaller spaces. That is why a storage chest with plenty of space, can be so popular. The best part is that these can be as simple or comprehensive as you want. A simple design or a custom stain can go a long way towards creating a unique storage option that stands out from the rest and should be a profitable project.
19.) Wall-Mounted Power Tool Charging Station
Who doesn't love a better-organized garage? With a wall-mounted charging station, you can maximize space in a typically cluttered area. With shelving units and drawers for bits and attachments, there's ample storage making this a profitable project to build and sell.
20.) Dog Bed
Dogs are beloved companions to millions. More importantly, they are getting the love from their owners that they deserve. One of the easiest and most appealing woodworking projects out there is to create custom dog beds. Whether creating a simple, finished box with padding or something more complex with engraving, you can have a simple yet marketable woodworking project in no time.
21.) Tool Caddy
This is a great project whether it is being made to market or for personal use. The most handy among us need space to store all their tools, finding them easily accessible at a moment's notice. So, what better place to start than a tool caddy? The level of customization is off the charts, too. Add shelving space for power tools and even a charging station for all the batteries.
22.) Test Tube Spice Rack
Spice racks have been done to death. But if you are looking for a great DIY project that can be quite marketable, think outside the box. A test tube spice rack is a great way to appeal to the amateur chefs out there without creating the same woodworking project that everyone has done a million times. The right rustic finish can make it look like a well-worn test subject.
23.) Toddler Bed
Buying a toddler bed usually means having to put it together. And no matter what, it always seems like something goes amiss somewhere. But creating custom-crafted toddler beds can give buyers the rustic, handmade look that they value while also providing a measure of stability and safety for their young ones. It is the best of both worlds and a highly marketable DIY woodworking project.
24.) Wooden Kids Chair
In the same vein, kid's furniture can look like a dime a dozen. The same cheap plastic, the same cartoon designs, the same everything. But what better way to stand out in a crowd than with a hand-crafted animal chair? With different animal designs, it is possible to create a line of jungle pals that will liven up any child's playroom like no other.
25.) Chalkboard Calendar
Keeping track of appointments is a lot easier said than done. But instead of making a million different notifications on smartphones and computers, there is nothing quite like a wooden chalkboard calendar. All it takes is a little work to build and stain the frame with the chalkboard background doing the rest of the work. An easy, marketable woodworking project that is perfect for those just getting started.
26.) Bathroom Vanity
As anyone in the middle of a bathroom renovation project can attest to, things can get expensive. But there is nothing quite like going with handcrafted designs above something you can just walk into a store and get. A custom DIY bathroom vanity can provide the beautiful, rustic finish that so many would love to have in their bathroom. Even better, it can be as simple or complex as your skills can accommodate.
27.) 2×4 End Table
End tables are very practical but sometimes smaller spaces are not so accommodating. But with a wooden 2×4 end table, buyers can get the practicality of an end table in a smaller, more desirable package. The design can be altered for a more customized finish but it is ultimately about creating that chic, rustic look that also serves a practical purpose.
28.) Picture Frame
If you are relatively new to creating woodworking designs, why not start simple? Picture frames are always in demand and the ones that are handcrafted tend to do a lot better than the cheap, generic versions that you can find at any of the big box stores. Play around with different stains and finishes to create different, beautiful picture frames.
29.) Wine Rack
Wine racks can make for the perfect woodworking project. There are so many different ways that you can make them, whether they have individual slots or shelving spaces for each bottle. Wine racks with individual shelves can stand out from the bunch and are great for those who enjoy their wine but aren't such connoisseurs that they have the need for an extra-large rack.
30.) Beer Bottle Crate
Craft beer is more popular than ever before. So, if you want to really expand upon your woodworking prowess, why not take aim at the craft brew crowd? With a beer bottle crate, you can appeal to that hip, chic crowd that looks for more old-school ways of doing things. A beer crate harkens back to the old days and can make for a really chic aesthetic in a more old-school setting.
31.) Cell Phone Charging Station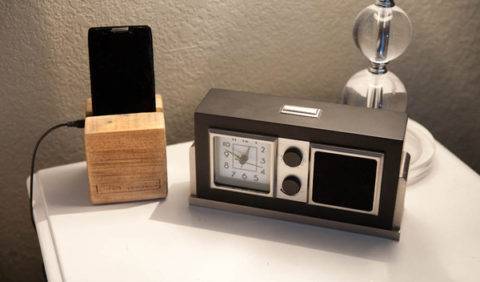 No matter how old school someone considers themselves to be, there is little doubt that they have a smartphone. So, why not appeal to the modern necessity that nearly everyone has? With a custom-built charging station, users can charge their phones in a hand-crafted wooden station. It has all the TLC that goes into woodworking while still appealing to the modern necessities we have.
32.) Cedar Chest
Despite the need for a modern look, there is nothing quite like a little bit of classic appeal. A cedar chest can provide that classic look without any problem. Even better, it is a relatively straightforward woodworking project that can be taken on by even those relatively new to the woodworking space. It is all about finding the right stain to finish the job.
33.) Candle Holders
Candle holders are a relatively simple, straightforward project. But they can also really stand out when done the right way. By creating a custom candle holder, you can stand out from the rest on the market. That means having a highly marketable, easily created piece to support your woodworking hobby. Just because it is simple doesn't mean it can't be well done.
34.) Clock Case
Those with a mantel are often looking for the right decorative piece. And because of the old-school feel of a mantel, it often means having something classic to fill that space. With a clock case, you can create just that. These cases are great for holding more classic timepieces that appeal to the classic, rustic aesthetic.
35.) Picnic Table
Another simple, yet classic woodworking creation. There is nothing that can quite replace a classic-looking picnic table. The best thing is that they are just as marketable in their simplest form as they are properly stained and with customizable features. Even amateur woodworkers can take on this project in confidence and turn out a quality product.
36.) Vinyl Wood Sign
Wall signs tend to be a hot-button topic. They get made fun of a lot because they say things like "live, laugh, love"' and a whole other slew of non-sensical sayings. But a custom-made vinyl wood sign can mean creating any kind of sayings that your customers want. That level of customization is unmatched and can make your work highly requested.
37.) Ornament Trees
There is nothing quite like custom ornaments for Christmas time. There are a ton of different options available but what better way to appeal to the woodworking lovers out there than with small hand-crafted Christmas tree ornament holders? With the right touches, they can stand out from all the generic decorations that litter store shelves each year.
38.) Mini Planter Box
Planters have been done to death. You can throw a rock and hit a dozen planters. But what will really stand out, especially for those who love the freshness of plants but don't have a lot of space to accommodate, is a centerpiece planter box. These mini planter boxes are perfect for smaller flowers, providing a pop of freshness without having to take up much real estate.
39.) Wine Rack with Glass Hanger
If you are looking for marketable ideas for woodworking projects, then there are a few areas to stick with. Wine racks remain one of the most popular options and with good reasons. The good news is that they are customizable, like making a wine rack with a built-in glass hanger. These mounted racks are great for smaller spaces that want to show off smaller wine collections.
40.) Cornhole Set
Cornhole is a game that is popular the world over. All it takes is a couple of boards and some bean bags and you can play the game easily. So, for amateur woodworkers looking for a marketable project, why not start with a cornhole set? There are plenty of people out there looking for a hand-crafted set and the greater the detail, the bigger the potential.
41.) Chess Set
Chess will always have a place in the world. It is an elegant, complex game and there is nothing like having an elegant, complex set to go with it. By creating a custom chess board set, you can have a woodworking project that appeals to those with an eye for detail and hand-crafted work. There is no comparison between a store-bought set and one that has been hand-crafted.
42.) Farmhouse Frame
Farmhouse style is more popular than ever before. So, it only stands to reason that making farmhouse-style accessories would be a big hit. Why not start with something simple like a farmhouse picture frame? Stylish and simple, you can make it from any type of wood and finish it to have that rustic home feel that is so in demand. Even better, you can create a number of sizes to fit different needs.
43.) Cutting Board/Serving Tray
In the same vein, you can take something simple and make it just a little less so. Butcher blocks are a great place to start, but what if they could be more? You can take a cutting board, add some chic, rustic handles to the sides, and turn it into a dual cutting board/serving tray combo. Where space is at a premium, something like this can become extremely valuable.
44.) Sunglass Storage Rack
Simplicity can also become quite beneficial, especially to those with chaos and clutter in their lives. During the summer, it becomes all too easy to lose things like sunglasses and keys. So, with a simple sunglass storage rack, you can create something stylish and simple that will become a favorite of those looking for a custom-made touch.
45.) Beer Caddy
Another great place to start with woodworking projects is to appeal to the craft beer fanatics out there. Especially those people who like to brew their own craft beer. Providing them with a beer caddy is a great way to give them a custom caddy to go with their custom-made beer. Even better, you can add a little etching into the mix and implement names and more into the design.
46.) Spice Rack
Keeping with the simple theme, there is a lot to be said about not overcomplicating things. A wall-mounted spice rack is as simple as it gets but can make for a marketable, easy-to-build woodworking project. You can even play with different sizes and dimensions, appealing to those who have specific, customized setups. From a woodworking standpoint, it is quite simple and is a great way to get your feet underneath you as a custom woodworker.
47.) Jewelry Organizer
Clutter can play havoc. That is why it is so important to create woodworking projects that can help make organization easier. Those with a lot of jewelry or glasses know how difficult it can be to find misplaced items. But with a jewelry organizer, customers can have a hand-crafted means for organizing those important items without getting something generic and store-bought.
48.) Triangle Planters
For smaller spaces, it is imperative to make the most of wall space. And for those who enjoy having plants in their home but don't have the space to accommodate them, triangle wall planters can be a great addition. Best of all, these units can be tailored with as few or many units as needed, making it a customizable, hand-crafted planter like no other. They can be particularly complimentary in pairs, adorning opposite walls to provide a proper burst of color without taking up too much space.
49.) Wooden Egg Holders
Part of creating marketable woodworking projects is doing something that isn't as readily available as the others. That means getting a bit more niche and there is nothing quite as niche as a wooden egg holder. Customers can get a swanky, chic holder for their eggs without having to worry about accidentally squeezing one apart in the process. These can be created in opened or closed designs, offering different woodworking possibilities.
50.) Wall Cabinet
Classics are classics for a reason. They have a timeless look that transcends generations, maintaining popularity no matter what the time period. And a custom-built wall cabinet is one of those classic pieces that will never go out of style. This can be a little more difficult if the glass is added in yourself, but it can otherwise be as simple as you need it to be. Great for beginning woodworkers as it can be without glass, allowing for improved levels of customization as you go.
51.) Dog Bowl Stand
We love our pets and want nothing but the best for them. That means giving them everything that they could possibly want. So, when it comes time for feeding, there is nothing more important than practicality in a serving bowl. With a dog bowl stand, you can ensure that food is at a comfortable height for your furry friends. Even better, there can be multiple slots added to accommodate for water bowls or even additional dog bowls.
52.) Outdoor Table
During the warmer months of the year, being able to spend time outside is important to a lot of people. But just because time is being spent outside does not mean that there has to be a sacrifice in comfort or practicality. Which is where an outdoor table can make perfect sense. Outdoor tables add practicality and another layer of design to your entire setup. Perfect for pulling together the look of your outdoor space while providing a place for drinks, cellphones, and more.
53.) Bathtub Caddy
There is nothing quite like a good, relaxing soak in the bath after a long day. But without the right tools, it can be a huge hassle. That is why creating a bathtub caddy can become such a valuable woodworking project. They don't have to be crazy, either: just a simple shelving unit with legs to stand on the edges of the tub. The end result is something simple yet effective, providing an additional layer of comfort to those who enjoy taking a bath.
54.) House Numbers/Planter
Planters and house numbers are two very common woodworking projects. So, why not combine the two into a more visually appealing project? The house numbers/planter combo isn't terribly complicated, either, making it ideal for those who are still new to woodworking. It is a great way to combine two elements of a classic home look into something that has a more practical use. Even better, it is highly customizable, which makes them more valuable to potential customers.
55.) Wooden Box
Simplicity goes a long, long way. Similar to the toy chest from above, a wooden box can seem simplistic on the surface but it can be quite the custom piece. Whether it is a simple wooden box or one more ornately designed, it can prove to be a great storage option as well as a complimentary design piece. There is nothing quite like a simple box to provide ample storage while also standing out as a classic aesthetic piece.
56.) Wood Clock
Wall clocks are starting to become a bit less commonplace. With our smartphones, there is really no need for a clock to tell time. But there is something to be said about clocks as an aesthetic piece. This is why a simple wood clock can become such a valuable woodworking project. You have to have a little bit of knowledge as to how to build a clock, but even that can be learned in short order. The end result is a custom-made clock that can harken back to the old days without feeling like something that got pulled out of someone's garage sale.
57.) Sofa Tray Table
A sofa provides all of the comforts that anyone could need while relaxing in front of the tv or reading a good book. But one of the issues with sofas is that they don't offer much in the way of drink or remote holding capabilities. But with a sofa tray table, you can create an easy woodworking project that appeals to even those that don't particularly care for the hand-rafted touch. It has the mass appeal to be a valuable piece while lending craftsmanship and personal touch as opposed to the mass-produced items that can be found anywhere.
58.) Treasure Chest Toy Box
Children grow rapidly, which means eschewing toys, clothes, and more in the blink of an eye. It can be difficult to find those long-lasting items that kids hold onto for the entirety of their lives. But with a hand-crafted wooden toy chest, that is precisely what can be had. Even a simple chest is one that can hold up against the strains of time and provide that one piece that can last all throughout childhood. With custom etching, you can even include names or designs to create the utmost custom wooden toy box.
59.) Bedside Box
Bedside storage is imperative for keeping clutter away. When our nightstands get too cluttered, it not only makes it more difficult to find the things that we need but creates an unsightly mess. Which means having ample, accessible storage options. A simple bedside box can provide a stylish storage option that does so much more than a plain plastic tote ever could. Expand on your woodworking abilities by creating storage boxes that are more ornate and decorative than all the other plain options out there.
60.) Scrap Wood Wall Art
Wall art can be readily found in just about any big box store imaginable. But with a little bit of time and patience, you can create the kind of custom artwork that is difficult to replicate. Even better, all you need to create beautiful custom wall art is a little bit of time and scrap wood. Mix and match different wood types to create standout pieces that anyone will enjoy. You can even get as creative as you want, exploring different patterns and matching different wood types to create something beautiful. With scrap wood projects, the possibilities are endless.