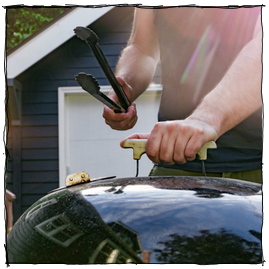 How to Improve Your Charcoal Grill
The Telegraph UK features a recent photo exploration of the "kit" - the gear and clothing - carried by common soldiers for the last 1000 years. 
Last summer, I shared my favorite trick for instantly upgrading your gin and tonic: use a better tonic water.
And what's the best tonic water?
Brought to you by the National Geographic Channel 

As a spinoff to the highly-popular Wicked Tuna series, the National Geographic Channel is pitting some of Gloucester, Massachusetts' finest fishermen against a new group of captains from North Carolina's Outer Banks in the new series Wicked Tuna: North vs. South.

When the bluefin tuna season comes to an end in Massachusetts, the northern captains decide to try their luck in the Outer Banks. As the crew hits the high seas and ventures into uncharted territory, they are not only faced with unpredictable weather and dangerous water, but some very protective local Outer Bank captains whose families have fished the area for generations. Watch as the northern captains conquer new styles of fishing, treacherous waters and the wrath of the southern captains. 
The new series premieres on the National Geographic Channel on Sunday, August 17 at 10/9c.


Hi friends - I'll be off the computer for the rest of the week to party. And by party, I mean to work. I'll be getting ready for an upcoming awesome backyard entertaining series for ManMade. 
Don't let the back-to-school sales fool you, there's still plenty of summer left. And campfire season lasts well into the autumn, and weather permitting, can make cool winter nights bearable, allowing you to hang out outside even when it gets dark at 4:30 in the afternoon.    
Here's a cool take on the you-can-make-anything-into-a-lamp project: a sleek, hanging pendant lamp made from an upcycled baseball bat.    
When it comes to getting the most from an everyone-has-a limited clothing budget, the two most helpful questions to think about are "what's the best men's style value in terms of long-lasting quality vs. price" and "on what should I save, and on what should I invest?"    
Over the weekend, the park down the street hosted a "Movies in the Park," and the main feature? Back to the Future. (Instagrammed here and here.) Fans and anyone in Sellwood park that night will recall the opening scene, pre-guitar amp blowout, 
Whether its our birthright or our burden (or, like most things, somewhere right in between) men gots to shave they faces. While we've been doing it for years, there's always room for improvement, to both care for your skin, minimize cutting, and getting the finish you want.   
Despite advances in technology, most projects still begin where great projects always begin: with a pencil and a piece of paper.