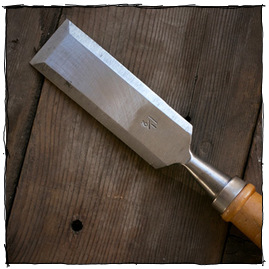 How to Restore a Vintage Chisel
Each Wednesday, I post some of my favorite can't-miss links, images, and otherwise mindblowing goodies from across the web. 
British sculptor and environmentalist has been making organic art for more than four decades, and it looks just as contemporary as when he conceived it.    
If I could have my druthers, I doubt I'd live in a house. I wouldn't go for a loft, necessarily, but some sort of converted work/live space filled with architectural and industrial details instead of a chair rail. But, likely, I'll end up in a standard single family home, hopefully with a great kitchen and a little yard. Doesn't sound so bad, really... 
Last week, A Continuous Lean published this fascinating piece on Filson, the legendary Seattle-based outfitter. It begins, "The oldest person in the world is 115 years old. Filson is 116."   
There's a lot going on in your head right now.  Your head, my head, all human heads.
Nothing beats a great lighting project, and I especially like the thoroughness of this original. It's more than just a "get an existing lamp kit and put it on some sort of structure;" rather, it walks you thorough not just the woodworking but also the easy electric work required to put something like this together.    
The concept of placing album covers with urban scenes in their original geographic context isn't a new one, but I think this take, which uses Google Street View and Photoshop rather than a handheld LP and a camera, somehow manages to add something novel to the genre.
This past winter was an intense one for most of us in North America...you know, you were there. It wreaked some serious havoc, including taking its toll on my welcome mat. After four straight months of boots covered in salt and ice and black sludge, it was time to say goodbye.
The key bulge. That tangle of metal in your pocket that does no one any favors, and is usually more hassle than its worth...until you're out and you actually need
This weekend project combines the best of both worlds: it's functional, providing plenty of space to grow small culinary herbs or succulents or a safe place to start seeds indoors while it's still frosty outside, and its large scale allows it to fill a whole wall, providing color, texture, and a bit of pattern.