13 Best Modern Prefab Cabins [2023 Edition]
There is nothing quite like cabin living. It offers that rustic feeling that can offer a warm, welcoming contrast to the modern aesthetic that we have become so used to. But having a cabin built can be time-consuming and expensive depending on what options you choose.
This is why a prefab cabin may be the best option. Prefab cabins come pre-built and are delivered where you want them to go. They are smaller than the traditional cabin but can offer a level of beauty and customization while not costing an arm and a leg. They can make for an excellent addition to an existing property and can even be moved from the property to a new location if you move.
What is a Prefab Cabin?
If you are totally new to the world of prefab cabins, let's take a step back before we get into what you should look for and what some cool prefab cabins are. First and foremost, what is the difference between a prefab cabin and any other kind of cabin construction method?
In short, a prefab cabin has already been built. Whereas other construction types require you to do the building, your prefab cabin comes delivered in one piece. That means no fuss about building it yourself; you simply buy it and have it delivered to your home.
What Do You Use a Prefab Cabin for?
It is important to consider the fact that most prefab cabins are smaller than their traditional counterpart. If it is smaller, what can you use them for? Well, there are more than a few uses you can get out of a prefab cabin.
For starters, it can make as an on-suite to your existing home. If you don't have the money to build out an in-law suite, a prefab cabin can make for a great option. Whether it be to house a family member or rented out for additional income, it can make for a great addition to the property.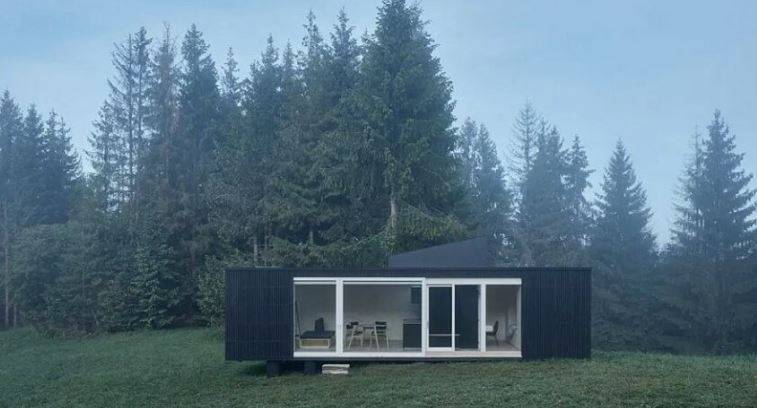 Speaking of which, it can also be sold to a potential buyer. Having the right property means being able to make money off of that prefab cabin. Worst case, if you move, you can take it with you if you so desire. The ability to move it simply and easily is one of the beauties of prefab cabins.
If you don't have permanent living in mind from your prefab cabin, it can make for a great part-time vacation home. One of the most common reasons for a prefab cabin is that it makes for a great hunting lodge. It can house the bare necessities without taking up too much property space.
Finally, if it is combined together with other prefab cabins, it can create an almost faux resort. With the right property, you and others can add some prefab cabins and make it like your own getaway resort. Even better, you have control over where they go and what kind of amenities they have, making it totally unique to your needs.
What You Should Consider Before Buying a Prefab Cabin
So, now that we have a better idea of what a prefab is, what do you need to know before buying one? Because they are assembled and ultimately delivered to you, there are a few things that you should be considering before making your purchase.
Remember that prefab cabins are quite a bit less expensive than traditional homes, cabins included. Since there is quite a bit of customization that can be included in the process, here are four things in particular that you will want to consider before purchasing a prefab cabin.
Location
The biggest consideration to make before buying a prefab cabin is where it will go. If you don't already have one, you will need a piece of land on which to place the structure. For most, prefab cabins are small enough that they can go in a backyard space.
If you do not have land already, make sure that you have a piece of land that is spacious enough to accommodate. Because of the size of the prefab cabins, you can get away with a relatively small piece of land, so costs shouldn't be too high.
For the most part, these cabins are meant to act as additions to existing structures or as a second home. If you are planning on adding a prefab cabin to your property, it should be accessible to the main home. This will also mean creating more of a residential cabin rather than a more rustic or bare-bones option.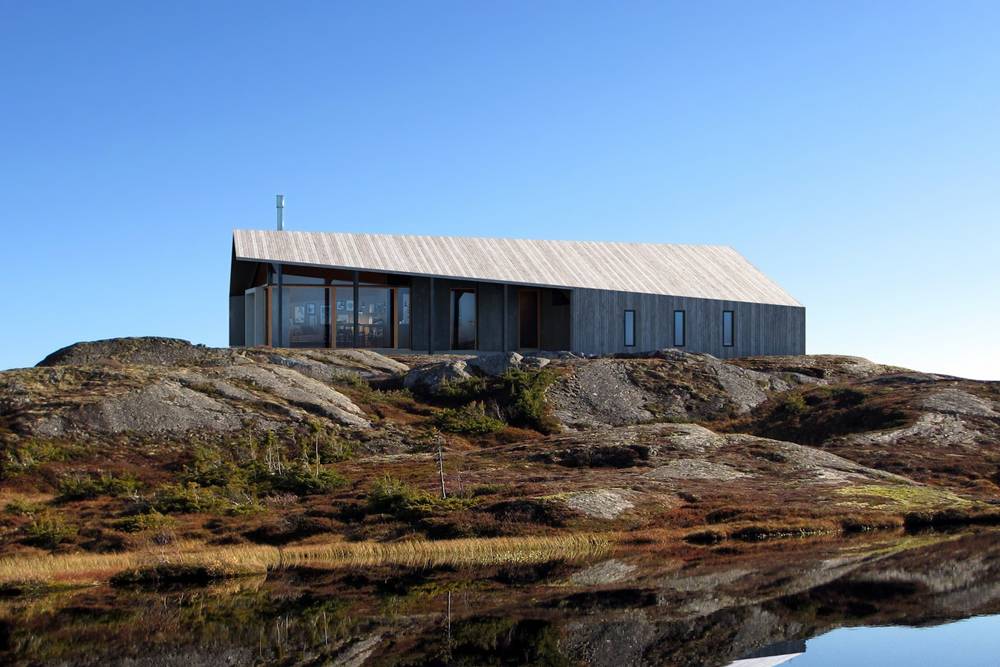 The manufacturers will assemble your cabin kit. The kit is made up of a roof, doors, windows, and log walls; the kit itself should come in at around 40% of the total budget but that can vary depending on which manufacturer you choose and what kind of quality materials you opt for.
Customization
As is the case with any structure, it can be customized to meet your specific needs. Before you purchase a prefab cabin, make sure that the manufacturer can meet your specific needs. The last thing you want is to begin the construction process only to find they can't do precisely what you were hoping to have done.
The great thing about prefab cabins is that they can be as simple or complicated as you want them to be. You just need to work with the manufacturer on the specifications. Maybe the kitchen should be quite a bit wider or you want an additional bedroom.
Making tweaks to the customization of the home allows you to make it truly yours. If you plan on living in the prefab cabin, it may be worth the time to work through all the customization possibilities. After all, you would rather have everything you could want than find out you wanted or needed it later.
Keep in mind that the more customizations you make, the more expensive the project will be and the longer it will take. Be sure to budget these customizations accordingly to avoid any nasty price tag surprises along the way.
Preference
When buying a prefab cabin, your personal taste definitely should come into account. If you buy something generic, you may save a few bucks but may not like the cabin as much as if you had taken the time to select features that fit your wants and needs.
The builder should also take into account the preferred design and size, whether you want it to be simply functional or have any aesthetic requests and whatever finishing that you prefer on the prefab cabin.
When it comes to the finishes, this includes your siding and flooring. If you don't really know where to begin with cabin design, consider doing some research into it before making your choices. If you plan to live in the prefab cabin, you want it to be as welcoming as possible.
Cost
No matter what the situation, cost and budget are going to be deciding factors. The vast majority of us have a finite amount of money to work with and that is generally going to be a very large factor when buying a prefab cabin.
Before you begin making changes to finishes or adding different levels of customization, be aware of your budget. Make sure that, should you make any changes, you have the financial flexibility to handle those changes.
The good news is that, should the cabin come in over budget, there are financing options for purchasing the cabin. If you do opt to go the route of financing, just keep in mind taxes and insurance when measuring out your budget.
There are also potential costs for things like repair and housekeeper's pay, especially if you only plan to be at your cabin a little bit of time each year. The latter would be highly recommended if you are planning to rent out your prefab cabin for additional income throughout the year.
What separates Woon from a lot of the other prefab manufacturers out there is that they offer some of the most modern features for cabins out there. There are more than a few examples out there of Woon cabins that look like modern vacation getaways.
Each home comes fully equipped to not only be adaptable, but energy-conscious as well. They use controlled fabrication principles, on-site assembly, and easily adjustable structural specifications that can be made at the time of construction or later down the road.
What really makes Woon prefab cabins stand out is how eco-friendly they are. Most of the materials used in the construction process are bio-based. They make use of cellulose, wood, hemp, straw, earth, wool, and clay in order to make the least toxic atmosphere possible while also reducing their carbon footprint as a whole.
They also offer different sustainability options like solar panels/battery systems, purification systems, and rainwater collectors to ensure that comfortable living can be attained without having to rely on traditional methods.
If you are looking to get off the grid without sacrificing modern amenities, this is a beautiful option. Get the modern comforts with the feel of something rustic and natural.
One of the most important things to consider when buying a prefab cabin is the available space. Obviously, there is a finite amount of space in the floor plan. So, why not make the most of space by getting creative in the design?
This is where the flat roof concept comes into play. Instead of trying to look for additional inches or feet on the interior of the structure, Wheelhaus makes the most of the flat roof. It offers a great view out over the property with the possibility of additional seating space.
It offers the same rustic visual appeal as its counterparts on the market but the huge upper deck area makes it feel bigger than the others. The ranch wood siding gives it the ultimate rustic look while modern updates are provided to make it feel anything but old.
The timber frame structure, ample steepling space, and the gabled roof make it possible to house up to six people depending on how creative you want to get. Still, for one or two people, it is more than enough space to allow for scenic living with all of the modern stylings that have become popular in this day and age.
Snohetta makes the list and with good reason. They have been known for their world-class architectural designs, so it only stands to reason that they got into creating some of the finest tiny homes on the market as well.
With one of the more simplistic exterior designs of any on the list, the space is more about providing proper accommodations and spacious living. This one in particular not only offers spacious kitchen and living room areas, but three bedrooms, and even a sanitary facility.
What helps Snohetta stand out is the modular storage space. That means not having to cut down on the stuff that you have; it simply changes how you store things like essential items and clothing. The goal is ultimately to keep the footprint of the cabin to a minimum, so each room is designed to be as versatile as possible to take up less space.
Even better is that the cabin is much easier to heat and cool as the seasons change. With the huge patio area, you aren't forced to stay inside all the time. You can enjoy the beautiful scenery whether you are reding, napping, just relaxing. Is the optimal setup that maximizes practical use and allows the natural beauty of the property to become the star.
These homes are quite simple and come in an almost tent-like structure. What makes these a great option is that you can have one installed after anywhere from 8 to 15 days on-site depending on the customizations requested.
These homes are highly adaptable yet quite comfortable, aligning with your budget as well as your vision. Even better, it is versatile enough that it can fit in any rural area or city, in the woods, or right off the water if you so desire.
You can select the different types of materials and even the size of the room when going through your preferences. There are three design options: the single-unit (measuring 35m²), the double unit (measuring 70m²), and the triple unit (measuring 104m²). Even the smallest, single unit option, is versatile enough that it can be utilized in a multitude of ways. It is a great way to keep your costs down while also not feeling like you are being shoved into a sardine can.
Being able to choose between so many different sizes and style options makes the M.A.D.I. Home one of the most versatile on the market today.
The thing that stands out about Everywhere Shelter Co. is that this specific line of cabins, the Ayfraym, is not modular. Most of the prefab cabins out there that you will find are modular in design but this is the exception.
Their standard A-frame cabin is nearly 2,000 square feet and includes a pair of bedrooms, a pair of bathrooms, vaulted ceilings, large custom windows, and a whopping three different walkout decks as well.
If you want something that is large enough to feel like a traditional family home while providing all the breathtaking views that you think of with cabin living, this is a great option. There are plus models that have additional upstairs space and even a two-car garage.
This is more along the lines of luxury cabin living, though there is the Tiny option which has one bathroom and one bedroom. One of the downsides to Everywhere Shelter is that it takes anywhere from three to six months to get through planning and construction. Still, there may be no finer option on the market if you are about aesthetics and additional living space.
The Monocabin is similar to some of the others on the list in that it is made in an effort to mitigate the environmental impact as much as possible. Because of that, much of the construction is done through the use of sustainable materials, hemp being primary among them.
Another feature of the Monocabin is solar panels. Because they act as a clean alternative energy source, they can add to the environmental responsibility that the Monocabin brings to the table. Noted for their bright, white exterior finish, you have more options when you start looking through the different models.
As is the case with the Ayfraym cabin, you have to wait a while to have it ready (three months). The interior space and exterior space are connected thanks to skylights and huge windows, which means being able to bring nature right into your home without having to go outside.
The design is more modern than a traditional log cabin, especially when you consider the environmentally responsible design aspects. Still, if you want a chic, modern living situation, this is one of the best choices out there.
There are a few designers that stand out from the rest and this is one of them. Backcountry Hut Company has won awards among the Canadian architecture community for some of their cabin designs. They offer three different modular design options that depend on how much floor space you need.
The very smallest is the definition of "small living": a 10' by 10' space that has a loft above the ground floor. It is a single bedroom option. The second option is 18.5' by 10' with the aforementioned loft that is able to accommodate small groups or families. The third option is a two-story option, also 18.5' by 10'.
The goal of each of these Backcountry Hut structures is to be efficient. Using eco-friendly materials, they leave as small a carbon footprint as possible while putting extra value into environmental conservation. If that aligns with your lifestyle choices, it is an added bonus to go with BHC.
For space and energy savings, along with beautiful architecture that has won awards, this is the optimal setup. You gain access to some of the most visually appealing aesthetics out there while knowing that there is an eye towards environmental responsibility.
Node created their prefabricated homes with an eye towards sustainability, attainability, and adaptability. When it comes to smaller, less traditional living spaces, it is important to have adaptability above all else.
You may also be noticing a theme with these prefab cabins: sustainability. In their construction, sustainable materials are used with the goal to keep the carbon footprint to a minimum. That means using non-toxic materials, low-impact foundations, and energy-efficient systems.
What really makes the Node Eco stand out is the building envelop which has been recognized as one of the most innovative and cutting-edge in the entire industry. There are a variety of sizes and floorplan options that allow you to customize based on your needs while also making pricing simple and intuitive.
It is possible to add reading nooks, covered walkways, and so much more to your Node Eco-living space. The amount of customization is one of the best on the market and you can rest easy knowing that nearly all of it is done with sustainable materials in mind.
Of course, not every prefab cabin is going to have its own plot of land. One of the great things about prefab cabins is that they can go on existing properties, oftentimes right behind an already existing structure.
Instead of being complete cabins, think of these more as prefab rooms. They come in either entirely pre-fabricated structures or separate pieces that can be arranged on-site. These prefabs are created to manage site conditions and restrictions, which allows them to take on some of the more unique characteristics that you may not find in other prefabs.
Like many of the others on the list, Lake|Flato also makes use of sustainable textiles and materials. That means maintaining efficiency all throughout the year while minimizing environmental impact. Despite the relatively small interior area, huge windows and porch areas provide wonderful views to make the space feel bigger than it is.
For those who have a great view but not really the space to accommodate for them, a prefab porch house is a great option. It can provide the perfect setting to enjoy sunsets over the water or mist-filled mornings like never before.
This is definitely one of the most eclectic options on the list. CabinSpacey uses exposed wood to provide a comfortable dwelling that looks simple but delivers more than you may realize. It is about creating a simple yet relaxing space that is in stark contrast to the complicated, stressful world.
The company has a mission to create a static living location while also adding bespoke characteristics like panoramic windows, lofted sleeping areas, fully-integrated daylight bathrooms, and high-quality wood construction.
What makes CabinSpacey's Cabin One so appealing is the price. It is one of the most affordable prefabs on the market and is one of the most appealing "tiny homes" on the market as a result. And despite its simplistic exterior, don't write it off as a cabin that prefers functionality over design.
When you get inside, you will find unique designer furniture, a fully-equipped Spruce kitchen, and out-of-the-way storage options that will make your home feel open and free without sacrificing valuable storage options.
The Duo series looks like something that you may find in a cartoon show about gnomes. They offer some of the most unique prefab cabins on the market and that isn't just because of the modularity and construction materials they use.
The A-frame silhouette is guaranteed to stand out from just about any of the other prefab cabins out there and with good reason. If you live in an area where prefab cabins are more common, going with the Avrame Duo Series is a great way to stand out.
Even better, there are up to four different floor plans available, making it one of the most versatile homes out there. You can customize it to fit your needs or the needs of your family. Even better, they utilize modern construction materials like electrical work and insulation to accommodate areas where temperatures can get frigid.
Despite these additions, you can have an Avrame Duo built just about anywhere. One of the most versatile, unique options on the market when it comes to prefab cabins.
The whole point of these prefabricated cabin structures is to optimize smaller spaces and make shorter work of the traditionally lengthy process of homebuilding. When it comes to prefab cabins, there are few that do it better than Ark-Shelter.
They offer fully-finished modular cabins that can be set up damn near anywhere: fields, lakesides, mountains, cities, forests, and a million places in between. If that weren't enough, most of them can be set up within a day. Compare that to the weeks or months that you can wait for some of the other prefabs and it is easy to see why this is such a popular option.
Best of all, you aren't cutting corners or skimping on features. You can have a custom-made prefab that takes into the equation the simplicity of prefab cabins, large deck spaces, and open floor plans all without having to wait the months that most of the others take.
If you are looking to get closer to nature or live at the top of a high-rise city building, you can find a prefab cabin through Ark-Shelter that can fit the bill.
When it comes to modular cabins, Koto is one of the most well-liked due to its versatility. Even better, they are some of the most attractive prefab cabins on the market that use some methods that are thought-provoking instead of the traditional prefab cabin work.
The Adobu Cabin is great for individuals in particular. It is possible to grab a small piece of land and build a tiny home. On the flip side, they can be built as a backyard getaway for family and friends who come to visit frequently.
It takes just two weeks to have an Abodu built, ensuring that the cabin is built precisely where you want it to be. Even better, you can have a beautifully detailed suite of modernized furnishings, appliances, and some of the best and most eco-friendly materials on the market today.
Best of all, it is one of the most affordable options out there compared to what you get. If you are looking to stretch your dollar a little bit further, there is nothing like an Abodu cabin.
The Many Advantages to Prefabricated Log Cabins
If you have been thinking about a prefab cabin and aren't quite sure whether or not to make the leap, there are a plethora of benefits to be had no matter what kind of size you are considering. Here are some of the biggest benefits to be had from going the prefabricated route.
Fast Assembly
Hands down the biggest advantage to going with a prefab cabin is the construction timeline. Depending on what manufacturer you go with and the level of customization that you choose, it is entirely possible to have your prefab cabin put up in just a couple of weeks. There are even some that can have them up inside of a day.
Having a traditional family home built can take months and months to finish. The time from the initial design to the construction, to completion, can take a year or more in some cases. Knowing that you can pick out your prefab cabin and have it up inside a few weeks is definitely ideal.
If you are planning to add it to the backyard of an already existing structure, knowing that you won't be bogged down by construction for months on end is another benefit. There is simply nothing like having a structure picked out and knowing that it can go up in short order.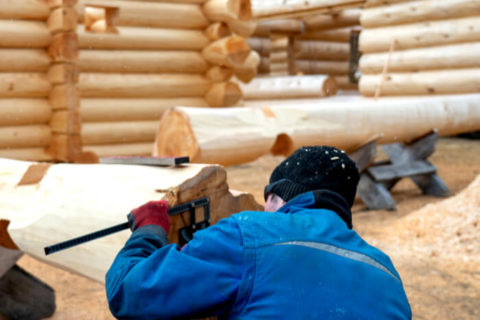 Easy Design/Customization
Without a doubt, one of the biggest selling points to prefabricated cabins is the design aspect. There are more than a few manufacturers out there who have been doing this for years. Because of that, they are able to add in details and levels of customization that even the greatest DIYer couldn't hope to achieve.
Moreover, there is the flexibility to fit your property. Whether you are building a cabin in your backyard or buying a swatch of land to accommodate, designs can be tailored to meet your needs. You can choose from the overall size of the cabin to things like the number of stories, number of rooms, size of windows, covered walkways, porches, and even loft areas.
Working with one of these experienced companies means greater flexibility to add the accommodations that you need to make it truly your home. Coupled with the much shorter timeline, it is easy to see why prefab cabins are such a popular option right now, especially in comparison to the traditional family home that can be way more costly and time-consuming.
Cost
Speaking of cost, this is perhaps the biggest reason that so many opt to go for prefab cabins over other construction options. It goes without saying that traditional homes and other construction options can get to be in the hundreds of thousands.
While that is certainly possible depending on what manufacturer you go with and the level of customization involved, you are likely going to find a prefab cabin that is the world's cheaper in comparison.
You can reasonably expect to have a prefab cabin built that meets most, if not all, of your needs at half the cost of a traditional single-family home. Being able to put more money into living life and spend less on a home is a major selling point of prefab cabins.
Quality Construction
There is sometimes a misconception about prefab cabins that they may not be as sturdy as traditional construction. But that could not be further from the truth. For starters, most prefab cabins come with better insulation than other projects. That means saving you on heating and cooling costs over the life of the home.
Because the construction includes a center beam and roof reinforcements, it means much less of a chance for the roof to settle. The process has been refined throughout the years to ensure no settling. In the past, settling has meant not being able to open doors or windows, which is an obvious concern.
And then there is protection from things like pests and insects. Because these prefab cabins are made in factories, they have improved protection over other materials. That means not taking the time to protect against termites and other bugs that would traditionally do damage.
Finally, there is the fact that modern technology is used in the construction, meaning a better seal. With tongue and groove boards, as well as finger-joint windows and doors, you can ensure that your cabin is sealed off from things like cold air that could otherwise leak in.