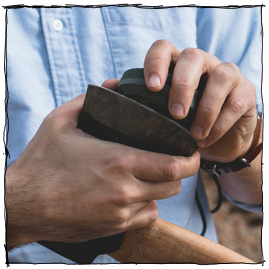 How to Sharpen Your Axe
Halloween has its horror and December its infinite loop of sparkle-strung classics. Good or bad, they're the established traditions of their seasons.
But, if you will, allow me to make the case as November as perhaps the prime month for festive film watching. We can't all relate to being chased by ax murderers nor having the carolers sing as we find our soulmate under the mistletoe just as the snow starts to fall outside. But everyone knows the experience of returning home to break bread and spill gravy with family, or, perhaps, what it's like to strike out on your own for the first holiday not spent at your grandparents. The Thanksgiving table (and four days of being stuck in the same place) is the perfect setting for drama, comedy, and everything in between. Plus, all those sweaters. Here are our faves that get it right. 
A traditional Moscow Mule is a classic, reliable in every way and a good way to unwind. But with it's fresh lime juice and other trappings, it's perhaps most enjoyed outside on a summer evening.
In fall, it's a good idea to change things up by adding a few variations to the traditional recipe, creating a twist best enjoyed this time of year: the Harvest Mule.  It's supremely tasty, and is best enjoyed next to a roaring fire during the chilly fall weather.  Based in whiskey and mixed with cinnamon and cider, the Harvest Mule is easy, and worthwhile, to make. 
I get this question a lot, and it's my privilege to answer and help folks out. Whether its someone looking for a gift for a creative friend or family member, or a somebody just beginning their DIY journey, people simply want to know "what should I get?"
And so, here are my picks from some of my most recent conversations. They're all over the spectrum, but all are solid, go-to options that I can't imagine working without. I think you'll enjoy them too. 
Maintaining your shop tools starts with keeping those blades sharp and well lubricated. Here's a quick overview on how to tune up your cutting edges.  
How did this not occur to me sooner? Take one of my favorite beverages, mix it with my other favorite beverage, add in some extra flavor and bit of time, and, well, the results speak for themselves.
Of course, there are coffee-flavored liqueurs out there. Kahlua is the most famous; it's based on rum, and tastes nice and sweet. But I like whiskey better than rum, and I want the complexity of a coffee liqueur, but not the inherent sweetness. By making your own, you can control quality of coffee, the amount of sugar, and the whole experience and overall flavor profile is totally a step up.  And, it takes, like, five minutes. 
I've technically lived in five cities so far if we include my college town (Minneapolis, New Haven, London, Brooklyn, and Los Angeles). And I've come to realize that as a creature of habit I eventually start frequenting a couple different venues that all have similar things in common. I think every man should have a couple of these. Let me explain…      
So... I like this project. I really like it, and I'll tell you why. First, it's made entirely from off-the-shelf parts from the home center. Then, because the parts are readily available, the only tool you need to make the entire thing is a cordless drill, which is awesome. And lastly, the attention
Mindfulness. It's a buzz word, and we're all after it, even if we aren't totally sure what it is. But, the benefits are obvious — the ability to be wholly present, cognizant of where you are and what you're doing, and not being concerned or overwhelmed by what's going on around you, seems, well, kinda the whole point of  life, right?
Good news. This is something we are all capable of achieving, and like any craft or skill, we'll become better when we practice daily. Here's how to start:     
Have you ever marked out a board, went to cut, and re-checked your measurements after hearing the words "Measure twice, cut once" echo in your ears? It's remarkable how nuggets of shop wisdom can stick with you and save you a ton of trouble on a project.
At ManMade, we're big on collecting aphorisms, witticisms, and maxims that deliver helpful lessons in tidy packages. Sometimes, they're just what we need to stay productive, and get motivated to try something new. So, we're providing a few of our favorite in the form of free downloads: printable artwork to hang in your home, office, or wherever you create your DIY projects. 
Unless you're a millionaire, I always recommend going with used hand tools when getting started in woodworking. (Though, full disclosure, no millionaires have yet to ask my advice.) Vintage tools are plentiful, much less expensive, and depending on their age, usually a better, longer-lasting tool than you can buy at your local big box store. And the best part? Antique tools are more likely to be made in the USA or Europe, where they've been crafted from higher quality steels than modern tools from the home improvement center. 
Over the weekend, I found this nice, broad 1 1/2" chisel at a favorite antique mall, with a mere $7.50 on the price tag hanging from the handle. It was in mostly great condition. The top and back had been coarsely ground a few times, and the bevel wasn't square to the sides, but the steel was in beautiful shape and the handle looks like it's never been pounded on.