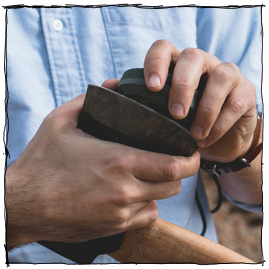 How to Sharpen Your Axe
I am grateful to have a dedicated workshop in our basement. It's a great place to both work on projects, and store tools and materials. And while my shop time is super important, there are a few things even more precious to me. Like my family.
So, I'm interested in learning more about some smaller wood projects that I can do in the evenings during family time. Projects like carving, whittling, and other non-furniture making projects that I can do while we watch a movie or reading time in the common areas.
So, I hit up Craigslist, and found this older model Workmate for a mere $10. And, in an afternoon, I turned it into a portable space to get creative and start making some chips... no noise or sawdust required.
In my house, football season coincides with Bloody Mary season. Really, you say? Fair enough: the two are not necessarily synonymous with each other, but I've always felt that Bloody Marys are better enjoyed in the fall or winter months.  Similar to the complex, tomato-y flavors of a bowl of chili, it just feels right to have a hearty Bloody Mary when the weather starts to turn a little cooler.
Most bars have their ultimate Bloody Mary that they load with bacon, chicken wings, pizza, etc. that look great through a filter on Instagram, but how the Bloody Mary tastes is not the focal point in that situation.  When I'm at home and I want
Says Ernest Hemingway, "it is by riding a bicycle that you learn the contours of a country best, since you have to sweat up the hills and coast down them." 
We couldn't agree more. Nowhere looks more like itself than the way it looks on two wheels. And no matter your pursuit, there's a bike for it. Whether you're looking to spin for miles through country lanes on a road bike, run errands on a stout commuter bike built for comfort on city streets, or zip down tree-lined single track on a mountain bike, at the end of all the fun and adventure, you're going to have to get back to where you started. Safely, efficiently, and, hopefully, comfortably.
I am a defeated knight––noble in my essence (or so I feel), but waylaid and shrunken down while fighting a beast that no man could possibly face undaunted. The beast spits fire, inundates me with dust from its mighty, flapping wings, and seems to pull the very ground from underneath me. I cower behind my shield and do what I can to battle the beast back, but at best I can manage a draw in any of our fights. And day by day, the beast gains more ground. Or that's how I feel. The beast is debt. Random sums of money are my outmatched weapons. And despite my lobbing those missiles as hard and direct as I can, I
I did not grow up in a "crock pot" family. We had one, an old avocado green job my parents got from their wedding registry. And, though I'm sure it got used, it wasn't something that characterized the food in our house. My wife's parents, on the other hand, were both doctors working day shifts, and according to her, nearly every thing her mom cooked came from the slow cooker. And, says my wife, protein + a mix of canned foods = dinners, all which tasted basically the same... like "crock pot food."
Rolling up your sleeves. It's a fitting metaphor for getting stuff done because of its roots in literally protecting your shirt during activity. It's a practice reserved for when you're shifting out of the formal occasion that requires a button-up shirt, but you're not yet going to change into casual clothes: dinner after work at a restaurant with family, lunch at the pub with co-workers, traveling on business, in the later hours of a wedding reception.
When you strip it down to its elements, there's really not much to the process of rolling your sleeves. But remember that clothing is nonverbal communication, and when you make intentional decisions about you wear, you project purpose. So if you're going to roll your sleeves, don't just shove 'em up your arm... do it with confidence!
Read on for your three main options for rolling up your sleeves.
One of the great conundrums of woodworking is this simple fact: you need a workbench to build a workbench. 
In fact, in order to build a proper workholding system replete with vises, rock-solid joinery, and a sturdy wood top, you also need a complete shop full of power tools to mill the wood to size, a fleet of clamps to laminate the top, and tons of experience to know how to use all that stuff in the first place. And to build it from hard maple or other appropriate wood, it'll cost at least $700 for the lumber alone.
The cooler months bring boots, jackets, and best of all: sweaters. Worn well, they echo the classic men of yesterday. Investing in one or two quality pieces made from 100% wool is preferable than several from acrylics or blended fabric, as they'll stick around for many falls and winters to come, and look better in the process. (Not to mention keep you warmer.) If you take care of them well, they'll last until your beard goes gray, and you can pull off the weathered fisherman with a warm heart look of Mr. Hemingway here.
1. Don't dryclean or machine wash.  Not only does hand washing keep your wool clean, it'll actually make your sweater
Dirty dishes in the sink. Putting your clean socks away. Replying to that one email that's been sitting at the top of your inbox for longer than you'd be willing to admit out loud.
We all have that small handful of tasks and chores that weigh the heaviest on our souls and our to-do lists. Most often, they're the things that occur multiple times a week, so that when you look at them, you think, "Didn't I just do that? And doesn't it take forever?"     
And that's where our brains lead us astray. Because, although, yes, you did probably just do that – no, it doesn't take forever. 
---
Whether you're flying for business or pleasure, airline travel should never be a drag. Sure, there are luggage fees and long lines and you somehow always end up in the last zone to board. But once you're settled in your seat, you are flying 20,000 ft in the air. And while the in-flight meal seems to have gone the way of airline peanuts and flight attendants who wear those little hats, that doesn't mean you should have to drink poorly while you cruise at altitude. 
So, what should you get? Overpriced mini-bottles of mediocre California red blend? An $11 macrolager? Of course not. If you're wise, you can turn out a perfectly respectable cocktail for the price of a single miniature. With a few complementary items from the drinks cart, you can make a fine Old Fashioned that honestly doesn't cost more than a comparable cocktail from your neighborhood bar. 
So sit back, relax, and actually enjoy your flight.