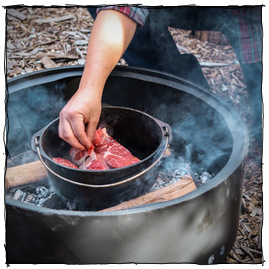 Perfect Your Campfire Cooking Technique
Okay, friends. This is one of my all-time favorite DIY hacks. I learned it more than fifteen years ago from a book I got from the library, and committed it to memory. I only need it about once or twice a year, but it works every. single. time. I'm always super grateful to have it on hand, and so today, I'm sharing so you too can stop busting your hand and banging your knuckles every time you need to install a hook somewhere.   
When I came across this awesome vintage-inspired trestle desk this week, it struck all my favorite things: warm wood tones, a modern industrial vibe, and nothing extraneous, just a nice big surface and some shelves. It was "inspired by an antique French architect's table," and it's just all kinds of industrial cool. 
Except there's one problem...   
Editor's Note: This project is an excerpt from the new book The Art and Craft of Wood: A Practical Guide to Harvesting, Choosing, Reclaiming, Preparing, Crafting, and Building with Raw Wood by Silas J Kyler and David Hildren. The book is available now at your favorite local bookstore, Powell's, or Amazon. Thanks to Quarry Books for sharing this project with us. 
Building furniture is what first drew me to woodworking. The first coffee table I ever made was for my mom. It was a surprise gift, and I worked tirelessly, hour upon hour, to create something I was proud of. I remember the unveiling well, and the joy it gave her was well worth all the hard work.
The projects to this point have been small and technically much easier than building a piece of fine furniture. Going from making a serving tray or lamp to a coffee table may feel like a big step, and in many ways it is, but practicing with small projects gives you all the skills you need to approach a simple piece of furniture. Remember: with a good dose of patience, you will be well on your way to creating beautiful furniture.
I had a particular set of mesquite slabs in mind when envisioning this coffee table. The tree came from my neighbor's front yard. When it was removed, they simply asked the crew to leave the trunk behind for me to gather. As I was giving this tree a new life, I could step outside my shop, look across the alley, and see where it lived and died. I could also see where the logs sat and seasoned for two years, driving my wife crazy.    
Indoor plants in your home are a no-brainer: they bring the outside in, improve air quality, provide lots of natural color and texture, and encourage you to take an investment in the spaces you spend your time. They literally (and figuratively) add life to your home. Learn how to rock the green look with these six guy-friendly decor ideas. No floral wallpaper need apply.1: Mix and match. (pictured above) Go freestyle! Hit your nearest nursery and select a few different varieties. A few ideas include: palms, ferns, Massangeana, and rubber tree. Make sure to ask them about any special care requirements for each one of them (prior to
Starting a fire is an essential life skill, for sure, and most of us have our preferred technique: the lean-to, the tepee, the log cabin. But, even though most fires aren't started in emergency, or even in one-match situations, that's part of the fun. Once you've learned how to do it without turning a gas knob or lighting one of those Duralast logs, lighting a fire with one match (or spark from a starter) becomes part of the game, even if you have a whole box at your side.    
Yep, that's a lot of adjectives, and every single one of them gets me jazzed to make one: DIY  (check), upcycled (check), one hour (double check), and only ten dollars? Done!   
These are thoughts, the artwork, the news stories, the tools, the food, the conversations, and whatever else we just can't get out of our heads this month.     
I don't remember when it happened, but one day I decided to write. I took a simple journal and filled it up with my thoughts, dreams and goals. A basic notepad was nice, but after a while something like that became so personal it was only natural to upgrade such a personal item.  
I guess the real problem with this project is that it actually worked.
I mean — I succeeded in what I set out to do. I created two DIY variations on an easy-lighting, long-burning fire and grill starter using coconut oil. Coconut oil, which is solid at room temperature. Coconut oil, which is about the same price as beeswax and much easier to find. Coconut oil, which can easily be melted in the microwave, so you avoid having to use a double boiler and scraping wax out of your mixing bowl. Coconut oil, which smells awesome and burns forever.    
A functioning clamp rack. Every shop's gotta have one. "But, wait!" You say. "Isn't the easiest way to hold clamps just some 2x4s bolted to the walls, and maybe some holes and plumbing pipe inserted to hang the clamps on?" Yeah, perhaps. But, while that works if you have a ton of space, it's not the most efficient way to store clamps in a small shop. And I think of that as more of a "clamp hanging spot" than a proper organization system. Plus, if you already know about that trick, you certainly don't need me to give you a how-to. 
Instead, I present this design: infinitely adaptable to any scale, and able to hold almost any type of clamp. You can build the whole thing with some scrap plywood, a jigsaw, and drill, and make one - no matter the size - in well under an hour.