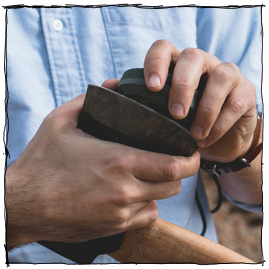 How to Sharpen Your Axe
Here's the thing people who don't like spicy food don't really understand: adding heat to your food, whether in the form of fresh chile peppers, their dried counterparts, or any number or cooked, mixed, and fermented chile-based condiments, is not just about upping the Scoville units. What the true piquancy people know is that chiles aren't just spicy, they're full of amazing, floral fruit flavors that you can't get anywhere else. 
Often, the best way to add that can't-stop-eating-it peppery bite is in the form of prepared hot sauces. There are tens of thousands out there, too many of which are characterized only by heat levels and how much devil imagery they can fit on their labels. But hot sauce shouldn't be a dare. It's an invitation to a new world of flavor that can accentuate whatever its added to.
Its the season of nippy evenings and crisp mornings and the smell of leaves gathering over mossy ground. For most of the nation at this point in the calendar, the temperature has finally started tipping toward a chill. It is also the season when the entire world of marketed goods becomes pumpkin spiced, cinnamon sprinkled and otherwise given a taste that makes it seem like you're sucking on a mouth full of allspice berries. And you know what? I love it. I really do. We don't have a lot of big, broad ways in which we all, as a people experience the passage of time. So we might as well let our common appetite for sugar and spice become something that binds us together.
One way to let this explosion of cliché fall flavors come into your world, responsibly, is in your coffee cup. Because why not? Coffee is a daily part of many of our lives. And unless you are the Scroogiest grouch when it comes to the amusements of the months of October through December, why not let the occasional cup get gussied up with the joy of the season and its holidays? So, if you are the kind of person who likes to drink a little whimsy now and then, here's how to bring all of the warmth and cheer of the fall into your morning cup.    
Most of us get into woodworking from a practical point of view: we need to work on something around the house, so we head to the home center and get tools to break down dimensional lumber and bang it back together. So you upgrade from a circular saw to a compound miter saw, and maybe even get yourself a pocket hole jig so you can hide your hardware from sight. 
And then, as it inevitably happens, something changes in your point of view. You're now longer just doing "home improvement" or "building things"... you're now: a woodworker.   
When fall falls, it falls hard. It fills our eyes, our noses, and, if we're doing things right, our cocktail glasses. 
Apple cider is a seasonal classic, and its can't-beat-it flavor is a perfect match for all sorts of spirits and simple cocktail ingredients. You can make these seven apple cider cocktails with things you probably already have, turning a simple jug of cider into something that will make the whole month of October much more festive.    
Stationary power tools are often the most full-proof way to do a job. They're anchored to the floor or bench, and come with flat tables and fence systems so you can guarantee your cuts, holes, and other bits of shaping are square and straight.
But, besides being expensive, they're not always the right tool for the job. So, instead we turn to handheld tools, both electric and manual, to get things done. And therein lies the rub - human beings are not machines. Try as we might, we often can't do something with our hands as straight or square as a large stationary tool. 
Besides using guides and other accuracy aids, there's a super simple and easy trick you can add to your mental toolbox to help guide the tool to do its best.    
A few weeks ago, I declared ISOTunes the best headphones for woodworkers and DIYers. They include both audio drivers for sound and 27 dB of OHSA-compliant hearing protection from machine noises in the same package, and after spending all summer testing them out in real world situations, I can't think of a better investment to improve your shop time. 
So, I'm pretty excited to share that I've collaborated with ISOTunes to give away three pairs of ISOTunes PRO headphones to ManMade readers.
Okay. It's time to call it. The long days of summer are gone, and with them went the endless opportunity to take on a new project or adventure, no matter the time. For the next few months, the daylight hours will be spent mostly at work, with our free time coinciding with the dark, crisp nights of the season. The perfect time to do a little whittling or carving by the fireplace, or perhaps time to start a pot of your famous chili and cast iron cornbread. Or, when you just have a few spare minutes to yourself, read a great book. 
You want your meat board to be a statement of your ambition. Not as a cook, but as an eater. If you can avoid it, don't just let this be a venue for a dinner plate. You want a board that seems deliberate and larger than life. Wood is good. But so is slate or stone or anything smooth and safe for food. In this moment, when you are putting together a board, you are not a chef, nor even a cook. You are an artist in front of a fresh canvas, but your paints are going to be the foods that you most love. 
Get ready to grab a bucket for all that drool...   
Etymology often helps shape thought: when you're aware of a word's origins, you're in touch with the full context of the words that filter your inclinations. For example, did you know that wilderness comes from the Old English for "wild deer"?
Think about that for a moment: it's a place filled with animals unaccustomed to human contact, where humans have minimized their prints on the world. So when we go out to the wilderness, we're immersing ourselves in the beauty of nature, we're adventuring outside of civilization, and we're escaping from the creature comforts that can dull our sense of connection to the cosmos.
Well... maybe not 100% escape. Because while I love taking a break, I've never been interested in taking vacation from a good cup of coffee. If you're the same, read on for how we at ManMade make decent coffee in the wilderness, and our choices for a great camping coffee maker.