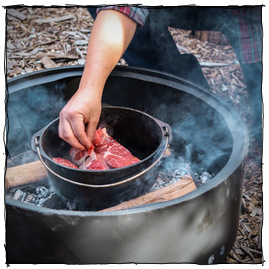 Perfect Your Campfire Cooking Technique
There's a great adage in the home decor and organization field...you've probably heard it on one of those room makeover TV shows. The phrasing varies, of course, but the central idea, "When you run out of floor space, you've got to go up."
It might not happen with every smartphone and car stereo combo, but if you know what we're talking about, this tip is for you. You get in, you fasten your seat belt, you turn the car on, you plug in your phone, and.... 
THE. SAME. &*$%. SONG. COMES. ON. EVERY. SINGLE. TIME.
Of course, you've figured out why this devilish contrivance occurs. It's the song who's title comes first alphabetically in your library. On my phone, it's A.M. 180 by Grandaddy; on my wife's, it's Vampire Weekend's A-Punk. And I actually And it just... starts playing, at whatever volume your stereo is set to.
Here's how to stop that first song from playing when your plug your phone into your car:   
Anyone who's read ManMade for more than a week or so can attest: we're never gonna wax poetic about the beard. Some men look better with them, some do not. Some can grow a full one, and some can't. There's no magic in the beard. It's a choice, and if yours looks nice, it's good to have options. Personally, I tend to wear one in the fall and winter, and then go clean shaven in the warmer spring and summer. 
What we do know is: having a beard is much more than just not shaving. You've got to care for it, clean it, trim it, and keep it healthy.    
Small-parts storage is one of the biggest steps you can take in creating the perfect workshop zen. When all those little fasteners, nails, washers, odds and ends all have a home you can work in peace, not pieces.
During summer, it's my goal to bust out the charcoal and chimney starter as much as possible. Call it a masculine stereotype if you must, but I never miss an opportunity to take advantage of extended daylight to cook dinner outside. It avoids heating up the house with the oven, and, of course, makes everything taste amazing.
And, if you want you grilled food to taste even better, here's my tip. It takes all of five seconds to set up, and takes your meal up to the next level:     
Maintaining your shop tools starts with keeping those blades sharp and well lubricated. Here's a quick overview on how to tune up your cutting edges.  
Let's face it: modern hardware leaves a lot to be desired. Sure, it's inexpensive and abundant, but visually, it looks...well, cheap. No character. You spend weeks on a project, choosing wood grain carefully, sanding and planing to a glass smooth finish, and then you're forced to add some blindingly shiny yellow brass or bright blue metal to finish your project. 
Of course, there are high-end hardware makers out there producing specialty hinges and components for period furniture, but I wanted a less expensive way to transform general home center hardware into something I actually want to use on my projects.
So, I called my dad.   
There's something about a winding road. It's still a bit wild and rebellious, like nature hasn't completely given in to the straight line of civilization just yet. That's the kind of highway that I think of when I want to take a road trip, and no road trip is complete without a day or two of car camping. For me, car camping is a great mix between roughing it and going posh in a rented bed. I just seem to find a lot more enjoyment when I can bring just a few more pieces of gear along, but still sleep outside. Here are a few of my favorite pieces I take with me on every car camping adventure these days.   
Pocket hole joinery has a lot going for it. An affordable jig makes the process fool-proof, it comes together in less than a few minutes, and the joint itself is super strong.
The Kreg jig itself does most of the work, but a little knowhow makes the pocket hole clean and precise. This is especially important if the pocket hole will be visible, plugged, or filled.
Ready to make nice, sharp pocket holes? Let's go!    
When it comes to sanding, the rules are simple. When you're dealing with curves and soft edges, you can use the contours of your hand to back up the sandpaper and naturally mimic the shape. But when it comes to flat surface: never sand without a sanding block. This keeps the paper flat, which means your final project will also stay flat. 
I was in the bad habit of cutting a new one every time I went to finish a project, which sometimes meant I went against my best judgment and ignored the sanding block rule when working on flat panels and tabletops. (I know, I know.) So, I decided to spend an hour and whip up a block I'd be excited to