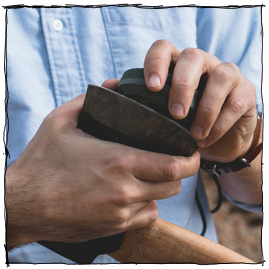 How to Sharpen Your Axe
If you're doing any kind of DIY or construction work, there are a handful of absolutely essential tools you need in your belt: hammer, tape measure, level, to name just a few. Batting cleanup in this list is the humble speed square. Easy to use, inexpensive, light and portable, made of one piece of metal so it won't become untrue if dropped. And most importantly: multifunctional.
How many functions, you ask?  Read on for ManMade's five top ways to use a speed square!
Proper water drainage for your property is one of the most important long-term preventative measures you can implement. Water build up due to insufficient drainage can cause significant damage to basements, garages and building foundations. If there is a lack of proper drainage, water can build up near or under the foundation of your property, which causes the soil to swell. This can lead to the foundation cracking or buckling under the extra pressure, or flooding in your basement. All of which will require costly and time-consuming repairs.
Knowing this information, I decided it was necessary to take the preventative measures and add
Nothing beats a big old chunk of wood. Fine joinery and glue-ups are great, but I'll take a solid slab any day. Sometimes, it's nice to be in awe of craftsmanship. But sometimes, it's nice to just be in awe of nature.   
Several months ago, I moved offices at my job. I threw up a couple pictures of the family and brought all my documents into my new space. And that's how it's been since. Fast forward six month,s and my walls are still barren.  I travel a little bit for work and I spend a lot of time at my client's offices, so I don't always notice how empty the walls look.  Finally, my office administrator walked into my office and told me that it was time to hang something up to make my office look a little more personable. 
Most of the people in my office have artwork that was bought online or a stock photo of a beautiful scenery, but that's not really my style. I wasn't sure what I wanted, but I knew I wanted to build it myself and make it unique.  So, I searched Pinterest and finally found something that I thought had a nice professional but masculine look that fit my style. 
I've got favorite foods, in every category imaginable. In my head, I write little Pablo Neruda-style odes to each one of my cravings.
And in the snack world, popcorn reigns supreme. As long as it's still crunchy, I'll eat just about every form of burst corn kernel—air popped, microwaved, butter/cheese/caramel split into a holiday tin, warmed under a heat lamp at the movie theater concession stand and drenched in butter "topping." (OK, so I actually skip the butter.)
But the Great Emperor of the Popcorn Realm is now, and will always be, freshly oil-popped stovetop popcorn. As early 90's kid, I grew up on the microwaveable stuff, but I got the entrance to the backstage party from my cooking wizard mother-in-law, and I've never looked back. Nothing can cook the starch in popcorn kernels quite like hot oil, and it's so convenient to be able to salt it perfectly when the thin sheen of oil is still glisten atop each little puff.
Read on for the time-honored technique of making the best stovetop popcorn you've ever had!
"Beloved, we join hands here to pray for gin. An aridity defiles us. Our innards thirst for the juice of juniper. Something must be done. The drought threatens to destroy us... Children, let us pray." –– Wallace Thurman
Gin has some great quotes attached to it. Thurman's is one. Then there's Churchill's quote about a martini being a drink of cold gin while looking at a bottle of vermouth (Churchill has quite a few gin-specific quotes). Gin is there in the art of the 18th century, its in bathtubs during prohibition and in martini glasses in the roaring 20s. It pairs with tonic and soda, but is supreme in a true martini.            
This October marks my wife's and my 10th wedding anniversary, which means I've managed to keep our cast iron skillets in good working condition for an entire decade (I'm a recovering flake, so our trio of pans definitely had some rough times due to the slow-drip brutality of negligence). Through much trial and error, I've developed a solid method of caring for cast iron that will keep these babies cooking for generations to come.
Read on!        
Knowing how to start a campfire is an essential life skill, for sure, and most of us have our preferred technique: the lean-to, the tepee, the log cabin. But, even though most fires aren't started in emergency, or even in one-match situations, that's part of the fun. Once you've learned how to do it without turning a gas knob or lighting one of those Duralast logs, lighting a fire with one match (or spark from a starter) becomes part of the game, even if you have a whole box at your side.    
Congratulations, you found a craft that calls to you! 
You dove down into the rabbit hole to see how deep it goes, and in your pursuit of excellence, you've gone pro—harnessing those hours spent doing something else to make a living, transferring them into your trade. The only problem: quitting your day job suddenly means the weight of your income rests squarely on your craft's shoulders, and it's rare to make a decent wage as a beginner. 
The good news is that no time spent in your craft is wasted, so even while you're hustling and just barely making it, you can build some really valuable resources that will provide immense payoffs later.
Read on for a modest proposal of what to do when the wider world doesn't yet recognize the value of your work!
Most people refer to the "heart of the home" as the kitchen, and for good reason. However, the first thing you see when you walk into my house is the mudroom, and its honestly the space that gets the most action.  We moved into our house about fifteen months ago, and ever since we first walked through the house, I wanted to make the mudroom/laundry room more functional.  Not only did I want to add more storage, I wanted the room to be an area that I was proud to welcome people into when showing them our home.
As you can see, before I started the project our mudroom worked on many levels but it was very boring and it seemed to get cluttered easily. After completing some other more important projects on our home during the first year, I knew this summer was the time to tackle this space.