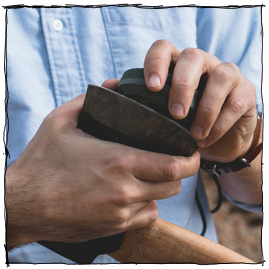 How to Sharpen Your Axe
One of the first big projects I completed when I bought my house was digging a large garden in the backyard, and we just barely made it in time for a summer full of tomatoes, cucumbers, okra, eggplant, peppers, and squash. The 20 x 30' patch somehow wasn't big enough for both eating and canning, so when spring rolled around again, I set out to expand our patch. Gardens are never finished, after all! (Check out our tutorial on how to hand-dig a garden here.) 
The only thing I wasn't interested in expanding, though, was my water bill. Since we get on average 4 inches of rain per month during the growing season here in North Carolina (Apr–Nov), it was time to let the clouds handle the water supply rather than the city. Since this is mostly a money-saving project, I kept my budget really low because I preferred to have the materials pay for themselves as quickly as possible.
Read on for how to make a rain barrel on a budget!
Now that the days are warming up the thought of a hot latte with milk and cinnamon sure adds a drop of sweat to my brow. It's usually this time of year, I swap my typical addiction to hot coffee to sweet, syrupy iced coffee. I just can't get enough of the stuff!
The best kind of writing, fiction or otherwise, is the kind that produces a strong mental image of what you're reading about. It's vivid and concrete; it's why metaphors and parables exist. To quote Strunk & White: "The greatest writers—Homer, Dante, Shakespeare—are effective largely because they deal in particulars and report the details that matter. Their words call up pictures."
One of my favorite ways that writers bring their stories closer to reality is when they plop descriptions onto my mental dinner table. Maybe it's because I just love eating, so I don't need a lot of arm-twisting to think about food; maybe it's that I like it when the lines between fiction and reality blur, like Mac Barnett waxes about in his TED talk "Why a good book is like a secret door." Regardless, I'm fascinated with collecting moments of characters interacting with their victuals.
Here are some of my favorite food mentions in books, linked up with recipes.
The sun is out, sleeves are getting short, and that means: it's time to update your look for the season.
We have created two easy DIY projects that will add a nautical touch to your wardrobe without breaking the bank or having to buy a boat. Learn how to make your own knotted bracelet and...come sail, uh, away?
Here's something that is completely useless for your everyday life. It will not help you dress well, or create a perfect mothers day gift, or fix your shoelaces, or build a dynamically-planted garden, or anything of the sort. But if you are at a dinner party or out with friends or in a mixed group and you wanna bring out something funny, erudite and pretty out of the ordinary, nothing works like an unexpected joke from an ancient figure whose quotes usually end up chiseled into marble.
Fair warning: some bawdiness follows. Despite the editors of ancient manuscripts, real people in the ancient world weren't above off color jokes.
Everyone likes a nice motivational quote with a fine adventurous backdrop and some nice typography that reminds us to get outside.   
If someone were to ask you what your crucial, go-to, stranded-on-a-desert-island cooking gear includes, how would you reply?
Would you mention a chef's knife and cutting board? How about a large sauté pan and a flat-edged wood spoon, or a large, nonreactive heatproof bowl? (Incidentally, these are Michael Ruhlman's top five in his fantastic comprehensive guide The Elements of Cooking.)
What if I were to add that the addition of two inexpensive pieces of equipment can dramatically level up your cooking game, and that you could actually get these at an office supply store?
Previously, I offered the thesis that if you're only going to learn to tie one knot, it should be the bowline: it's simple, can be easily untied, and is incredibly versatile for all sorts of situations. 
And all that is true. But, it's not the "knot" I employ most often. Because the reality is, most of us don't handle rope on a daily basis. We do, however, in the age of smartphones and podcasts and the entire history of recorded music available at your fingertips, engage with another long, stringy thing that needs to be dealt with on the regular: your headphones.
Or ear buds. Or ear phones. Or whatever you call those wired transducers that deliver all that sweet, sweet audio to your brain. And because you take them with your everywhere, they regularly get knotted and tangled up in your pocket or bag.
This is completely unnecessary. Because there's a five-second "knot" that can completely eliminate this problem, and it doesn't take any longer than other storage methods. So, now, I present to you, the actual most useful knot in the world.    
This just in: there's a giant ball of fire up in the sky, and it's really hot. 
When it's 80 degrees and sunny, I have a hard time finding a good reason not to harness that free energy, instead of pulling in electricity from the burning fuel at my local power station (in my case, I think it's the nuclear plant just south of Raleigh) all to just dry some clothes.
A clothesline is a fantastic supplement to your laundry routine, so if you're like me and you've been putting off building one, here's a simple plan you can follow on a single Saturday—a shopping trip in the morning, a building session the afternoon.
We've said it before: yes, every man needs an apron. They're indispensable in the workshop, the kitchen, the garage, around the grill, even when shining your shoes.