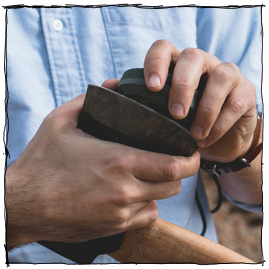 How to Sharpen Your Axe
If you're looking for a New Year's resolution list to help inspire your personal betterment this year, look no further than this founding father's temperance chart. Read on to see how you can print your own. 
As far as the truly great characters from U.S. History to which we might look for timeless advice, it's hard to beat Benjamin Franklin. (We still love you, Mark Twain!) Franklin was born into a family of very modest means, but he manage to use his basic education (he stopped going to school at age ten) to become a successful author, scientist, statesman, printer, politician, inventor, humorist, civic activist, diplomat, and $100 dollar bill appear-er.
There are plenty of times when a small wooden board is all you need to set out or serve something when entertaining. And it's even better when they look awesome and make whatever you're sharing look that much tastier. If you have a few scraps of hardwood (like walnut) lying around after a project, this is exactly what you should do with them: make a walnut cutting board!
Every holiday season, sites like ManMade spend all kinds of effort doing our best to help you find meaningful, quality gifts that you'll be proud to give someone. Or, at least, that you can add to your wishlist and let those in your life know you'd love to unwrap yourself.
But once the gift guides are published, we never seem to revisit those things until the following year. So, today, during this week after Christmas, I thought I'd ask — Did you get anything cool for Christmas? Or give something that particularly excites you that we should all know about?   
If you, like me, were born between 1975 and 1990, your first exposure to the idea that "champagne" has technical regulations and restrictions likely came from Rob Lowe's odious Benjamin character in the original Wayne's World. ("Actually, all champagne is French. It's named after the region.") And you, like me, probably play into/totally own his snooty accusation that Americans don't recognize the convention, and call all their sparkling whites "champagne," and don't care. Because only a true b-hole shames somebody while handing them a drink.    
The first time you go to the lumberyard can be a little overwhelming if you don't know what you're doing.  Even if you think you know what you're doing, all the different species of lumber, the different dimensions of the lumber, different locations within the lumberyard, etc. can seem daunting for finding the perfect piece for your project.  With just a little bit of simple math, one area where you can be totally confident is calculating the cost of your chosen board.
Most home centers sell lumber by the linear foot, which means that the price of the board is determined by the length of the board. You pay a little extra for the convenience of a home center and you likely aren't getting the best piece of lumber.  The lumberyard, on the other hand, sells their lumber by the board foot.  A board foot takes into consideration the thickness, width and length of a board.  There are several apps board foot calculator apps to help you figure out how many board feet are in your chosen piece, but all you need to remember is one simple formula and you can calculate board feet anywhere.
If you want gap-free joinery and a perfect, long-lasting fit for both strength and aesthetics, precise measuring and marking of parts is essential. But, each step of the process — measuring, transferring marks, and cutting — can introduce tiny little errors of 1/64 or 1/32", which, over the course of a project, can add up significantly. So here's a simple little trick that takes no extra time, but creates much more accurate results.    
I love using the internet to find inspiration, design ideas, and cool materials for my next big project. But, I still think there's a lot of value in a simple, compact physical volume to invite both new makers and folks looking to step up their game into growing their craftsmanship.
So, I want to recommend to you a new book Handmade: A Hands-On Guide. It's a primer full of beginner and intermediate level projects from all across the makersphere, many of which are provided by some of your favorite bloggers, YouTubers, and online content creators. (Including, full disclosure, yours truly.) It's written by my friend and colleague Asa
Giving gifts? It's the best, right? Not cheap plastic things, and certainly not gift cards. But thoughtful custom - and most of the time handmade gifts - that I know someone will enjoy for years to come. Take a look at our list of 50 gifts for men here, and gifts for women here.
Of course, the gift has to be wrapped in something special as well. So, why would I want to use lame paper gift tags from the discount store after all that work? Here is a simple project to make some name tags that are as thoughtful as the gift.   
A quality jigsaw is one of my favorite tools, and a seriously good DIY best buy. Armed with the right blade, you can cut all sorts of materials into nearly any two-dimensional shape you please. And most-importantly, do it safely. 
But it's flexibility as a creative tool is also its liability. Like a pencil, it can go in any direction, but in the hands of a human being, those directions will never be without the marks of our innate imperfection. Straight lines can be accomplished with a fence, but a perfect circle. You can't draw one by hand, so don't expect yourself to be able to jigsaw one either. 
At least, not without a little help.    
Have you ever tried to do any woodworking, leather working, metal working or anything else in your shop if it's dimly lit?­­­­­­­­­­­­­­­­­­­­­­­­­­­­­­­­­­­­­­­­­­­­­­­­­­­­­­­­­­­­  It's hard to see cut lines, find your tools and it can be really unsafe while you're trying to make any cuts.  My garage, which doubles as my workshop, only had two lights in the center of the structure.  Those two lights probably would have been adequate if they were directly over my working area, but with them being in the center of the garage I wanted more light.  In order to get that extra light, I had two simple options: 1.) get brighter bulbs for the two