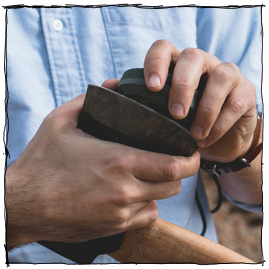 How to Sharpen Your Axe
Harvesting wind-power with a tiny-turbine at home might not produce enough electricity to power your refridgerator, or, heck, charge your mobile phone...But, Merel Karhof has harnessed its ability to create rotational energy to knit infinite yarn tubes, which wrap around ones neck perfectly.
"With the power of the wind, a knitting machine knits from the outside towards the inside of a building. The knitted material is harvested from time to time and rounded-off in individually packaged scarves. Each scarf has its own label which tells you in how much time it has been knitted and on which date."
Sick of that duck/rabbit combo thing, or vases and faces? Sure you are, but optical illusions are still totally sweet.
Good thing Scientific American thinks so too, and they've collected 169 sweet, contemporary optical illusions that will melt your mind in all sorts of new ways. And they provide just enough science to help you understand what's going on without totally ruining the magic.
Ladies and gentlemen - presenting the only umbrella you'll ever want to use again.
"Rain Drum" by South Korean designer Dong Min Park, is a personal rain cover that contains five waxed surfaced, each of which are tuned to the frequency of a piece of a trap drumkit - kick, snare, hi-hat, tom, and crash. And since Mother Nature is always random, you'll be treated to a fresh beat each time you keep yourself dry.
Last Tuesday brought us "Together," the fifth album by Canadian powerpop supergroup, The New Pornographers, and I scooted out to the record store to grab my copy just before the hail and freezing rain hit over the weekend.
After listen four: it's good. Really good. Besides a few more noticeable R&B references (the just-behind-the-beat pizzacato strings that open the album on "Moves," for example) it doesn't really push into any new territory. And its doubtful that any fans will really care. The formula is great - super catchy, soaring melodies mixed with the odd dissonant chord or change, and arrangements that provide both ear candy and
Turns out, James Bond had it all wrong. A martini is a drink that contains only spirits, and benefits quite a bit from stirring rather than shaking. Stirring creates a heavy, silky feel on the tongue, and avoids what connoisseurs called "bruising" the drink (integrating air bubbles). Of course, it's all about how you like it, but we hope you'll give this classic-style martini a try.
Just remember: a 3:1 gin (or vodka) to vermouth ratio keeps things refreshing, cold and balanced.  
One of the first email forwards I ever recieved (so...1996?) was a photo of a stuffed mouse who'd had some sort of bird feet grafted onto him.
"That," I said, "Is the scariest non-alive animal contraptration I've ever seen..."
Turns out, I was waaaaaaay wrong. Environmental Graffiti has scoured the web and come up with a postmodern taxidermy primer, which, either by design or default, is quite creepy. Which makes sense: animal combinations (sphinx, griffin, minotaur, mermaid, etc) have been the stuff of myths and legends since the earliest cultural narratives.
In the post-wonder bread era, most North Americans don't know quite how to think about bread. We want the chewy texture and rich crumbs and whole grains of artisinal bread, but have been spoiled by the long shelf life that the preservatives in national brands offer.
What if there were some way to always have fresh AND healthful, tasty artisan bread on hand?
Turns out, there is. "ARTISAN BREAD IN FIVE MINUTES A DAY taught busy people how to make great bread at home, with only five minutes of active preparation time. Now, HEALTHY BREAD IN FIVE MINUTES A DAY whips up fabulous breads made with more whole grains, fruits and vegetables. The secret? Mix up a lightning-fast batch of moist no-knead dough, save it in your refrigerator, tear off portions over the next week or more, shape, and bake."
I remember when I first learned of mead...sophomore English, and we were working through Beowulf for the the first time, and the poem opens as the king has just built the great mead hall, Heorot. A whole building dedicated to something to drink? Must be delicious... I'll have to get my hands on some.
Ten years later, and I still haven't made my way to actually trying any, but buddy, with this sweet mead how-to, you better believe I'm gonna.
The iRetrofone is a functioning iPhone dock with a working handset receiver. It's quite fun, and I think I'd actually use it, though it costs twice as much as an 8GB iPhone 3G itself at $195.
Does anyone know if picking up the reciever answers the phone, or do you still have to do the finger slide?
SoftMachines Inc describes itself with the the tagline - "original German cuddle engineering," which is about as apt as it gets. The Deutsch seamsters create pillow versions of classic analog technology, like the Roland TR-808 drum machine, Sequential Circuits Pro-One synthesizer, the Big Muff distortion pedal, and everyone's favorite Tetris format, the original Nintendo Game Boy.