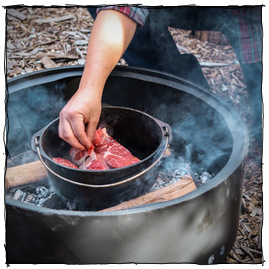 Perfect Your Campfire Cooking Technique
Lance Armstrong - the U.S. cyclist who has become a household name for his Tour de France performance and ubiquitous yellow bracelets - has retired into a Spanish colonial outside Austin, Texas. It's pretty gigantic, and contains all the elements of traditionally masculine decor - lots of wood, leather, and warm colors.
Oded Ezer, an Israeli typographical artist (with whom I first became familiar last spring in Paola Antonelli's A Typographer's Guide to the Galaxy) created this unique headpiece for a lecture at London College of Communication.  
During Valentine's Day season, a whole bunch of craft and style blogs did round-ups of special, handmade ladies undergarments. I kept my eyes open for an article on underwear for the gents, but it never surface.
So I did some research, and this is best of the free how-tos out there.  
In honor of the upcoming 82nd Academy Awards, Photographer David Gartner has created Oscar-food mashups based on this year's Best Picture nominees.
The titles include "A Serious Manwich" and "The Blind Side Salad" as well as "Precious, Based on a Novel by Bombay Saphire,"  and "Avatunatartare."
Here's a different sort of "how to" for ManMade...instead of actually creating something, it's a more of a "what to aim for...:"
But a creative guy has every chance to be a sharply dressed guy, and this very thorough article from LifeHack.org offers some pretty helpful tips, like
Pants should almost touch the ground without your shoes on

Shirts with button-down collars are not dress shirts.
You need more than one pair of shoes, but not too much more.     
As it turns out, a standard 14 - 15 ounce can of veggies or tomato sauce has nearly the same diameter as the internal cardboard ring of a roll of masking tape. So, it makes a perfect roll on which to build all kinds of DIY tape dispensers.
I can't imagine a better way to spend two minutes than watching Johnny Kelly's "The Seed." It's an animated voyage of a single apple seed,  through its natural life cycle: germination to fruit, digestion and back to the ground.
Watch it, and then check out the equally interesting making of feature, which shows the process of combing the paper stop motion with 2D handdrawn animation.
In 1979, the Czechoslovakian magazine ABC mladých techniků a přírodovědců [An ABC of Young Technicians and Natural Scientists] published a cut-out paper camera known as the Dirkon - from dirk- the Czech word for pinhole, with -kon, from the Japanese photo masters Nikon.   
ManMade reader Stephen sent in this heads-up on an awesome sound festival that happened last week: BarBot 2010, a cocktail party served by RoboBartenders. Imagine the soundtrack - a little 8-bit bossa nova? Some Switched-On Esquivel! or Moog-y Martin Denny?
"BarBot is a celebration of cocktail culture and man-machine interface. Get a drink from an actual robot. Chat up a snarky electronic bartender. Listen to some graceful tunes being played by robotic music makers. And, after downing your sixth martini, you can finally admit that it's the geeks who shall inherit the earth."
It seems like the original cocktail making robot fest is Roboexotica in Germany, where the robots above and below - Hobot and Bar2D2-  were featured.
24 February, 2010: Casting on Crash Cymbals.