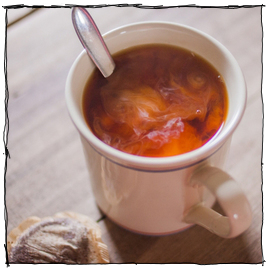 The Greatest Cold Remedy Known to Man
This is the tool wall in the workshop of Rhode Island furniture maker Hank Gilpin. It places every hand tool used in the shop  - including saws, clamps, scrapers, drill bits, chisels, planes, and measuring tools - within an arm's reach of the shops two main benches.   
The power of fermentation: instead of fighting off microbes, you invite the right kind to your party. It doesn't take a lot of culinary know-how to acknowledge that certain fermented foods get better the longer they ferment, like wines and cheeses. The more sourdough starter ages, the more complex its flavors become. Then you've got your fermentation standards like pickles, dairy products like kefir, soy-based miso and natto, and even Russia's beet-based kvass.
But did you know that occasionally tea gets invited to the bacillus party? Welcome to the world of pu-ehr!
The garden suggests there might be a place where we can meet nature halfway.
— Michael Pollan
If you've never gardened before, but you would consider yourself a DIY-er/craftsperson/maker or what have you, there may be some things about gardening that are very different than other kinds of projects. To build a garden entails some kinds of making that are very ordinary and along the lines of any other plan–>materials–>product kind of project. But in other ways, it requires craft and technique that are completely beyond other kinds of skills. But, to build a garden is not to simply make something. It is to embark on an un-finishable
First, apologies to the young man who stood in front of me at the post office yesterday. He was trying, but not trying too hard. He was going for a slightly updated classic New England collegiate look: blue button down oxford, dark green chinos, killer brown leather boots, 60's-inspired glasses. His hair was parted pretty traditionally, the kind of clipper/scissor combo cut you can get at any modern barbershop. He didn't ask to inspire an article about hair product.    
Most of us get into woodworking from a practical point of view: we need to work on something around the house, so we head to the home center and get tools to break down dimensional lumber and bang it back together. So you upgrade from a circular saw to a compound miter saw, and maybe even get yourself a pocket hole jig so you can hide your hardware from sight. 
And then, as it inevitably happens, something changes in your point of view. You're now longer just doing "home improvement" or "building things"... you're now: a woodworker.   
My first "workbench" was a simple table-style surface. 2x4 legs, 1/2" plywood top, held together with black drywall screws. I built it in my first apartment when I was twenty-two, with my first (and only) power tools: a circular saw and a drill. 
In the back left corner, I mounted a shiny, new, bright blue Irwin swiveling bench vise. It was awesome to have it there when I needed it - holding metal stock and angle iron for cutting, helping me bend rod and pipe, even keeping dowels and small wood parts in place while working on them. Unfortunately, these activities constituted a very small amount of the projects I was doing, and mostly, the vise just got in the way during the other 97% percent of tasks.
So, for the past few years, that vise has just been in a storage crate, and I get it out and try to hold it in place when I need it. Which, in case you can't guess, does not work. Ever. So, I wanted to come up with a solution that would allow me to install a machinist's style swiveling benchtop vise, without having to permanently install it, or drill holes in my benchtop and have to thread and tighten nuts and bolts every time I use it.    
"Brassica" has become my new favorite word. It is the Latin word for "cabbage" (or also, "cauliflower"), as well as the scientific name for the genus of plants that includes green, slightly bitter, slightly salty, members of the mustard family. The brassicas are the dominant representatives in the dark green vegetable world: cabbage, broccoli, cauliflower, kale, collards, mustard greens, kohlrab , Brussels sprouts, turnips, rutabega, rapini, and that amazing and unsung hero of the Asian grocery, gai lan or Chinese broccoli. They are durable and variable plants, defined by their green leaves and bright yellow flowers. They are, without
I'm sure the original makers of Altoids had no concept of survivalism, let alone having any inkling that they were providing a vessel for emergency lifesaving tools. Yet here we are: this humble, yet curiously strong, breath mint has inspired scores of tutorials for intrepid would-be wilderness warriors.
Rather than reinventing the wheel, we at ManMadDIY have scoured the tutorials, and we've honed in on what we think are the best basics for that quintessential Internet favorite, the Altoids tin survival kit.
Let's dig in!
We're living in a golden age of food media. Between exceptional print magazines like the gone-too-soon Lucky Peach and Bon Appetite, to Netflix shows like Chef's Table and PBS's Mind of a Chef, to David Chang's recent discussion of a developing food media empire, there is just so much professional-level food edu-tainment that an interested viewer need never go hungry. 
And yet, even though the space is saturated with quality content, amateur programs are still finding their niche in online forums.
Hi, guitar players. I've been trying to figure something out this week, so I thought I'd turn to some of the smartest, most awesome people I know - the ManMade readers. 
So here's the deal...