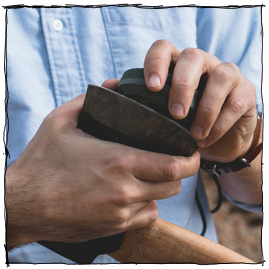 How to Sharpen Your Axe
If you're a fan of salt and vinegar potato chips then you're gonna love this recipe for pan fried sea salt and basalmic potatoes. 
Have you ever tried to do any woodworking, leather working, metal working or anything else in your shop if it's dimly lit?­­­­­­­­­­­­­­­­­­­­­­­­­­­­­­­­­­­­­­­­­­­­­­­­­­­­­­­­­­­­  It's hard to see cut lines, find your tools and it can be really unsafe while you're trying to make any cuts.  My garage, which doubles as my workshop, only had two lights in the center of the structure.  Those two lights probably would have been adequate if they were directly over my working area, but with them being in the center of the garage I wanted more light.  In order to get that extra light, I had two simple options: 1.) get brighter bulbs for the two
95% of the time, a tool box is overkill. Whether taking some items to help a friend with a project, or just working on something in my own home two floors above my basement shop, the act of dragging out the toolbox, selecting the items from the pegboard and arranging them appropriately, and then lugging the whole thing around is simply unnecessary. 
From every project I've ever made, I always have a small amount of left over lumber or scrap wood from cuts that needed to be make. I have a feeling that I'm not alone in that category. Many times, those small pieces or scraps sit in the bottom of my wood pile for months or even years until I find a need for them.  Eventually, I'll working on a project that needs a small piece of walnut, oak, pine, etc. and that's when I am thankful I kept those small pieces of lumber.  But! Those scraps don't always need to sit on the shelf until you need them for the next big build.
There are also masculine, scrap, and easy projects that make great use of your scrap lumber.  Here are ten of our favorites:
I've gone on record countless times about my love of the standing desk, the research I've seen on the perils of sitting all day, and my own personal solution for long days on the laptop: the 5-second standing desk (on which I'm currently working.)    
Thickness planers are awesome. But I don't have one.
They're an expensive and specialized piece of equipment. A new one starts around $300, and the price just goes up from there. I'd like one, sure, but most of my woodworking projects don't require it, so I haven't made the investment yet. There are a few other tools I'm more interested in before I make the leap to a planer.
But there are times when I have a rough piece of wood that needs to be trimmed down to a consistent thikness or large course areas need to be smoothed out.  Instead of picking up my orbital sander and going to town for 45 minutes to thickness the piece of wood, I turned to my table saw.  While this trick is limited to wood with a width of approximately 6 inches, it can save you a ton of time for small projects. It's a really simple process. 
I get this question a lot, and it's my privilege to answer and help folks out. Whether its someone looking for a gift for a creative friend or family member, or a somebody just beginning their DIY journey, people simply want to know "what should I get?"
And so, here are my picks from some of my most recent conversations. They're all over the spectrum, but all are solid, go-to options that I can't imagine working without. I think you'll enjoy them too. 
Get ready to grab a bucket for all that drool...   
How did this not occur to me sooner? Take one of my favorite beverages, mix it with my other favorite beverage, add in some extra flavor and bit of time, and, well, the results speak for themselves.
Of course, there are coffee-flavored liqueurs out there. Kahlua is the most famous; it's based on rum, and tastes nice and sweet. But I like whiskey better than rum, and I want the complexity of a coffee liqueur, but not the inherent sweetness. By making your own, you can control quality of coffee, the amount of sugar, and the whole experience and overall flavor profile is totally a step up.  And, it takes, like, five minutes. 
Most of us get into woodworking from a practical point of view: we need to work on something around the house, so we head to the home center and get tools to break down dimensional lumber and bang it back together. So you upgrade from a circular saw to a compound miter saw, and maybe even get yourself a pocket hole jig so you can hide your hardware from sight. 
And then, as it inevitably happens, something changes in your point of view. You're now longer just doing "home improvement" or "building things"... you're now: a woodworker.