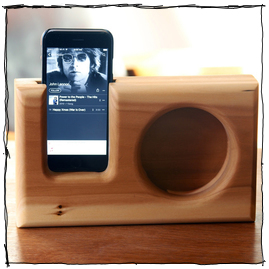 How to: DIY Wooden Smartphone Speaker
Editor's note: From time to time, we like to feature the voices of ManMade readers on the site. We love hearing what you're up to, what you're making, and how you stay creative. When ManMade reader Scott Huntington wrote in to share how he hadn't fired up his grill once for the entire summer and it revolutionized his cooking, I asked him to share his experience. 
My life changed forever this summer. It was the summer I didn't grill a single time. It was also the summer I made the best meats I've ever had, all because of a simple backyard ssmoker. It took my cooking level from "yeah I'll eat that" to "I need to share this with the world." And it couldn't be easier.      
It's finally done. My first major step on my journey to have less stuff is complete. My shop was cluttered, inefficient, and completely out of hand; and now I'm back in control of my space. Well, mostly. Here's what I've learned from the first 30 days of purging my shop.   
This post is sponsored by the DIYZ® app.
A good sturdy workbench is one of the simplest, most useful projects any woodworker can embark upon. In fact, it's probably the first project every woodworker should embark up. And yet it tends to go by the wayside. You see people building remarkably complicated pieces on rickety, unimpressive workbenches. 
There's a saying about the cobbler's shoes that goes here but I can't figure out if it works or not. Anyway, the point is, having a rock-solid work surface on which to build other things is really important. And you can make a great workbench without spending too much money or much time
I'm not much for lattes. In general, they don't do much for me, but I especially can't stand the overtly frothy, foamy ones that demand all that sugar and syrup and whipped cream to cover up the fact that the coffee is burnt in the first place. 
But, I'll admit it: I get jealous that people get so excited about these pumpkin spice coffee drinks this time of year. I like seasons, especially fall, and I wish I could grab a scarf and march right down to the burnt coffee shop
Sure, every once in a while, you want to intentionally drill a hole an at angle. Sometimes, compound joinery demands it, or you're going for a stylish, contemporary look on a project.
But most of the holes we drill - I'd hazard to say a good 99% of them - are intended to be drilled straight on, perfectly perpendicular to the surface. You can do this precisely with a drill press, but many makers don't have one, and they require specific set up and work that's small enough to be placed on the table. 
So that leaves the cordless drill. A tool that, when balanced on the tip of a drill bit, can be easily canted and slanted off square in every single direction, especially when you're putting force behind it. But the task is not impossible.
Yes, DIYers, you can drill a perfectly 90° hole with a cordless drill. Here's how it's done.    
Happy Monday, ManMakers! Today, I'm super excited to share an exclusive project with you. It's an excerpt from the new book Build Stuff with Wood, which is all about making cool woodworking projects with the most basic of tools.
The book is written by Asa Christiana, the former editor of Fine Woodworking magazine, and, I'm proud to say, a close friend of mine and all-around good guy. It features a variety of everyday objects you can make armed only with a cordless drill, a circular saw, and a jigsaw, plus a small palm router on one or two. There's a section on setting up a workspace, building a basic tool kit, and how to get great furniture-quality results from construction-grade tools. (Plus, a nice section on shop safety featuring a few photos of yours truly.)  Plus, the intro is written by Nick Offerman, so...enough said!
There are times for spending on an investment bottle, but there are even more times for enjoying something perfectly good that cost less than an Andrew Jackson. None of them are going to blow your mind, but you know that already. But - seriously - if you're having fun and it's more about the conversation than what's in the glass, twelves drinks of anything palatable for less than twenty bucks is money well spent.    
Your bachelor pad. Your family home. That apartment with all the architectural detail and the amazing view. Wherever you live, houses get messy. And they stay that way, until you clean them. When your plans to let someone inside ends up happening before your hopes of getting your home back to normal, then it's time to clean it. Quickly. 
You don't have the time to deep clean and scrub, so make the little bit you have count. If you're smart and focused, you can pull it off in the running time of your favorite record.    
Saws are exciting, and chisels and hand planes look really great on top of your workbench. But if you ask me, the number one most-important, guaranteed tool I use on every single project is: the No. 2 pencil.
It's essential for everything from sketching to measuring to layout and marking parts, and its "easy to remove" nature makes it perfect for seeing now, disappearing later. Except, have you ever actually tried to remove pencil from wood before applying a finish?   
Gluten is my homeboy. I don't care what the fad-diets say (and apologies to those of you who are truly gluten-intolerant). Paleo-be-damned, I'm grateful our ancestors developed agriculture, so we could stop foraging and eat mostly bread (and also develop science, art, culture, etc.). 
Great bread is easy to make. Here's how I do it:    
1. Get a sourdough starter from a friend (or make your own, or order one online).
2. In a plastic bin with an airtight lid (I use this one), mix until just combined:
11 ounces of all purpose flour
8 ounces of sourdough starter
10 ounces of room-temperature water
1 tsp salt (more or