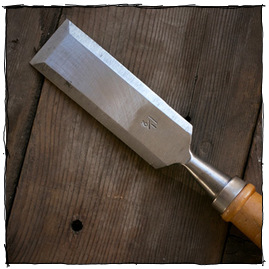 How to Restore a Vintage Chisel
Your bachelor pad. Your family home. That apartment with all the architectural detail and the amazing view. Wherever you live, houses get messy. And they stay that way, until you clean them. When your plans to let someone inside ends up happening before your hopes of getting your home back to normal, then it's time to clean it. Quickly. 
You don't have the time to deep clean and scrub, so make the little bit you have count. If you're smart and focused, you can pull it off in the running time of your favorite record.    
This post brought to you in partnership with Ballast Point Brewing
Thanksgiving has two of my favorite English words in it, so it's not surprising it's among my favorite holidays of the year. It's infinitely adaptable, both in terms of what you eat, and what you do during the holiday. Plus, it's a long weekend off during a period of the year when most of us sorely need it (a break from the cold, grey skies of early winter). This is the holiday for people who wish they could hibernate. For people who want to sit in their house all day, surrounded by good friends, family, and food. Who are thankful for what they have, and want to share it with others who might not be so lucky. 
So I'm excited to share a heaping helping of my favorite tips for making the Thanksgiving holiday smooth and stress-free.    
Halloween has its horror and December its infinite loop of sparkle-strung classics. Good or bad, they're the established traditions of their seasons.
But, if you will, allow me to make the case as November as perhaps the prime month for festive film watching. We can't all relate to being chased by ax murderers nor having the carolers sing as we find our soulmate under the mistletoe just as the snow starts to fall outside. But everyone knows the experience of returning home to break bread and spill gravy with family, or, perhaps, what it's like to strike out on your own for the first holiday not spent at your grandparents. The Thanksgiving table (and four days of being stuck in the same place) is the perfect setting for drama, comedy, and everything in between. Plus, all those sweaters. Here are our faves that get it right. 
My journey in leatherworking started with disappointment. Disappointment in a pair of leather boots. I had purchased a pair of Steve Maddens from DSW for about $100. They didn't last long... and I mean, they really didn't last long. After a month of pretty irregular use, the grommets had fallen out, the surface of the leather had started to rip, and the dye was already starting to rub off. And as my shoe angst built, I thought, 'I could make something better than this.'
Like many of you, I suspect, I'd never heard of Fire Cider until a few weeks ago. It's a homemade tonic, and it wasn't historically something you could buy, and it wasn't a tradition in my family.   
Dirty dishes in the sink. Putting your clean socks away. Replying to that one email that's been sitting at the top of your inbox for longer than you'd be willing to admit out loud.
We all have that small handful of tasks and chores that weigh the heaviest on our souls and our to-do lists. Most often, they're the things that occur multiple times a week, so that when you look at them, you think, "Didn't I just do that? And doesn't it take forever?"     
And that's where our brains lead us astray. Because, although, yes, you did probably just do that – no, it doesn't take forever. 
---
Last week, the New York Times ran a guide exploring A
We all need a little inspiration. When you make something, you are producing output: a physical object or idea that draws on your inner well of creativity. And just like any set of reserves, overtapping the well can leave you with diminished resources. When that happens, the single best way to restock your inspiration stores is to simply experience other people being creative. Books are great, and listening to your favorite music is always energizing, but sometimes, the best thing to do is simply watch other people make stuff. Like, on an episode of TV.
Sure, there's an entire channel that's supposedly about "DIY"ing, but mostly, it's about the relationship drama between people doing home improvement projects. So, I thought I'd share some of my go-to series for when I'm looking for a little inspiration.   
I can recount eras of my life in wallets. My first was a black trifold at age nine, a Christmas gift from my grandparents. High school and undergrad entered the era of canvas, which would wear hard at the corners where cards hit. In my twenties, I carried a thick oxblood-colored job I found on clearance at a department store. It was the model that signaled the end of the era; the first that didn't come with that little plastic sleeve for photos, because the smart phone had rendered it unnecessary.    
Over the weekend, I was working in the garage when I found myself in a familiar position. I needed to transfer a pencil line from one face of a piece of stock to the one around its corner. Sounds simple enough to do with a square, but I've had this problem before. Sighting the line isn't accurate enough, and a traditional try or combination square isn't of much help here. Here's why:    
I burned out early on Halloween movies this year. I watched mostly duds with a few mediocres sprinkled in, and realized I'd spent enough time in shakycameraland for one season. Not being even remotely ready for the annual sacrament of candy cane-fueled holiday classics (it's too early, even for me), I decided to spend this season of limbo - cold enough to need to be inside at night, but too early for Christmas merrymaking - raiding the public library, and watching that list of films I've been meaning to see for twenty years, but simply hadn't gotten around to it. 
It hasn't gone as planned.