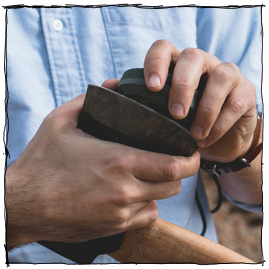 How to Sharpen Your Axe
I recently posted a photo of my Aeropress setup to Instagram and had a buddy comment with questions about my process. I've only been using my press casually for the last couple of years, so I didn't feel comfortable saying anything authoritative. That begged the question: who would be considered an authority on the subject of Aeropress recipes? Which led me to: if not the victors of the World Aeropress Championship, then who? 
If you're unfamiliar to the world of Aeropress, if you own one and have no idea what to do with it, or if you're looking to tweak your current routine: read on, friends.
Search "bullet journal" in Instagram or Pinterest and you'll see a cornucopia of tricked-out notebooks. The Esteemed Society of Crafters on the Internet has truly created a thing of beauty. But if you're one of the "Ain't Nobody Got Time for That" (ANGTFT) set, don't be fooled by the washi tape, calligraphy, and rococo calendar ornaments: a minimalist bullet journal is, hands down, the most efficient and robust planning tool in your productivity kit.
If you were to ask an American to picture drinking a cup of tea, it's safe to assume that the mental image wouldn't include work boots, hardhats, bricks, and lumber. But while coffee is standard in the U.S., for thousands of construction workers in Great Britain and Ireland, as well as numerous tradesmen like electricians, welders, and plumbers, a strong cup of tea is the preferred fuel for a day filled with labor.
Here's a basic rundown of how to fortify your work day with the strength of a bricklayer.
When I'm just cooking for myself (i.e. if my special someone is out of town), I can certainly fend for myself nutritionally, but, I'm probably not going to get too culinarily ambitious. I find I either want to cook for lots and lots of folks (hence my two dinner parties over the weekend), or not really mess with it. I mean, who I am gonna impress and treat? Myself? Nah. Plus, I gotta do all the cleanup myself.
So, while I don't like to get take out every night, I'm prolly not gonna make a big mess in the kitchen with fancy fixings. And, probably at least once, when spending an evening huddled away in the basement working on a project, I'll resort to that single-guy staple: the frozen pizza.
Not that I like frozen pizza, of course. But, it does do in a pinch, requires little effort and clean-up, and sorta feels like a treat. But that bland blagh from a box doesn't have to be all bad. Especially if you take it up a notch with some fresh ingredients and clever techniques.   
Knot tying. It's a thing. If you read any "men's lifestyle" content, you've no doubt seen an exhaustive list of "essential knots every man needs to know." You proceed to read their list of seven, or ten, or fourteen, and by the time you get to the bottom of the list, you can't even remember the name of the first one, let alone how to tie it. 
There's a great adage in the home decor and organization field...you've probably heard it on one of those room makeover TV shows. The phrasing varies, of course, but the central idea, "When you run out of floor space, you've got to go up."
In order to be your best, you need to make the most out of your mornings. More than anything else, how you begin your day sets the template for how the rest of it will go. Here are nine things you can, and should, do every single day to be your most productive self. 
1. Make Your Bed (2:oo)
When this becomes first thing you do after you wake up, you accomplish so much more than flat blankets and straighten pillows. First, you immediately achieve a goal; the very first thing that happens during your whole day is a success. Secondly, though it might sound dramatic, you've ordered chaos. What was a mess is now straight and clear

The first week of January is often about adding things to our list. "This year, I'm going to do this every day, or execute a hundred of those..." Instead, perhaps this is the year you drop some of the stuff that just isn't serving you well. We have a few ideas.    
There is lots of scientific research on why setting goals on January 1 never really works out, and why, by March or April, we've all backslid into our old habits. Often, it's because goals aren't specific enough, or we haven't found the best way to track the work we've done. Or, perhaps we don't actually believe we can achieve that new version of ourselves for the long term.   
I think I was eight. Maybe seven. It was my birthday, and a family friend who'd taken a mentor role with me stopped by to give me a small gift. I don't remember what was in inside, but I can so perfectly and vividly recall that it was wrapped in the full, CMYK color of Sunday comics section, and it blew my freaking mind.