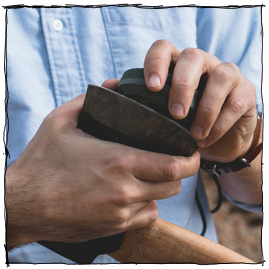 How to Sharpen Your Axe
There are numerous cutting board kits out there that provide you the wood and leave all the gluing, planing and cutting to the consumer.  You can also cut up random pieces to create your own glued up cutting board. Both of those options and can result in a gorgeous cutting board that will be adored by the recipient; however, that also requires buying or making several pieces that need to be glued together, a planer and loads of extra time.  The simple solution – find a beautiful piece of solid wood that you can make into a cutting board.  Using one solid piece of walnut, maple or the hardwood of your choice will be cheaper, less time
Have you ever been substantially complete with a wood project and then accidently dropped it or knocked it off your workbench?  Without a doubt, your box, picture frame, cutting board or whatever you're working on will get dinged or dented.  Despite the fact that those mishaps can often be fixed, it can be incredibly frustrating and require a significant amount of time to remove or hide the blemish.  Instead of sanding, planing or recreating that piece of the project, there is another simple and often less time-consuming option you likely have in your closet. 
Just like how many Americans think they don't have accents, I used to believe I was totally free of regional snobbery... until I moved away from Maryland after high school. 
See, I grew up just between DC and Baltimore, I've got roots in the Chesapeake Bay stretching back at least 4 generations, so I know—Maryland doesn't really have a ton of nationally-recognizable cultural touchstones, except for one thing: the Chesapeake Bay blue crab. Marylanders are also persnickety about preparation methods, of which there are only three acceptable options: deep-fried softshell on a sandwich; fried up as a crab cake with extremely sparse filler; and steamed with Old Bay, hand-picked and dipped in melted butter.
So when I left my hometown and found other crustaceans being touted as "crab," my gut reaction was Man, that's not crab.
You know what, though? I love all kinds of seafood, so I was eventually willing to concede that here are a lot of other types of crab out there, and they were probably delicious. So I took it upon myself to try out Alaska's most famous seafood exports: the Alaskan king crab.
It's impossible not to love the grill, especially in summertime. And at ManMade, there's enough of that love for grills of all kinds: gas grills, kamado cookers, offset cookers, vertical smokers, hibachis, and whatever else helps bring your food that flame kissed flavor. 
But for all-around versatility, our vote goes to the charcoal kettle grill. This design has remained basically unchanged for nearly seventy years, and it has stood the test of time as an affordable, adaptable, and portable way to make dinnertime that much more enjoyable. Kettle grills such as the ubiquitous Weber are, as much as a pair of Ray-Ban Wayfarers or the Eames Lounge, a classic.    
Everyday carry: that's, like, the wallet and keys that you shove in your pocket on your way out the door, right? Yes... and no. Sure, your everyday carry (EDC) rotation will include your wallet and keys, but it has the potential to be so much more: a vehicle of personal expression, an art form, a tool to daily sharpen thoughtfulness.
Unsurprisingly, EDC is a Thing on the Internet now, especially on social media—as of the time of this writing, the #everydaycarry hash tag has over 2 million photos associated with it on Instagram. A niche with roots in the military and law enforcement community has truly bloomed into a universal pastime.
Looking to refine your EDC game? I've shaken out hundreds of "pocket dumps" to uncover their most common elements. Let's take a look!
One of the first big projects I completed when I bought my house was digging a large garden in the backyard, and we just barely made it in time for a summer full of tomatoes, cucumbers, okra, eggplant, peppers, and squash. The 20 x 30' patch somehow wasn't big enough for both eating and canning, so when spring rolled around again, I set out to expand our patch. Gardens are never finished, after all! (Check out our tutorial on how to hand-dig a garden here.) 
The only thing I wasn't interested in expanding, though, was my water bill. Since we get on average 4 inches of rain per month during the growing season here in North Carolina (Apr–Nov), it was time to let the clouds handle the water supply rather than the city. Since this is mostly a money-saving project, I kept my budget really low because I preferred to have the materials pay for themselves as quickly as possible.
Read on for how to make a rain barrel on a budget!
This weekend project is full of all the good stuff: it's practical, it's customizable, and it's a great way to practice and further your woodworking skills...with the very tools you'll store in it. The circle is closed.    
As I wrote in my post about bow ties, I used clothes as self-expression when I was younger. I was a kid who was self-consciously weird, interested in art, with eclectic tastes; my wardrobe reflected that. I was never sure what to do with socks when wearing shorts, so I did what any self-consciously weird/arty/eclectic kid would do, and chose socks that drew attention to themselves: argyles, stripes, colorful prints of anchors and hamburgers.
I still do wear colorful socks—under jeans to the store, with dress pants and a jacket, and everything in between—but after a recent refresh of my shorts rotation, I started wondering how to truly master sophistication with my summer getup. Read on for the full report!
The sun is out, sleeves are getting short, and that means: it's time to update your look for the season.
We have created two easy DIY projects that will add a nautical touch to your wardrobe without breaking the bank or having to buy a boat. Learn how to make your own knotted bracelet and...come sail, uh, away?
Turning out perfectly grilled foods in your own backyard requires balancing two important variables: time and temperature. Too hot, and the food gets overly blackened and burnt before it's cooked through. Too short, and the surfaces don't have enough time to caramelize, brown, and develop that characteristic charred flavor that makes grilling worth the effort in the first place.
A solid grill thermometer can help, but here's the bad news: standard bi-metal dial thermometers, the kind present in almost all backyard grills and smokers, can be off by as much as 75° F in either direction. Which, if you're going for low and slow cooked flavors of barbecue, is enough to totally ruin your meal and your day. Here's how to fix it.