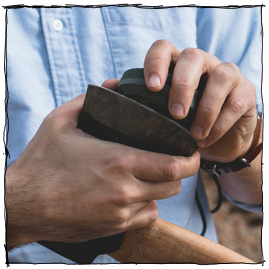 How to Sharpen Your Axe
Hopefully, you're already a committed safety glass wearer. Grabbing a pair for even the simplest drilling/driving task is good practice, and a part of your DIY routine. Even better, if you use power tools, you're also protecting your hearing from those roaring 85-90 dB motors.
Last in that great triumvirate, and perhaps the most often overlooked, is protection for your respiratory system. Too many of us don't wear a dust mask, respirator, or sealed face shield when working on projects for one simple reason: they are extremely uncomfortable, a total hassle, and more irritating than your second cousin's toddler at the Thanksgiving table
I guess you could put something else other whiskey in a pocket flask. Maybe some nice sipping tequila in summertime, or perhaps a bit of brandy around the holidays. Whatever you fancy.
But whatever goes inside, our vote is: you should own certainly own one. Not because you should be sneaking spirits in places you shouldn't have them (although...) But because its summertime, and you should be headed out on adventures. And once you've achieved whatever goal you set, it's good to celebrate a little.      
Salt of the earth. Worth his salt. Take it with a grain of salt...
It doesn't take much digging into English idioms to recognize a pattern here: salt is valuable. As an essential mineral? Sure. As a time-honored method of food preservation? Yep. But most importantly? It makes your food tasty. I quote Michael Ruhlman in The Elements of Cooking, distilling a conversation with award-winning chef Thomas Keller: "It is true not just for cooks in professional kitchens, but for all cooks in all kitchens, everywhere: learning to salt food properly is the most important skill you can possess." It doesn't get any more definitive than that. 
The pursuit of properly seasoned food calls for action beyond just salting at the table. See, in my home, salt shakers are mostly for 1) decoration and 2) the occasional ear of corn in July. The reason is that my wife and I salt our food while cooking it. We caution guests to taste their food before they reach for the shaker because if they try to season it at the table, it'll taste oversalted.
In fact, when we're cooking, we actually dispense with a shaker entirely... and by the way, forget about the 1/4 teaspoon measure. We use an even simpler set of fundamental tools:
I love reading. It's a passion and a pastime, a comfort when I'm stressed out, and a total compulsion—ask my wife and she'll confirm that if there's written material anywhere in my vicinity, I'll scan it. I read books from the bookstore and the library, I read articles on my phone, I print out PDFs of friends' screenplays for annotated reviews.
I also really enjoy buying vintage books, especially while traveling. My trade of choice is artisan printing, particularly in letterpress, so I love examining the craft that goes into these old books.
Most books come to me in decent condition, but every once in a while I'll come across one in a Charlie Brown Christmas tree state. Today I finally sat down to work on this 70-year-old German paperback, and I'd like to share my DIY book binding process with you.
If you're doing any kind of DIY or construction work, there are a handful of absolutely essential tools you need in your belt: hammer, tape measure, level, to name just a few. Batting cleanup in this list is the humble speed square. Easy to use, inexpensive, light and portable, made of one piece of metal so it won't become untrue if dropped. And most importantly: multifunctional.
How many functions, you ask?  Read on for ManMade's five top ways to use a speed square!
Proper water drainage for your property is one of the most important long-term preventative measures you can implement. Water build up due to insufficient drainage can cause significant damage to basements, garages and building foundations. If there is a lack of proper drainage, water can build up near or under the foundation of your property, which causes the soil to swell. This can lead to the foundation cracking or buckling under the extra pressure, or flooding in your basement. All of which will require costly and time-consuming repairs.
Knowing this information, I decided it was necessary to take the preventative measures and add
Nothing beats a big old chunk of wood. Fine joinery and glue-ups are great, but I'll take a solid slab any day. Sometimes, it's nice to be in awe of craftsmanship. But sometimes, it's nice to just be in awe of nature.   
Several months ago, I moved offices at my job. I threw up a couple pictures of the family and brought all my documents into my new space. And that's how it's been since. Fast forward six month,s and my walls are still barren.  I travel a little bit for work and I spend a lot of time at my client's offices, so I don't always notice how empty the walls look.  Finally, my office administrator walked into my office and told me that it was time to hang something up to make my office look a little more personable. 
Most of the people in my office have artwork that was bought online or a stock photo of a beautiful scenery, but that's not really my style. I wasn't sure what I wanted, but I knew I wanted to build it myself and make it unique.  So, I searched Pinterest and finally found something that I thought had a nice professional but masculine look that fit my style. 
I've got favorite foods, in every category imaginable. In my head, I write little Pablo Neruda-style odes to each one of my cravings.
And in the snack world, popcorn reigns supreme. As long as it's still crunchy, I'll eat just about every form of burst corn kernel—air popped, microwaved, butter/cheese/caramel split into a holiday tin, warmed under a heat lamp at the movie theater concession stand and drenched in butter "topping." (OK, so I actually skip the butter.)
But the Great Emperor of the Popcorn Realm is now, and will always be, freshly oil-popped stovetop popcorn. As early 90's kid, I grew up on the microwaveable stuff, but I got the entrance to the backstage party from my cooking wizard mother-in-law, and I've never looked back. Nothing can cook the starch in popcorn kernels quite like hot oil, and it's so convenient to be able to salt it perfectly when the thin sheen of oil is still glisten atop each little puff.
Read on for the time-honored technique of making the best stovetop popcorn you've ever had!
"Beloved, we join hands here to pray for gin. An aridity defiles us. Our innards thirst for the juice of juniper. Something must be done. The drought threatens to destroy us... Children, let us pray." –– Wallace Thurman
Gin has some great quotes attached to it. Thurman's is one. Then there's Churchill's quote about a martini being a drink of cold gin while looking at a bottle of vermouth (Churchill has quite a few gin-specific quotes). Gin is there in the art of the 18th century, its in bathtubs during prohibition and in martini glasses in the roaring 20s. It pairs with tonic and soda, but is supreme in a true martini.