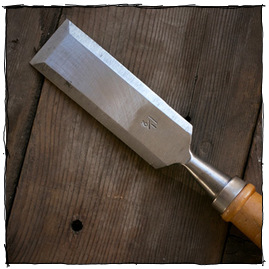 How to Restore a Vintage Chisel
Ten days ago, I shared a story involving the White House's custom homebrewed beer, and how several enterprising individuals were creating petitions and invoking the Freedom of Information Act to get access to the recipes. But it turns out, all citizens had to do was ask,
Move over paint swatch fan decks... Tauba Auberbach has designed a book featuring, supposedly, every single color possible, ever.  
Campbell's is releasing four brightly colored soup cans to celebrate the fifty year anniversary of Andy Warhol's famed tomato soup screen print, 32 Campbell's Soup Cans. And the best part? You can actually buy them, in a store, for only 75¢.  
Cincinnati-based artist Kevin Van Aelst has developed a fantastic ability to reënvision everyday items and manipulate them to communicate something deeper.
It's one of life's inevitable questions. Unless you're sharing the pie with someone you also share both the bank account that paid for it and the exact same appetite, eventually it's going to come up: Who gets the last slice?  
Normally, I don't get too excited by dishes made up from a bunch of pre-packaged ingredients. I have a strong aversion to anything made with a cream of anything soup, and party dips and snacks made from combining bottles and envelopes of factory-made stuff just don't do it for me.
And there's one exception - The Rice Krispie Treat. It's a magical no-bake combo of premade magic: a box of cereal, a bag of marshmallows, and a bit of butter. That's it. It's as more of a textural pleasure than a flavorful one, but for my money calories, it's hard to improve.
Well, except for these. Cause they're made with alcohol.  
Buenos Aires-based creative firm Minga created this clever series of minimalist WTF? posters, exploring those moments when life just doesn't follow the expectations you've come to count on...
Christiann MacAuley Sticky Comics drew this humorous and informative little chart exploring and details all the aspects that relate to the relative speed at which you drink your beer.  
"Your new favorite jeans cost less than $50 and will fit you perfectly."
So, I learned something new today: there's such a item called Shrink-to-Fit (STF) jeans, which are made from raw denim that you then conform to fit your body perfectly. Huh.  
I've gone on record many times about my love for s'mores, and balancing that with the mysterious dichotomy that I only want to eat them about once or twice a year.
But! Switching up the classic graham+choc+mallow recipe for some roasty