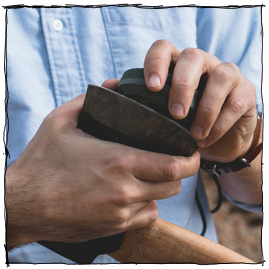 How to Sharpen Your Axe
Knowing how to start a campfire is an essential life skill, for sure, and most of us have our preferred technique: the lean-to, the tepee, the log cabin. But, even though most fires aren't started in emergency, or even in one-match situations, that's part of the fun. Once you've learned how to do it without turning a gas knob or lighting one of those Duralast logs, lighting a fire with one match (or spark from a starter) becomes part of the game, even if you have a whole box at your side.    
Most people refer to the "heart of the home" as the kitchen, and for good reason. However, the first thing you see when you walk into my house is the mudroom, and its honestly the space that gets the most action.  We moved into our house about fifteen months ago, and ever since we first walked through the house, I wanted to make the mudroom/laundry room more functional.  Not only did I want to add more storage, I wanted the room to be an area that I was proud to welcome people into when showing them our home.
As you can see, before I started the project our mudroom worked on many levels but it was very boring and it seemed to get cluttered easily. After completing some other more important projects on our home during the first year, I knew this summer was the time to tackle this space. 
Friends are important. And long-standing friends are so rare and so precious that they can hardly be overvalued. But if humanity, as a species, were to name one friend that had been there since the very beginning, it would be certainly be...well, dogs. They were our evolutionary companions from early on. They are a part of our mythologies, our legends, and our tall tales. 
But while we can imagine that people have always loved their dogs, there's actual evidence to back it up as well. As Indiana Jones would tell you, archeology is the path to many abilities some would consider to be unnatural. (Wait, I think I messed up that quote
For most dedicated eaters, the summer means grilling. If you are not firing up some flames to roast some summer sweet corn or a blacken a hanger steak or (at least) a hot dog, you are missing out on one of the greatest joys of the season. There is so much potential and tradition in a simple kettle grill, a chimney full of carbonized wood, and the possibility of what to put on top. But in between the pork chops and burgers and corn cobs and zucchini, there's something else you should absolutely be putting on your grill: a wok.    
This project began, as it were, with a "crazy idea" - the possibility of canoe travel without taking a canoe with you. Of building one upon arriving in a new place or country, paddling it, then leaving it there upon departure. 
And...?  It worked.    
Remember that old clubhouse in the vacant lot of your childhood neighborhood that the local kids hand-built from scrap wood and castoff rusted sheet metal, with "KEEP OUT" scrawled in red paint on a sign nailed over the threshold, which you could only cross by whispering the secret phrase of the day?
OK, my childhood never really had that, either. But as this millennium's second decade blazes to a close and the tangible machinery of my life increasingly vanishes into the vapory world of binary code, it feels like several new secret forts pop up every month. Not only does each online account demand its own covert entry key, but with cybercriminals stomping on the gas for data breaches every year, it's becoming more and more important to be able to create unique, hard-to-crack passwords for each one. It's a tall order to balance security with memorability—let's explore how to do it!            
For whatever reason, summertime often gets left out of the seasons of love. Fall is a time of cuddly hand-holding, and winter has been dubbed the season of cuffing. Summer, however, often ends up being the season of: "oh my god it's so hot stop touching me!" It's also the season of tacky patriotic decor, sunburns, and sand in unmentionable places - to bring up only a few of the key highlights. When there is a romantic dimension to summer, it's usually under the guise of "Summer Love," which is defined not so much as a healthy romance, but more so as a remorseful memory to haunt your barcalounger years. Basically, it's a total bummer for anyone over the age of 19.
And yet, summer is the most fun season! It's a time for blooming trees, ripening foods and flowers of all kinds, beaches and water and sunburns – plenty of things that are suitable for romance. So, before you prepare for a fall and winter full of pumpkin spice everything, and crackling fires, and hot cocoa under blankets, consider some of these awesome summer dates to make the most of a season so often lost to romance.               
In my post Head Tea: The Greatest Cold Remedy Known to Man, I mentioned a funky little coffee shop on the main street of the historic town where I went to college. As far as shops go, it's definitely part of the pre-hipster wave of hippie shops: you're likely to find ratty couches, a castoff mannequin dressed according to the season, a take-a-book-leave-a-book shelf, and cryptic messages like "Evolution is not bound by recipes" scrawled on the walls.
Speaking of recipes, most of the drinks you can order are on the "underground" menu because rather than having a comprehensive list on display, there are only some house drinks scribbled on small chalkboards suspended above the front counter. By far the best of these official house drinks is the Vanilla Wet Dog, which certainly does not smell like man's best friend after it jumped in the lake.
Here's how to make the summer coffee drink you never knew you needed.        
My tears. Since I was in my late 20s at least, they've come more easily than ever before. Sad things can bring them on, sure. But mostly, it's the beautiful things. The profound things. And things that are just poignant and stirring. But whatever the cause, they come with frankness and in real earnest. 
Sometimes I wonder if I should listen to Sufjan in public anymore. Always an emotional songwriter, his last few efforts, Carrie and Lowell and Planetarium, have been especially frank, incisively autobiographical and completely leveling (especially when you get clued into his autobiography.) It is inevitable that my eyes will become wells in a coffeeshop. But I guess I believe that it's not reasonable to blubber in public or have a crying fit while I'm at work, there is a deeper sense of shame that, if I'm honest, rests down in the nether regions of my psyche, and it is activated when my tears come. I am brought to tears in public by openness, but then shame comes and closes me up again. 
This October marks my wife's and my 10th wedding anniversary, which means I've managed to keep our cast iron skillets in good working condition for an entire decade (I'm a recovering flake, so our trio of pans definitely had some rough times due to the slow-drip brutality of negligence). Through much trial and error, I've developed a solid method of caring for cast iron that will keep these babies cooking for generations to come.
Read on!