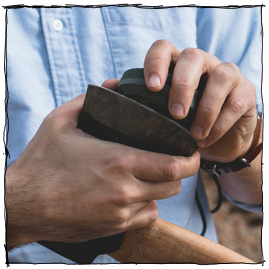 How to Sharpen Your Axe
Get ready to grab a bucket for all that drool...   
Etymology often helps shape thought: when you're aware of a word's origins, you're in touch with the full context of the words that filter your inclinations. For example, did you know that wilderness comes from the Old English for "wild deer"?
Think about that for a moment: it's a place filled with animals unaccustomed to human contact, where humans have minimized their prints on the world. So when we go out to the wilderness, we're immersing ourselves in the beauty of nature, we're adventuring outside of civilization, and we're escaping from the creature comforts that can dull our sense of connection to the cosmos.
Well... maybe not 100% escape. Because while I love taking a break, I've never been interested in taking vacation from a good cup of coffee. If you're the same, read on for how we at ManMade make decent coffee in the wilderness, and our choices for a great camping coffee maker.
It's a big country, the USA. And the myth of the open road remains strong, even if it will be self-driving cars that move us there. A little bit of research about roadside attractions in America will yield a host of unique and bizarre results. So here are a couple unique sites located off the beaten path that are worth visiting in the American Southwest.   
There are a few adages with which I can start this post. "You get what you pay for." "Some things are too good to be true." Yes, it would be awesome if there were a store in every town that sold solid, dependable tools at bargain prices. When you're just getting started, a place to fully outfit your shop on the cheap would be an amazing gift. I get it. I've been there.
But anyone who knows about Harbor Freight also knows about the reputation of the products it stocks: namely, that the quality is rather unreliable. Today, as I was discussing this post with my friend and colleague, M.E., her immediate response was, "There was one in the same plaza as my old job, so whenever we needed anything, we got it there. And ultimately whatever we bought, broke five days later. That place is the Dollar Store of the home improvement world."
And that's the trick: Harbor Freight stocks items that are designed to be sold, not to be used. I'm not saying their business model is dishonest or nefarious. Nor am I a tool snob with an unlimited budget. I'm only interested in spending as much money as necessary to get the job done. I know what its like to have your aspirations be bigger than your budget. But buying things that don't work, no matter how much they cost, is not saving money. The majority of products there simply will not stand up to repeated use, nor give the you the results you're after. When it comes to their sell-line of "Quality Tools, Lowest Prices"... well, one of them is true. 
Except... 
So you've snagged your new go-to blazer, upgrading your the 13-year-old-at-his-first-school-dance look of solo white shirt and black dress pants. Congratulations! You're now hovering at the upper style echelon that the big boys call classiness. Now, this may be a perfectly acceptable sartorial level to rest, one where you can command all the professional respect you'd ever need. But you're not satisfied with simply acceptable, right? Of course not! You want to pursue panache, you want to exude aplomb, you want to chase other fancy-pants dictionary words.
My friend, you're in need of a pocket square.
You know, the dandy cousin of the handkerchief that's there to just look cool and wouldn't dare catch a snot drop. Clothing is a nonverbal speech bubble, and conscious choices display confidence; the pocket square elevates the wearer another notch into the realm of "I know what I'm doing," provides variety for a frequently-worn outfit, and radiates the warmth of self-expression.
Read on for the ManMade primer on choosing your pocket square, then learn how to fold a pocket square and starting off with three basic pocket square folds!
I'm a huge fan of having a few rows of dog holes in my workbench top. And, more than anything else, I use them to secure a holdfast - an ancient and genius piece of design that secures your work to the work surface with a simple tap from a hammer or mallet. When your ready to release it, just hit the back and it's free. Seriously - it's ten times fast than clamping, and you can fasten your work anywhere across the bench top. Brilliant.
To speed up the process even more, I wanted to come up with a permanent way to protect the wood from the force of the steel being banged into it. You can use a hardwood scrap between the holdfast and the workpiece, but I figured there's reason to spend twenty minutes once and protect my work forever. No digging around for scraps required. 
Turns out, getting fully outfitted is only half the battle. Once you've selected all your gear, it's important to pack it up right for both balance and ease when carrying and access when you need it.    
Thickness planers are awesome. But I don't have one.
They're an expensive and specialized piece of equipment. A new one starts around $300, and the price just goes up from there. I'd like one, sure, but most of my woodworking projects don't require it, so I haven't made the investment yet. There are a few other tools I'm more interested in before I make the leap to a planer.
But there are times when I have a rough piece of wood that needs to be trimmed down to a consistent thikness or large course areas need to be smoothed out.  Instead of picking up my orbital sander and going to town for 45 minutes to thickness the piece of wood, I turned to my table saw.  While this trick is limited to wood with a width of approximately 6 inches, it can save you a ton of time for small projects. It's a really simple process. 
When I think back to my first office job, I learned two key takeaways: 1) always share your process and thinking with your supervisor, and don't hold out til the end to show them the completed project and 2) drink a bunch of liquids all day long so you'll have to get up to go the bathroom. 
Seriously. Moving about the office gets you up and out of your seat, your eyes off the computer screen, and the ability to mingle a bit with your coworkers. And while we recommend switching to water after 11:00am, it's nice to enjoy a few small personal mugs of coffee vs. a huge thermos. It always stays hot, and remains fun to sip the whole morning
Guys—I love space.
Growing up, I was always the kid with my head in the clouds (I'll admit I've been called a "space cadet" more than once) but my actual interest in the objects outside of our atmosphere didn't launch until I fulfilled my college science credits with two semesters of astronomy. It was one of my favorite classes of all time: learning about different planets and galaxies, observing the moon through powerful telescopes, and—shockingly for an artist—working the calculus of space physics. These days, I dip my toes into the pool of astronomy with a set of apps. 
Read on for our top picks of best free apps for space fans!