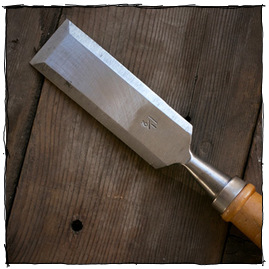 How to Restore a Vintage Chisel
"Soon," says Tanner Guzy, "winter will be waning, and with it we'll shed our cold weather uniform." The thaw is coming...some of us had a taste last week, until Titan came along and dumped plenty of fresh ice and snow. But, spring will happen, cause it happens every year
It happens. Some well meaning person will bring over a cheap six pack of pale lager and then drinks something better, leaving you with the remains in the fridge. You pick up a few Pacificos at your local Mexican market thinking, "Oh, I actually like this." Or, you find your self at an all day party - a wedding reception, perhaps - where the beer is free, but leaves something to be desired. 
Like everyone, I guess I have a problem with stuff. With things - with keeping them too long, with placing emotional value on the physical object rather than the memory it recalls. Of course, I think I do this way less than everyone else, cause I don't have a problem with passive consumerism (errr....), and I don't spend tons of money on clothes, or shoes, or eating out, or on the latest gadgets, or all those things that personal finance books tell you to not spend money on.
You can print on paper, you can print on fabric, you can even print on wood, but customizing glass has remained a little elusive. 

For the past year, U.K.-based photographer Andrew Whyte has been snapping photos of "The Legographer," a LEGO minfig with a camera and a serious case of wanderlust.    
In the era when everyone's phone looks basically the same, it's time to reskin your digital sidekick with a new suit.
Bicycles get around by pedals, chains, gears, and wheels. Except, all the times that they don't, and they get around by being carried by their rider. Anyone who spends significant time on a bicycle can attest— on nearly every ride, there's a time when your bike gets lifted off the ground.  
Each Wednesday, I post some of my favorite can't-miss links, images, and otherwise mindblowing goodies from across the web. 

This is an interactive graph based on some serious math that proves: it's always a better financial decision to get the bigger pizza. Always.    
Okay. Whoa. Just stumbled across a cool new store with awesome lighting products and plenty of inspiration.
Inspired by the work of Reuben Margolin, a sculptor known for his mechanically-driven kinetic sculptures of wave-forms, artist and model maker Dean O'Callaghan created "Water Experiment No. 33."