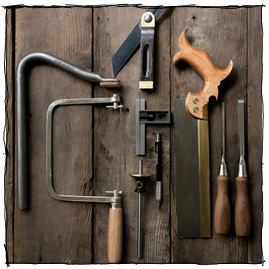 The Best Woodworking on Instagram




HGTV's® new series Flipping the Blockputs teams to the test in a renovation competition. With a cash prize of $50,000 on the line, contestants must remodel and transformrun-down condos in a race to add the most value to their space. Judges and HGTV stars Nicole Curtis (Rehab Addict) and Scott McGillivray (Income Property) will select teams to win weekly prizes, while host and licensed contractor Josh Temple will guide the teams throughout the design and renovation process.

HGTV's®Flipping the Block premieres July 20th at 9/8c. To meet the teams and watch behind-the-scenes interviews, be sure to go to hgtv.com/flippingtheblock. Join the
I'll never turn down an opportunity to share a clean-yet-rustic furniture project made entirely from easy-to-find materials from your local home improvement center. This
Each Wednesday, I post some of my favorite can't-miss links, images, and otherwise mindblowing goodies from across the web.

Some thoughts on getting the most out of your barber and summer haircuts...which are, mostly, centered on not trying to do much here. Sometimes straightforward conveys more personality than you think. 
Hi there, ManMakers. I'm excited to share some cool news: we're having a great 2014, and in order to build on that success, we want to bring on some new voices. So, ManMade is putting out a special call for new contributors. 
Before the era of everything-is-made-of-plastic sewing machines, these helpful tools were created from long-lasting materials designed to stand up to any project and the test of time, namely: metal. And the cases, while usually covered in some once-stylish but now worn vinyl are often made from wood.
This sharp DIY furniture project is not only made from easy-to-find materials you can snag any any big-box style home improvement center, but the total cost for supplies hovers around $75. And for that reasonable sum and a couple of hours of work, you can net yourself one of these:      
It seems like heresy, especially in the height of grilling season and particularly the day after Independence Day weekend, but if you want to make truly amazing burgers at home, don't ever let them touch the grill. 
Mr. Porter,  an online men's style shop, teamed up with Drake's of London Creative Director Michael Hill for this helpful video on folding pocket squares. Mr. Hill (he seems more like a "Mr. Hill" than a "Mike," right?) offers four options for folding the same pocket square for four different looks: business, eccentric, casual, and elegant.    
If you find yourself with a day off this holiday weekend and a bit of free time before the festivities really start, take advantage of the opportunity to get something done: like cleaning out your car. (Presuming, of course, you own a car. Same goes for bikes or even your day bag where you stash your bus pass.)   
Another great IKEA hack, gentleman! This time a classic, stripe-y beach chair gets flipped into a modern lounge chair, while keeping things affordable.