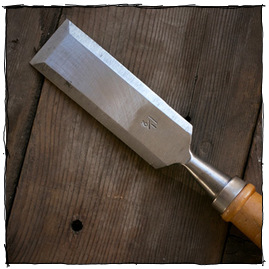 How to Restore a Vintage Chisel
I hate starting blog posts this way, but I'ma exercise my one or two a year: I freaking love this idea.    
Spring is just around the corner...kinda. While we're waiting a little longer to get seeds in the ground, here's a fun indoor project to prep for the season.    
Each Wednesday, I post some of my favorite can't-miss links, images, and otherwise mindblowing goodies from across the web.
Creative duo Caitlin Levin and Henry Hargreaves created this series of food maps inspired by their own passion for travel. 
Some guys have their go-to libation: no matter the time, no matter the place, they want this beer or that drink, and the matter really isn't up for discussion. Others are constantly switching up their poisons, perusing the menu for familiar flavors, taking the advice of the bartender, or simply having what everyone else at the table ordered.
95% of the time, a tool box is overkill. Whether taking some items to help a friend with a project, or just working on something in my own home two floors above my basement shop, the act of dragging out the toolbox, selecting the items from the pegboard and arranging them appropriately, and then lugging the whole thing around is simply unnecessary. 
While this crazy weather makes up its mind, here's a few solid options to help you stay stylish during this transitional season. 
This is not a cucumber. It's....
Boom!   
Everyone's Irish on St. Patrick's Day, so while not make something great for everyone? Some of the items in the photo above may look a little kitschy, but most on the list are tasty new takes on authentic dishes that are well worth your time. From Cheddar and Guinness dip to Corned Beef and Cabbage Rolls, these are some wonderful-looking appetizers to get the Irish in you fighting for seconds.   
Everyone likes finding an interesting new place to try, or a new dish to make their go-to. And it's fun and fine and interesting to read the major food magazine's restaurant issue, and keep track of all the exciting new places to check out next time you're in a certain city. 
When you think about it, a great bahn mi sandwich and a perfect taco are pretty similar: a small amount of super flavorful meat topped with crunchy veg, something spicy, and plenty of aromatic cilantro and lime, all wrapped up in a tender, toothsome baked starch thing that brings it all together.