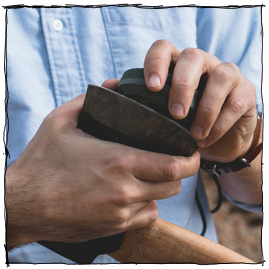 How to Sharpen Your Axe
You know that folk rumor where you can supposedly only stand an egg on its end during the vernal equinox, and how its totally false and nothing to do with the day of the year?
Turns out, there's another interesting viral-like tale that its impossible to crack an upright egg using only your hand.  
"A decent man must have a decent watch." So said Albert Falco to his watch-less companion just before legendary ocean explorer Jacques Cousteau gifted him his personal dive watch (a DOXA Sub) in preparation for their deep-sea dive.   
Whether it's by accident or misuse, chances are you're going to need to repair a power cord on something you own. I can't count how many times I've almost cut my circular saw cord while ripping a board or yanked a lamp line and ripped it clean off. The good news is you don't have to toss out your expensive tools to a severed cord. Instead you can repair it yourself!    
Fall is officially upon us, with its cool evenings, warm and windy days, and the exceptional flavors of my favorite season. As the weather cools down, we heat the kitchen up with long-cooked roasts, simmered soups, and plenty of spiced deserts. But the changing of seasons also rouses a plethora of fall-flavored beers to compliment the heavy meals the cooler weather inspires.
While proper tipping is a sign of a good manners, knowing how much- and when to- is one of those life skills I think I was supposed to pick up by osmosis. Generally speaking I've done my best to lean on the generous side, but I've definitely guessed my way through a handful of social situations. Thankfully, this long-form article written by an academic - and former waiter - takes a look at some of the large-scale statistics on tipping in different situations across America.   
Every DIYer has that pile of extra scrap wood sitting in a bin from the last project. You know, the pieces gather dust until a free afternoon when I go rummage through the pile and make something worth hanging on the wall. Like this scrap wood clock, an awesome option because there is so much that can be done customize the face and hands to match your style.
If you're just now getting into building things on your own, buying pre-made legs is a great way to keep your focus on building and finishing a flat surface, like a tabletop, without worrying about the mechanics of leg structures. I can definitely say when I started building things I didn't trust the weight of a coffee mug on my tables. Thankfully, we now have an inventive product like The Floyd Leg to the rescue!   
Vanilla gets a bad rap for being plain and simple, but adding a dab to your morning coffee can really boost the flavor, and it still tastes great with all kinds of goodies. Imitation extract is okay and fancy store-bought vanilla is pricey, so hand making this delicious extract is just too easy for us to pass up.
Thanks to some epic solar flares and the resulting auroras last month, the annual time for me to procrastinate by downloading the NASA Astronaut Application came a little early this year. If the requisite 1,000 hours piloting a jet and/or relevant PhD isn't exactly your jam, you might try exploring the universe through one of these spectacular homemade telescopes.   
A little bit of slightly spooky fun for October - Cartoonist Adam Koford of @ApeLad has created a