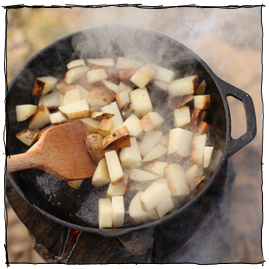 The Best Way to Maintain Your Cast Iron Cookware
Burgers. They're a little bit art, a little bit science, and 100% iconic. There are plenty of styles, and most conversations on the topic talk about proper cooking technique, choosing a balanced collection of toppings, texture, etc.    
An authentic Eames Lounge (670) and Ottoman (671) set by Herman Miller is, to me, the most iconic piece of furniture, ever. And, vintage models and new issues are - while amazing - super duper expensive. There have been a few companies who have produced copies - namely Plycraft and Frank Doerner from Canada - and they can be a bit easier to find. Though, due to their knockoff status, they haven't always been as well cared for.    
Conde Nast Traveler teamed up with Project Bly, "a travel and design website built on the philosophy that to know a city you must wander its streets" to create a new photo essay called "Fresh Cuts." There, they've shared candid shots of a cross-culture social hub: the barbershop. After all, basically everyone has hair, and most people need it cut.    
Each Wednesday, I post some of my favorite can't-miss links, images, and otherwise mindblowing goodies from across the web.
Inside a dry lakebed in Death Valley National Park a set of rocks seem to move themselves "across the flat dirt in the heart of the hottest, driest place on earth." Many of the rocks are over 600 pounds, but leave trails as if they've snaked themselves across the dry lake bed.   
Any guy who's visited a thrift store or a secondhand shop can attest to the ties. Some are hideous, but some are great - unique, but subtle patterns, or an lived-in color combo that can bring your getup together.
There is, of course, the problem of size and the insane widths that used to pass for stylish. But! Snag that vintage necktie anyway, cause its easy to adjust.
Here's a clever DIY project that solves a need, looks sharp, and can be completed in under 30 minutes with just a few tools. It's a leather frame strap, designed to attach a six pack to your bike's top tube for easy transport. 
Woodworker and film maker Frank Horvath maintains an excellent YouTube channel discussing some of the details, tools, and design aspects that goes into his craft. 
Over the last year, he's released two of these stunning stop-motion animated videos telling the story of furniture being milled, cut, shaped, and assembled, without dialogue...or human hands.   
For the past few weeks, The New Yorker magazine's music critic, Sasha Frere-Jones, has between tweeting the names of (seemingly) random-but-awesome song names and images, all tagged #perfectrecordings. Then, this week, he shared links to a series of free 
The brown paper sack is iconic, and pretty cool looking, and waxed canvas is an incredibly durable material. Put them together and what do you got? This great DIY project from Anna Makes.    
Pop quiz: how many crayons do you think the Crayola factory produces each day? I'd have said something like: 500,000. 
Turns out, I was way, way wrong. The answer?