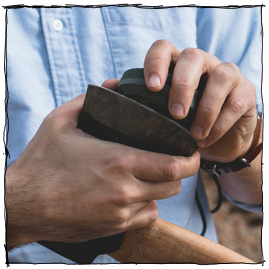 How to Sharpen Your Axe
When I start my garden every spring, I like to kickstart it by heading over to the local nursery and hardware store for some pregrown plants. Seeds can be tricky to deal with, and plants that are already several weeks old are especially helpful if you're busy, don't have a ton of experience, and want to get a jump on the growing season without having a greenhouse.
For the remainder of my garden, it's all about the seeds. I love that thrill of watching those little seedlings cling to the dirt in rain and sun, and I'm ecstatic to see true leaves when they emerge. If you've been doing seed packets for a while, and you're looking to up your garden game and perhaps move into the world of heirloom vegetables, read on for our primer on how to save tomato seeds, seed pods, summer vegetables, and more!
Concrete. It's a universal building material so ubiquitous, we tend to take it completely for granted. Yet it has a fascinating history that stretches back before the time of Roman Empire. No need to fire up the Delorean today, though; we're sticking to the current trend of using industrial materials in domestic interiors with our concrete desktop planter.
We're also giving away a $250 Lowe's gift card that you can use to buy your supplies to make your own concrete desktop planter (and then some). Read on to find out how to enter (giveaway details at the end of the post) ...
When you're new to the world of DIY, starting even the smallest of projects can be a daunting task. How much money will it cost me? How much time will I waste? Do I even know what I'm doing? Questions like these can easily deflate a well planned weekend of hard work when you're not comfortable with yourself and your abilities. 
Nothing beats a big old chunk of wood. Fine joinery and glue-ups are great, but I'll take a solid slab any day. Sometimes, it's nice to be in awe of craftsmanship. But sometimes, it's nice to just be in awe of nature.   
For the last couple of years, we had two ugly rocking chairs on our patio that I never really liked.  They were a little awkward to get into, the fabric was hideous, and they took up way too much space when they were reclined.  So, when my wife asked me to build an outdoor sofa for our patio, I didn't have any hesitation to say "yes"!  
To figure out what style of seating we wanted, I searched "outdoor sofa" on Pinterest to get some inspiration and figure out a basic design.  Once that was decided, I tasked my wife with finding the outdoor sofa cushions. I wanted to find the cushions first and then build the couch based on the
I remember when the cheese lovers started telling me what was "real" cheese and what was "fake." I remember taking them seriously because they were talking about cheese cultures (ha. pun!) I knew to be important: Italian, French, Swiss, Spanish, etc. "Cheese is alive!" these experts insisted. And anything that was not the product of natural fermentation and cave-aging was unacceptable. Eating the rind was important. The worship of bacteria in the process was expected. The presence of insect larvae was not necessarily a negative. Out of a world that had room for Cheeze Whiz, handi-snacks, and this bit by Mitch Hedberg, the celebration of authentic, non-adulterated cheeses was completely legitimate. 
Mid-century modern is an umbrella term that describes the popular industrial design taste ranging from the mid-1940's to the mid-1970's across all disciplines—architecture, interior design, product design, and graphic design. It was huge shift in its time, orbiting around the desire to strip away excessive ornamentation and get things down to their most basic shape elements. Despite the changing aesthetics of the 1970's onward, it continues to endure—in the words gallery owner Patrick Parrish, "It's been the new cool thing five times in the last 50 years."
Of course, no design era is the pinnacle of perfection. Elements of mid-century interior design can oversaturate our eyeballs—does anyone else completely overlook the Eames chairs placed in the corner of perfectly-styled rooms on Pinterest—and after living in post-Soviet East Germany for a year, I gotta say that the stark minimalism of Brutalist architecture can get really depressing in a snowless winter. (I also have to admit that sometimes even the word "design" is so overused that it feels like a gnat swarm to the face on a muggy day in August.)
Yet, I can't help but love the work of French-born, NYC-based designer Raymond Loewy (1893–1986). You probably don't know the name, but the guy was so prolific that unless you've been living in a cave, I guarantee you've seen his work. Let's take a look at some of his greatest hits.
The solar calendar has finally acknowledged what we've all know for a few weeks: it's summer. And with that most blessed of seasons comes the opportunity to get out of town and see the world in all its sun-soaked splendor.
The trick for making all this happen as easily and frequently as possible. Pack lightly, my brothers and sisters.    
A few weekends ago, my wife and I went out for a special dinner to celebrate our sixth wedding anniversary. We opted to enjoy a few beers with our meal, but the table next to us had ordered cocktails. They each showed up with the glass half full of color - slanted, with the liquid on top. Initially, I thought it was simply a triangular shaped glass, where the bottom angle was simply solid. But as I looked closer, I realized, in fact: it was a frozen wedge of solid ice, attached to the glass so it maintained the effect. 
I asked the server how it was done, and she told me the bartender had a bunch of little rubber molds that fit the glass, and the whole thing goes into the freezer. She said they were cool, but only fit the certain glass they came with; so only a certain number of cocktail recipes are served in them, and they run out each night.
A few days later, I looked it up to see if I could pick up one or two. I found the product - it's a glass with a custom silicone insert that freezes the ice at a perfect 45° angle, cutting right down the center. They cost about $20 each, and are kinda cool.
But - they're also unnecessary. Because you can achieve the same effect without spending a dime, using any rocks glass you already have. Here's how to do it.       
For years now, Michael Pollan has become the authority on the relationship that human beings have to food in the modern mechanized, industrial world. He has written on gardens, the inter-relationship between specific plants and their human users, the food systems that operate in our world, the ethics of our diets and the deeper meanings behind our cooking traditions. In short, he has become one of the most influential authorities on what we put in our stomachs. In the process he has helped foster a whole new approach to food that has manifested in artisenal pickle shops, kombucha in every store, and a renewed focus on locality in our food