ManMade Recommended: If You're Looking to Upgrade Your Headphones, This is a Great Place to Start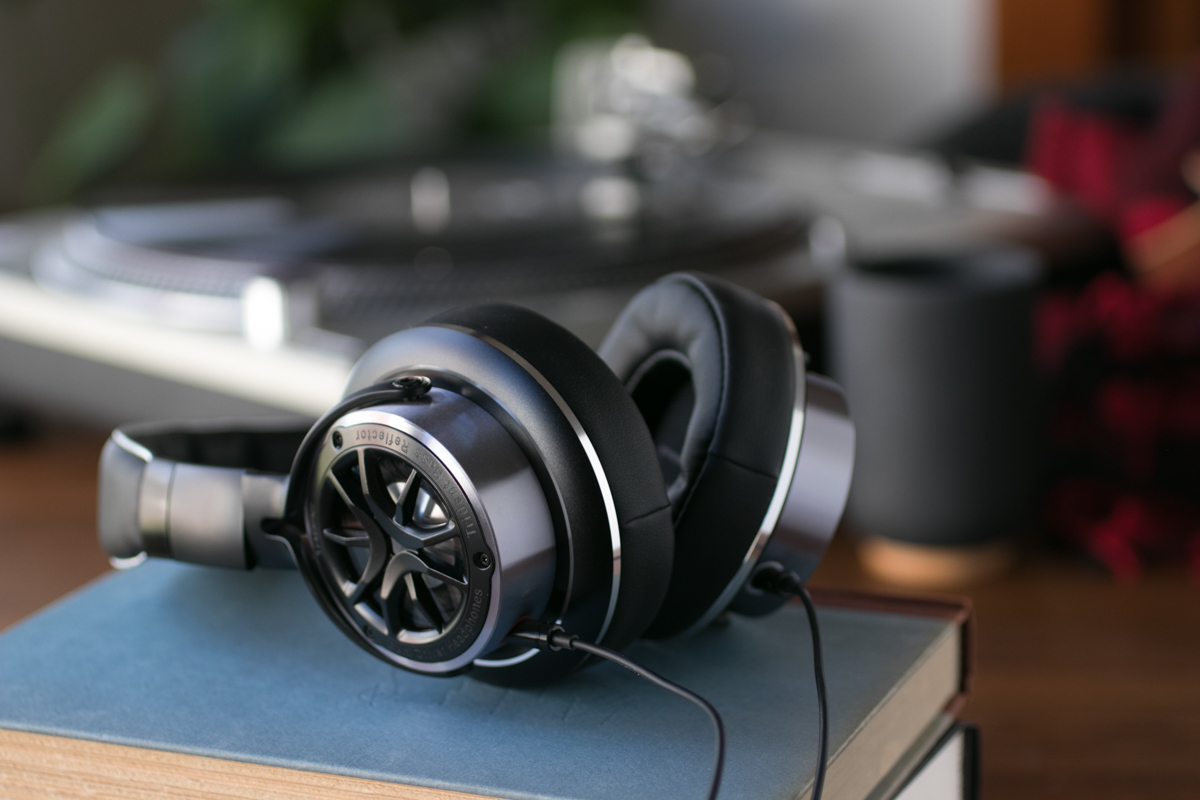 Long time ManMade readers may recall my love of these earbuds, which I have claimed (over and over again), are the best value in in-ear audio supply out there. I had three or four sets going at any given time, and use them everywhere from the workshop and exercising to travel and housecleaning marathons. They work great, sound good enough, and are both durable and affordable that you don't mind taking a few risks with them. (Nearly every pair I have are also covered in paint and wood glue.) I still love them, and use a pair nearly every day.
But 90% of that earbud listening is spoken word: the news, podcasts, audiobooks, etc. Until recently, all of my music listening is done over actual speakers. And because the first floor of my house is basically one large open space where the rooms all flow into each other, that means all my music listening is not only done by me, but also anyone else who happens to be in my home. Namely, my ever patient wife.
So, I'd been on the lookout for a pair of higher quality, over-ear headphones to step up my music listening experience. And when 1More USA offered a pair of their new Triple Driver Over-Ear headphones, I was more than happy to take a look.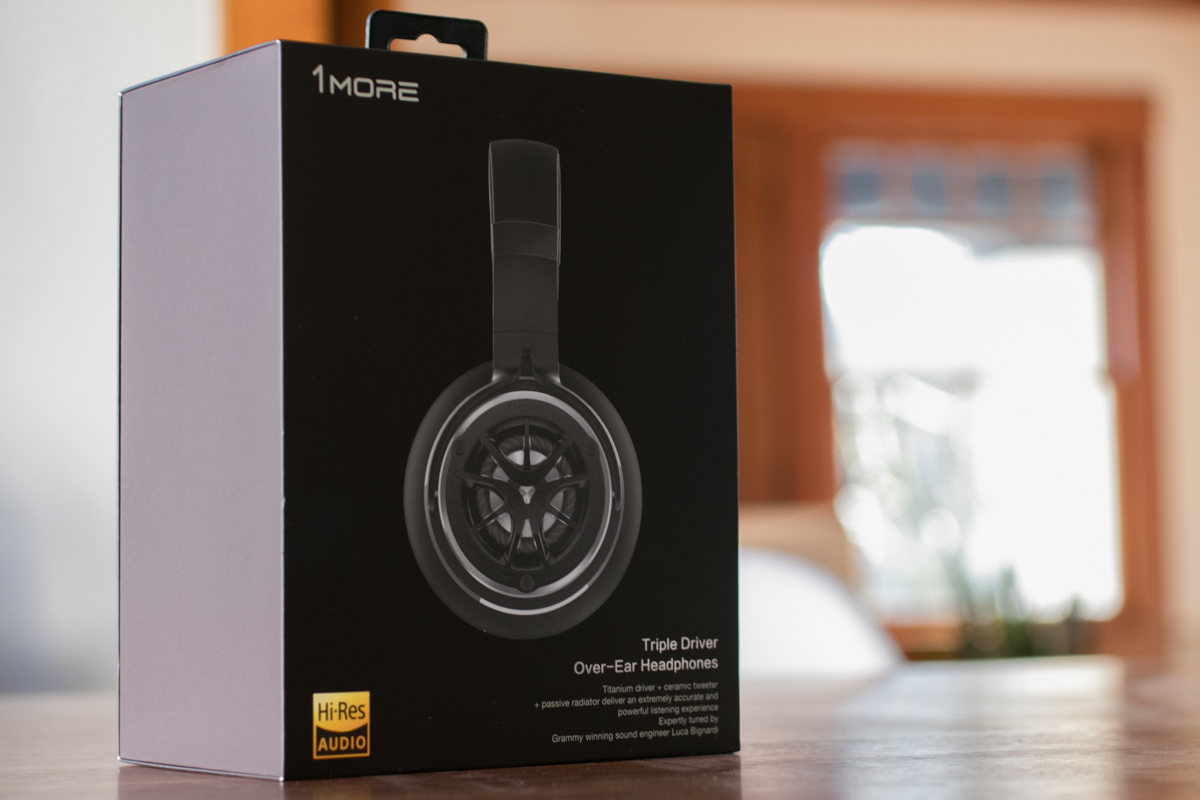 1More is an audio company with a relatively new presence in the United States. They aim to "focus on fashionable, high-quality, high value headphones and audio products. 1MORE USA sets out to redefine the relationship between its brand and its innovations by designing and manufacturing all its components from the ground up. For this reason, 1MORE USA can provide high performance sound at extraordinary prices while producing a product that is as much form as it is function. 1MORE USA products are designed to enrich your music listening experience and your life, so get ready to be passionate about your portable music once again!"
The Details
Three separate drivers to accurately translate frequencies across the audio spectrum: 40 mm graphene dynamic driver + ceramic tweeter + bass reflector. (Contrast that to inexpensive earbuds, which often have a single 5-7mm driver)
Adjustable stainless steel leather headband with rotating ear cups to create a comfortable fit that perfectly conforms to your head and ears.
Folding design with detachable cable for tangle free storage
Closed-back noise isolating ear cups that naturally quiet your surroundings while keeping sound from escaping. (This makes them awesome for travel)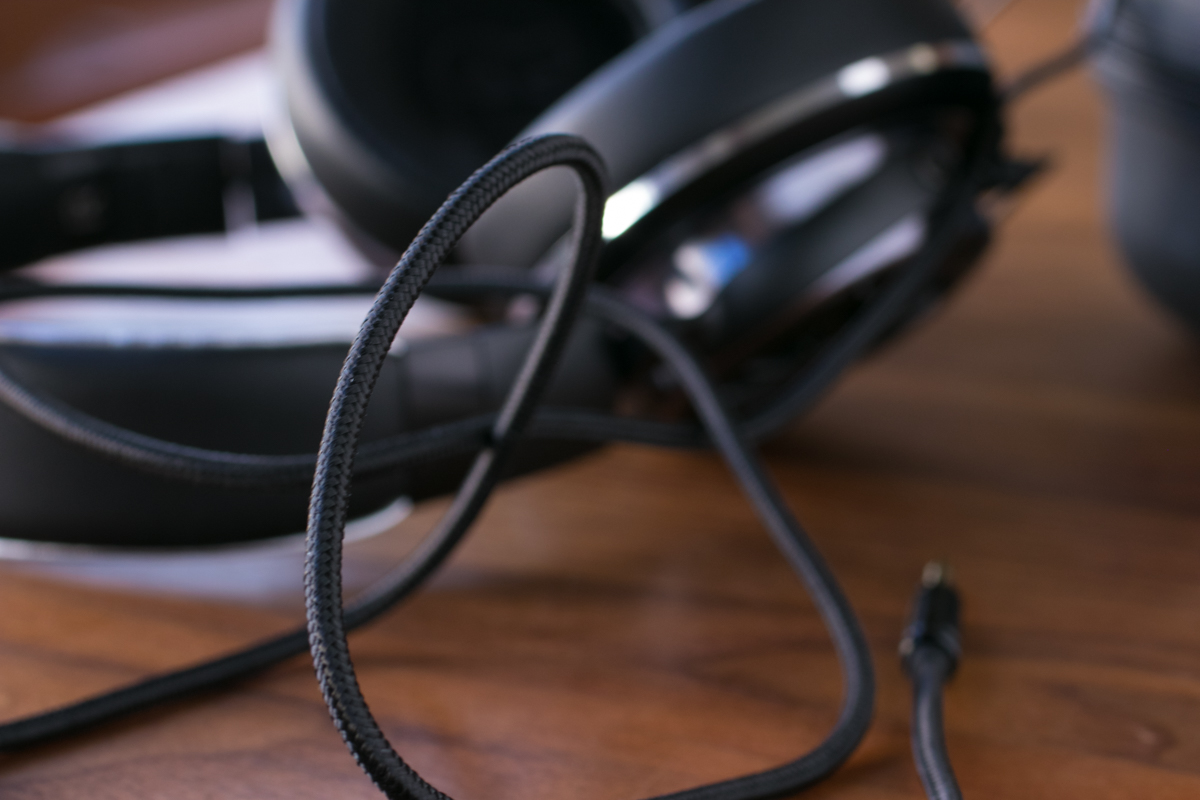 What Makes Them Special?
There is a lot of competition for headphones at this price point, but I think the 1More Triple Driver Over-Ears can hold their own. First, instead of simply purchasing parts from other manufacturers and assembling them, 1More designs and builds all their own parts from the ground up. This gives the headphones, in both audio performance and aesthetic design, an overall integration with some functional benefits.
I really like the pivoting aluminum and leather ear cups, which make them comfortable in several different configurations. I took them on my recent cross-country trip to Atlanta and the southeast, and I was really impressed by how well they isolate the external noise of the busiest airport in the world. There's no fancy noise-canceling electronics, just adaptive physical design that keeps them effective.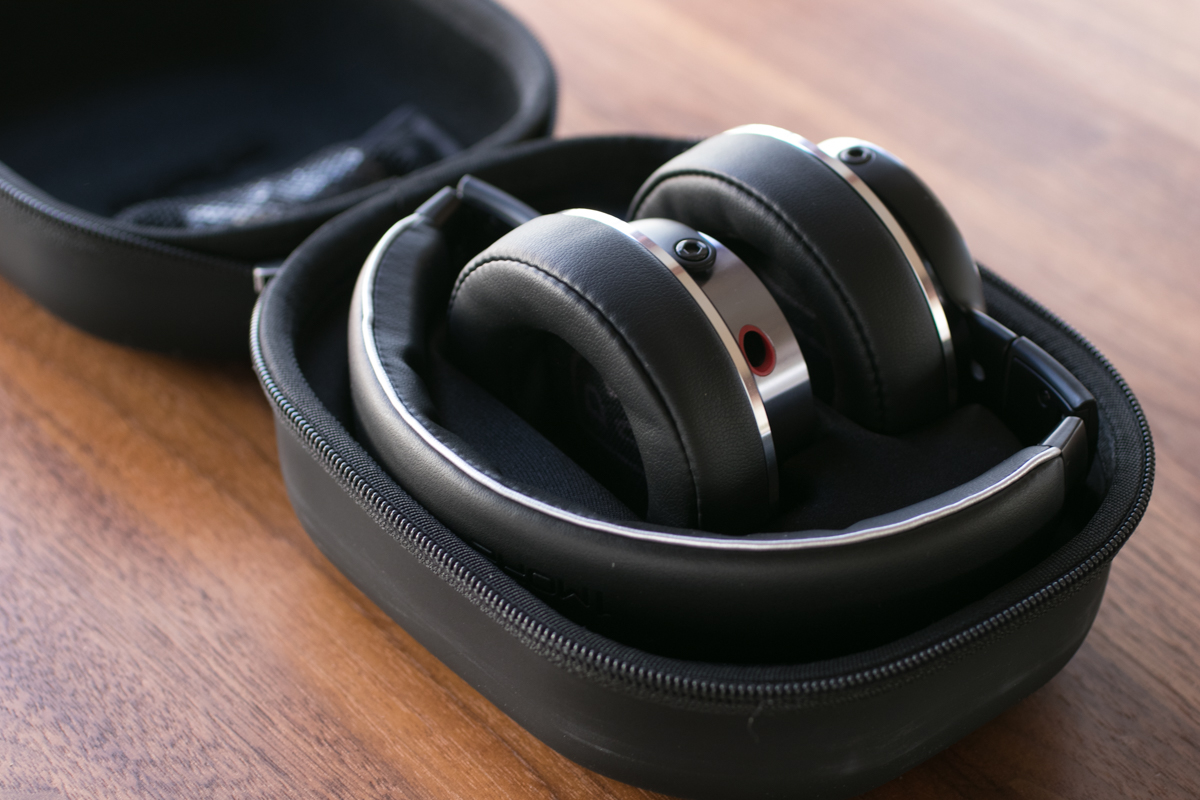 The collapsible design is useful, and essential for travel. I especially love the detachable, cloth-wrapped cable, which eliminates kinks and major knots when storing. The case isn't necessary when taking them on the go, and the drawstring bag provides a nice alternative when available storage space in a carry-on or under-seat personal item is at a minimum.
Most importantly, these have a fairly neutral frequency response. They're not boosted at the lows and highs for more present audio, but accurately represent the audio spectrum. This makes them usable as reference headphones for mixing and tracking audio, and is also my preferred way to listen to recorded music.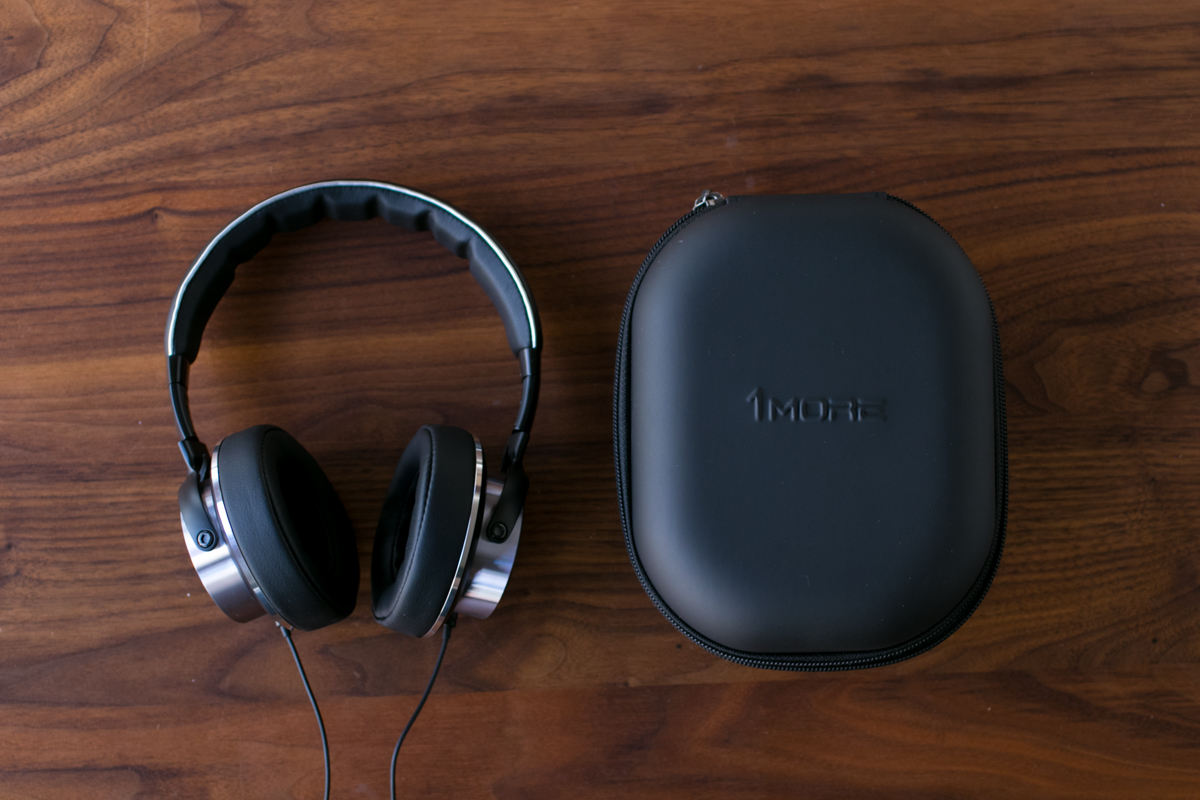 The only drawback that I can identify is: while the cable is detachable, it doesn't include a remote/mic option for stopping/starting music, taking phone calls, using Siri, etc. While that's not essential for home listening, 1More is definitely going for the travel and urban-dweller market. Especially with the closed ear design and loud response, it's important to be able to quickly mute the audio to listen to ambient sounds, or the airline worker scanning your boarding pass.
At this price point, it seems like an easy component to include, or at least offer as an upgrade. (It would only require an additional cable). Considering there are $10 headphones that allow you to do this now, I can't see why the option isn't included here.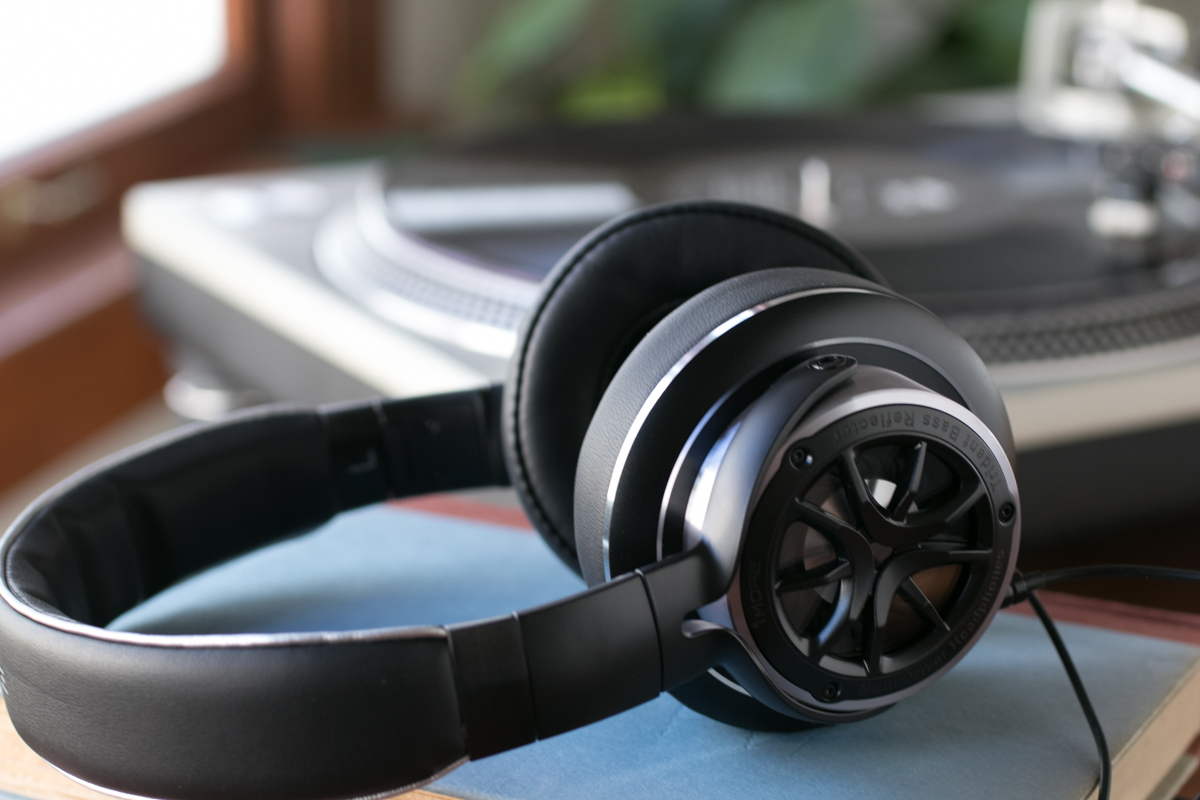 In sum: I like these headphones quite a bit, and I plan to use them a lot for both music and risk-free home listening applications. They sound especially nice when listening to vinyl records, where I'm able to hear new sonic details and little bits of ear candy from albums that I thought I knew front-to-back already.
So, I recommend them whole heartedly, and love that they can be easily ordered on Amazon Prime. Check them out.
Thanks to 1MoreUSA for providing a review unit for this article. All opinions are mine alone.