How to Make Decent Coffee in the Wilderness
Etymology often helps shape thought: when you're aware of a word's origins, you're in touch with the full context of the words that filter your inclinations. For example, did you know that wilderness comes from the Old English for "wild deer"?
Think about that for a moment: it's a place filled with animals unaccustomed to human contact, where humans have minimized their prints on the world. So when we go out to the wilderness, we're immersing ourselves in the beauty of nature, we're adventuring outside of civilization, and we're escaping from the creature comforts that can dull our sense of connection to the cosmos.
Well… maybe not 100% escape. Because while I love taking a break, I've never been interested in taking vacation from a good cup of coffee. If you're the same, read on for how we at ManMade make decent coffee in the wilderness, and our choices for a great camping coffee maker.
Note: We're assuming, for the sake of this article, that you've got a way of heating water—whether you've got an ultralight titanium backpacking cooking pot over a backpacking camping stove, a green Coleman campstove, or a classic percolator-style enamel kettle over open coals. Yes? Great. Now, onto our favorite options for a solid camping coffee maker.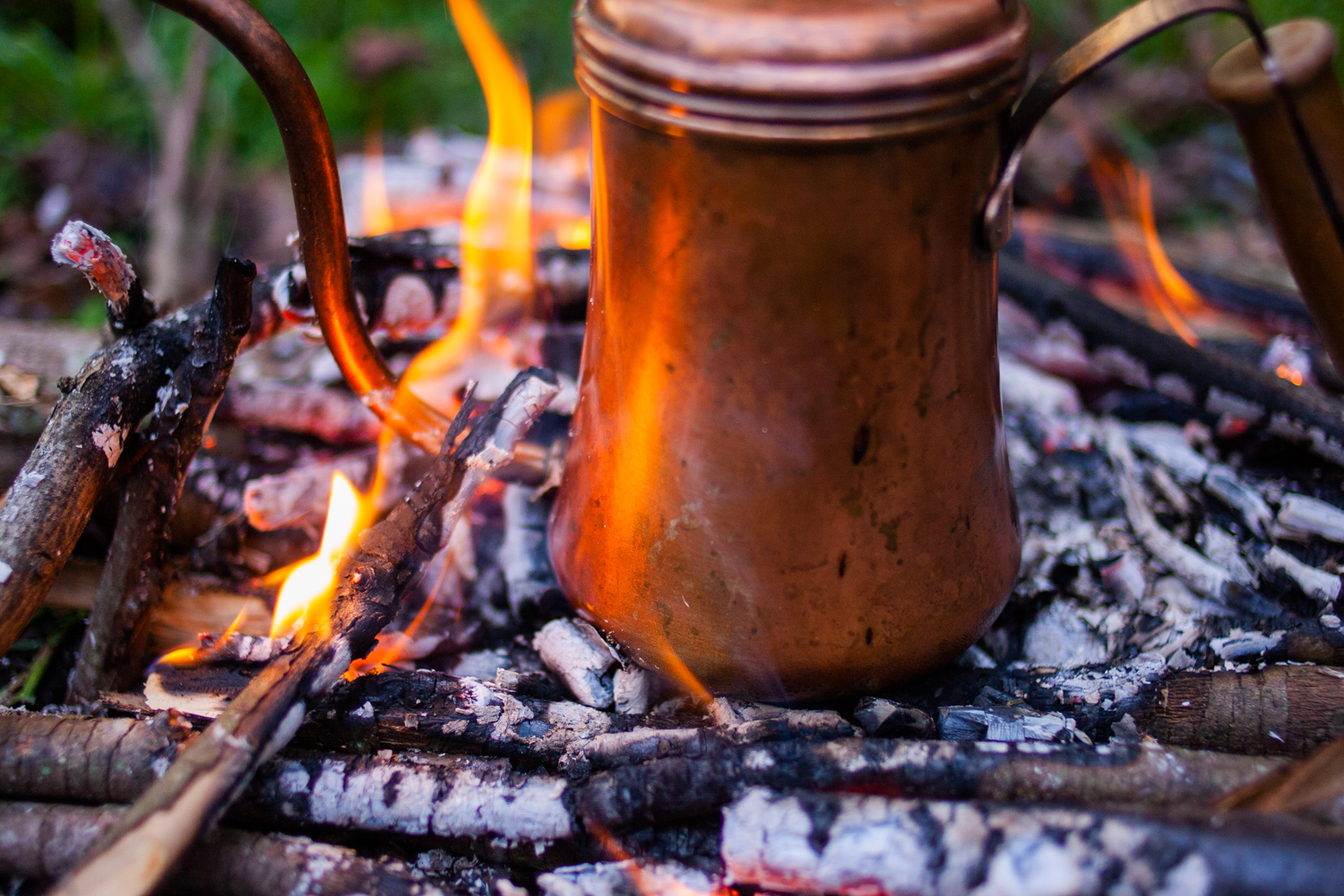 Option I. The No-Frills Brew: Instant Coffee
The easiest and most convenient way to get a nice, fresh, hot cup of comfort is instant coffee. Impossible, you say? It's not. Lots of solid instant coffee options have come onto the market in the last few years, and while many of them are "better than nothing," some cross more-than-acceptable territory into being quite nice. Here are our top three recommendations for single-serve packets:
Alpine Start Premium Instant – Rich, roasty flavor with a punch of acidity. Plays well with cream, sugar, or additional flavors (read: whiskey).
Mount Hagen Organic Instant – Pleasing, balanced, and not too dark. This is ManMade editor Chris Gardner's go-to, and the one he takes on long backpacking trips.
Headed out on the trail tomorrow and don't have to order something special? Starbucks VIA Instant is widely available and definitely your best grocery store option.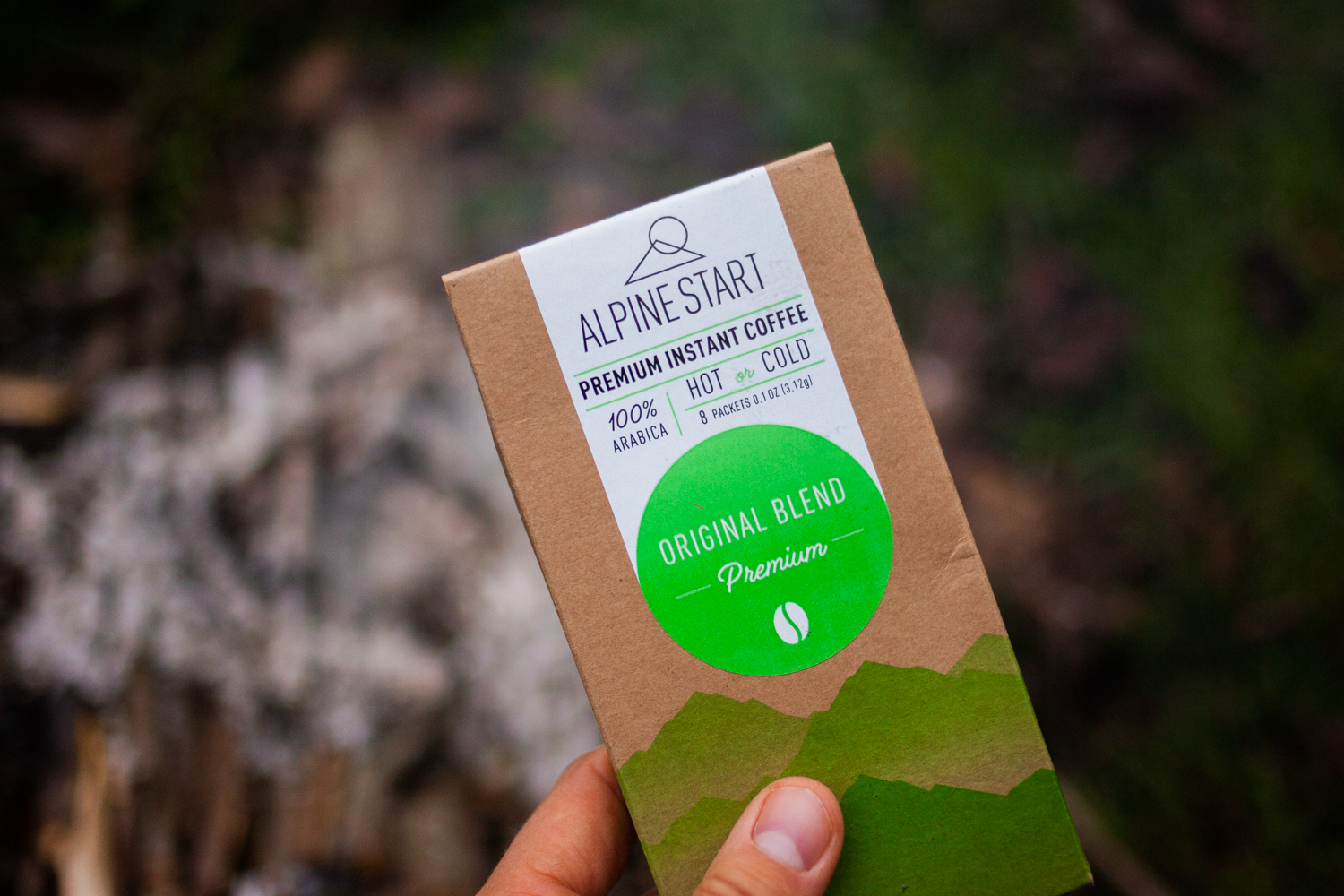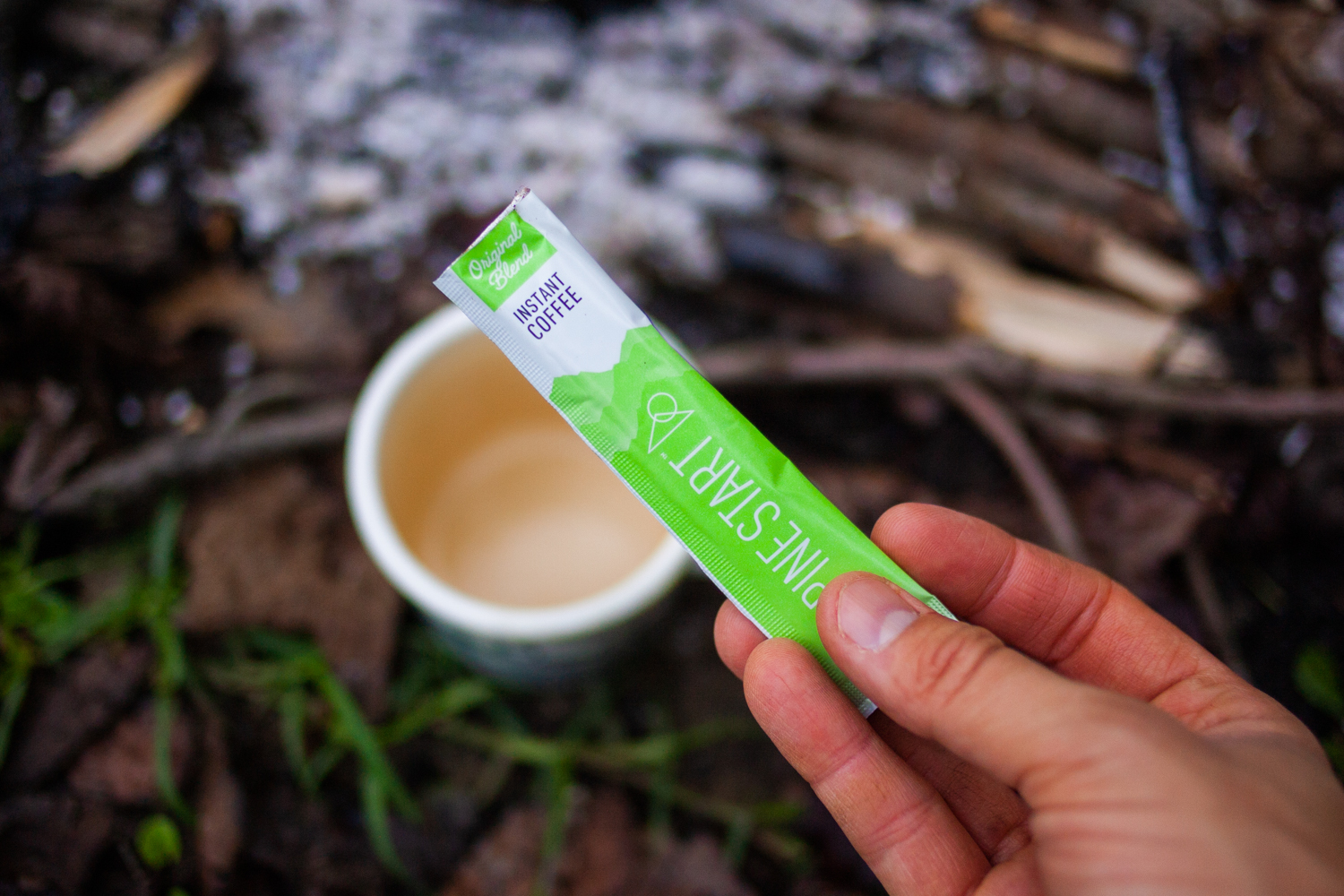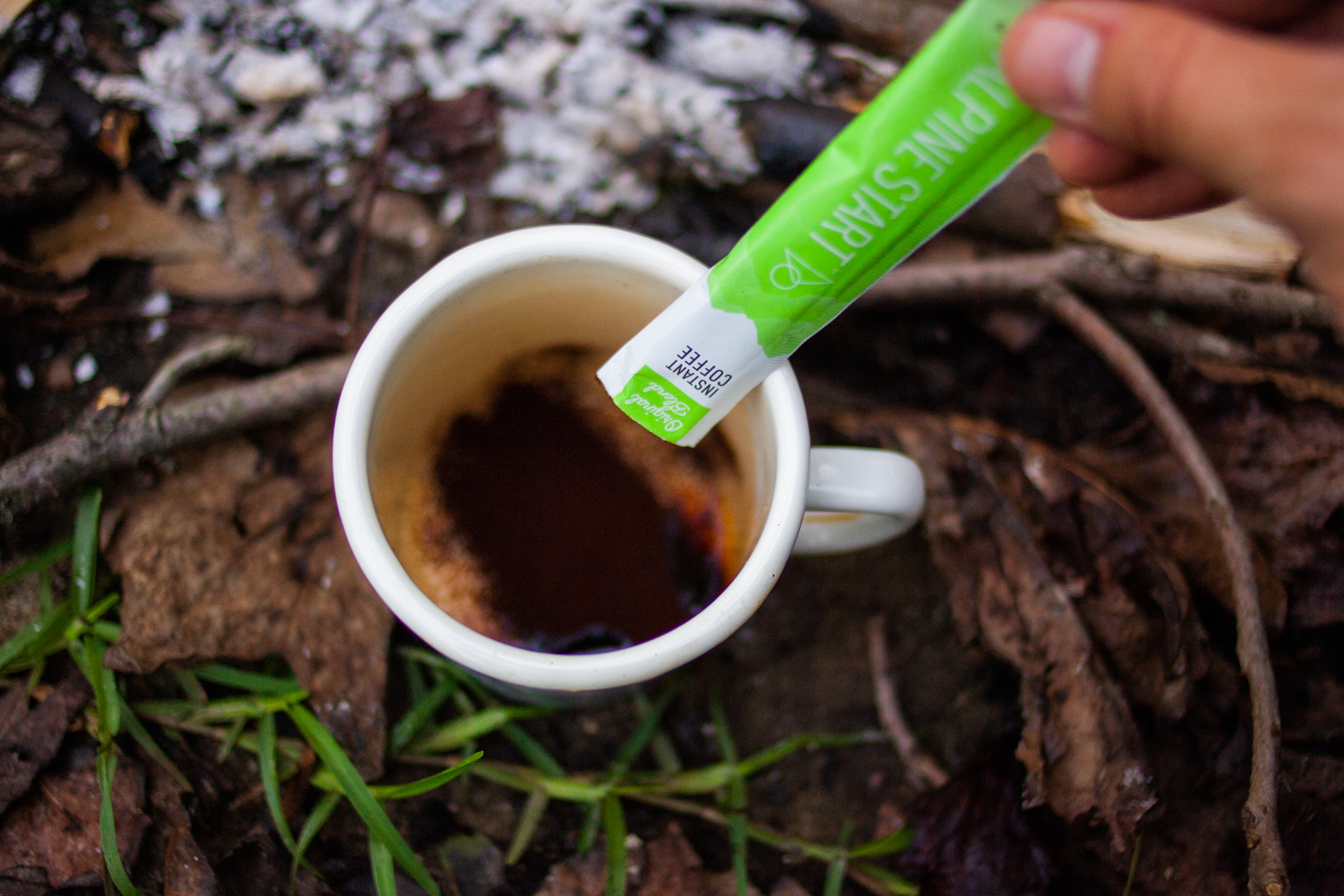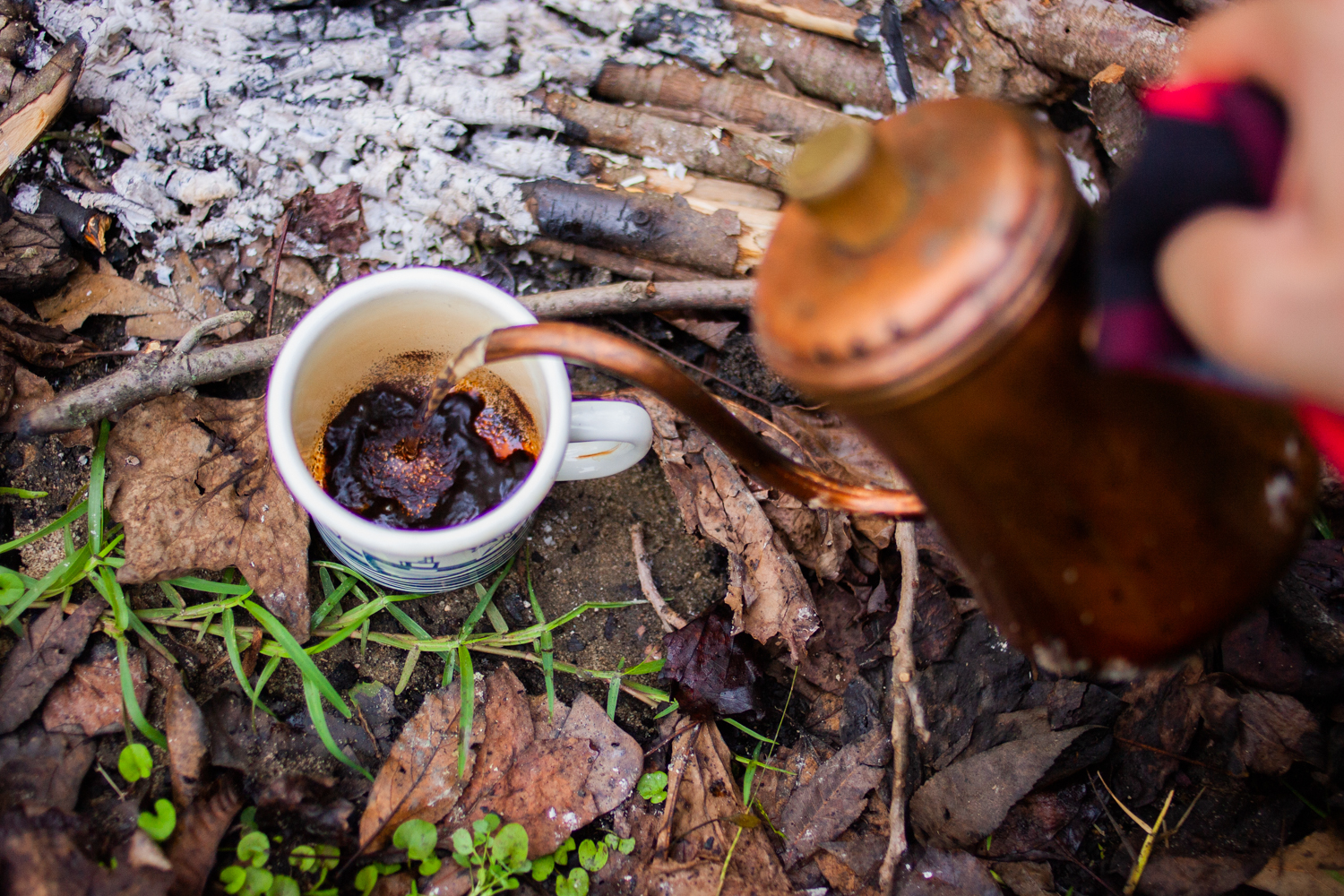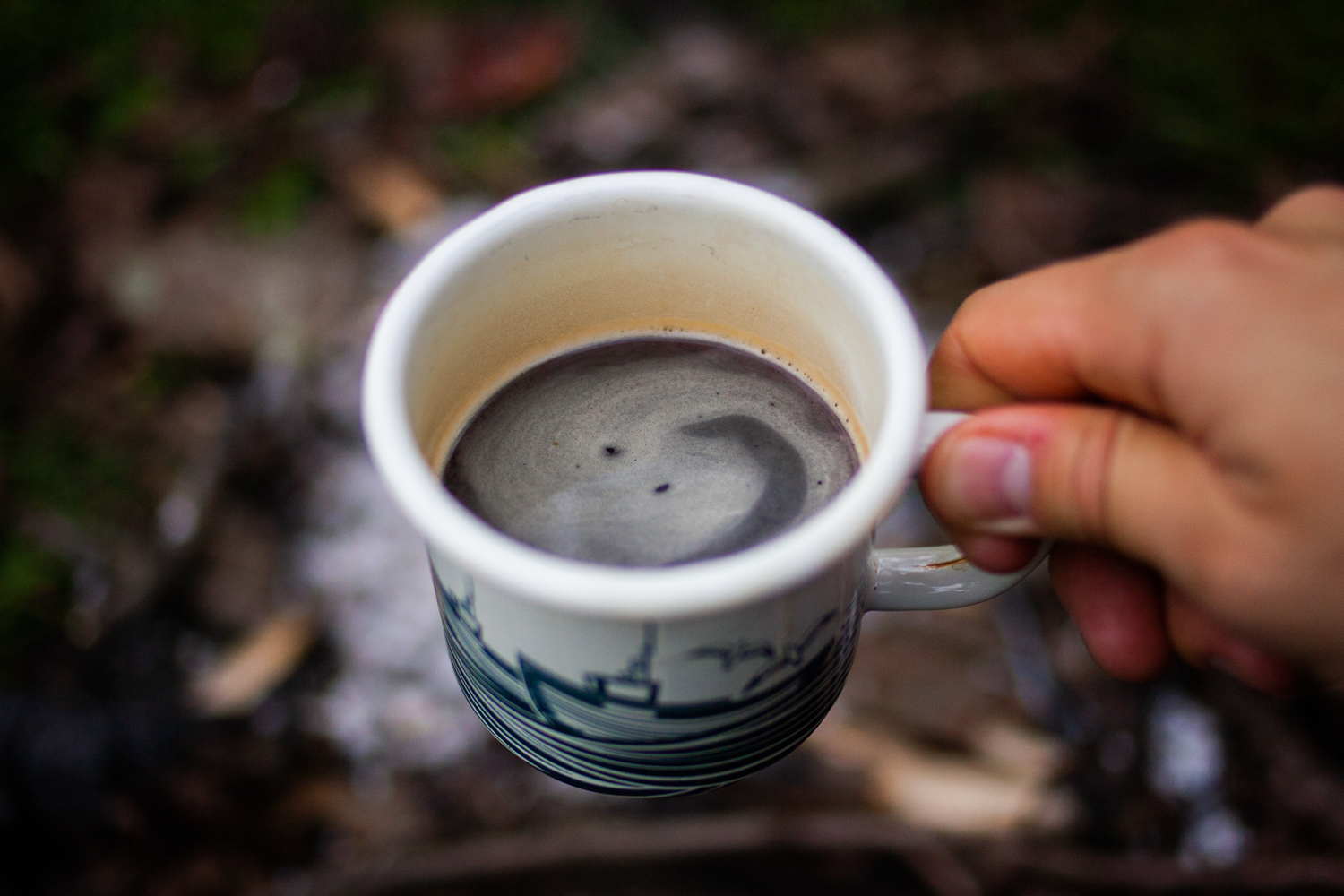 Option II. The Pourover Solution: Foldable Dripper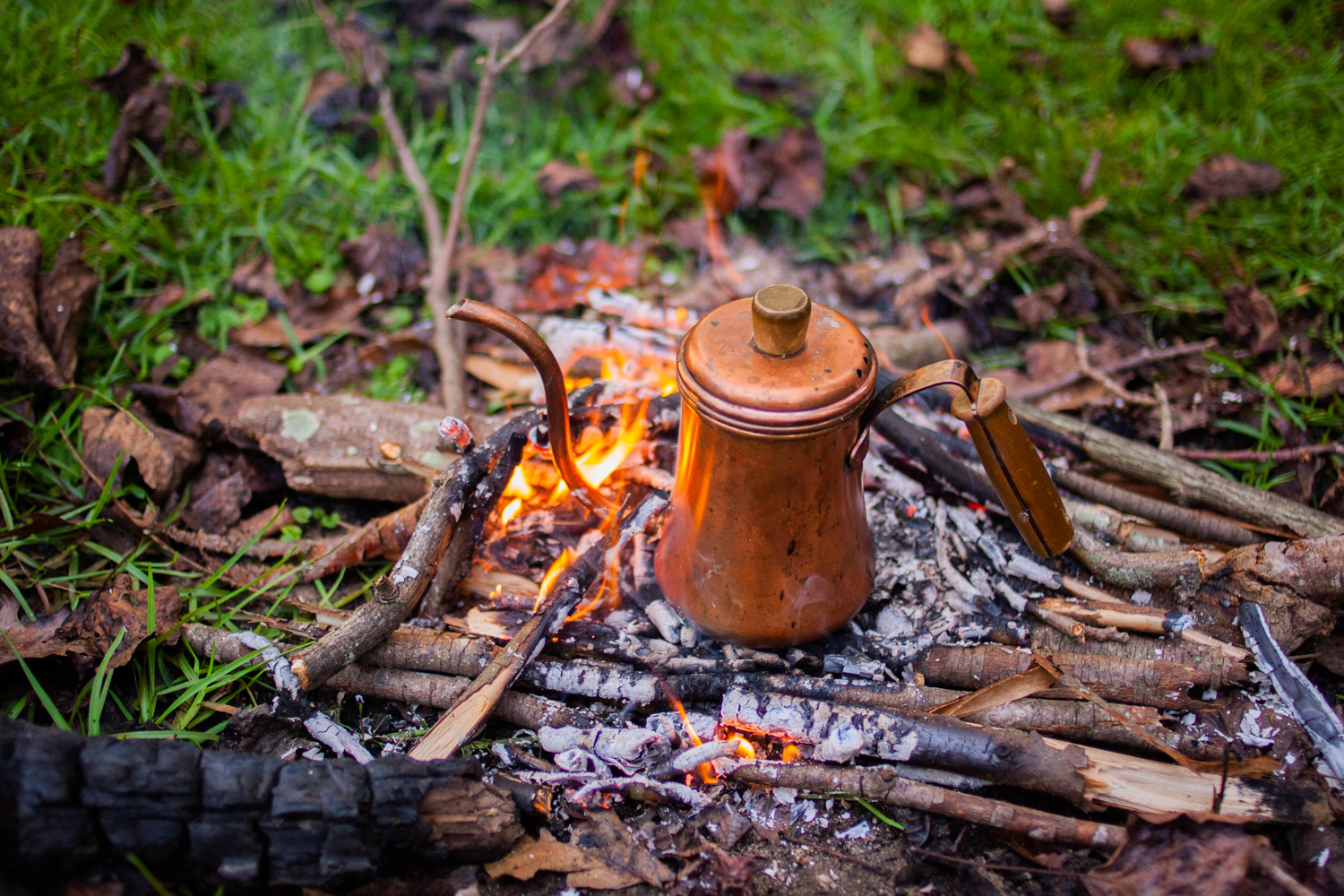 If you're less concerned about convenience, let's talk about bringing your coffee A-game to your campsite with two of our favorite manual coffee brewing methods. Snag your favorite whole beans, a small hand grinder—we've got some recommendations here, but the Hario Mini-Slim hand grinder is a good place to start—and let's get cracking!
If you've got space, you can always grab an inexpensive plastic Kalita dripper. They don't weight much, but are a bit bulky for a pack. But if you need a feather-light dripper you can pack flat, you'll be hard pressed to find a better camping coffee maker than this sweet folding one from Snow Peak.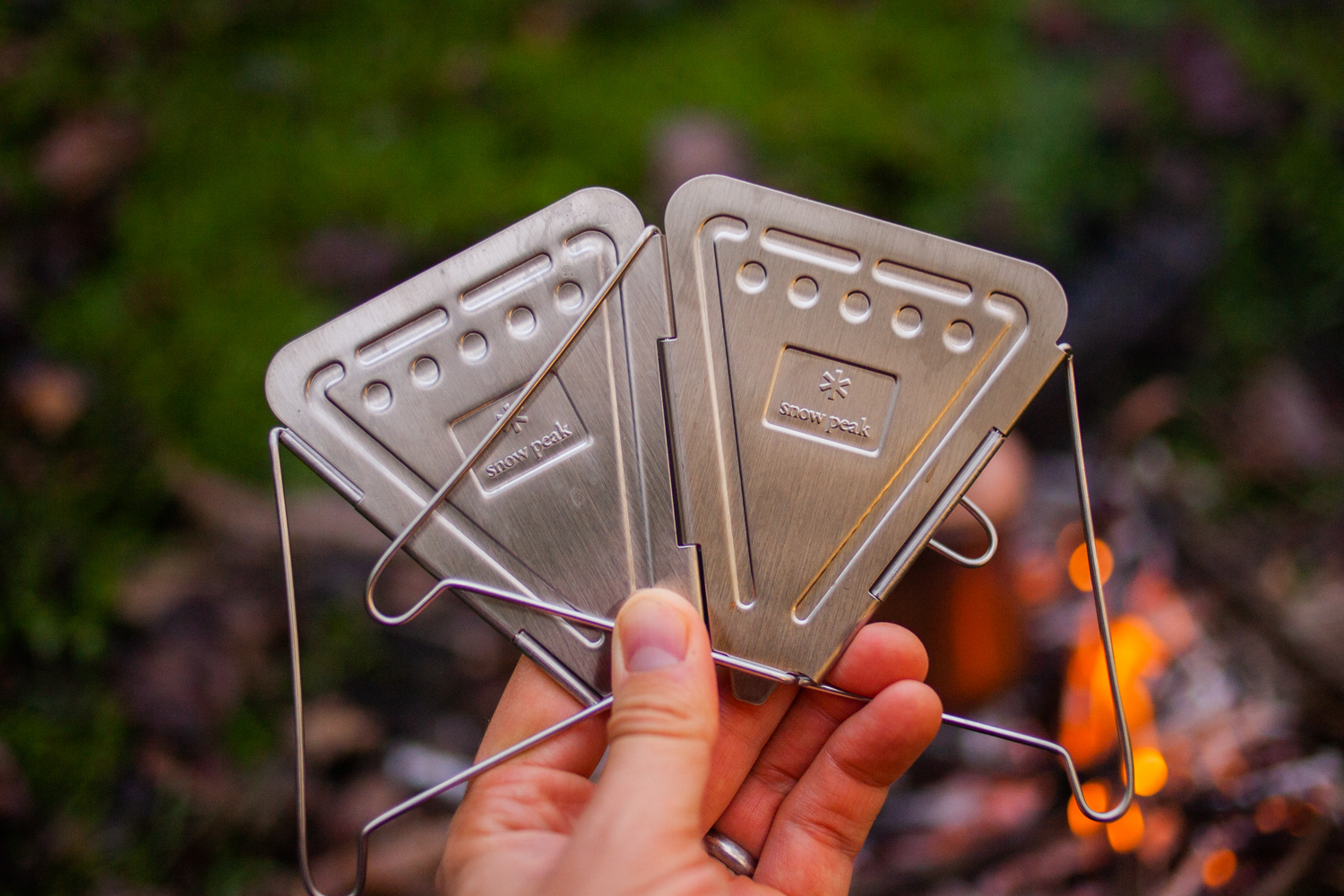 How to use it:
1. Heat your water to a slow simmer. (No need for rolling boil!)
2. Measure out your beans and hit a medium-coarse grind.
3. Outfit your dripper with a #4 filter and add your grounds.
4. Slowly pour just enough just-simmering water to saturate the grounds. Let bloom for 30 seconds.
5. Slowly pour the remaining water in a swirling motion around the dripper until you've filled a cup.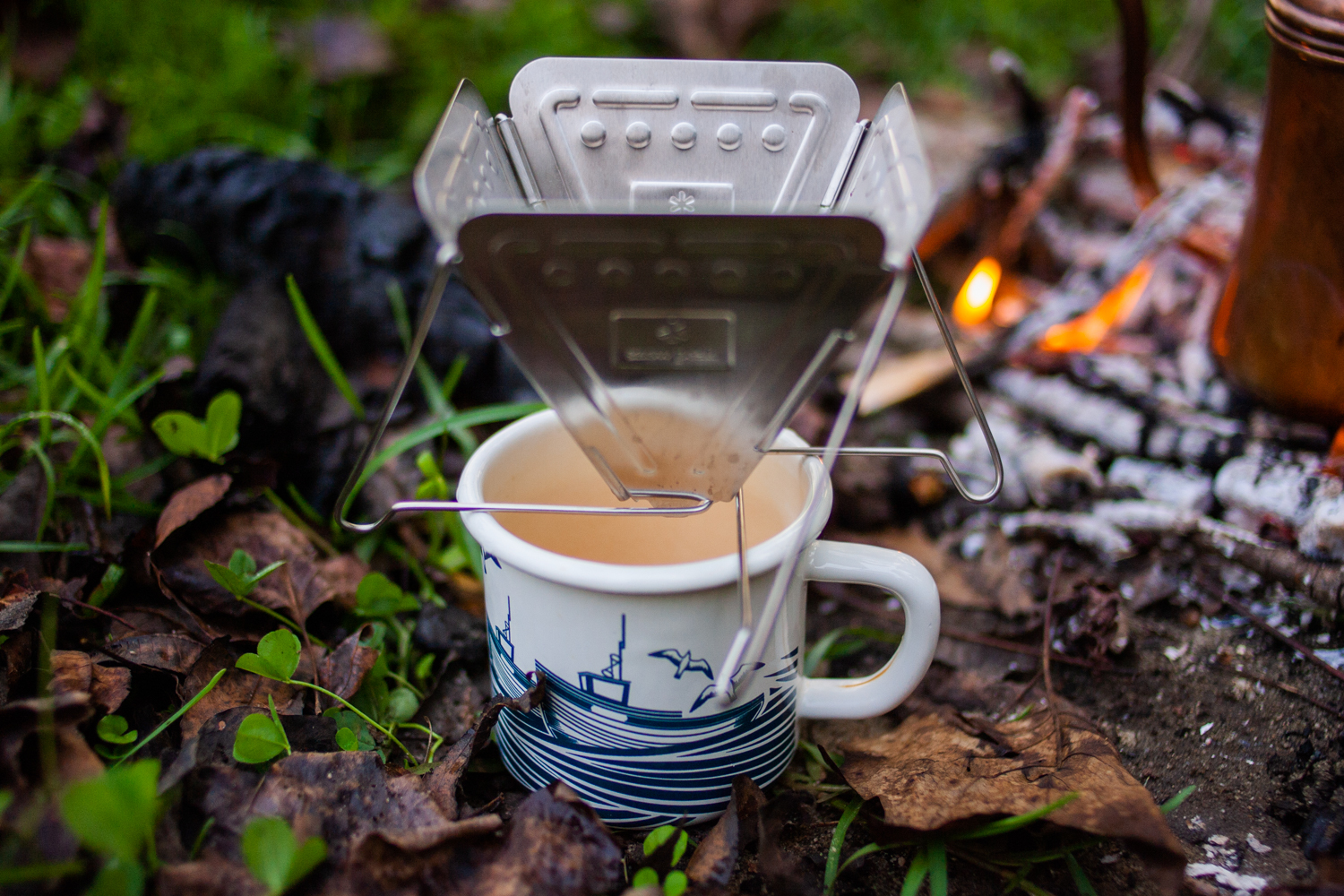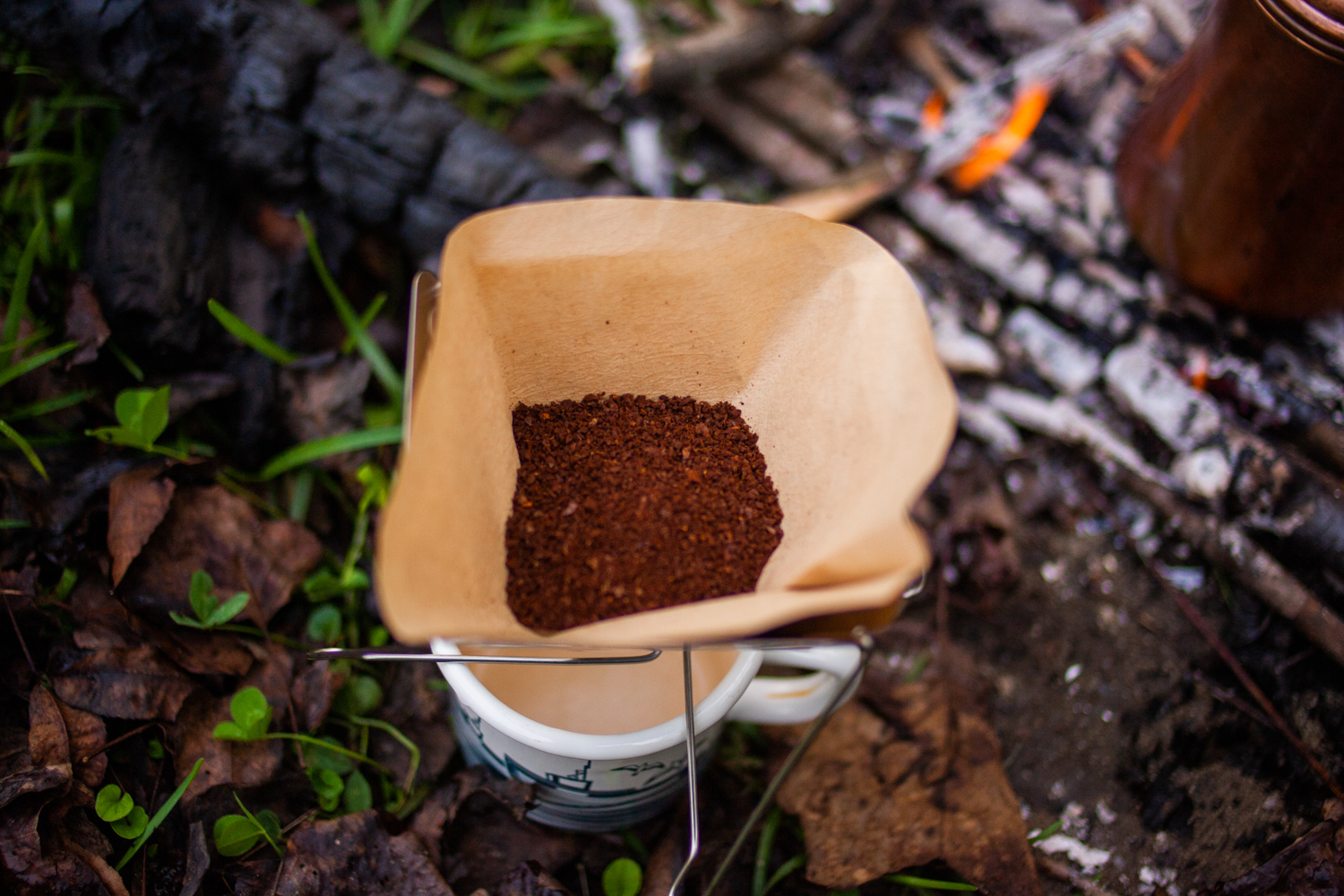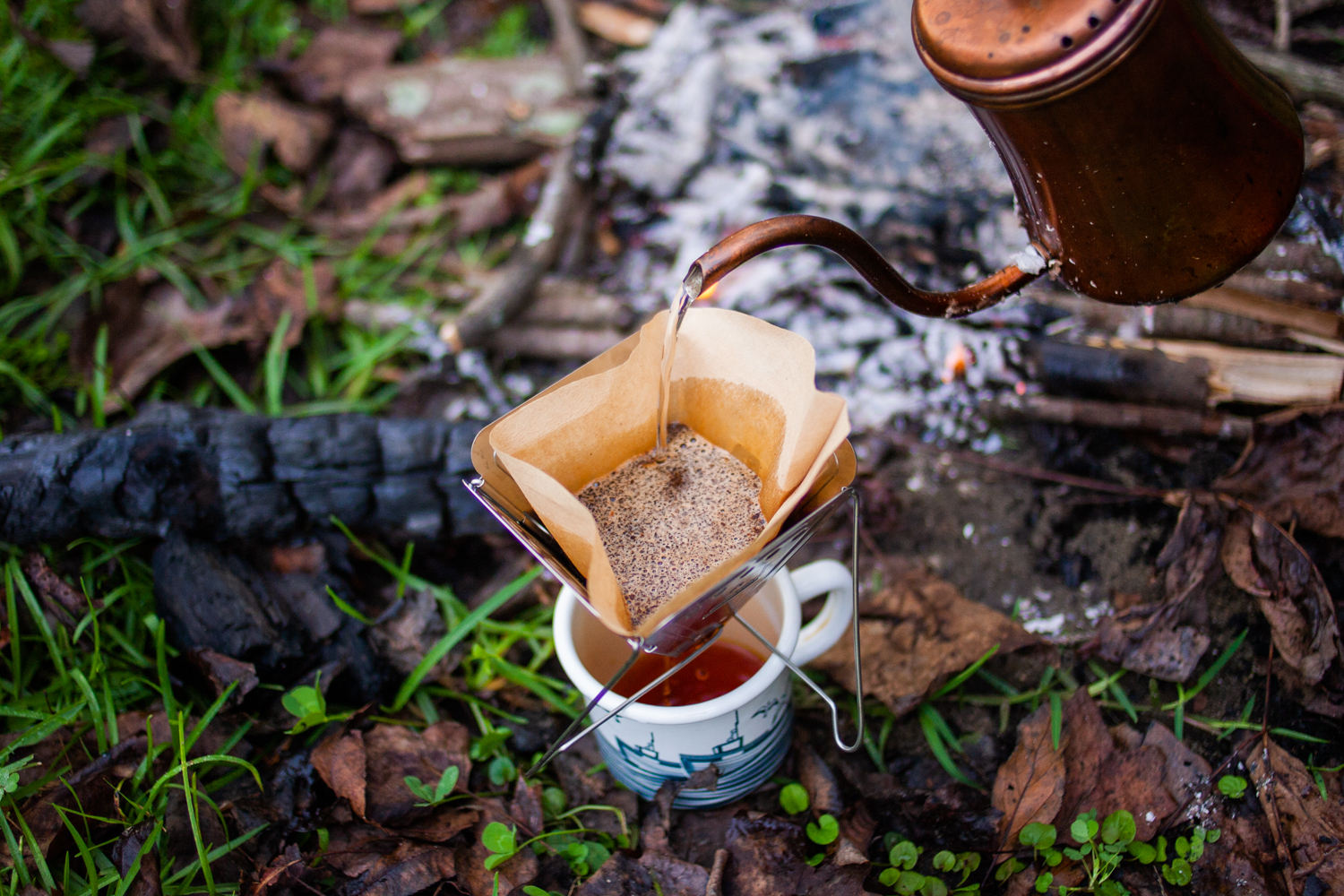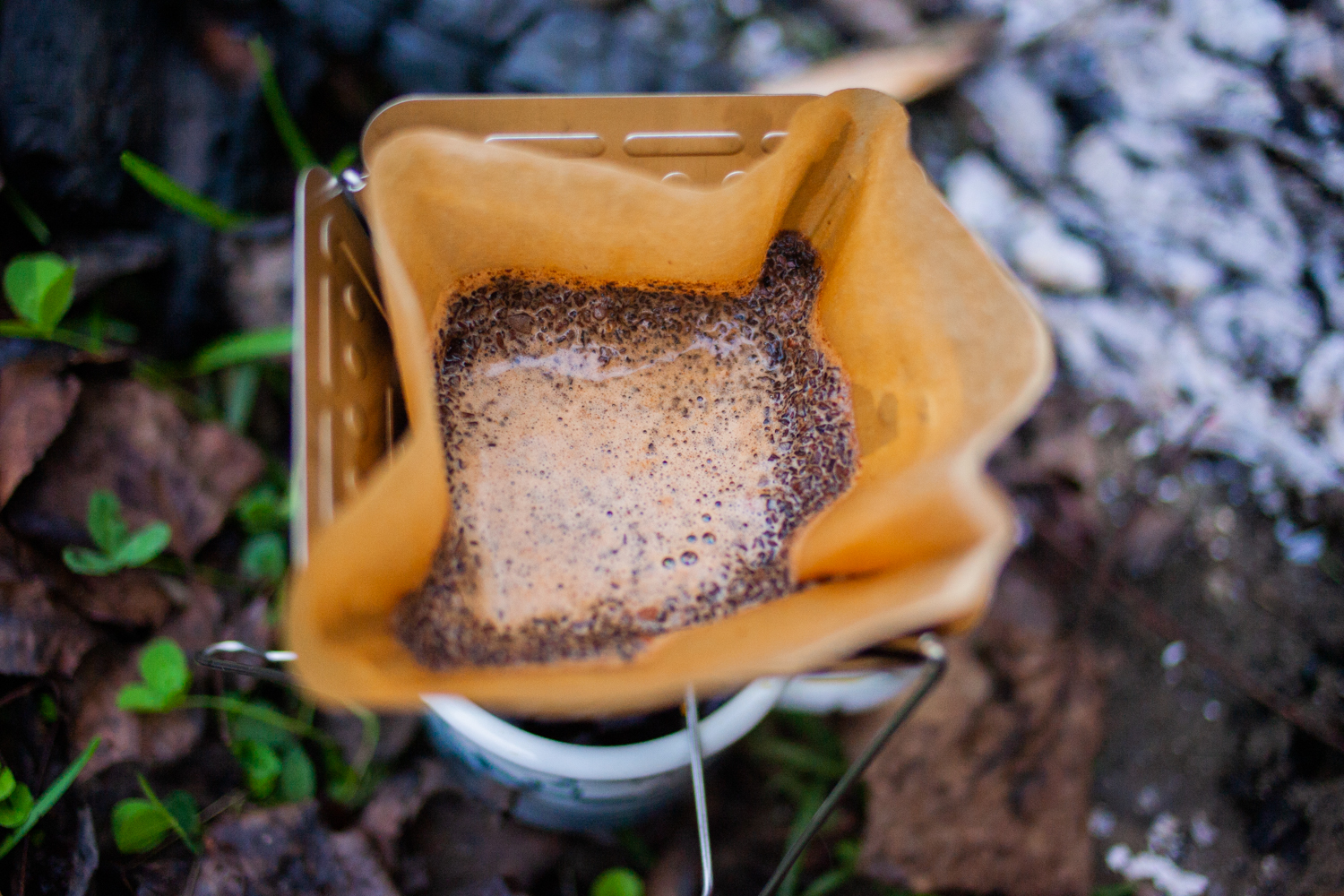 It turns out a might fine cup of coffee, and we had no problems balancing it on a cup, getting things to stay put, or holding the filter. A solid outdoor coffee experience, for sure.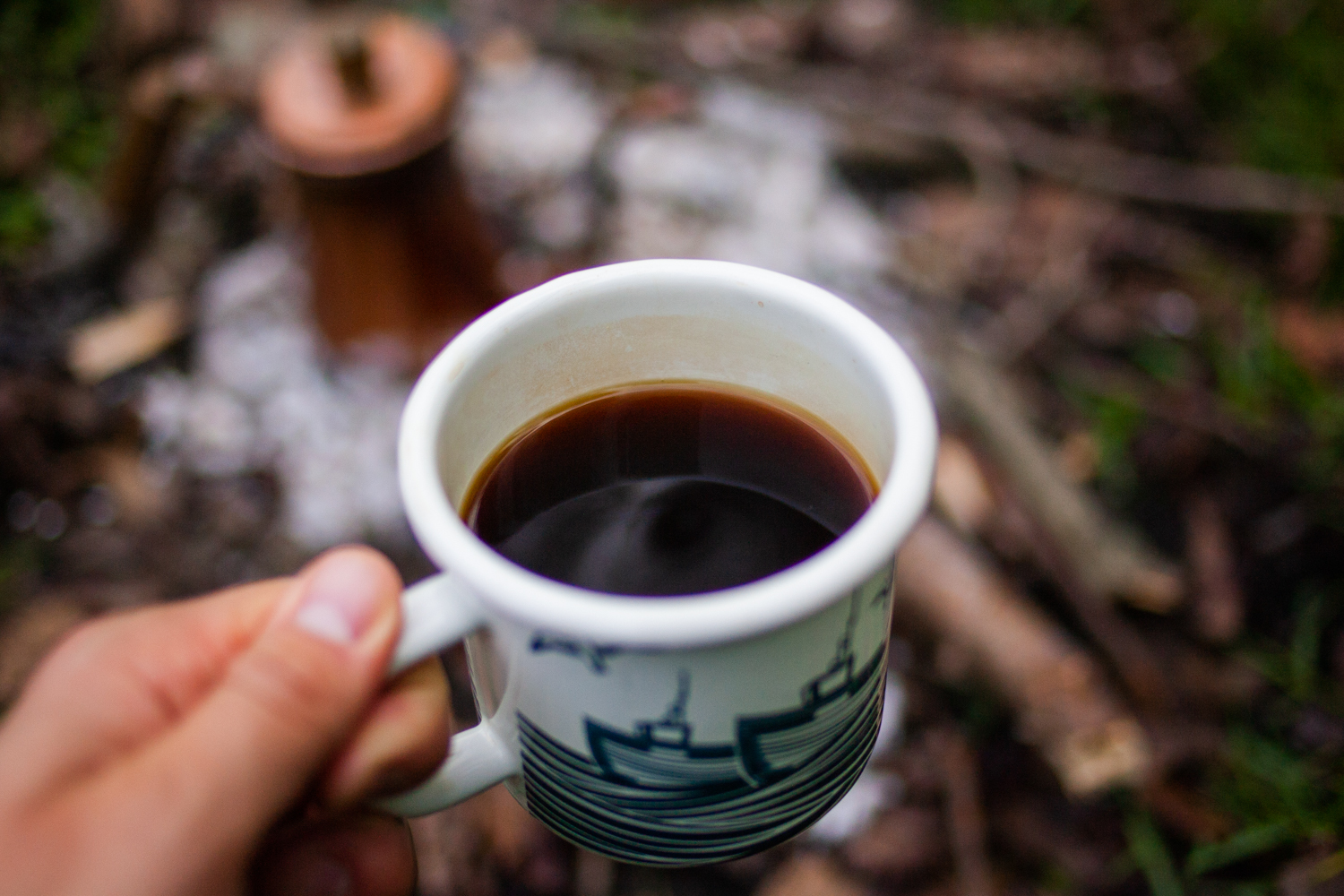 Option III. The No-Fail: Aeropress
We're big fans of the Aeropress here at ManMade. There's a reason it has a cult following among coffee enthusiasts—it's inexpensive, versatile, portable, and makes GREAT coffee. It's an ideal solution at home, in a hotel, at your in-laws' house, and…. you guessed it, it also makes an amazing camping coffee maker. And it still only costs $30. This is our preferred method to make coffee while car camping and on shorter, one-two night backpacking trips. And I know of at least one thru-hiker that takes it with him on every trip, no matter the length. If you're not convinced as to its powers, check out our recipe and technique post here.
What's your favorite method of brewing coffee out in nature? Your choice for a great camping coffee maker? Anything we missed? Let us know in the comments!