Once and For All, Let's Figure Out How to Wear Socks with Shorts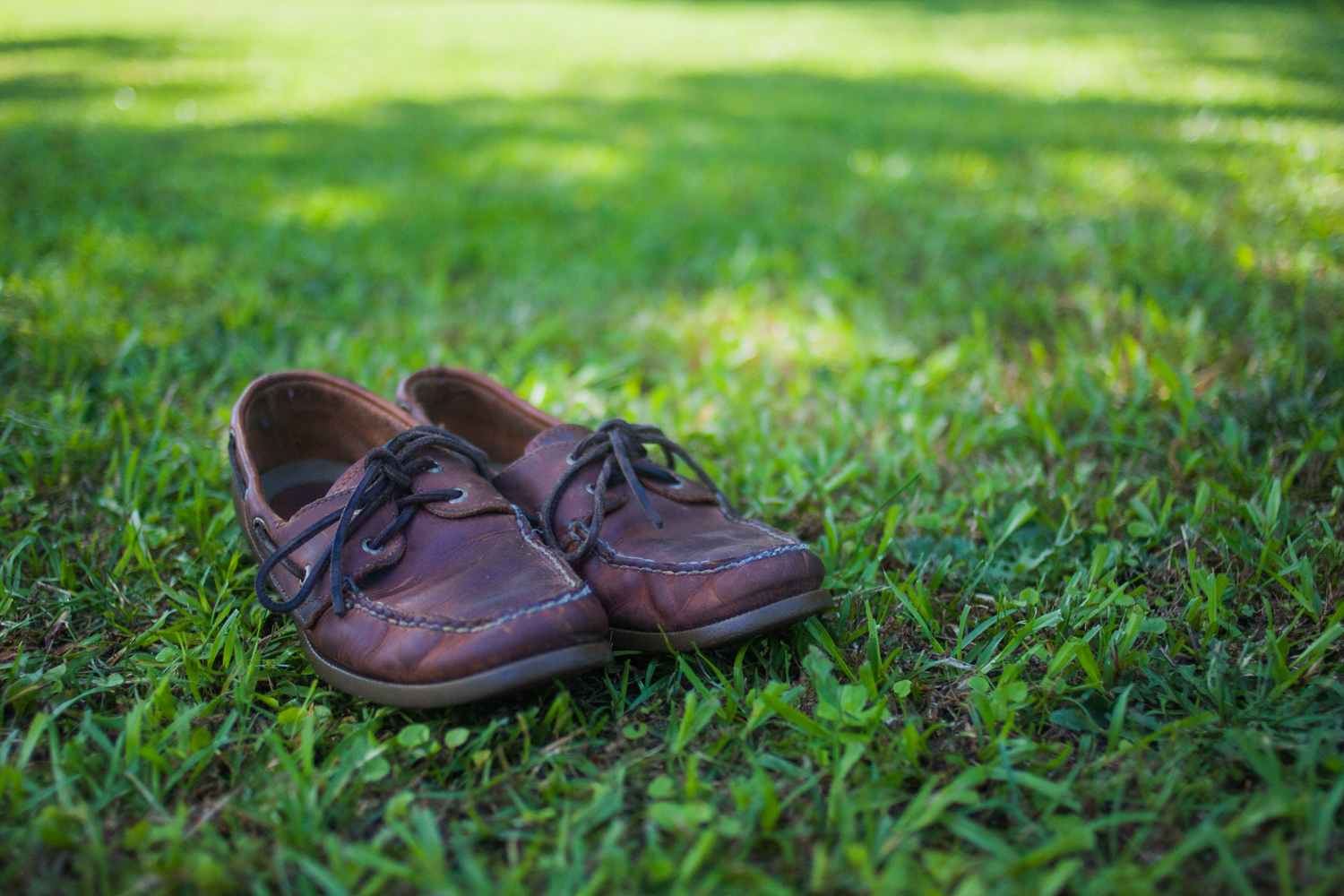 As I wrote in my post about bow ties, I used clothes as self-expression when I was younger. I was a kid who was self-consciously weird, interested in art, with eclectic tastes; my wardrobe reflected that. I was never sure what to do with socks when wearing shorts, so I did what any self-consciously weird/arty/eclectic kid would do, and chose socks that drew attention to themselves: argyles, stripes, colorful prints of anchors and hamburgers.
I still do wear colorful socks—under jeans to the store, with dress pants and a jacket, and everything in between—but after a recent refresh of my shorts rotation, I started wondering how to truly master sophistication with my summer getup. Read on for the full report!
Here were the options:
1. Keep on with colorful, calf-height socks.
I could have just plowed forward with what I'd always done, but the whole point of this exercise was intentionality. Unconscious style choices tend towards the juvenile side of things—it's why you see guys in their thirties still sporting 1999-era crispy hair gel. My main problem with colorful socks as a consistent pairing with shorts is that it was faddish for the first decade of the 2000's.
As a design choice, keeping your splash of color to a minimum helps your outfit stay balanced; they work with long pants because you only show peeks of your socks when walking or sitting, rather than the whole thing. Don't play your entire hand on your feet!
2. White ankle-length socks.
I could have just turned the clock back to the mid-90's, AKA the dark corner where 80's style limped off to die, right? No.
Besides, I was going for taking the attention off of my socks here, not adding sunlight reflectors to my legs.
3. Athletic socks.
When I make intentional design choices, I like to go back to the maxim popularized by the 1920's-50's era design school Bauhaus: form follows function.
Athletic socks are designed to pair with athletic uniforms. That goes for calf-length striped tube socks (this isn't the 1980's and you're not Larry Bird), for ankle-length heel-tab socks, and definitely for the black mid-calf-length Nike socks that I've been seeing recently on teen boys. Nothing says "I have no idea what I'm doing" at a business lunch if your feet look like you left them back at the gym.
4. No socks.
OK, I don't care what anyone says: Gold Bond and bare feet ain't cutting it. The funk will find you and will punish you without mercy. Don't let it happen to you or to everyone around you. Plus, there are times when you need to be shoeless but still maintain some kind of foot barrier, like airports or no-shoe-rule houses.
So, after exploring my options, researching, and confirming my findings with the Consortium of Style Wizards, I discovered one resounding consensus…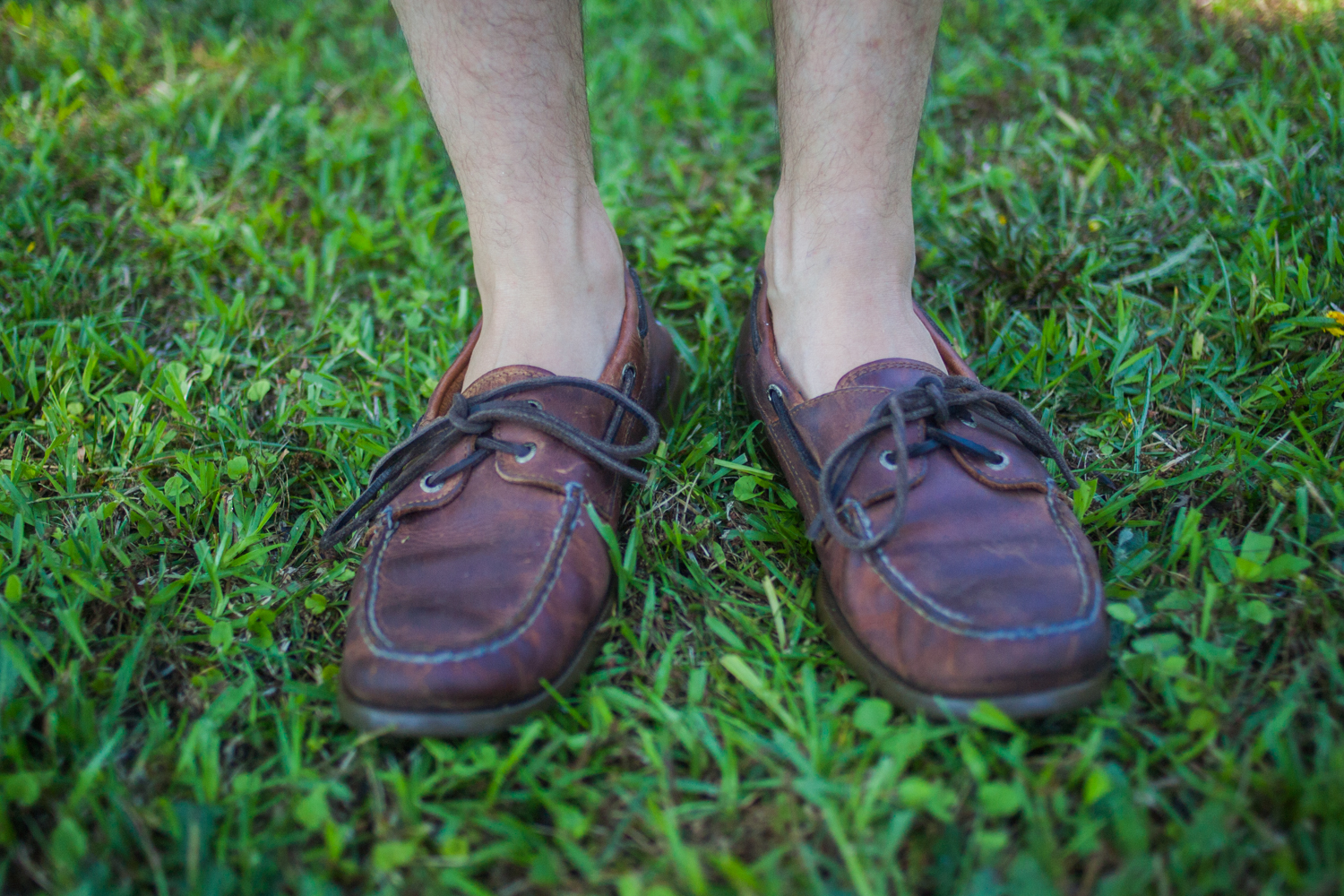 …no-show socks are the only sock you should be wearing with shorts.
The solution is simple: ditch the socked look altogether with no-show socks, also known as sock liners or liner socks.
The deal here is that it's a cleaner look. It sums up German designer Dieter Rams' philosophy: "Good design is as little design as possible." If you're going to be intentional about what you choose to wear, ask yourself: do you need to show those socks? Let's face it, dudes' legs just aren't sharp-looking. There's something about having that visually fuzzy sock edge end at a hairy leg that doesn't look as clear-cut as the sharp shoe edge on the usually hairless ankle.
So, thumbs up the no-show sock: you get the clean sockless look with the blessed sweat barrier.
Shopping for no-show socks: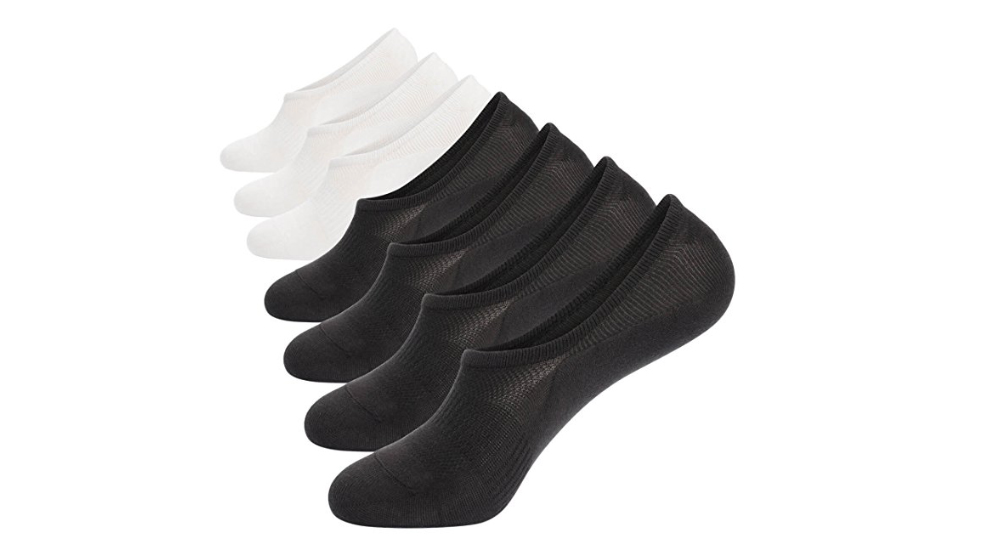 No-shows by Wander
But not all no-shows are created equal! Here are three important considerations to keep in mind when shopping for no-shows:
1. Will they actually not show?
Either show, or don't. If you can see even a sliver of your no-show socks, you may as well be wearing something longer.
2. Will they slip?
A quality pair of no-show socks are built to stay in place, so they should include rubberized material that holds onto your foot so the socks don't shimmy down into the toe of your shoe and drive you bonkers every 15 minutes.
3. What color? It depends—the whole point is blending your socks into the background. If you're going to be wearing white shoes, go for white no-shows. If you're going for a general use and, like me, you're a white dude with pasty feet, tan or grey is your best bet. Black works, too.
My research led me to checking out a pair of tan Fruit of the Loom no-shows and leveled up my summer sock game.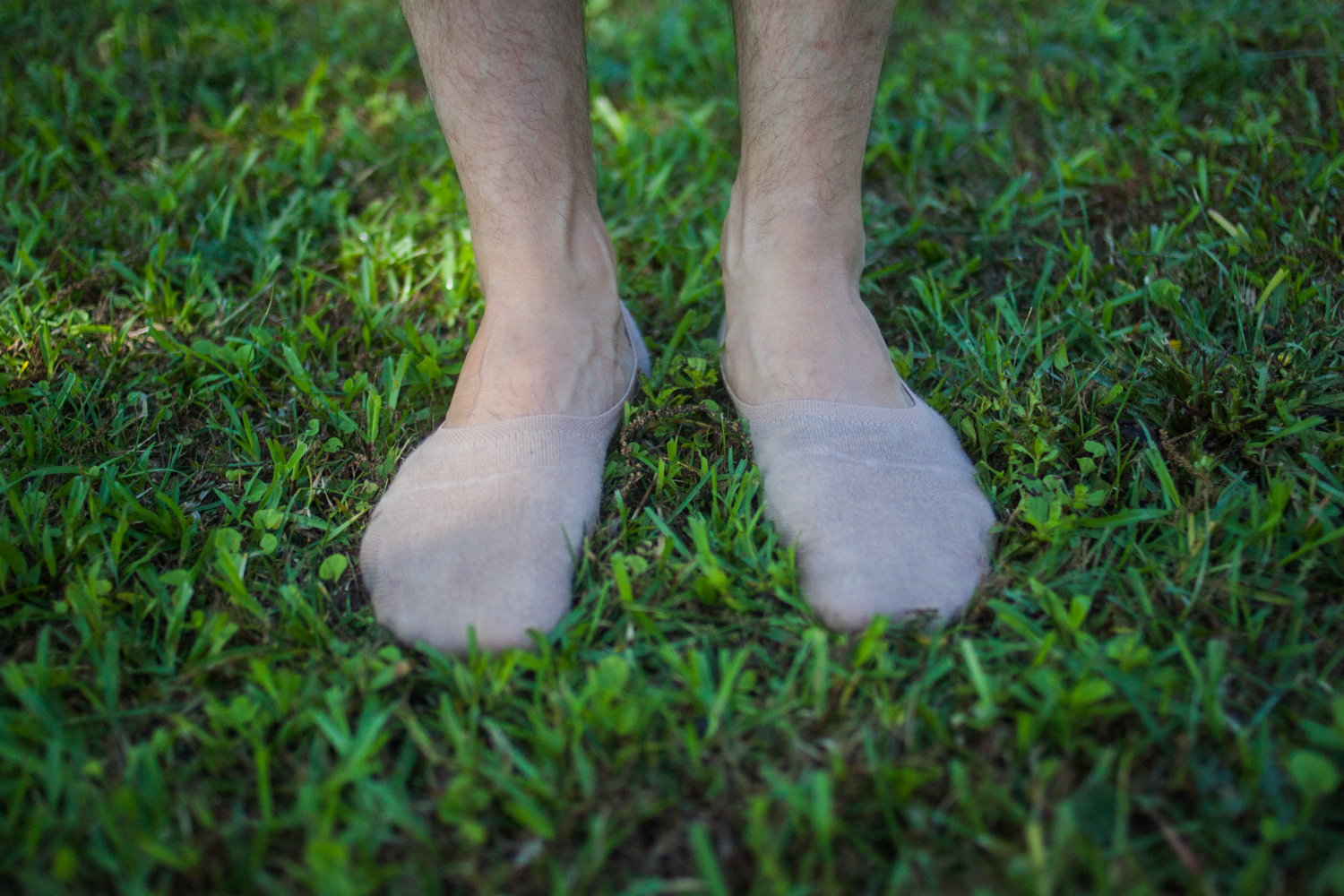 What Shoes to Wear with Shorts?
Since this post is about being a bit more intentional about what you put on your feet, let's talk about some classic summer footwear. For the purposes of this post, we're skipping the most formal end of the spectrum, but do bear in mind that you can totally rock a sweet pair of brogues or oxfords with shorts.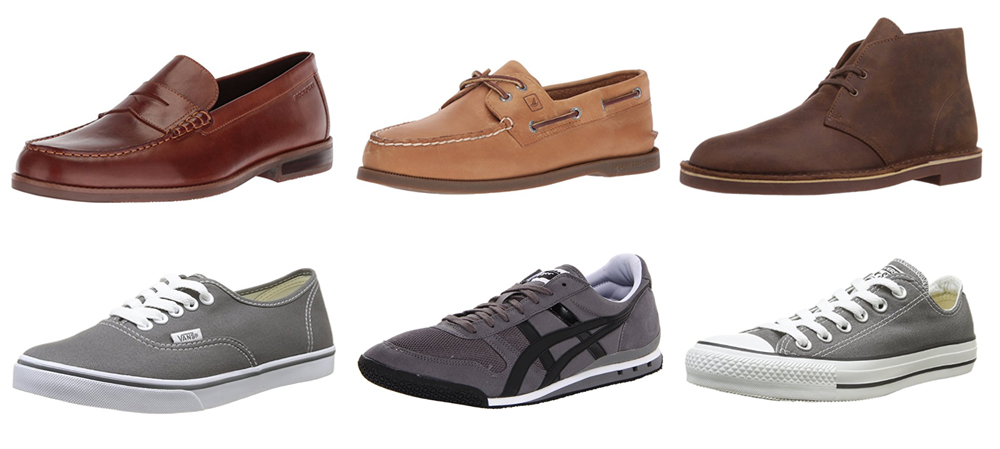 Row 1: Rockport loafers, Sperry Topsiders, Clarks desert boots
Row 2: Vans Authentics, Onitsuka Tigers, Converse All-Star low-tops
1. Loafers
These are the most formal shoes in our list. They'll keep you comfortable and add a bit of panache to your look. If you're just getting started, check out these classic "penny loafer" style offerings from Rockport, Bass, and Cole Haan.
2. Boat shoes/topsiders
These are the ultimate summer shoe. Comfortable, easy to kick off and slip back on, and perennially fashionable. Go for the original from Sperry.
3. Desert boots/chukkas
A post-WWII staple that has its roots with Cairo cobblers, this is another versatile formal/casual crossover choice. Since they were designed for, well, the desert, they're lightweight and won't bake your feet. Clarks is the original and best.
4. Canvas lace-up sneakers
Mister Rogers totally got it: when it's time to dress down but keep classy up, canvas sneakers are the way to go. Check out Keds Champion, Vans Authentic, and Sperry Striper.
5. Throwback sneakers
I don't know what it is about sneakers designed from the 50's–70's—maybe it's that they adhere the more minimal design principles that waned in the maximalist 80's—but I dig 'em. Check out Adidas Gazelle, Onitsuka Tiger, and of course, the evergreen Converse All-Stars low-tops.
Wait a minute, didn't the example of athletic shoes for casual wear break my "form follows function" rule? Technically, yes.
Hence…
…break the rules!
This is one of my favorite quotes about style:
By all means break the rules, and break them beautifully, deliberately and well. That is one of the ends for which they exist.
Its writer, Robert Bringhurst, was actually talking about typography, but it applies to everything stylistic.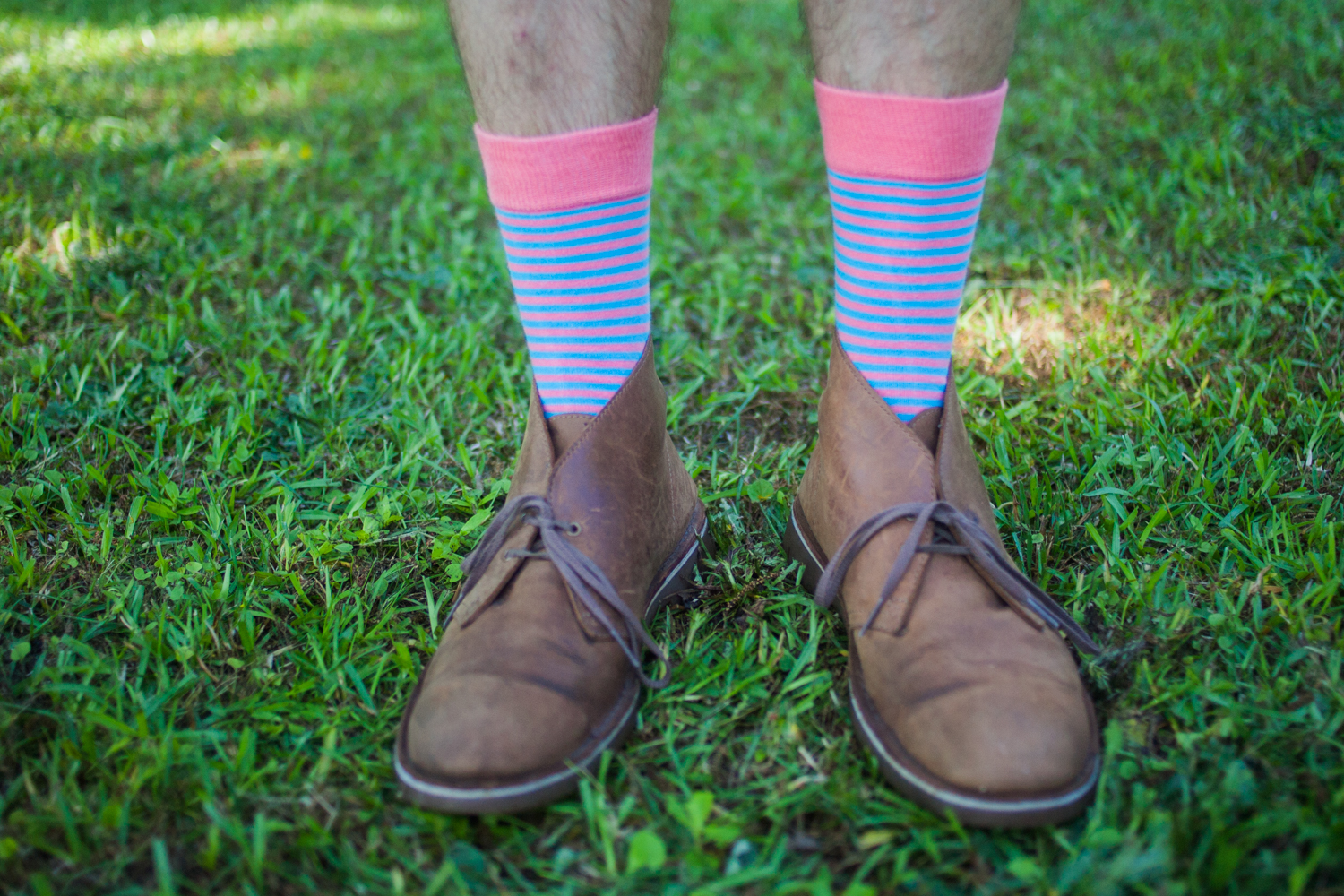 Style is subjective; make it yours, even if it means taking chucking style guides like this one out the window. (Check out The Sartorialist for perfect examples of how to stylishly break style rules.)
Sometimes, function will determine your socks—I don't think a pair of no-shows would get you very far with hiking boots on rocky terrain—and other times, it's simply a matter of personal taste. But I'd encourage you to get to know the well-maintained highway before you go off-roading, so you'll know when you're breaking the rules, and most importantly, you'll be able to say why.
(Even if you decide to do that mid-calf black Nike sock thing that's totally in with the 13-year-olds.)
Happy Summer, ManMade!