20 Items You Should Pick Up at your Local Asian Market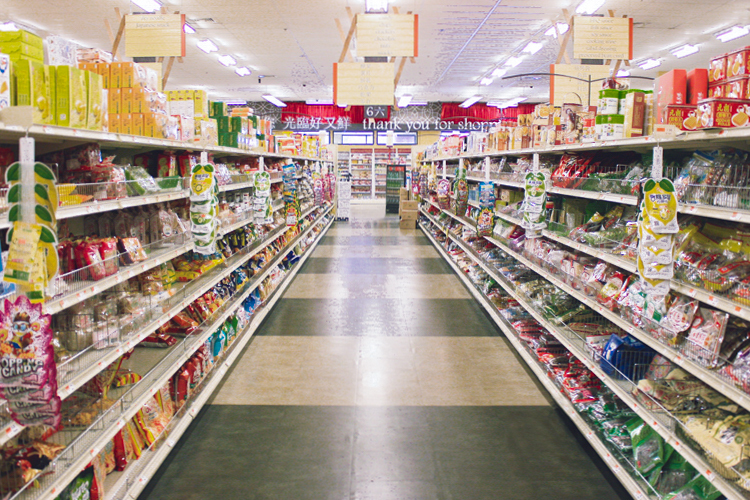 At home, I am the cook of our family. I love to make meals, and… let's be honest, I really just love food in general. I also do all the grocery shopping. Typically, I'll take one big shopping day at the grocery store during the week and maybe a couple short trips if I need specific items. But, whenever I announce I'm taking a trip to the Asian market, my entire family eagerly jumps in the car with me.
If you're not in the habit of shopping at your Asian grocery store, 1) you're missing out on an entire hemisphere of goods, 2) it'll open a new world of food and sundries that'll keep you coming back, and 3) food, kitchen supplies – everything – is extremely affordable.
In short, tons of flavor. Great value. Win. Win.
We have about fifteen Asian markets within a few miles of our house, some of which cater to specific cultures and cuisine styles. My family visits the MD Oriental Market (one of the largest stores) about once a month. It's a large store that encompasses products from Eastern Asia, China, Thailand, Vietnam, Japan, The Philippines, Laos, Cambodia, Korea, and the Spice Island region including Singapore, Malaysia, and Indonesia. I still get plenty of our standard items from a large grocery chain, but we just can't go too long without stopping in for some unique produce, inexpensive supplies, education, and big flavors. So, to share my glee with you, here are 20 items that you can't miss at your local spot…
1. Sauces
Wowza. This can be its own separate post. Maybe it will be…
Sure, you can find the standard Huy Fong Sriracha – you know this one as the red bottle with a rooster on it found in every hipster haven in America. But did you know Huy Fong also makes Sambal Oelek, a ground chili paste that is awesome? Or that there are dozens more brands of Sriracha out there? (I love 3 Mien and Shark brand). Time to broaden your saucy repertoire. There are countless different kinds of soy sauce, fish sauce, mirin (sweet rice wine), oyster sauce, fermented bean pastes, chile jams – so many to choose from.
Better yet, I'd really like to read what you all prefer in the sauce department. What are your go-tos? Love gochujang? Nam prik pao? Please share in the comments.
2. Quality Sake
I've had a surprisingly difficult time finding sake at the liquor & spirit vendors in my area. I can find a couple bottles, maybe even a handful of different sake's from the larger chain liquor stores, but ho boy, the Asian market has dozens of different brands, types, styles, and sizes! These are awesome for marinades and sauces, or for simply sipping. We make sure to have a bottle at the house at all times and there's no shortage of options here.
3. Tea
You should be buying your tea from places that put tea on a pedestal. If you can't make it to the other side of the ocean, your Asian market has you covered in spades. Entire aisles full of loose-leaf tea. Lots of flavors. Many quantities. Reasonable prices. GET TEA HERE.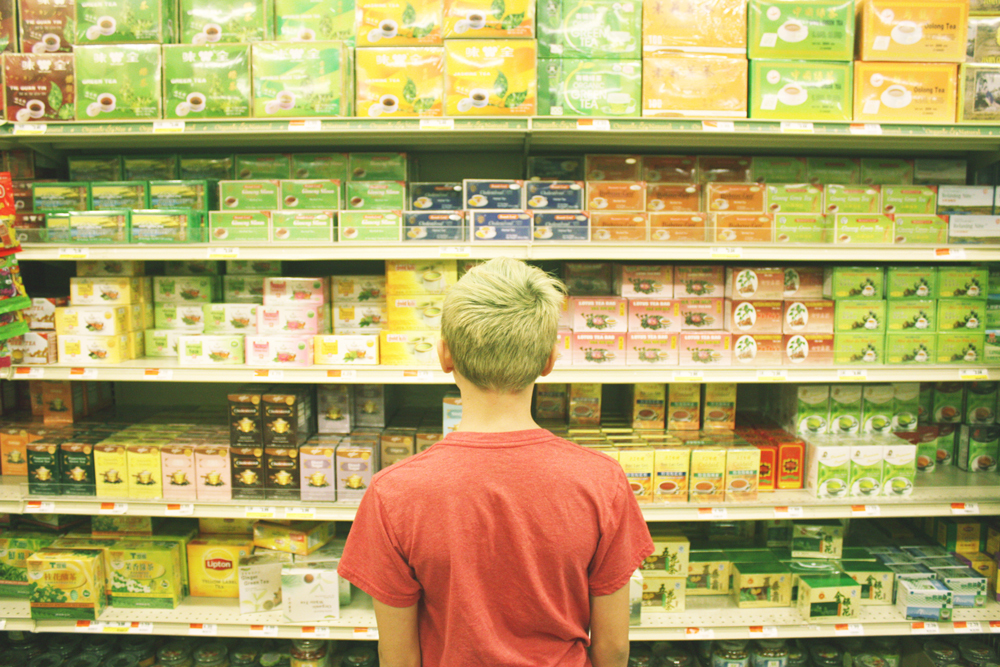 4. Live Seafood
Fish? Check. Lobster? Check. Crab? Check. Eel…? Check? I've never bought it because I'm admittedly too nervous to cook it, but it's there, along with whole fish, eggs and roe, and a fishmonger to help you out! Thank goodness.
I think this point needs a disclaimer though: Please do your research on seafood – live or not – and make sure you make responsible, safe, choices. Regulations and monitoring aren't the same around the world, so choose sustainable options!
5. Chopsticks
We like chopsticks when we eat. I especially like them because they're less hassle to wash than standard cutlery. There are no less than 20 different options for chopsticks at the Asian market. Typically, they're bamboo, but there's also stainless steel and silicon. We picked up some simple, reusable chopsticks as well as a kid-friendly silicon set for our youngest son to practice.
6. Kitchen Utensils
As someone who likes to cook, I appreciate having access to different types of utensils – spatulas, spoons, etc. I can pick up 5 different shaped, stainless steel spatulas for $2-5 each.
If you spend any amount of time cooking, I think you'll appreciate the options available. Many sizes and materials and, seriously, the cost is too good to pass up.
7. Bowls
I know, bowls? Yes. There is one side of a 50' aisle containing only bowls. It's actually one of my favorite sections. They have a bunch of matching sets – so if you want a decorative or simple set of bowls, they've got you covered. But there's also mixing bowls from a quart to several gallons in size. AND, they have the best soup and cereal bowls you'll find anywhere. Fight me on it.
8. Pots & Pans
And woks, and steamers, and double-boilers, grills, and dutch ovens, and bamboo baskets, and skillets, and, and, and. Choose your size, material, aesthetic. Probably where you'll spend the highest amount per item, however, still vastly less expensive than, say, large world-wide chain box stores. Also, the selection is only challenged by restaurant supple stores.
My favorite pan to cook in is this 10″ Kitchen Flower saute pan made in Korea. I can't find the 10″ for sale online, but the 11″ is out there anywhere from $30-50. In store it's less than $20!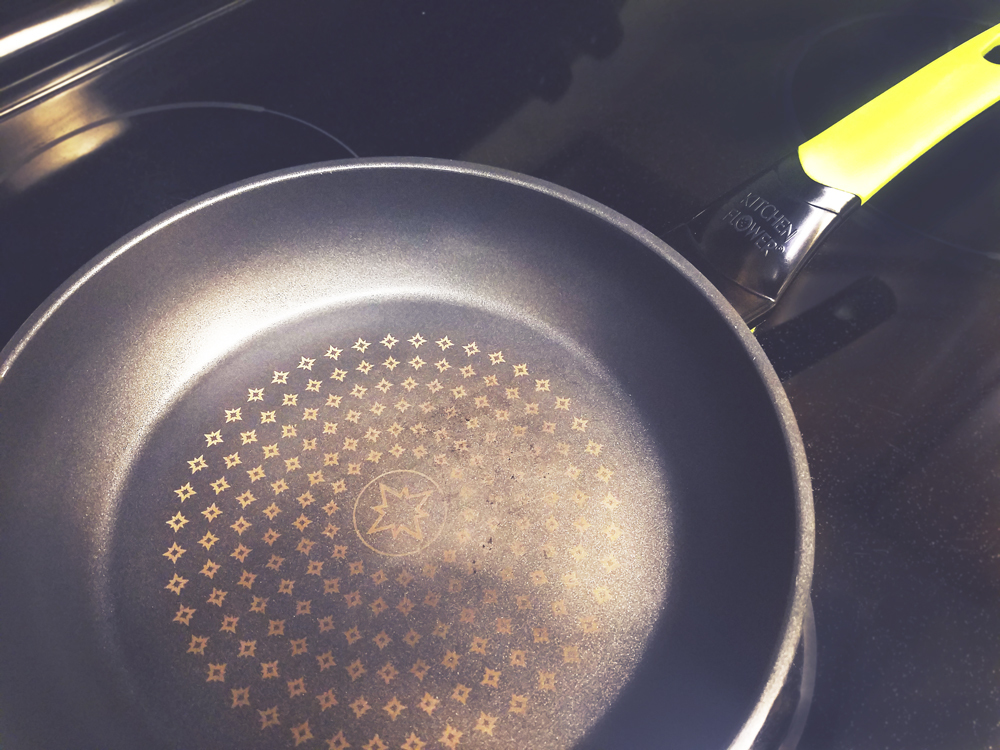 9. Pocky
I have two young boys and their favorite thing to pick up is always Pocky. It's a cookie stick dipped in different flavors – chocolate, strawberry, cookies & cream, and even green tea. There's a stand-alone display of Pocky close to the entrance, so this cookie snack is the first item in our cart every time.
And if we're being honest, I have shopped here without the kids and I always pick some up. It's a tasty snack!
10. Rice
Lots of rice. This photo at my local Asian market is a fraction of an entire aisle of 15lb-bags of rice. So, if you need to stock up…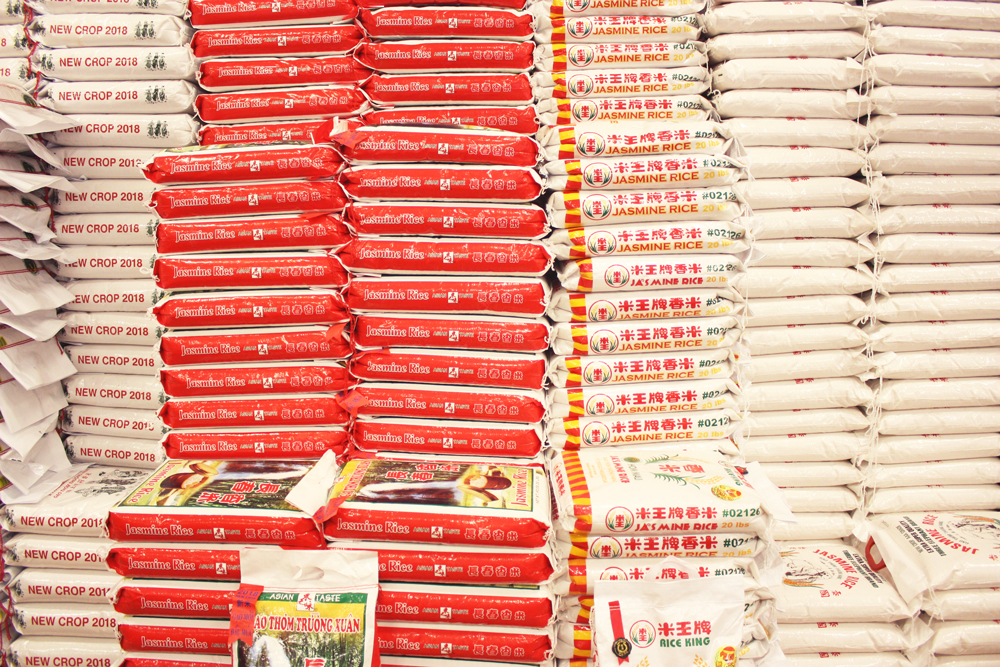 11. Produce
This area deserves its own post. There's so much goodness. Check out ManMade's breakdown here! But, in short, all the greens, herbs, chilis, leaves, sprouts, and citrus you can imagine.
12. Snacks
At the Asian market, you'll find crunchy, soft, salty, sweet, spicy, and everything in between right there in some flavors you didn't know belonged on a chip (they do). MD Oriental Market has two full aisles dedicated to snacks – one is just "Japanese Snacks". Some things you'll notice:
A massive amount of shrimp/prawn flavored chips, crisps, puffs, crackers, crunchy things, soft things – all the things. These are all good.
Fun marketing. I'm a sucker for package design and the snack aisle is a sensory overload of wacky and colorful packaging, like this bag of organic chestnuts:
13. Cafe/Hot Food
In our Asian market you can find a great little dining area – super clean and cozy. The typical American-Asian food is available (General Tso's chicken, fried rice, etc), but there's also a few special items, including Peking Duck! This just makes our trip go from a chore to a half-day adventure.
14. Candy
Yes, we already covered snacks, but the amount of candy in this place earns it a spot on our list. I'm not a big candy eater – my sweet tooth has slowly withered away to an occasional craving just a couple times a month. But, what I love about their selection is they don't just have the pure-sugar-and-food-coloring chews or whatever; they've got some great coffee candies! I picked up this bag of chewy coffee candy and it's delicious – a strong, black coffee taste at first that gives way to a smooth chocolatey, coffee flavor. There is an actual spectrum of candy available and it's super.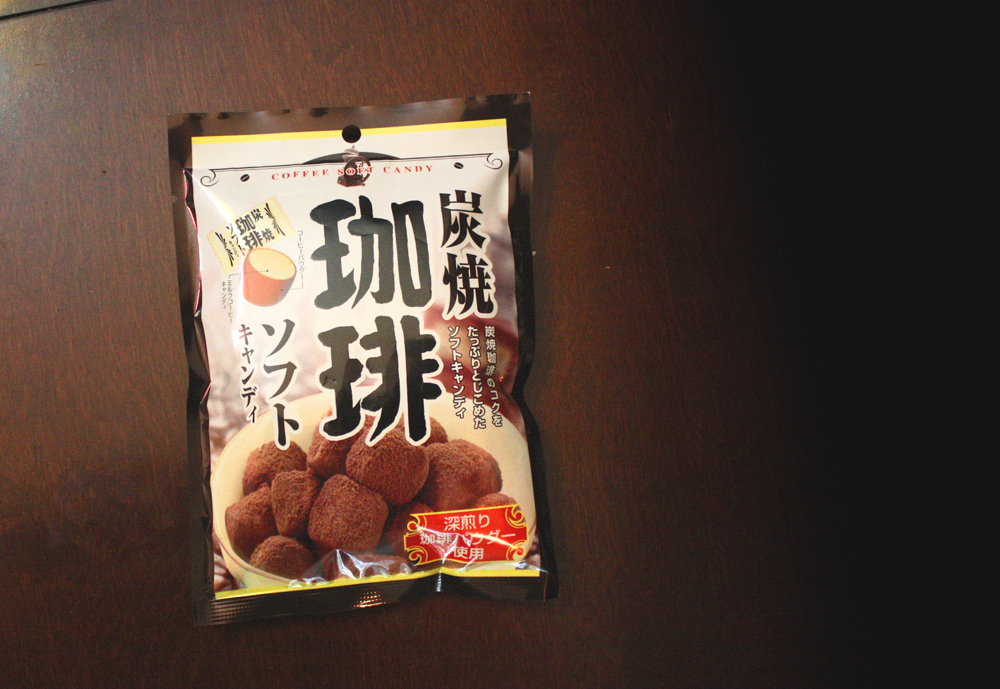 Our family plays a candy/snack game when we go: Everyone gets to choose one item for themselves, but it has to be a package you can't read and doesn't directly say what it is. We've gotten seaweed crisps, shrimp flavored puffs, mini shortbread cookies, and spicy squid chips – each one delicious. Try it!
15. Meat
This market has a particularly good meat department. Lots of good cuts of beef especially, but they also have all the specialty products like chicken feet, liver balls(?), tongue, tail, intestine, fish head, and pigskin. This is my go-to source when I need bones and parts to make flavorful soup broths. The butcher at your chain store likely won't keep these around, but the Asian market has them all packaged up and ready to grab. Pick up some chicken feet and throw it in a chicken stock for a big boost of flavor, or some pork shanks for all kinds of gelatin-y goodness.
16. Dried Foods & Spices
Dried mushrooms are major flavor boosters. There are several different types and sizes of mushrooms you can get in vacuum-sealed bags which are great to keep in the kitchen cupboard. The Asian market is also where you should be getting your spices! What's really cool is you can get the ground versions if you choose – chili, mustard, cinnamon, cumin, etc, but here's your chance to get the whole-version of those spices and grind them yourself! Get some dried chilies, toast them, and whir them in your coffee grinder – homemade chili powder.
17. Baked Goods
MD Oriental Market has a bakery that prepares some classic baked goods – bread, cakes, muffins – as well as Asian-based confections. I picked up this green, spongy, cake-like… cake for $2.50. It looked cool. It's basically angel-food cake that's flavored with green tea. There are 8 ingredients and it's super good – fluffy cake without the icing (I'm not a huge icing fan anyway). Try something new!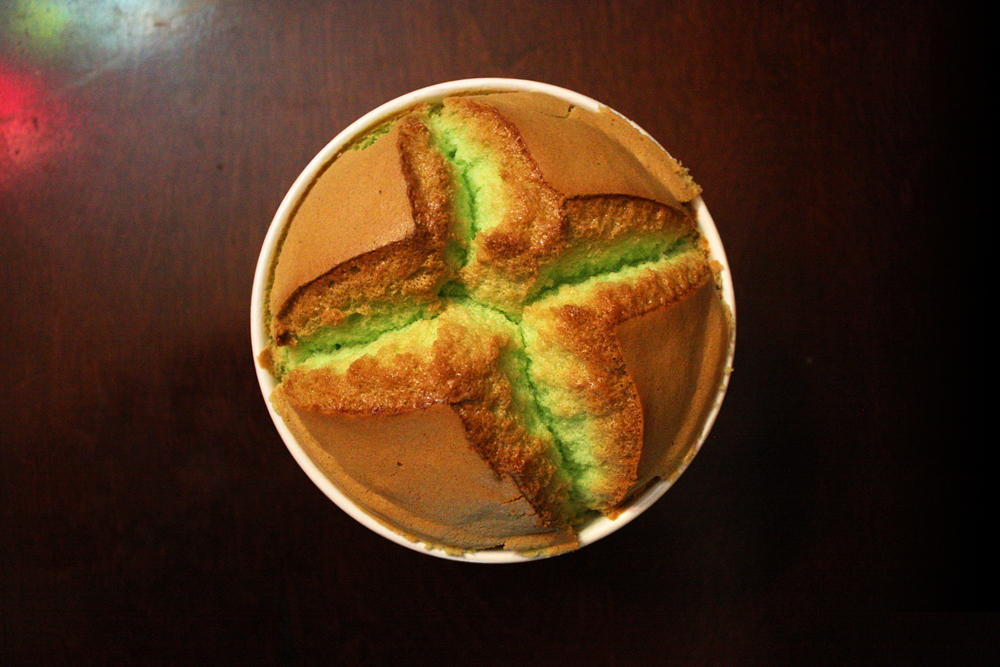 18. Noodles
Raise your hand if you spent (spend?) a formidable amount of your early 20's eating Top Ramen noodles for more than one meal a day. For $1 you could eat it for a week. Well, have I got great news for ramen lovers. There's no shortage of noodles at the Asian market. You've got two kinds:
Instant
These are your Top Ramen-style noodles. In a bag or cup, add water, heat, eat. Want a selection besides the $.20 'chicken' flavor? Ok, take your pick: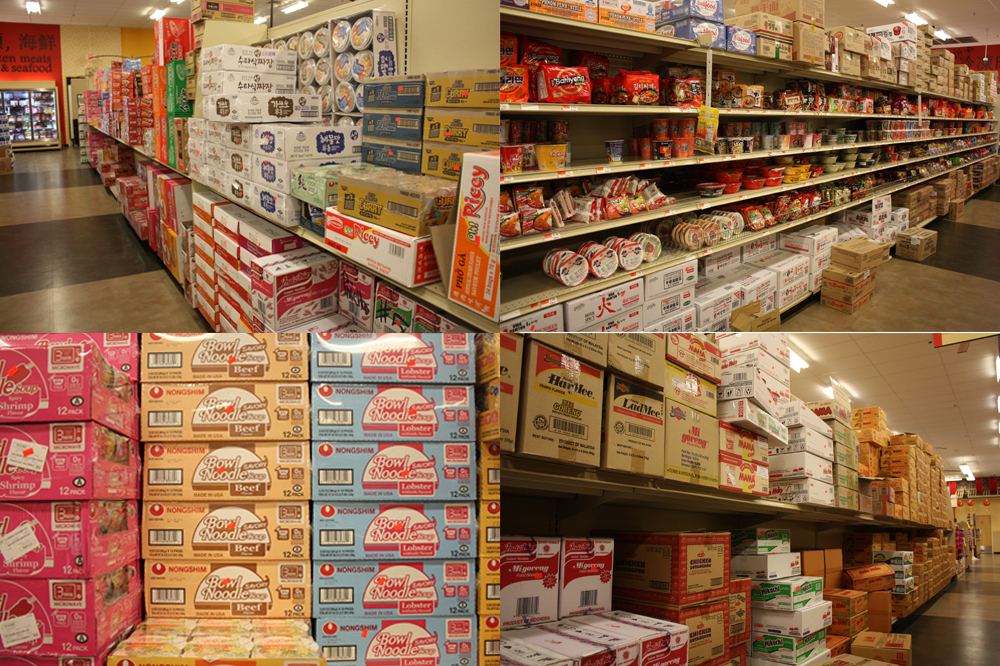 The other option is…
Dry and Fresh
Soba, buckwheat, egg – a wide variety of noodles for all your Asian and non-Asian dishes. Check out the glass noodles from Korea that are totally wheat and grain free: they're made from sweet potatoes, and are delicious and versatile.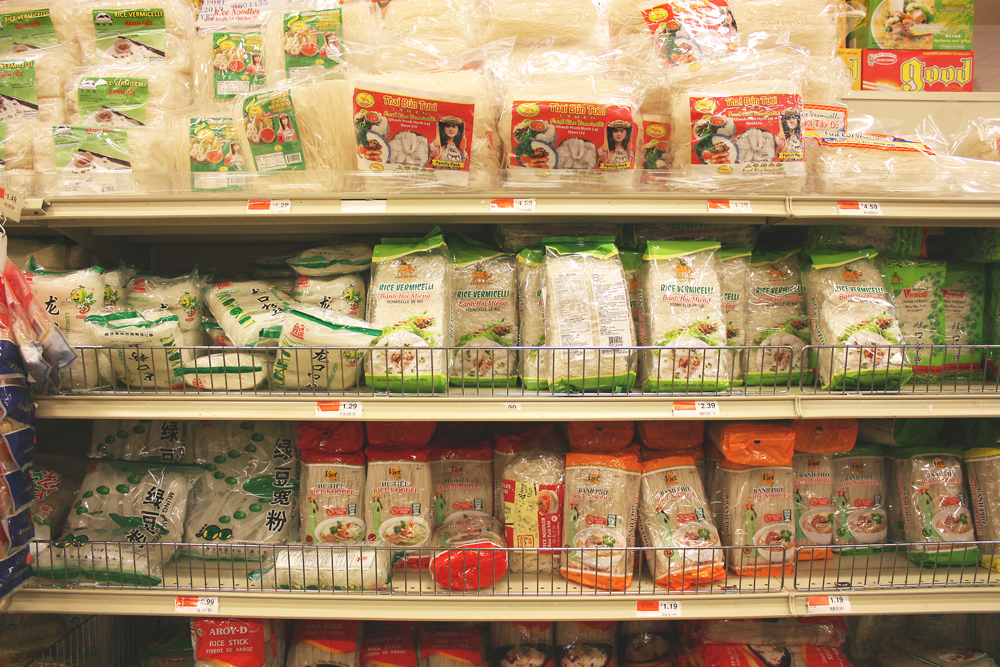 19. Pickled Foods
This gets into some acquired taste territory for me, but if you want something pickled, you can probably find it at your Asian market. My wife likes to cook with pickled plums, so we grab that when we're at the store, but there's so much more – kimchi, radishes, artichokes, preserved cabbages, vegetables, and, our favorite find: salted snake-head fish in brine. I haven't found the right recipe for that one yet.
20. Bean Buns
The refrigerated section has loads of bean buns of all sorts. I wasn't quite prepared out how many varieties there were. There are sweet red bean filled buns, soybean, some with fruit and veggie fillings, and even lotus leaf buns! I haven't tried making my own bean buns yet. Is it worth making homemade or are these frozen ones fine?
Honorable Mentions:
Spicy SPAM
Mochi (squishy, jelly filled dessert)
Big Roll grilled seaweed roll
Incense – note: they do not sell fireworks at the Asian market, despite me buying 6 3-packs of two-foot-long sparklers for only $1 per package (they were incense…)
This "Lover's Tea For Men"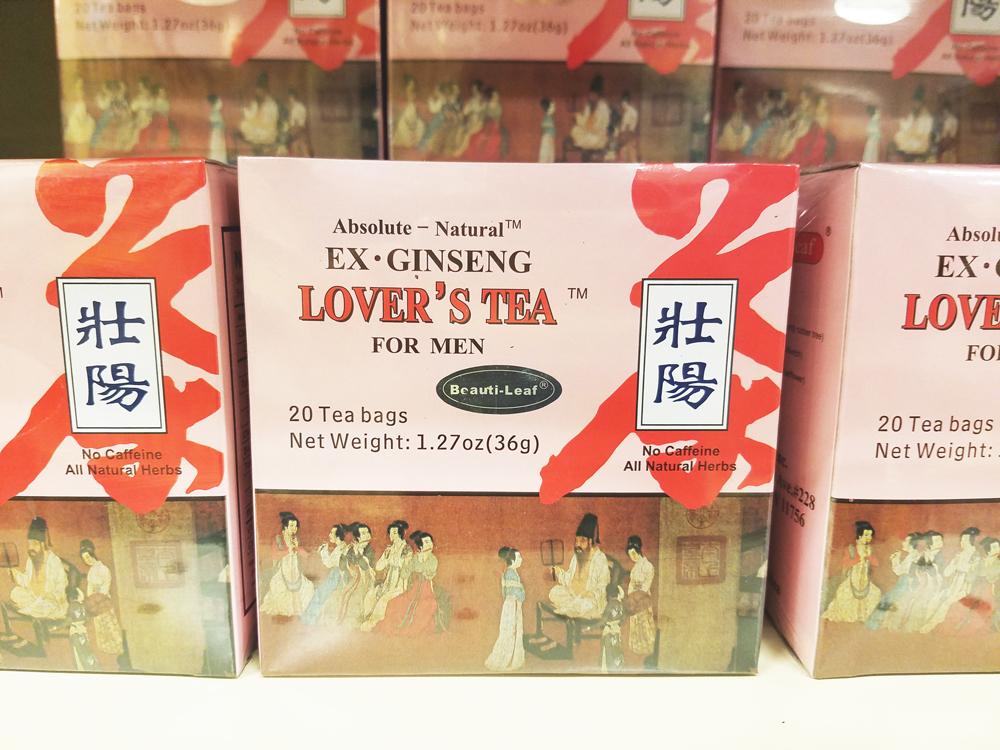 If we're being honest, no list can contain the excellent selection of food and sundries at an Asian market. Hopefully, this gets you looking for your closest store. The food traditions here are so unique and flavorful, and full of history. I urge you to take a visit and, at the very least, walk around and experience a unique cultural trip through the food kingdom.