Your Shop Lights Don't Have To Look Like Shop Lights
Tired of the boring lights hanging from your shop ceiling? Why not take the time to make something that reflects your personality a bit more. Here are three inspirational designs that will give you a new outlook on shop lighting. Our shops are our escape from many things in life. They are our retreat, creative space, and a place we can pretty much call our own. So we carve out a corner of the garage and make it slowly reflect our character with a solid counter, a few tools, and a dream of what we want it to look like down the road. Lighting is an integral part of a good workshop. Enough light is as much a function of safety as it is style. Finding the cut line shouldn't be the focus once you fire up a spinning blade. A lighting project is a great way to put a bit of personality into your corner of the world while delivering light exactly where it needs to be. Here are three inspirational lights to get you thinking outside the boring garage ballast box.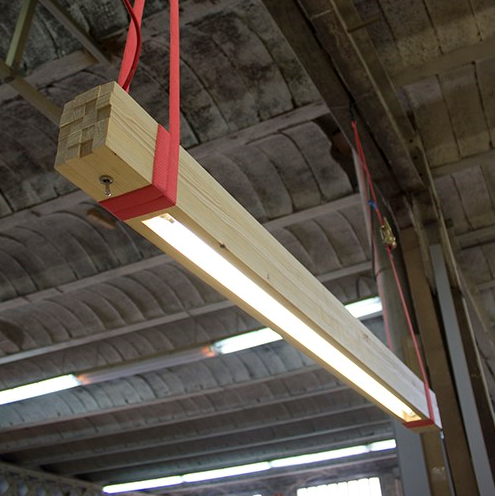 LED Lights In Scrap Wood Beam – I love the look of these lights, integrating LED into a scrap wood beam is a great use of shop resources. There is plenty that can be done to make it as rustic or modern as your personality, with different size wood strips, finishes or paint. Keep in mind the light must have LEDs or florescent for heat consideration, so pay attention to that detail when putting together your own. I will likely be building an L-shape version to hang above bench once my shop is finally finished up.
Can Lights In A Wood Beam – This idea is a bit more solid, and would be suited for task lighting over full shop illumination. The cans installed in the beam should have a fire rated insert, and should be vented on the top to make sure the heat dissipates properly. I would love to see some rustic color on this one to make it really stand out.
Industrial Pipe Fixture Light – This light is made from simple black metal pipes and can be customized to match the need. Keep in mind the weight is a bit of a consideration on this one, so make sure it's anchored well at the install point. Exposed bulbs may look good, but be sure you have enough clearance to keep them out of swinging distance of lumber and other objects you move around the shop.
Do you have any lighting ideas that you've done to make that space your own? We'd love to hear how you've lit your space!