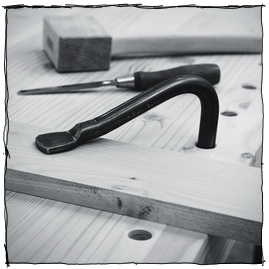 How to Drill Bench Dog Holes
There are plenty of times when a small wooden board is all you need to set out or serve something when entertaining. And it's even better when they look awesome and make whatever you're sharing look that much tastier. If you have a few scraps of wood lying around after a project, this is exactly what you should do with them.  
In the era of advanced smart phone filters, it's not difficult to make your images look like something more than a snapshot. But, more often than not, these images don't look textural or vintage or interesting, they just look... filtered. It's not a je ne se quoi, it's an I know exactly se quoi — it's also my favorite Instagram filter. 
In the summer, it's easy to get those deep, blackened and charred flavors in your weeknight meals. During grill season, you simply head outside, and cook your meal over an open flame.
And then comes January, where the produce is poor, and everything lacks that certain zing that the warm sun and fire-seared foods provide.   
It's a new year, and for the next twelve months, I'm committed to trying to make every object in my life something of true value. Call it a Kondo-inspired "sparking joy" if you like , but this year, I want to cut out the garbage and keep only what's quality. I want everything I touch and use in my life to be beautiful, lasting, and made with integrity. This starts with my morning routine, from the my coffee routine and the mug I drink it in, and goes all day through the book I read during the last few minutes before bed.
There's something to be said for the all-in project. The weekend filling, head-scratching, multiple-trips-to-the-store, major build project that ends up so satisfying, and useful, once it's complete. But there's also something to be said for the straightforward, quick and simple project that can be started and finished after you get home from work. For those times when you don't always have the capability, or bandwidth, to take on something huge, but that creative spirit just keeps telling you to make stuff... make stuff...
I love to connect with others to hear about the gems they've mined out of life lately. But, sharing ideas and experiences isn't always easy, especially when we don't agree. When we all meet at the collective table, whether it's a family get-together or coffee with friends, some disagreement is inevitable. But just because they're missing something or making a logical leap doesn't mean you have to fight. Here are a few tips to remember the next time a conversation steers down that road.  
"Diamonds may be a girl's best friend, but that's because a wooden mallet just won't fit on a ring." Or so claims James Wright of WoodByWright in his video tutorial on how to create this joiner's mallet out of firewood. It's a wonderful afternoon project but I'll let you be the judge on how much the lady in your life may love it compared to a diamond...   
There's lots of scientific research on why setting goals on January 1 never really works out, and by March or April, we've all backslided into our old habits. Often, it's because goals aren't specific enough, or we haven't found the best way to track the work we've done. Or, perhaps we don't actually believe we can achieve that new version of ourselves for the long term.   
Anyone who has grown up near in the mountains knows what it means to see the ridgeline. Being tucked in nearby some exciting geological features has a comfort and appeal, and, of course, great views. It's safe, secure, constant. The mountains invite adventure, and simplicity. To honor my own local Cascade range, I built this simple key rack that takes a bit of that wild adventure and brings it home.   
A new year brings new opportunities to continue to grow. You don't have to tackle every item. Just pick five that resonate with you, and see what good you can do.