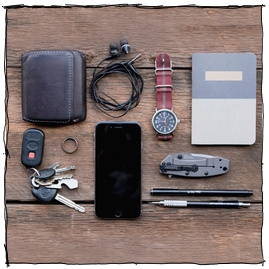 What's In Your Pockets Right Now?
I've wanted to build a boat ever since I sunk my small dingy on the Trinity Lake as a kid. Once I have the space, I will fashion a sea-worthy vessel and take it out to brave the ocean, or at least a sizeable pond.  
If you have a few wardrobe items that haven't seen the light of day due to some wear and tear. Take a look at the Japanese method of mending textiles, especially denim, with unique, stylized stitchery.
It's time to actually build something for the shop upgrade. First up, we take a look at how to build wall cabinets from scratch (sheet goods at least).
My first "workbench" was a simple table-style surface. 2x4 legs, 1/2" plywood top, held together with black drywall screws. I built it in my first apartment when I was twenty-two, with my first (and only) power tools: a circular saw and a drill. 
In the back left corner, I mounted a shiny, new, bright blue Irwin swiveling bench vise. It was awesome to have it there when I needed it - holding metal stock and angle iron for cutting, helping me bend rod and pipe, even keeping dowels and small wood parts in place while working on them. Unfortunately, these activities constituted a very small amount of the projects I was doing, and mostly, the vise just got in the way during the other 97% percent of tasks.
So, for the past few years, that vise has just been in a storage crate, and I get it out and try to hold it in place when I need it. Which, in case you can't guess, does not work. Ever. So, I wanted to come up with a solution that would allow me to install a machinist's style swiveling benchtop vise, without having to permanently install it, or drill holes in my benchtop and have to thread and tighten nuts and bolts every time I use it.    
I've technically lived in five cities so far if we include my college town (Minneapolis, New Haven, London, Brooklyn, and Los Angeles). And I've come to realize that as a creature of habit I eventually start frequenting a couple different venues that all have similar things in common. I think every man should have a couple of these. Let me explain…      
A few weeks ago, I decided to try my hand at screen printing. It seemed like a simple, straightforward process: Get the supplies and make it happen. Well, I made it "happen" and ended up learning a bit along the way. Here's my process and the things to watch out for when starting out.
There are a number of simple kits out there with all the supplies you need to get started. While they all seem to be complete, you can get better materials by gathering it all yourself. Here's my list of everything you'll need for $50 - $100. 
Make the Screens:
The first step is making your screens. While I used scrap wood in my shop, I wish I
I used to hate when things were the same. I grew up in a family where everything was always changing. We never ate the same thing twice, we had no hallowed holiday traditions, no yearly vacation spot, no alarm clocks, no bedtimes, no church, no chore chart or laundry days. We did everything ad hoc, on the fly, winging it from sun up to sunset.
Sometimes, on a weekend morning, we'd leave the house, all of us together, with some vague destination in mind – maybe a museum or a park – and end up somewhere completely different (a cemetery or a different state). If we went out to dinner to celebrate a birthday, we usually chose the
We all have designs, and we all have ideas. And sometimes, they just have to get out of our heads and into the real world. Screen printing is a great way to ink art on just about anything from shirts to posters to wood. If you figure out how to do it right, it's the easiest way to create dozens of copies fast. So here's our look at the right gear and techniques you'll need to get started today.   
We believe in investing in long-lasting, high-quality kitchen gear; things worth saving up for, that you know will stand up to daily use. Opting for a legit forged steel chef's knife, say... one that can be sharpened and honed over and over and will last you the rest of your life, and then some.
But, investment pieces are just that: investments. Those things cost money, and they're well worth it. But thankfully, you can fill in the gaps with a selection of totally affordable and super useful kitchen tools, many of which cost less than a lunch at a local bistro. So with that in mind, here's our list of inexpensive, high-quality, and crazy versatile culinary tools with which you should be stocking your kitchen, all of which come in at less than twenty-five bucks.
I have a million e-mails. It's not actually a million, but it makes my soul feel that way. I know this feeling. It happens when I've been staring too long at a screen, clicking reply until I lose track of time and space and what name I'm supposed to sign in the sendoff. (It's Chris. My name is Chris.) The only way to fix it? Get away from the computer, turn on some music, and build something.
So let's go out to the shop and build a box that will never, ever have e-mails in it. Here's a simple woodworking project that can get you back to working with your hands, but isn't too fussy or complicated. And the cool part — it uses just a few basic tools and single board. When it's done, you'll have a stylish, versatile, stacking storage solution that will come in handy in any room in your house.