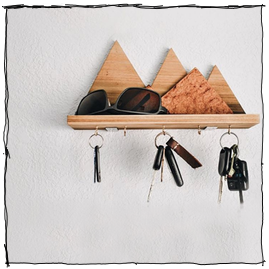 Make It: Mountain Key Rack
A few weeks ago, I decided to try my hand at screen printing. It seemed like a simple, straightforward process: Get the supplies and make it happen. Well, I made it "happen" and ended up learning a bit along the way. Here's my process and the things to watch out for when starting out.
There are a number of simple kits out there with all the supplies you need to get started. While they all seem to be complete, you can get better materials by gathering it all yourself. Here's my list of everything you'll need for $50 - $100. 
Make the Screens:
The first step is making your screens. While I used scrap wood in my shop, I wish I
I used to hate when things were the same. I grew up in a family where everything was always changing. We never ate the same thing twice, we had no hallowed holiday traditions, no yearly vacation spot, no alarm clocks, no bedtimes, no church, no chore chart or laundry days. We did everything ad hoc, on the fly, winging it from sun up to sunset.
Sometimes, on a weekend morning, we'd leave the house, all of us together, with some vague destination in mind – maybe a museum or a park – and end up somewhere completely different (a cemetery or a different state). If we went out to dinner to celebrate a birthday, we usually chose the
We all have designs, and we all have ideas. And sometimes, they just have to get out of our heads and into the real world. Screen printing is a great way to ink art on just about anything from shirts to posters to wood. If you figure out how to do it right, it's the easiest way to create dozens of copies fast. So here's our look at the right gear and techniques you'll need to get started today.   
We believe in investing in long-lasting, high-quality kitchen gear; things worth saving up for, that you know will stand up to daily use. Opting for a legit forged steel chef's knife, say... one that can be sharpened and honed over and over and will last you the rest of your life, and then some.
But, investment pieces are just that: investments. Those things cost money, and they're well worth it. But thankfully, you can fill in the gaps with a selection of totally affordable and super useful kitchen tools, many of which cost less than a lunch at a local bistro. So with that in mind, here's our list of inexpensive, high-quality, and crazy versatile culinary tools with which you should be stocking your kitchen, all of which come in at less than twenty-five bucks.
I have a million e-mails. It's not actually a million, but it makes my soul feel that way. I know this feeling. It happens when I've been staring too long at a screen, clicking reply until I lose track of time and space and what name I'm supposed to sign in the sendoff. (It's Chris. My name is Chris.) The only way to fix it? Get away from the computer, turn on some music, and build something.
So let's go out to the shop and build a box that will never, ever have e-mails in it. Here's a simple woodworking project that can get you back to working with your hands, but isn't too fussy or complicated. And the cool part — it uses just a few basic tools and single board. When it's done, you'll have a stylish, versatile, stacking storage solution that will come in handy in any room in your house. 
Jesus taught in parables, and Polonius advised his king "by indirections to find directions out." One of the best things about revisiting classic sports movies as an adult is suddenly realizing all the incredible themes and lessons that were way over your head as a boy, but you likely absorbed through osmosis. Whether you've never seen these films or can practically do them as a one-man show, here are seven classic movies about sports that are really about something else…   
Note to the wise: a box usually isn't enough. Many tools in the shop need a bit more protection. When tools get neglected, edges get dull and things get lost. A tool roll is a simple way to keep those small collections of specialty tools in top shape and exactly where they should to be when you need them. Here's a simple way to make your own.  
Sooner or later, you're gonna have to do it. It may be because you lost a little weight, and now it's time to notch over one more, and you're plumb out of holes. Maybe it'll be due to the fact that different pairs of pants sit on your body at different places. Or it may be that you'll simply had that belt for a little while, and the leather has stretched a bit. 
But, at some point, you're gonna have to punch a hole in a belt. And if you do it right, it can look perfectly in line with the others, like it's been there the entire time.   
I admit it: I'm pretty rough on my stuff, so when it matters, I like to make sure it lasts. Adding a layer of wax adds durability and helps to prevent water saturation, and shed stains and grease. Here are the simple steps to keep your fabric and canvas like new in the shop.   
Today is Valentine's Day, and couples of all sorts will be headed out on the town to celebrate. Whether such plans are on your radar, or you're generally interested in looking snazzy without seeming like you just came from a sales meeting, we thought we'd share some basic ideas and tips to, well, nail it.