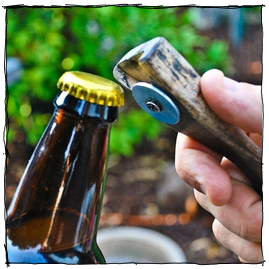 How to: DIY Wooden Bottle Opener
These are thoughts, the artwork, the news stories, the tools, the food, the conversations, and whatever else we just can't get out of our heads this month.      
When I built out my basement shop space last fall/winter, there remained a couple of unfinished spots that I knew I'd need to deal with. Case in point: this obscure glass window. (This half of the shop was intended to be a bathroom, and this would have sat right over the tub.)
Last week, I got a new, very large, very heavy stationary woodworking machine (more on that soon), which I'd planned to store right along this wall. So, I figured if I didn't trim it out now, I'd never do it, and it'd look exactly the same in twenty years. 
So, I got to work. And it was kind of a disaster.    
Yesterday, I offered the thesis that if you're only going to learn to tie one knot, it should be the bowline: it's simple, can be easily untied, and is incredibly versatile for all sorts of situations. 
And all that is true. But, it's not the "knot" I employ most often. Because the reality is, most of us don't handle rope on a daily basis. We do, however, in the age of smartphones and podcasts and the entire history of recorded music available at your fingertips, engage with another long, stringy thing that needs to be dealt with on the regular: your headphones.
Or ear buds. Or ear phones. Or whatever you call those wired transducers that deliver all that sweet, sweet audio to your brain. And because you take them with your everywhere, they regularly get knotted and tangled up in your pocket or bag.
This is completely unnecessary. Because there's a five-second "knot" that can completely eliminate this problem, and it doesn't take any longer than other storage methods. So, now, I present to you, the actual most useful knot in the world.    
Here's the kind peer-reviewed scientific study and journal article that we can all get behind: how to make your whiskey taste better. This year, scholars Björn C. G. Karlsson & Ran Friedman took a look at the molecular makeup of whiksey, and specifically, how dilution with water affects the presence of flavorful compounds that make the sipping experience even more enjoyable.   
This how-to is not for sailors. Nor anglers, mountaineers, first responders, or anyone else who need to know a huge diversity of knots, their strengths and weaknesses, and what situation calls for each.
This is for the rest of us. Those of us who go through normal life and its adventures, and encounter rope, twine, string, line, paracord, and the like, and when we need to secure it, say "Should I tie this like my shoes, or in a square know that I know will be nearly impossible to get off when I'm done."
The truth is, at this point in our lives, we're probably not going to learn how to tie a complex calvalcade of knots, and even if we did, would probably not have enough opportunity to practice them in real world situations in order to commit them to long term memory.
But, still, we should all know how to tie at least one pro-level option, and so we say to you — if you're only going to know how to tie one kind of knot, let it be:   
If you're like me, the cast iron in your shop sits atop the most prized tools you have. Those tops are solid, durable, stay dead flat, and make working wood just a bit easier. But to keep them at their best takes a bit of routine work, fending off rust and staining doesn't take much but make sure you do it. Here's how.  
There's a great adage in the home decor and organization field...you've probably heard it on one of those room makeover TV shows. The phrasing varies, of course, but the central idea, "When you run out of floor space, you've got to go up."
It might not happen with every smartphone and car stereo combo, but if you know what we're talking about, this tip is for you. You get in, you fasten your seat belt, you turn the car on, you plug in your phone, and.... 
THE. SAME. &*$%. SONG. COMES. ON. EVERY. SINGLE. TIME.
Of course, you've figured out why this devilish contrivance occurs. It's the song who's title comes first alphabetically in your library. On my phone, it's A.M. 180 by Grandaddy; on my wife's, it's Vampire Weekend's A-Punk. And I actually And it just... starts playing, at whatever volume your stereo is set to.
Here's how to stop that first song from playing when your plug your phone into your car:   
Anyone who's read ManMade for more than a week or so can attest: we're never gonna wax poetic about the beard. Some men look better with them, some do not. Some can grow a full one, and some can't. There's no magic in the beard. It's a choice, and if yours looks nice, it's good to have options. Personally, I tend to wear one in the fall and winter, and then go clean shaven in the warmer spring and summer. 
What we do know is: having a beard is much more than just not shaving. You've got to care for it, clean it, trim it, and keep it healthy.    
Small-parts storage is one of the biggest steps you can take in creating the perfect workshop zen. When all those little fasteners, nails, washers, odds and ends all have a home you can work in peace, not pieces.