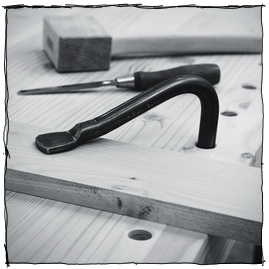 How to Drill Bench Dog Holes
Anyone who loves hiking or outdoor exploration is familiar with the cairn, that characteristic stacks of rocks used as a trailmarker, warning a steep overhang, or just a general, leave-just-a-little trace that someone was here. At first, each cairn is a little discovery, a naturalist's work of art that puts design and intentional experience into the landscape. And then you see them multiple times on every. single. trek. you take, and your eyes just gloss over them after awhile. (Unless you're lost. They're always welcome when you're lost.)   
 A woodworking bench is more than just a table to lay your tools and project parts on. Used well, your bench is an all-in-one, three-dimensional clamping solution that will allow you to hold your work on any of its edges or faces. The traditional way to increase the work-holding capability is to place "dog holes" in your bench top, and allowing them to work in tandem with a face or end vise to secure parts of any size. 
A few weeks back we talked about some of the basic, essential tools for getting started in leatherworking. Once you're set up, its time to put them into practice. Here are a few projects to hone those skills, and end up with some great practical pieces you can use everyday   
The burger is usually thought of as summer fare — the progeny of some spatula-wielding self-appointed grill master. But true burger fans know that the very best are not cooked over grill grates, but on screaming hot solid surfaces, where the rendering fat and juices stay near the patty, creating not only a crispy exterior, but the deep, caramelized, confit-like richness that defines the flavor of a great burger.
Which means, of course, that burgers are actually year-round food, and armed with a heavy cast iron skillet or griddle, a great way to spend an dark, cold evening stuck inside. If we're gonna have January, than let us always have burgers. 
It's nearing Valentine's Day, and though my sweetheart and I don't usually do gifts, I wanted to make her something special. We're not big on the whole Hobby Lobby, scrapbook-y, shrine to ourselves approach to artwork, but I did want to incorporate a personal element. I recalled the custom DNA portraits I'd seen, and when searching, found the fingerprint prints offered by the same company. While I wouldn't even begin to understand how to go about visualizing DNA, I figured the custom fingerprint approach was probably pretty achievable.
And...it was.
I even figured out a way to make it seem a bit more handmade than the cold, tech-ier versions offered by the online companies. And, it only ended up costing me $6.00 USD. (I'm so thankful I've got someone who would be proud of me for creating an inexpensive DIY route, rather than impressed by how much I spent.)   
Bikes have moving parts...it's precisely what they're designed to do. And things with moving parts need maintenance to keep them moving smoothly. And since a bike's very design is to move forward as it's parts move, you either need to a) get your bikes wheels off the ground while maintaining access to gear shifts and break levers and b) grow two more arms and hands.   
Laura and Craig from The Makerista take these Billy bookshelves that we've all seen before and transform them into what looks like an entire built-in wall unit. This really is the most impressive DIY IKEA renovation I've seen yet.   
Perhaps you've heard this piece of advice: never let a cold beer warm up and then become cold again. Practically, this means if you buy a refrigerated beer from the case, then you must keep it refrigerated until it's time to drink it. And it should never sit out at room temperature on the counter, in the pantry, etc.  The threat is: the bizarre, off flavors of a beer that's been "skunked" usually described as tasting like wet newspaper, rubber, or if you ask me, the way the pet store smells.
There are those pieces of furniture that make a statement. Those around which you build entire rooms, those that define a space. Those pieces are essential.
But, sometimes, you just need a quick and easy way to store your stuff that looks plenty sharp. If your taste leans towards the warm, the rustic, and the stylish, check out this super simple x-shaped magazine and book rack.   
Making a delicious and hearty breakfast can be a chore when you're still trying to decide which pants to wear with your cap-toe shoes. Until recently, this was my daily struggle. Most days, I walked out the door with just brewed coffee and a piece of toast. No fun.