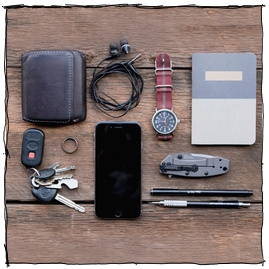 What's In Your Pockets Right Now?
Indoor plants in your home are a no-brainer: they bring the outside in, improve air quality, provide lots of natural color and texture, and encourage you to take an investment in the spaces you spend your time. They literally (and figuratively) add life to your home. Learn how to rock the green look with these six guy-friendly decor ideas. No floral wallpaper need apply.1: Mix and match. (pictured above) Go freestyle! Hit your nearest nursery and select a few different varieties. A few ideas include: palms, ferns, Massangeana, and rubber tree. Make sure to ask them about any special care requirements for each one of them (prior to
Truly one of my all time favorite experiences is engaging in a methodical, creative activity while losing myself entirely in the world of an audiobook. As a kid, I'd listen to sci-fi / young adult books while building dioramas or piecing together big puzzles, and as an adult all that's really evolved is my taste in literary genres. Here are some of my all time favorite audiobook recommendations that I've actually listened to in the woodshop.   
A vignette is a visual focus point that identifies the character of a room. These intentional areas are often the shots you'll see published in magazines, and you can achieve 'em at home, using mostly items you already have. Here are 5 ideas to get you started.
Any time of year, gin is a favorite spirit. It mixes well while retaining its character, and its aromatics complement a great range of flavors. But there's something so special, so obvious, about gin and springtime. If flavors had colors, gin's would be green, and it's a perfect chance to start putting ice back in our cocktails because the external temperatures are finally bearable.   
I've been on a "big art" kick lately. And when I say "big", I mean gigantic (check out The World's Largest Wood Type for further clarification). There's something about a traditional art or craft done at a mind-blowingly large scale that just tickles my magic beans. So I'm going to file this 15' x 10' solvent transfer sign + tutorial in my enormous folder for all things awesome.
The creative folks at The Mandate Press applied this Beatrice Warde quote to a big ol' sheet of canvas that is, hands down, the largest solvent transfer I have ever seen. If you're not familiar with solvent transfers, the process is actually quite simple:
Here's the thing about beef: it's expensive. And it should be; it's a part of a huge, expensive-to-raise animal. So, when you've invested in a high-quality piece of meat, especially a nice thick one, you don't want to screw it up. This recipe is the only way I cook it, partially because it's so darned easy, but mostly because it's the best steak I've ever tasted. Here's how to do it. 
Yesterday afternoon, I was putting a load of laundry together, and I took out all of the various bits and items from all my pockets before placing my clothing in the basket. By the time I'd doubled checked everything for errant tubes of lip balm and bonus dollar bills, I had a pile sitting on my dresser that, when I looked down, simply ignited this thought in me: 
Yep, there's all my stuff.    
These are thoughts, the artwork, the news stories, the tools, the food, the conversations, and whatever else we just can't get out of our heads this month.  
During spring time, pine, fir, and other evergreen trees grow by producing new tips at the end of each branch. The new growth is a lighter, vibrant green, and you can (and should) eat it. The tips have a wonderful citrus-y, woodsy flavor that tastes awesome in all kinds of sautes, seafood, and roasted dishes. But the easiest way to preserve their flavor is steep them gently in a syrup, which will last in your fridge for weeks. 
Kitchen knives, pocket knives, craft knives....a creative guy who likes to make stuff simply has to cut things up on the regular. Here's the ManMade list of the nine knives every man should own, but if you're interested in crafting your own from raw materials, it's actual relatively straightforward and requires fewer tools than you might think.