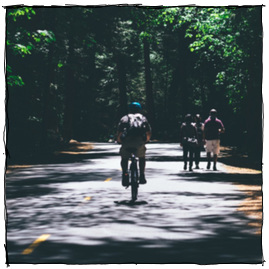 Common Sayings & Idioms that Actually Work
I'm still on the search for the perfect day-to-day bag. I admit, I ask alot: I need something that carries and protect my computer and my DSLR, as well as fits my collection of things I use daily - books, paperwork, notebook, cables, glasses/contacts, multitool, etc, etc - that's carriable when I walk, bike, or ride my scooter.
And I think I've found the almost perfect option - with the almost hinging on the lack of external pocket to carry my water bottle or a drink. But, this quick and easy hanging bottle carrier from Between the Lines seems like a great solution.

Steve Nicholson is a second year Graphic Communication student...and an ace with a hole punch. He created this self portrait in full analog style - one dude, one piece of A1 paper, and ten differently sized single hole punches. The result is pretty impressive display of halftone-like holeyness.
They say the carotene in carrots gets converted into vitamin A by the human body, which aids in eyesights, skin and hair health, and the regulation of blood sugar.  
In the era of smart phones, tablet pcs, and very useful, well-designed computer-based to-do apps, there's still something quite organic and almost human about scraping a pencil across the fibers of a piece of paper. So, even the most wired-up creative set still keep a notebook around - for speed, accuracy, and sometimes, inspiration.
The Moleskine has become the standard, due in large part to a clever marketing approach at the Barnes and Noble superchain, who entice would-be highbrow superstars to use the same notebook used by Picasso, Matisse, and Hemingway. But despite their beauty, Moleskines are ludicrously overpriced. And...we never buy what we can make.  
These knitted meat softies can appeal to everyone: vegetarians can proudly display theirs and say "I prefer my protein purled..." and omnivores can set theirs on a shelf, using it for a bit of culinary inspiration. And no matter what your dietary choices, they're just plain fun.  
Steve Harrington is an L.A.-based illustrator and graphic artist whose works are inspired by the shaggy late 60s, and all the moustaches and geometry of that era.
In particular, I'm digging on these paper tepees, with each facade featuring a different trippy take.
Men's shirts are sized in crazy ways - sometimes its sleeve length and neck dimensions, sometimes they're in chest dimesions (like a suit), and often, just the unpredictable small-medium-large. So, men, too, often have to buy for certain body measurements - length, sleeve, neck sizes, chest girth - and have other aspects not fit. It's why most men's button down shirts are baggy with big sleeves, and that weird muffin-top thing that billows out when we tuck them in.
So, next time you find that perfect vintage buttondown at the second hand shop, but it's flows around you like you're swimming in a gingham plaid Superman cape, pay the .99
February 10, 2010: You Make Me Bleed, and I Don't Care.


Dorodango - 泥 (どろ doro) "mud" and だんご (dango) "rice dumpling" - is a traditional pasttime for many Japanese school children. Dirt is mixed with water, then slowly shaped into a perfect, shiny or textured sphere.  
It not only occured to one, but at least sixteen ambitious knitters. I can only picture the internal dialogue..."This sweater, scarf, hat, and gloves simply aren't enough...I must knit myself an entire get-up! Some purled yarn armor to help me face the day."
The result? A seemingly very hot, VERY itchy cross between Cookie Monster, live action Dr. Seuss films, and that kid from the Christmas movie who can't put his arms down.