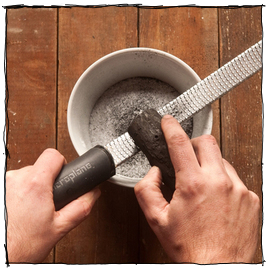 Super Simple DIY Charcoal Salt
This morning, I totally got caught up exploring this stunning interactive article from The New York Times Magazine "Innovations Issue." Entitled "Who Made That?" it's a fascinating
'Tis the season for outdoor dining and backyard grill fest, where there's every reason to take your time, spend the evening outside with the aromas and flavors of summer. 
Vintage desk fans have great lines, and can bring and old world, industrial-vibe to any space. Most are made pretty well, and worth picking up for a few dollars at thrift stores and secondhand shops. 
If you're tired of carrying around a bulky backpack that feels like a sack of potatoes, you should then upgrade to one of these bad boys.
The cool kids at Fiber Lab came up with this playful paper bow tie project. You can download the free PDF templates, and fold your own from two standard sheets of paper.   
In our Outfitted series, we hand-pick the style items and practical accessories you need to look your best in a specific scenario.
Summertime is the season for getting away and seeing the world. Which, of course, we heartily recommend. But we're equal fans of the staycay: taking a long weekend off work to rest, start on those projects you've been wanting to try, and going on an adventure in your own town. 
These "prehistoric beasts" are one of the coolest things we've seen. Craftsmanship, creativity, and passion, all come together in this epic, interactive work of art.
Lomography has caught up with the DIY trend by creating a brand new 35mm camera that comes in bits and pieces, ready to 
Okay...phew. I know that's a somewhat strange post title, but this project is fascinating and totally worth sharing, if not eloquently. The "Atlas of True Names" is a series of maps that substitutes the official names for cities, states, countries, and geographic areas with the meaning of their names in their original language....etymological topography!
Designer Christine Kawasaki-Chan recently embarked on this clever project: a collection of food idioms recreated in dish-based type.