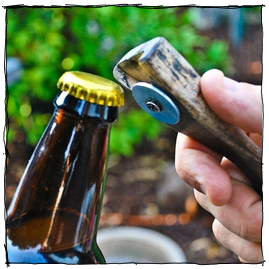 How to: DIY Wooden Bottle Opener
Some of the most frequent kinds of questions ManMade receives are inquiries like, "I just graduated college and finally have a real income and I'd like to start investing in some long-lasting goods..." or "my fiancée's birthday is coming up, and I'd like to buy him something every guy should have..." In 2013, I've been giving my take on those essential items, offering a new collection of ten each season: winter,spring, summer, and fall.  Some of these you might already own, some of these you might need to upgrade to a quality version, and most of these apply to women and households too. Please let me know what you think, and what you'd add or take away in the comments below.    
As falls continues to fall and winter approaches, bring some life and greenery inside your space with this easy handmade planter project. 
This ManMade post was written by Al Daniel
My wife Meghan and I moved into our first home about 2 months back. A nice little 1940's cottage on a sleepy street. While stowing away extra boxes after a long weekend of moving, I noticed the insulation seemed a bit thin. It was there, just not much of it. I made a mental note to do something before winter hits. Meghan likes a warm house and I like saving money.   
Each Wednesday, I post some of my favorite can't-miss links, images, and otherwise mindblowing goodies from across the web.  
Photographer Nordin Seruyan captures these macro photographs of insects and other small-scale creatures
Designer Tim Delger created this humorous graphic and poster called
Nothing like enjoying a delicious meal just before it all goes crazy. On purpose.
As the weather chills down, it's always a good idea to pull your cool weather clothing and gear from their summer storage places, and prep them for the season. 
The fairly broad phrase "how to be creative" seems a bit overly generic and link-bait-esque, but it's actually the latest in the always excellent 
It's urban and cozy - two terms that rarely are used in the same sentence.
As a kid, nothing felt more like a fall weekend than a grilled cheese sandwich for lunch. The combo of having just come in from outside with a cold, sniffly nose and the crispy/gooey/chewy sandwich with requisite tomato soup