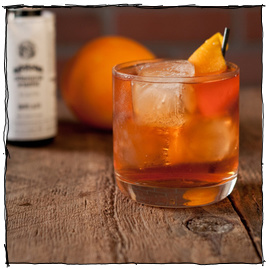 Memorize These Cocktail Recipes!
I wouldn't discount anything that has lunch hidden inside, but I'm particularly fond of this sharp, functional, and 100% handmade lunch tote project.   
We never tire of a clever IKEA hack, and this is one of our faves. What used to keep track of your dirty socks can now hold your coffee and magazines.
Okay...maybe not change your life, but certainly motivate you to mix up some glazes and take on the fry at home. With creamy fillings to crunchy textures, this roundup will blow the ones from the grocery store out of the batter.
I just stumbled across this cool new site called HowClothesShouldFit.com, a guy's guide to using clothing fit to look your best. What's interesting here, at least to me, is not
Ce·vi·che: A Latin American dish of marinated raw fish or seafood, typically garnished and served as an appetizer, or, in my mind: the best summer dish one can make at home! 
Ceviche has this rep of being a complicated dish, and it's "raw" preparation can be intimidating. Except: It's not complicated, and it's not raw, just unheated. So, follow this guide to master the basics, and you can adapt and rock it like a pro. Let's get (not) cookin'!
I'm completely entranced by these digital illustrations by Tebe Interesno. I think what draws me is the contrast 
Mozilla's new space in Japan is what our interior design dreams are made of: bright open spaces, pops of colour, and a minimal aesthetic that allows for ideas to grow.
Two weeks ago, it was a wedding in 95° heat with 95% humidity. Last weekend, a special night out at local restaurant we've been wanting to try. Next week, an out-of-town business-y trip to the desert. All of which have sweatingly, swelteringly reminded me: I have no idea how to dress up when it's hot outside.   
Even in the days of impact drivers, cordless, battery-powered nailers , and more kinds of screw heads that one can name, sometimes a hammer is still the best tool for the job. And while the process seems simple, anyone who's ever used will tell you: there's a lot to go wrong.   
Whoa... Part coffee table, part extension cord, part desk lamp, part stool, part piece of functional art. Indeed, good things come in small packages.