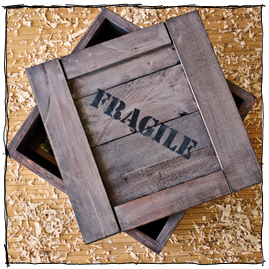 How to Make a Custom Holiday Gift Crate
Know why foods like chili, Buffalo wings, tacos, or Southeastern Asian street foods always seem to taste better with beer, even though it does nothing to tame the heat and actually seems to make it worse?   
Meet Joe. As in a "cup of..." I always thought this colloquial term was a corruption of "java" or the name's generality, the everyman. But it turns out, there was a very specific Joe from whom the nickname was derived:  
This summer, move beyond cans and a cooler of ice, and create a sturdy, portable bar cart for your outdoor cocktail parties and grill-filled get-togethers. This option is made from cedar dimensional lumber, so it can not only stand up to the elements, but it's a great project for those without a table saw and a bunch of fancy woodworking tools.    
Fiber artist LeBrie Rich created this fantastic vintage-inspired "TV dinner," complete with a rabbit-eared television, a nostalgic Hamm's beer, and a wooly turkey dinner.    
Renters rejoice! A tearable wallpaper that' clean, stylish, and easy to use. Looky here:
Thrift stores in my neighborhood are full of these extra thick, extra decorative Western-style "cowboy" belts that look more late 1980s line dancing than late 1880s cattle rustler. It'd take a partner much braver than me to wear one in the real world, but
A bold geodesic dome tent that looks like a modern igloo? Yes, please.
Artist and designer Maya Weinstein engages both the industrial food complex and the artisanal handmade food movement with her "DIY High Fructose Corn Syrup" kit.   
I guess it's because it's basically summer. The weather is hot, I'm officially in the groove of bike season, so I decided it was time to say goodbye to the beard.   
This month's issue of The Atlantic features an article exploring how most contemporary men don't have much a relationship (either good or bad) to the "amoral virtue" of masculine charm.