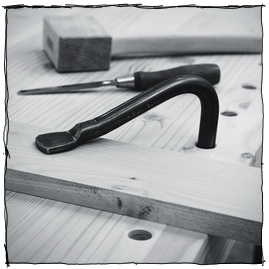 How to Drill Bench Dog Holes
Tristan Stoch, a filmmaker from Portland, OR, created this look at Geoff Franklin, a PDX-based craftsman who makes leather and wood goods and accessories at Walnut Studiolo. 
 It's two minutes very well-spent. Watch it below:
With summer in its twilight, and stores making space for the new fall styles, this season is actually a great time to snag a new pair of sunglasses. There are all kinds of 25-40% off sales happening now, and you'll still have months to wear them. (I'm sure I wear mine as much in winter as summer. The light bouncing off snow is bright, and the skin-damaging UV rays of the winter sun are just as strong."   
Each Wednesday, I post some of my favorite can't-miss links, images, and otherwise mindblowing goodies from across the web.
A look at how much caffeine is actually in a storebought cup. Apparently, "the milligrams of caffeine per ounce vary from chain to chain as
There's no doubt about the cheer. Beside your fire you live in a private, glowing little world. All around you, fire shapes dance across rocks and bushes and tree trunks...Most of the time, you just sit and gaze at the caverns that form and crumble and then form again and gaze into the caverns that form and crumble and then form again between the incandescent logs. You build fantastic worlds among those pulsating walls and arches and colonnades. You sit, in other words, and dream. The East African has an almost limitless capacity for this masterly and delightful form of inactivity, and when his friends see him squatting there, lost, they understand and say in Swahili, poetically, Anahota moto - "He is dreaming the fire."    
 - Colin Fletcher, "The Complete Walker IV" (Knopf, NY:  p. 288)
Try not to drool all over the keyboard while your eyes feast on these amazingly flavourful burger recipes. Fire up the grill and join us in the kitchen!
Whoa, dude. Yep,  analog and digital just got married and created a baby that combines the best of both worlds. Err, um, I mean: Learn how to make your own phone dock from of a vintage camera!
A few weeks ago, I posed the question in our Ask ManMade column, "What the _____ are men supposed to wear to dress up in the summer?"   
The ManMade approach to style has always been to seek out the classics. And true, layered and subdued works in the winter, but summer's the time for embracing the season and trying new things. So, go out on a limb and check out these ideas for wearing colorful/patterned shorts so you can step up your style for the summer...while still feeling like yourself. 
I'm inspired by the look of these pendant lights; a great way to add some color and a bit of rustic texture to your home.
That little green crocodile...sitting on the heart of collared shirts everywhere. It's a preppy status symbol, sure, but there's a pretty interesting history to how that guy got there, and influenced the whole logo/animal on your polo shirt phenomenon,