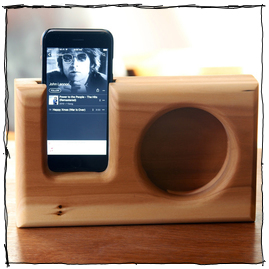 How to: DIY Wooden Smartphone Speaker
Summer is the season of fresh, lively cocktails: Collinses and flips and spritzes and 'garitas. But as the weather chills down, it's time to switch into a more subtle mode. Fall cocktails are all about deep, earthy, and woodsy flavors, those that match the smell outside and the sorts of rustic, homey dishes that taste so perfect on a cool evening. 
Yes. That's a dude eating ramen out of a bearded bowl. And yes, there's more where this came from.   
Fairgoods.com offers this typographic take on the painted pumpkin technique. The trick? 
When you ride your bike in the summer, deciding what to wear is a no-brainer: as little as you can, to keep as cool as possible. But fall and winter cycling are a different beast all together. Of course, the temperatures are cooler, which requires flexible layers, but there's also increased wind and precipitation to worry about. 
Yes! A green, no-vandalism version of graffiti! Aside from being awesome graphic art, this be your next DIY challenge.    
A fun, easy project to create while you eat a bunch of candy and watch scary movies this Halloween: fold a papercraft skeleton hand!   
Attention bookworms:  your reading habits are about to pay off as some low-cost, bold DIY home decor. 
This weekend, whip up a little rustic storage project with a few simple materials and just an hour or two of work.    
In most kitchens, including mine, wooden spoons are treated as more of an ingredient than an investment piece of cookware. Sure, we hop to get a year or two of meals out of them, but they get burned, or stained with wine or beets or turmeric and the wood gets all fuzzy and we toss them after some use and then
They seem to go hand-in-hand. Whether on the couch with your latest Netflix mailing and a bowl, or a buttered bucket at the multiplex, popcorn and movies are...well, as classic of a combo as peanut butter and jelly.