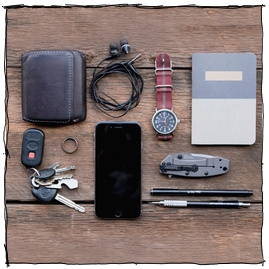 What's In Your Pockets Right Now?
As a final project for his master's degree in architecture, Hank Butitta bought an old school bus on Craigslist for $3000. Spending about twice that, he converted it into a functioning live/work space complete with a kitchen, bathroom, bedroom, and seating/office. 
Each Wednesday, I post some of my favorite can't-miss links, images, and otherwise mindblowing goodies from across the web.

So, "baguetting." Wherein one takes a photograph, substituting baguettes....oh, you get it. 
Eric Singer of Schwood snagged a worn out, leaking fiberglass canoe for $50, and managed to salvage it to become a fully functional (and leak free) vessel with just a few basic supplies from the hardware store. 
After an initial smoothing of the problematic areas, 
A perfect example to the ancient proverb "go big or go home" - or in this case "go big and illegally build an mountain on top of a skyscraper."
An easy way to add some extra shelving space to your studio or bedroom!
With beer being sold in cans since the mid 1930s, and with countless thousands of breweries producing since, you better believe there have been some pretty amazing designs over the years. 
These sleek, geometric audio speakers strike a great balance: the concrete comes off as both modern and rustic, and the wood adds a needed warmth to the mathematical shape. They look amazing: and they were completely made by hand.   
TheSuitsofJamesBond.com is an entire new website dedicated to exploring the clothing and style points of the 50+ year film franchise. Its got suits, yet, and James Bond, sure, but note that the site attempts to discuss all the men's style elements of the films, from a variety of characters including villains, henchman, and various MI6 staff, as well as other pieces from Bond's wardrobe: shirts, swimming trunks, and the like. 
Want to upgrade your cabinets? We got a super easy idea for you that requires only a couple materials.
If you're planning to do any traveling soon, be sure to add another essential item to your packing list: a watch. Cause - heads up, Boy Scouts - you can use an analog watch to find your way around, whether in the middle of a new city or in the depths of the backcountry.