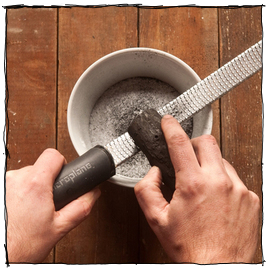 Super Simple DIY Charcoal Salt
An easy way to add some extra shelving space to your studio or bedroom!
With beer being sold in cans since the mid 1930s, and with countless thousands of breweries producing since, you better believe there have been some pretty amazing designs over the years. 
These sleek, geometric audio speakers strike a great balance: the concrete comes off as both modern and rustic, and the wood adds a needed warmth to the mathematical shape. They look amazing: and they were completely made by hand.   
TheSuitsofJamesBond.com is an entire new website dedicated to exploring the clothing and style points of the 50+ year film franchise. Its got suits, yet, and James Bond, sure, but note that the site attempts to discuss all the men's style elements of the films, from a variety of characters including villains, henchman, and various MI6 staff, as well as other pieces from Bond's wardrobe: shirts, swimming trunks, and the like. 
Want to upgrade your cabinets? We got a super easy idea for you that requires only a couple materials.
If you're planning to do any traveling soon, be sure to add another essential item to your packing list: a watch. Cause - heads up, Boy Scouts - you can use an analog watch to find your way around, whether in the middle of a new city or in the depths of the backcountry.    
Fun fact of the day: the Leatherman multitool company is actually named for its founder, Tim Leatherman. I'd always imagined it being a vision of some hardcore Platonic ideal of a rugged tinkerer with everything at the ready.
 Kat Bauman and Outlier Solutions took this totally engaging look at the Leatherman factory in Portland, Oregon, and the production and design process of its eponymous tools.
Check out the video below for some history and a look at how these tools are conceived and manufactured:   
Okay - fess up: What do you think about this 6-Pack Bike Frame Clasp? Would you rather walk when carrying your babies..er..beer? Should drinking and cycling ever mix? Or, is it (as we suspect), kinda the coolest thing we've seen this month?   
The best kinds of creative inspiration are always born out a specific need. "Leftmusing" found herself looking for a very special solution for her apartment: "a table in my oddly shaped kitchen that could act as additional counter space, a place to eat, store kitchen stools and general spot to put stuff on, all while being 16"x52". 
Ladies and gentlemen, The Shelby GT 350 Pool Table. It's like a race car bed...for grown ups.