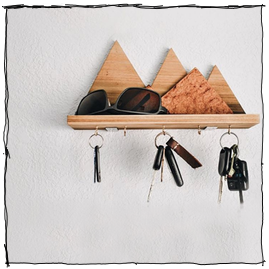 Make It: Mountain Key Rack
Looks like something from a movie (and is, a couple of 'em)...but this guy's really going for it.
"A clear head will find itself," begins the "What to Do When Lost in the Woods" flyer published by the U.S. Forest Service, published in 1946. It continues, "finding oneself is a test of a man..." and as you read, you realize that, yes, these are pretty good tips for finding oneself actually lost in the woods, but are equally applicable
The ketchup bottle, that eight or so inches of clear glass and familiar logo that sits on every formica diner table across the U.S., serves as a prime example of invisible design: most of us don't even notice it, but when it becomes time to use it, its put into play and works exactly as intended. 
Stop using your pillow or that pile of library books  and upgrade to something modern and handmade like this totally DIYable iPad easel!
To step up a room in your home and apartment, sometimes all you need is a single accent piece or focal point to set it off...no major makeovers required. 

Even though this gadget won't give you a slap in the hand whenever you're spending unwisely, it will certainly alert you if someone steals your wallet. Clever!
New Zealand-based artist Mike Hewson has taken the task of transforming these buildings into something more than a bunch of historical ruins.
This is a cool, rustic way to store your magazine racks without taking too much space, and it doubles as a side table too. Score!
Earlier this week, some 20,000 people gathered in the small town of Bunol near Valencia, Spain, to engage in "La Tomatina." The festival