Abide Like the Dude and Make Your Own White Russian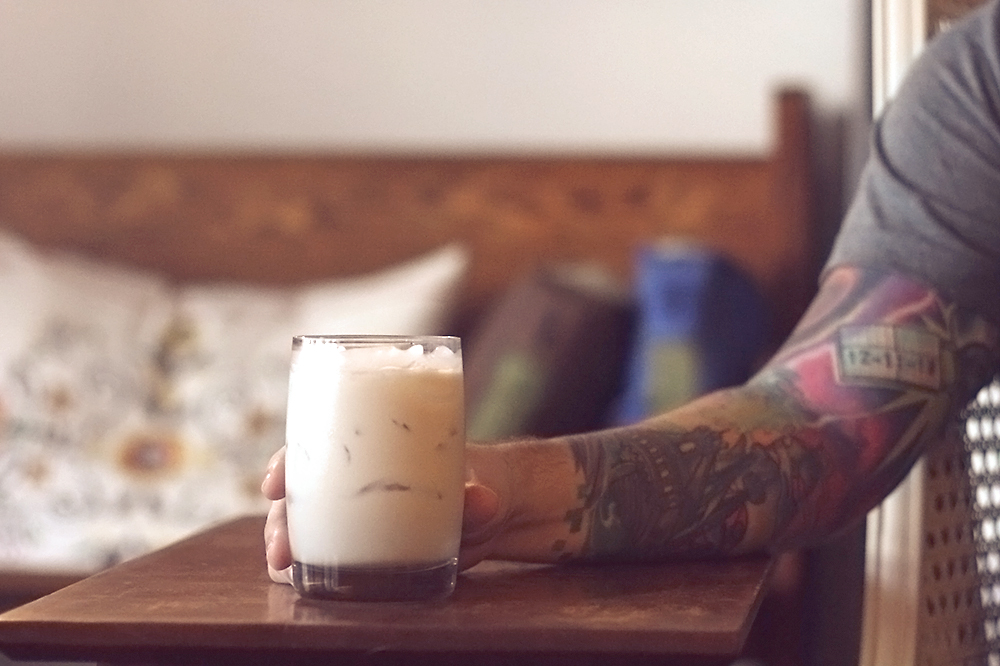 The White Russian cocktail. This drink has been around almost as long as Jeff Bridges has, but you, and I, and everyone born after 1965 identify it with cult classic comedy, The Big Lebowski. It's the go-to drink for Bridges' character, The Dude, and for good reason: three ingredients, easy to make, cheap, and tastes totally awesome, man. So, whether you're chilling out in your bathrobe or having an after-dinner drink with friends, let's relax and make our own White Russian…
A brief primer on the White Russian:
This was originally a drink from the mid-1900's and started out as a mix of coffee liqueur and vodka – a Black Russian. Because of the java flavor, someone initially added cream, and it became a White Russian. Also, it's not Russian. At all. The name comes from the use of vodka (typically associated as a Russian spirit).
If you're not a heavy drinker or don't handle alcohol well or just don't care for cocktails that taste of alcohol, this drink is for you. I'd argue the White Russian is for anyone – even if you don't fit those categories. My favorite time for this drink is as an after dinner cocktail. It's an adult dessert-like drink that's classic and simple.
Ingredients
Old Fashioned or "rocks" glass
Ice
Coffee Liqueur
Vodka
Cream or Milk or Half & Half
Grab your glass and liberally fill with ice.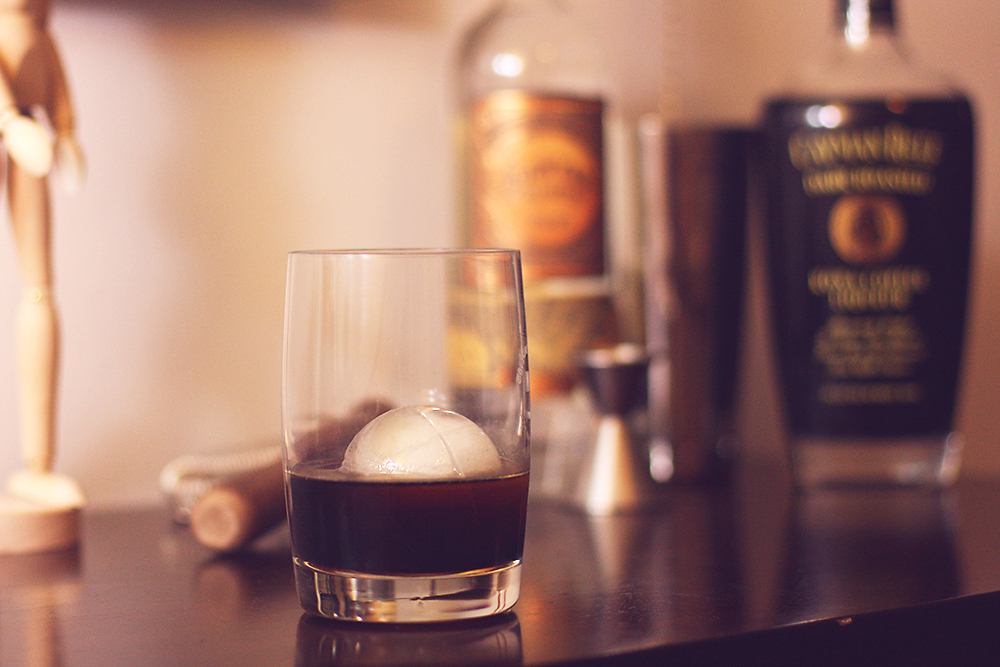 Pour about 2/3 ounce of coffee liqueur into the glass.
Let's talk about that real quick. When most people think of coffee liqueur, they're thinking of Kalhua. It's a fine choice – easy to find and cheap – you may already have some at home. There are, however, different options out there and I've done some of the work for you. I tried three other coffee liqueurs – all $25 or less (the same cost or cheaper than Kalhua!). I did a quick review of each which you'll see below.
Pour 1 1/2 ounces of vodka (a jigger's worth) in with the liqueur. Like with most of the drinks I make at home, I eyeball my pours. Here, I'm using a local, small-batch vodka, Banyan Reserve.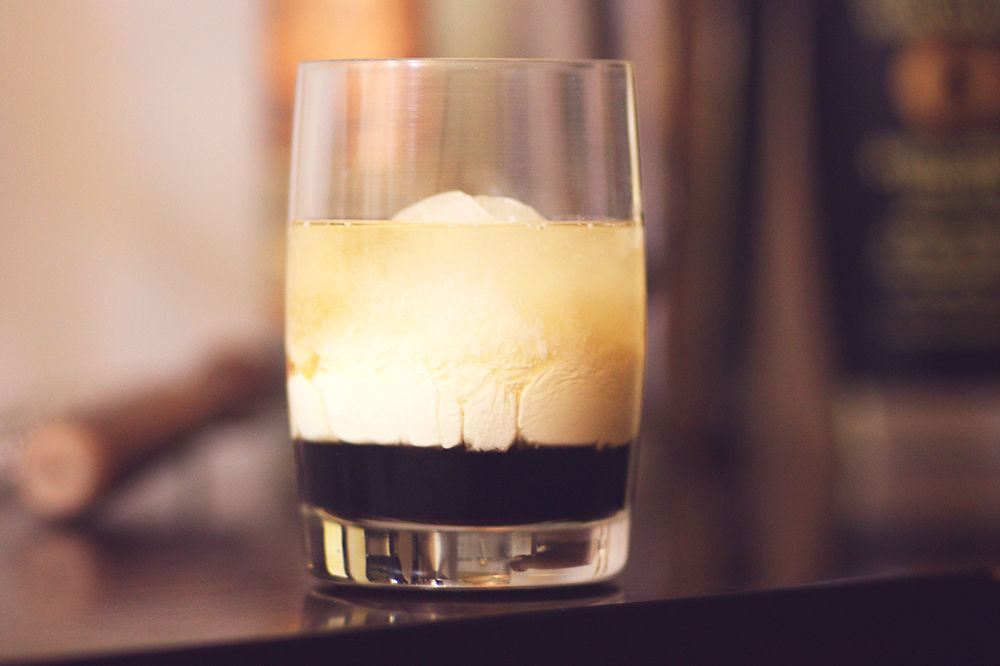 Pour 2/3 ounce of cream on top. The ratio is about the same as the coffee liqueur. Here you can use milk or half & half. I enjoy any of these options – cream is probably the best, but I always have milk and half & half in the fridge and they work just as well.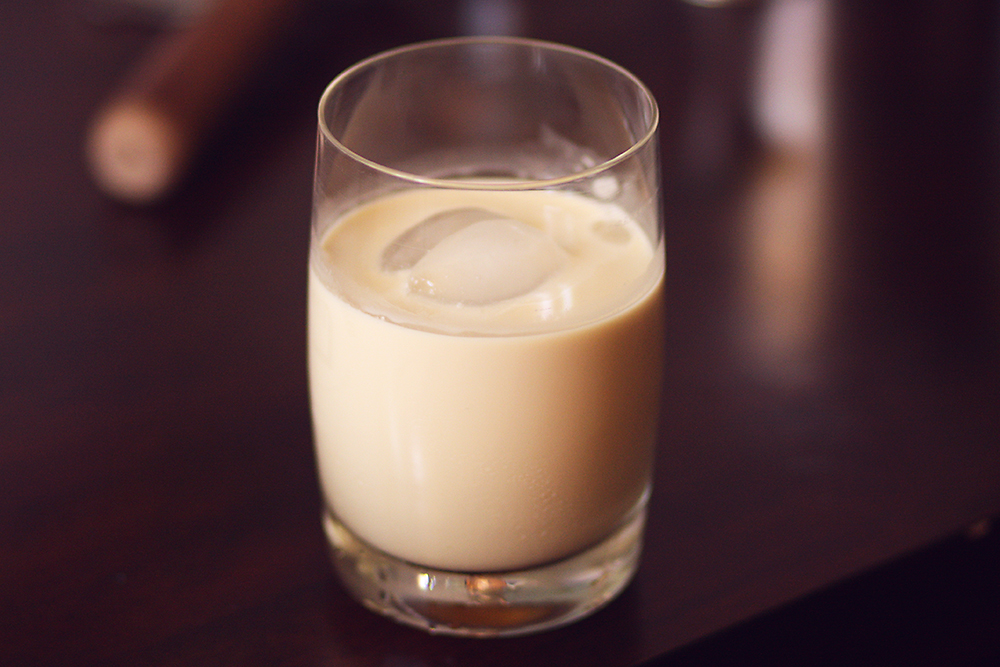 Gently stir. Enjoy.
That's it. A glass, ice, and three liquids. It's one of my favorite drinks and I think it'll be one of yours. But you know that's just, like, my opinion, man.
White Russian Cocktail
Ingredients:
– 2/3 oz Coffee Liqueur
– 1 1/2 oz Vodka
– 2/3 oz Cream
Make It:
Fill glass with ice. Pour in coffee liqueur. Pour in vodka. Float cream on top. Stir gently.
Coffee Liqueur Options:
Tia Maria Dark Liqueur $24
Probably the closest to original Kahlua. Light, sweet, notes of vanilla and rum. Not bad tasting, but nothing to write home about (oddly, the most expensive of the options).
Cayman Reef Dark Roasted Kona Coffee Liqueur $16
Out of the three alternatives, this is the heaviest hitter. Cayman Reef has the coffee taste I expect from this family of liqueurs. It's more thick and syrupy than the others, but I could easily pair this with an espresso or even pour it over coffee ice cream. My favorite of the bunch and the least expensive!
Kahlua Salted Caramel $21
This one is definitely as advertised. It's heavy on the flavor. I didn't really taste anything beyond salted caramel because it was so overwhelming. Obviously a non-traditional choice for a White Russian, but if you like salted caramel, pick it up and give it a try!