The Ultimate Cycling Library: The 8 Essential Bicycle Books Every Man Should Read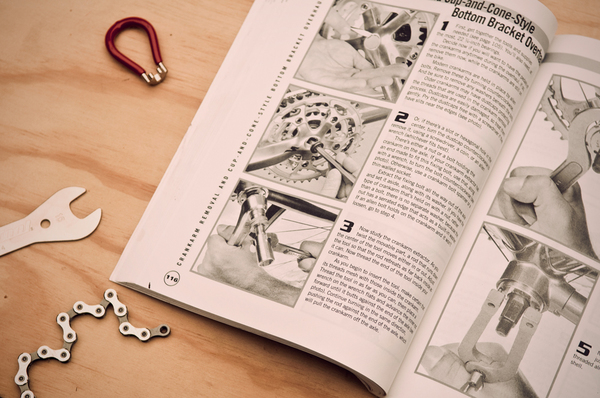 If you search for a list of best books about bicycles, you'll find several… and among them, you'll notice a definite trend. They're all about "cycling" – the competitive racing of road bikes – rather than "bicycles" – the thing with two wheels and a chain and handlebars.
Not that we have anything against competitive cycling (we love it), but only true dedicated fans of the sport need a list of biographies and recaps of historic Tour de Frances, and the like.
So instead, we set out to create our own cycling library that encompasses all aspects of the simple, brilliant machinery that is the bicycle, and all the fun that comes with it.
This is part of a series of posts about cycling, bike maintenance, and everything else related to bi-pedalism. Enjoy!
So, we've got maintenance and mechanics books, history books, a novel, some meditations on the joy of pedaling, and even a biography of a racer (but a really, really good one). But mostly, it's a whole lot of really practical information that will help you get out there and ride more, ride faster, and ride safer.
1. Zinn and the Art of Road Bike/Mountain Bike Maintenance: If you're gonna own one bike mechanic and maintenance book, this is the one. It strikes the perfect balance between firstly providing only the info you need for a practical, quick fix while still sharing a thorough discussion and the necessary goodness for complete disassembly and overhaul.
There's a version for both road bikes and mountain bikes, with the first focusing on streamlining setup, fit, and sensitive drivetrains and the latter for maintaining high performance for a high impact ride. You can pick the version that best represents the component set and frame of your bike, though fixes for both styles of bikes is a good 90% the same.
ManMade Recommended: Zinn & the Art of Road Bike Maintenance or Zinn & the Art of Mountain Bike Maintenance by Lennard Zinn
Honorable mention: The Bicycling Guide to Complete Bicycle Maintenance & Repair: For Road & Mountain Bikes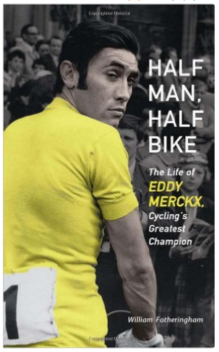 2. Half Man, Half Bike: The Life of Eddy Merckx, Cycling's Greatest Champion: A newer publication, but if you're going to read one book about professional road race cycling, this gets our vote. It's easy to romanticize the days of steel frames, downtube shifters, and no helmets, but, truly, Mercx is truly the undeniable greatest two legs to straddle a saddle. Since it's not an autobiography, author William Fotheringham uses history and research to tell his story, not just the personal poetry of living on two wheels. Not that there's anything wrong with that. (see below)
ManMade Recommended: Half Man, Half Bike: The Life of Eddy Merckx, Cycling's Greatest Champion by William Fotheringham
3. The Chainbreaker Bike Book: Part DIY repair manual, part manifesto, this book is a hand-illustrated outpouring of the Chainbreaker zine from New Orleans. If you believe bikes to be more the transportation revolution rather than the sole purview of the carbon and spandex crowd, this is the place to get your info.
ManMade Recommended: Chainbreaker Bike Book: A Rough Guide to Bicycle Maintenience by Shelly Lynn Jackson & Ethan Clark
4. It's All About the Bike: The Pursuit of Happiness on Two Wheels: If you want an overview of the history of two-wheeled transportation combined with an enthusiastic endorsement of those who've been bit by bug of freedom of riding, you could do much worse. Robert Penn, as he says, has sat on a bike saddle nearly every day of his adult life. Formed around a narrative of travelings all over Europe and North America to build the perfect bike, Penn explores what keeps us spinning, and why we liked it so much in the first place.
ManMade Recommended: It's All About the Bike: The Pursuit of Happiness on Two Wheels by Robert Penn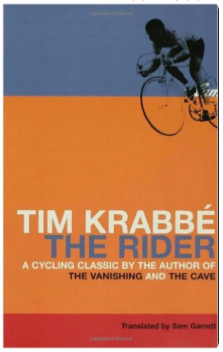 5. The Rider: The only piece of fiction on this list, and some say, the only piece of cycling fiction any of us need. Written by a Dutch journalist in 1978, The Rider was only translated into English in the early Aughts, and became a beloved cult classic twice. "Brilliantly conceived and written at a break-neck pace, it is a loving, imaginative, and, above all, passionate tribute to the art of bicycle road racing. Not a dry history of the sport, The Rider is beloved as a bicycle odyssey, a literary masterpiece that describes in painstaking detail one 150-kilometer race in a mere 150 pages. The Rider is the ultimate book for bike lovers as well as the arm-chair sports enthusiast." Right? Right.
ManMade Recommended: The Rider by Tim Krabbé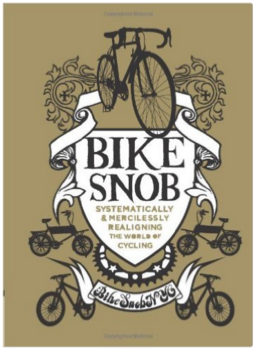 6. Bike Snob: Systematically & Mercilessly Realigning the World of Cycling: A thorough love letter/take down of the all the classes of people who ride bikes, best described in its own blurb: "Bike Snob treats readers to a laugh-out-loud rant and rave about the world of bikes and their riders, and offers a unique look at the ins and outs of cycling, from its history and hallmarks to its wide range of bizarre practitioners. Throughout, the author lampoons the missteps, pretensions, and absurdities of bike culture while maintaining a contagious enthusiasm for cycling itself. Bike Snob is an essential volume for anyone who knows, is, or wants to become a cyclist."
ManMade Recommended: Bike Snob: Systematically & Mercilessly Realigning the World of Cycling by BikeSnobNYC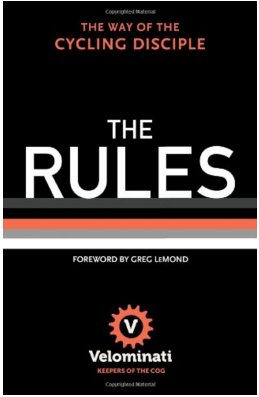 7. The Rules – The Way of Cycling Discipline For everyone who knows there are long traditions in the world of cycling, but has absolutely not idea what they actually are. You'll actually learn what fondo, endo, bonk, and V02 max actually mean. These guys know its silly, and tease themselves in the process. You don't call yourself the Velominati unless you're totally in one the joke.
ManMade Recommended: The Rules – The Way of the Cycling Discipline by W.W. Norton & Co
8. Just Ride: A Radically Practical Guide to Riding Your Bike Grant Petersen's attempt to strip the intimidation factor away from cycling for fitness, transportation, or just plain fun. No, you don't have to wear spandex; no, you don't have to eat gels from little tubes; and no, you don't have to stay on the sidewalk. In fact, you shouldn't.
Bikes are for everyone. And this is how to stay safe, and keep your butt and legs from rebelling.
ManMade Recommended: Just Ride: A Radically Practical Guide to Riding Your Bike by Grant Petersen