How to Keep Your House Clean – and Your Guests Happy – on Game Day
This post was published in partnership with Tide. Thanks for supporting the brands that support ManMade.
Here's the thing: if you're following along on ManMade you know we're not afraid to make some messes. Sawdust, bike grease, paint splatters, garden dirt, food spills … they're all part of the handmade lifestyle. It just comes along with the territory.
But, that doesn't give you an excuse to be a slob or have your home covered in stains and spills. If you're avoiding having some friends over this weekend to watch the game, don't be. It's time to get your stain-fighting game plan in place. We teamed up with Tide Pods to bring you ten tips to prep your house for a seriously good time. Tide Pods are convenient and easy to use, and they're super concentrated to give a better clean than most bargain brand detergents – which tend to be mostly made up of water. Lame.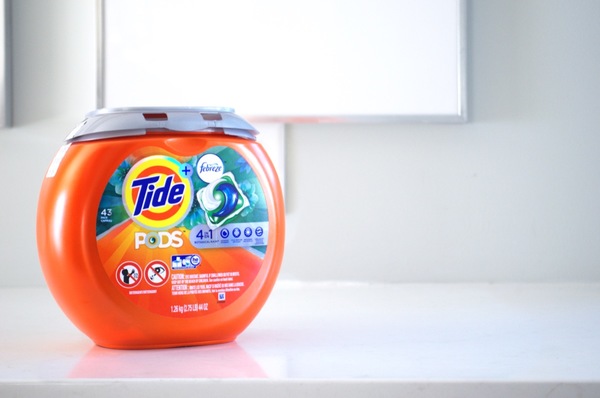 So, invite everyone you want, and serve all the messy, greasy classics: wings, nachos, dips, and everything covered in barbecue sauce. Just do a little prep work ahead of time to protect you and your home, and everyone wins! Well, except the other team.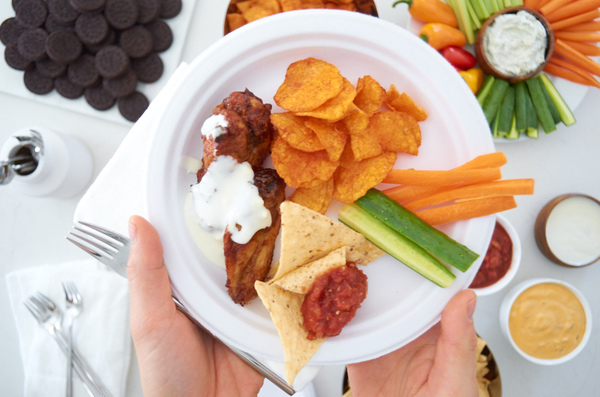 1. Use sturdy paper plates, but skip the plastic forks. Nothing scares you away from hosting an event like thinking about all those dishes you're gonna have to wash once your friends depart. So don't. There's nothing wrong with using paper plates for special occasions like this. Just make sure they're strong and sturdy, so they can prevent the weight of the food from making them flop over, and won't absorb liquids and let them seep through. We like these natural, compostable options.
But – do use actual metal forks. Plastic ones break easily and can't stab the food properly, so they send stuff flying to the floor. Plus forks are easy to wash; just put out the little silverware caddy from your dishwasher, or ask your friends to rinse their own and let them soak in some soapy water.
2. Create extra table-top surfaces. Nothing leads to messes like not having a safe spot to place food and drinks. Unless you own the world's biggest coffee table, you're gonna need some extra flat surfaces. Here are a few ideas:
Bring in all your chest coolers. Bonus! It doubles as drink storage.
Use two inverted five gallon buckets with a 2×4′ plywood handy panel as a table top
Bring in all your folding and card tables from the garage. No one has to sit at them like a wedding reception, but they can hang out in the background to hold the goods.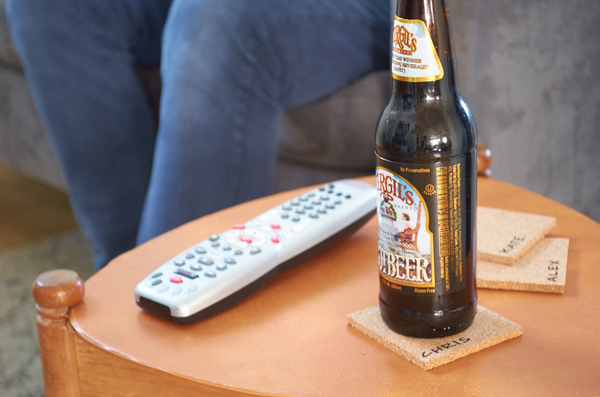 3. Put. Coasters. EVERYWHERE. You can't expect people to care about your wooden surfaces as much as you do. They're here for FOOTBALL, after all!
But, protecting your furniture is as easy as putting out plenty of coasters for people to use. If you don't have a bajillion coasters lying around, MAKE SOME! It's easy: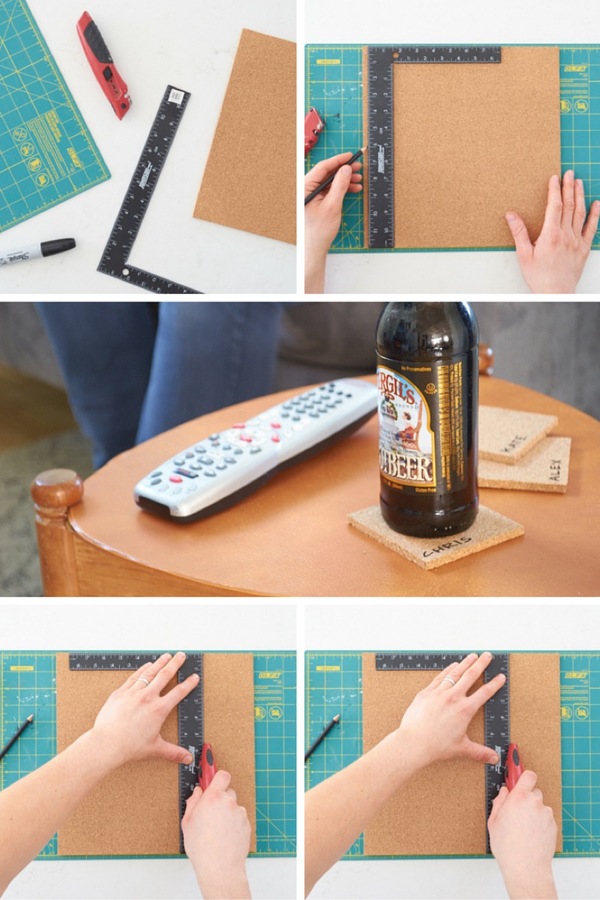 Simple cork coasters are easy to make. Just grab some squares of 12″x12″ cork (we got ours at Target), and slice them up into 3″x3″ squares. Then write your friends names on them in big bold marker (or leave them blank and let people decorate their own). No more orphaned drinks, no more ruined furniture.
4. Put away extra throw pillows, blankets, and extra fabric items. They won't do any good during the game, and it's just not worth the risk to leave them vulnerable. Place them in another room, just for Sunday.
5. Put the garbage and recycling receptacles nearby. Less room to travel means less chance for spills. Use five gallon buckets, bring in your recycling bin from outside, or just put a heavy duty trash bag inside a large cardboard box.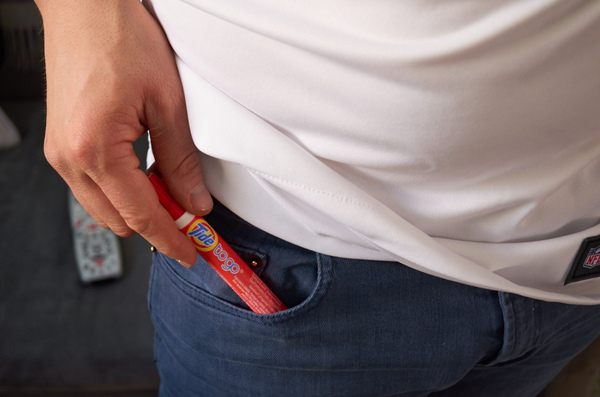 6. Have a fresh stain-remover pen on hand. We like the Tide To Go Instant Stain Remover for treating stains as soon as they happen … and they will, inevitably, happen. That way, you'll keep stains from setting in, and won't risk missing an important play while you're doing it.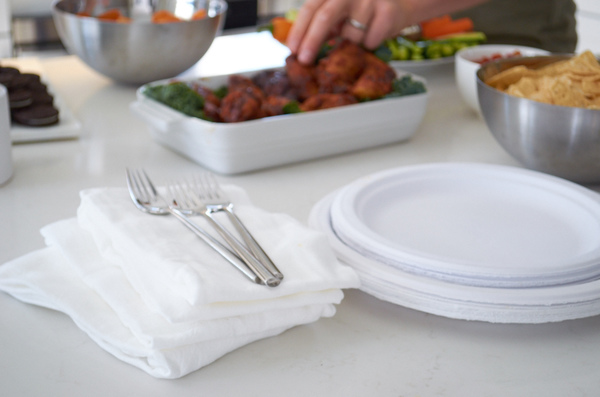 7. Buy bulk flour sack cloth napkins: They're bigger than paper napkins, absorb better, and guests can even use them like mini-placemats (or bibs). Plus, in the case of a real emergency (like a big spill), you'll have plenty of absorbent material to get the liquid up fast. Best of all; they're super cheap, so you don't have to sweat it if a few of them get ruined.
8. Don't serve:
Red wine. Beer spills come out easier. Plus, it's a football party.
Dark berries like blueberries and blackberries. If you want fruit, pineapple, watermelon, grapes won't stain. Plus, it's a football party.
Beets. They're super messy. Plus, it's a football party.
Chocolate. Have some more popcorn instead. Plus … you get the idea.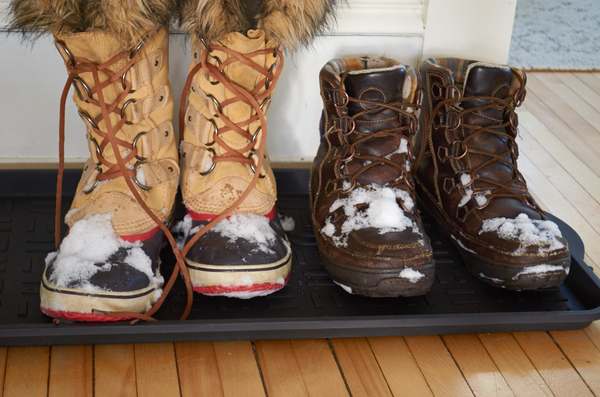 9. Stop dirty boots at the door. Have you noticed that the Super Bowl is always in winter? Even if you don't have loads of snow (like we do), chances are your game day guests are going to have messy footwear when they show up. Grab an extra jute welcome mat, or pick up some boot trays like I did (above).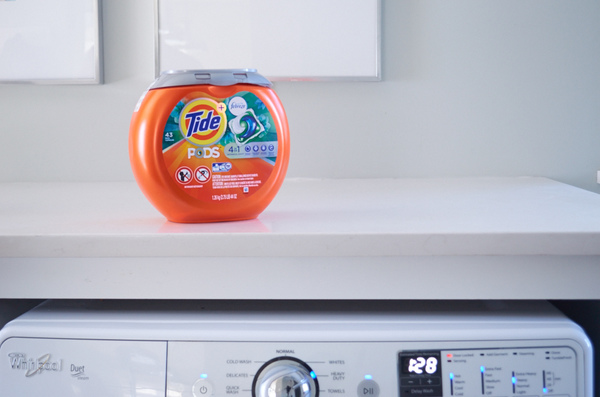 10. The rest of the house will look ready for game day, you should be, too. Run around your bedroom and grab all the piles of dirty clothes and run a load while the pulled pork starts getting tender. A fresh load of laundry makes your room look clean and people can throw coats on your bed (and so you don't look like a schlub). Tide Pods Plus Febreze (above) include a detergent, stain remover, brightener, and odor fighting Febreze, so your stuff will be clean and odor-free. All you need is one pac for regular loads and two pacs for extra large or heavily soiled loads. Simply place the pac into the main laundry drum before your clothes and your job is done.
Being a good host means welcoming people into your space and actually being with them while they're there, not rushing around dealing with food and cleaning. A little prep work ahead of time puts you where you need to be: right in front of the game. Go team!