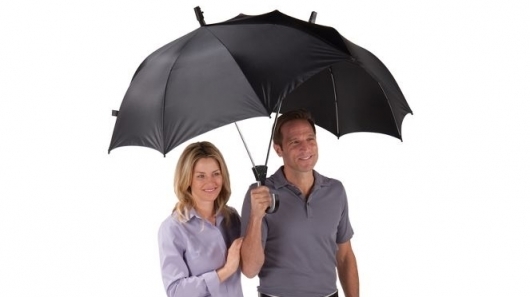 For the type of folks who buy matching camping gear or tandem bikes, introducing the Dualbrella. There's no longer a need to figure out who has to hold the umbrella, or where each of you should stand to get maximum coverage…
Unless, of course, there's three of you.
"Dualbrella is traditional umbrella which serves enough to cover two and can be held with one hand. The best thing about Dualbrella does not require to jockey for position under the canopy. This measure of six feet (1.83m) wide and three feet (0.91m) deep. Despite its size, only one hand is necessary to hold it, so its oversized canopy can also cover one person taking an armful of packages.
Operated manually, the rope-pull Dualbrella have to help with closure. Made of black nylon, it includes handy carrying pouch and a large canopy is ideal if you carry a burden of expenditure that you do not want to be destroyed by rain."