Google Maps Envelopes Let You Send Snail Mail in Gmaps
I just can't help it – unless it's one of the few snail-mail-only bills I still pay (God bless you, online bill pay option), I can't just push a plain white envelope through the mail. It just seems like such a wasted opportunity to not adorn that thank you note or whenSometimes, its just a little extra time spent on the lettering, others a quick doodle or a full on four-pane comic, or, if I'm feeling particularly glam-ish, I rock the inside-out security pattern option.
But these (Beta-only) Google Maps emails, printable directly from the Gmail interface, include an illustration all in their own.
"Designers Rahul Mahtani & Yofred Moik from the Industrial Design program at Syracuse University came up with this concept called Google Envelopes. Wouldn't it be great to be able to map the course of mail and how it can tell a story? They came up with Google Envelopes, which can be sent through G-Mail itself. It's only a concept, but totally viable and something people can immediately understand."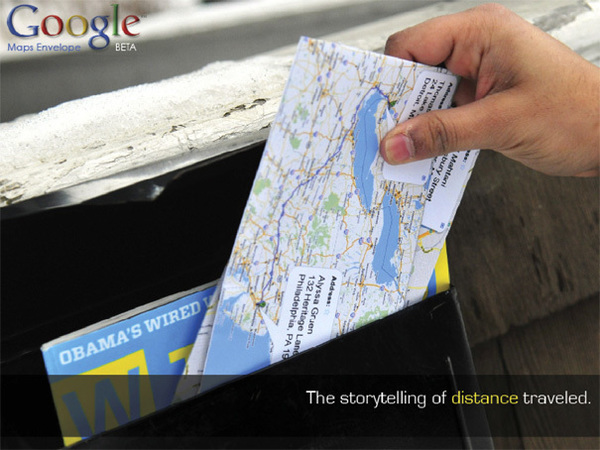 Of course, in their current state, this only works if the sender lives to the west of the addresee, but that can be worked out…presumably.
Read more at Craziest Gadgets and Yanko Design.