60 Best Beginner Woodworking Projects
Have you ever wanted to get your DIY on and start with your own woodworking projects? While it might seem too difficult or complicated, it actually is nowhere near as complicated as you may think.
As a matter of fact, there are so many beginner woodworking projects that we put together a list of 60 of the best. Start with any project that you want and work your way up to more complicated projects as you go. Before you know it, you will be on your way to creating all the wooden homemade crafts that you could want while sharpening your woodworking skills.
There are hundreds of woodworking ideas out there for do-it-yourself woodworkers out there. Planters, kitchen storage items, even workbenches are all easier to make than you realize. You can give your home a custom look that fits your needs and gives you the aesthetic that you have been looking for.
1.) DIY Modern Bookshelf
More and more people are looking for a modern aesthetic. So what better way than to take on a DIY modern bookshelf? It looks great, takes no time or major woodworking skill and can be used to display your favorite pictures, books, and more. With a little bit of stain, you can even match the aesthetic of the rest of the room for a seamless addition.
2.) Photo Holders
Anyone can have picture frames but how many people create their own picture holders? You can paint and style these blocks to fit the overall design motif all while holding your favorite memories. Best of all, you can switch up sizes to accommodate different areas in your home. One of the quickest and easiest of the do-it-yourself projects on the list.
3.) Simple Wall Shelf
If you want to stick to a true beginner project, one of the staples of introductory woodworking is a simple wall shelf. Whether you decide to make it entirely straight or cut the legs at an angle is up to you but the result will be a simple yet elegant shelf. Add a little stain and you can create the perfect complement to any room.
4.) Wall Hooks
The fun thing about wall hooks is that they can be as simple or creative as you want. You can also make them stand alone and mount them in the wall or have a wooden backplate that holds all of the hooks in one piece. Also, hooks or knobs will work, making for a versatile spot to hang coats, hats, bags, oven mitts, or anything else that you can think to hang. All in a simple and convenient project
5.) Pen or Pencil Holder
Most of us probably throw our spare pens and pencils into a random drawer and hope to find them when we need them. But what if you could have a dedicated space for them that fits in with the rest of your design motif? A custom pencil or pen holder can fit that need. Even better, you can get familiar with cutting holes, creating a simple do-it-yourself work that is not 100% beginner. It is a perfect starter piece for those new to woodworking.
6.) Night Stand/End Table
Don't want to start with something small? An end table or nightstand could be the perfect place to get your creative hands dirty. Nightstands don't have to be ornate and difficult pieces. With a little bit of beginner's work, you can create a custom nightstand or end table that fits perfectly with your furniture and helps to bring the look of the room together.
7.) Sofa Sleeve
More than a few of us have had the same dilemma: sitting on the couch and nowhere to put our drinks. It can be frustrating to either hold it the entire time or to have to get up and place it on a nearby table. But with a sofa sleeve, complete with a cupholder, you can create a stylish DIY holder that fits snugly over the arm of your couch. Now you can enjoy time on the couch in greater comfort and convenience.
8.) Wine Rack
Wine lovers often tend to love the more rustic look that wooden creations bring. So, it should come as no surprise that wine racks are a favorite for beginner DIY woodworkers. These racks don't have to be anything major, just enough to hold a few bottles at a time. They can fit perfectly onto countertop spaces, allowing for easy access while adding to the rustic aesthetic.
9.) Wooden Doormat
You can grab a doormat at any big box store for a few bucks. They all say the same things on them, too, making them a dime a dozen. But what about a custom-made doormat constructed of wood? You can create the high-end appeal that custom woodworking brings with it while delivering a customized message to visitors.
10.) Lap Desk
Working from home has become commonplace in today's world. There is no longer the need to be chained to a desk, sitting in an uncomfortable chair for hours on end. But working on the couch or in bed isn't quite as practical. But with a simply made lap desk, you can create an even, flat surface to work on while enjoying the comforts of your space.
11.) Simple Bench
You would be surprised at what you can get done with a miter saw and a little bit of plywood. This bench works to seat two while creating a rustic, custom-made look. You can find table legs of your choosing anywhere online or locally for cheap, too. A copper or even a brushed nickel would look great to complement the woodworking done on the main part of the table.
12.) Coat Rack
The great thing about this project is that it has options depending on your comfort level and design choices. You can either carve the hooks right into the body of the wood itself for one seamless piece or have arms extend out from the body. The former brings a touch of modern to an otherwise rustic look. When the weather turns chilly, you will have a stylish place to hang your coats.
13.) Bathtub Tray
Taking a bath can be a great way to relax after a long day. But what if you don't have any place to put your drink or hold your book while you get in and out of the tub? This tray can be super simple, just cutting a piece of wood of your choosing to stretch from one side of the tub to the other. Stain it to ensure that it looks right and will keep moisture out, lasting for a long time to come.
14.) Earring Holder
Woodworking means having a lot of options. You can create any shape and style that you want, though the best option for beginner woodworkers would be to create a flat base with a frame that attaches on top. A mesh backing will hold your earrings in place, creating a decorative space for your jewelry. Even better, you can see what you have and never have to worry about anything getting lost in a drawer.
15.) Key/Mail Holder
Though this is a simple project by nature, you can use it as a chance to get creative. Whether you go something simple like plywood or a more stylish wood, you can stain it to give it the high-end rustic look that is highly sought after. You can work on your wood engraving skills as well, using a decorative font to write "mail" or even the family name on the front.
16.) Candle Holder
Though this is an easy DIY project, it can really stand out in your home. Your woodworking skills will be put to the test by punching out evenly spaced holes across the top of the wood beam that you use. Just remember that you need to taper the hole so the candles don't fall through. You can also add a rustic touch on the end for your legs — horseshoes are particularly popular in a rustic home. The possibilities are endless.
17.) Monitor Stand
Organization is imperative in a workspace. While you can certainly allow your computer monitor to sit right on your desk, there is sometimes a need for a little bit of space and organization. Using either wooden legs or a thin metal (black looks particularly sharp here), you can create a small stand for your monitor to rest on. If you want to get really fancy, you can punch out a small hole in the back to run cables through.
18.) Wall Planter
This might be one of the simplest do-it-yourself woodworking projects on the list. That said, it doesn't have to look simple. You will need to learn how to cut to a specific depth in order to have enough space for your plants, but that is about all that needs to be done. You can stain the wood to give it a better quality finish or to match the aesthetic that you are looking for. It can be as simple or complicated as you like.
19.) Book/Tablet Holder
How many times have you been trying to cook, following along a recipe on your tablet or a cookbook, when the reading material gets in the way? You can create an easy DIY book or tablet holder to keep your recipes ready and out of the way. All it needs is a little lip to ensure that your book or tablet won't go anywhere. You could create a DIY book or tablet holder inside of an hour if you have a little bit of experience.
20.) Bird House/Feeder
Perhaps the OG when it comes to woodworking projects. It is such a classic that it would be taught in shop classes everywhere. If you are just starting out as a do-it-yourself woodworker, you can create a simple little box with a simple roof. But if you want to get a little more creative, you can paint it however you want or even adding a cool little entrance for the birds to come in or out.
21.) Cutting Board
Not every woodworking project has to be complex or take a lot of time. If you are brand-new to the world of DIY woodworking, why not go as simple as you can? A cutting board is a great way to keep it simple yet get something totally useful for your home. You can experiment with cutting radiuses and stain the board to give it a more high-end feel than you would have otherwise had.
22.) DIY Pet Bed
Though this sounds like it might be a more complicated endeavor, it is actually quite a simple process. With some pine boards and finishing nails, you can create a simple yet attractive bed for your favorite furry friend. For even the most beginner of woodworkers, it should take no more than a few hours at the most to create a stylish pet bed.
23.) Decorative Sign
We have all seen those mass-produced signs at our local big box store. They all have the same messages, some of which can feel really cliché. But what if you could make your own decorative sign as a woodworking project? The cool thing is that you can either cut right into a plank of wood or create a frame for a custom burlap print. The possibilities are endless.
24.) Simple Shoe Rack
Sometimes practicality makes for a better design than something complex. When it comes to something like a shoe rack, you want it to have practical use. A durable wood, like pine, would be great for holding up to daily use. You can create as many cubbies as you need to accommodate your home's shoe use and create a custom, stylish storage option.
25.) Wood Headboard
Really love the rustic look? Bring the outdoors inside with a wood headboard. You just need a big panel of wood (your choice) to host as the base. From there, you can make whatever design you want, even using chunks of pre-cut wood. You can use super-strength wood glue or really long nails to adhere them to the plank, bringing the outdoors right into your bedroom in a stylish look.
26.) Kitchen Organizers
There can never be too much organization in the kitchen. Whether it be for silverware, storing cookware, or something else entirely, all the options that you can are welcome. Keeping your cutlery drawer organized is key, so no better option than to create an organizer for your drawers. You can customize it to have as many spaces as you need to fit your cutlery storage needs.
27.) Tree Swing
Another on the list of super-easy options, the farmhouse life can come to your home with this simple tree swing. With a little bit of rope and a plank of your favorite wood, you can have a swing ready inside an hour. You might want to add a little bit of padding to it as well to make for a more comfortable swing experience.
28.) Lazy Susan
There are lazy Susans that are built into counter spaces, allowing for easier access to food at the back of the pantry. While this isn't as big or comprehensive as that, it serves the same purpose. Learn to cut radially, cutting small and big pieces that are screwed together and allowed to spin freely for easier access.
29.) Hanging Plant Stand
A hanging plant stand is a perfect way to showcase your favorite plant. All you need to do is pick a wood that fits your aesthetic, cut them into the shape of a frame, nail them together, and stain it all so that it holds up to the outdoors. Screw a hook into the underside of the top and you have a beautiful, custom basket stand.
30.) Simple Step Stool
A simple and portable step stool is a must-have in any home. You'll be surprised how many times you'll need the added height or a makeshift table to place items on as you complete DIY projects around your house. We particularly love this beginner woodworking project because of the simplicity in the materials, needing only one 8ft 2×4.
31.) Plant Hanger
Feel like you're just above a DIY beginner and want to show off a little bit? Cut smooth radiuses and hang the entire thing using a rope of your style and choosing to create a beautiful hanger. It is a little more advanced than some of the others on the list but not so complicated that you can't create something stylish and unique in just a few hours.
32.) Lawn Chair
Most of us enjoy spending time outside with friends and family when the weather permits. So why not fill your space with custom-made lawn chairs? All you need is a table saw, an impact driver, some screws and the wood of your choice. If you want to get even more creative, you can add an angle to the backing to make it recline.
33.) Beer Caddy
If you are looking for a do-it-yourself woodworking project that is easy but doesn't look quite that simple, this might be the one for you. Having a stylish beer caddy can really be quite simple. It involves a few angled cuts, but with a drill and a table saw, you can make the chic kind of beer caddy that enthusiasts would love to hold their favorite crafts or lagers.
34.) Pet Feeding Station
You would be hard-pressed to find someone who doesn't love pets these days. Moreover, there are many who have multiple pets. When it comes to feeding time, things can get messy. But with some hairpin legs, your favorite plank of wood, and a tapered bevel, you can create a simple yet effective feeding station.
35.) Vintage Step Stool
Part of having effective home storage means keeping things out of the way. While that is an afterthought most of the time, what are you to do when it comes time to grab those items up high? With a simple, effective vintage step stool, you can do just that. Rough the edges, rounding the corners, and apply your favorite stain to give it the kind of vintage look that is in right now.
36.) Triangle Shelves
Shelving can be vital to conserving space. Whatever you can keep off of end tables or countertops makes for an effective option. Some shelves can be a little more complicated, so why not go with triangle shelves instead? A couple of quick cuts and finishing screws can give you simple yet effective shelving options that can be put just about anywhere in the home.
37.) Drawer
Moved into a new home but don't care for some of the cabinetry? You can create your own DIY drawers fairly easily. A few simple cuts, some screws on the interior to hold everything together, and a couple of brackets and you will have a fully functional drawer in no time. A lot easier than it looks.
38.) Coffee Bar
Most woodworking projects require a saw of some sort. But did you know that you can get it done with a hammer, nails, some boards, and a pallet? That's right, you can create a completely chic, custom coffee bar in under an hour. It is the kind of modern aesthetic that is really in right now.
39.) Charging Station
If you are a DIYer of any type, you know how frustrating it can be to keep your tools stored. Whether they are corded or cordless, it seems like they are everywhere. But with some plywood and a few quick cuts, you can have a charging and organization station for all of your tools. Quick access means less clutter and less time spent finding the right tools.
40.) Bottle Vase Display
A bottle vase display is one of the easiest DIY woodworking projects there is. Use finishing nails to create a square box and then a bevel tool to punch out as many holes as you require in the top. Do the same at the bottom, but don't punch all the way through the wood. You then have a handy space to hold as many bottle vases as you want for a truly rustic look.
41.) Wooden Spoon
Perhaps you have been looking through this list and feel like there are way too many complicated options. So, instead of creating some complicated piece, why not go for one of the simplest options there is? Creating a straight handle is easy enough and then you can test out your round cut ability to create a simple yet effective woodworking piece.
42.) Candy Dispenser
Another woodworking project that looks more complex than it is. Creating a stand is about making a few straight cuts and stacking different types and stains of wood. You will need to bevel out the middle so that your dispenser can pop out. Using a block with a custom handle, you can slide it in and out to dispense candy. Even better, you can make it to be whatever shape or design you want.
43.) Ironing Board Holder
You might not find a simpler DIY project on this list. All you need is a square piece of wood to act as the base and two small pieces jutting out to either side. With a couple of screws to connect the pieces and a few more to anchor it to the wall, you can have an out-of-the-way space to place your ironing board until you need it next.
44.) Fruit & Vegetable Storage Bin
Having fresh fruits and veggies around is something more of us should do. But what do you do with those that can be stored out on the counter? You create a custom DIY fruit and vegetable storage bin, that's what. A few quick, simple cuts will give you the pieces you need and when they are screwed into place, you can have as many compartments as you need to store your fruits and veggies.
45.) Paper Towel Dispenser
Want to test out your ability to cut at a radius? Creating a paper towel dispenser is as easy as it gets. Cut a round base out of your favorite wood and then bevel out a whole in the middle (but not all the way through). Then, find a wooden dowel to slot in. Before long, you have a cool DIY paper towel dispenser.
46.) Floating Shelving
Shelving is so versatile and simple that even the most beginner of DIY woodworkers can make them. You can be as simple as you want to be, making quick simple cuts to create a beautiful floating shelf. Depending on how fancy you want to get, you can start to implement angles, make rounded corners, and a thousand other things.
47.) Crates
Some simple household items are actually quite chic and trendy. Crates are one of those. People don't really have crates in their homes anymore but if you want to create a truly rustic look, implementing them is easy. Best of all, it is all straight cuts and finishing nails, which means you can skip needing a saw if you find the right size boards. If you want to go even simpler, then find wood panels that you can cut down to size.
48.) Outdoor Steps
Outdoor steps are typically concrete. But they are also quite expensive. So, if you need to create a step up from the ground into your home, a DIY set of steps is a great option. Find the boards that suit you best, stain them to hold up to outdoor use, and screw them all into place. Within a few hours at most, you will have stylish, effective wooden steps.
49.) Shutters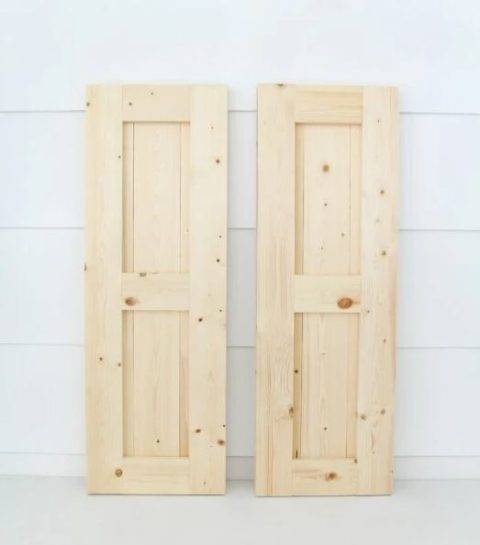 Shutters no longer serve much practical use. They can offer protection from high winds and debris but they are more about style now than anything else. Create your own slats and paint them any color that you want to create a beautiful complement for your home. Wooden shutters can be nailed in place, serving a purely aesthetic function that can provide a nice color addition to the exterior of the home.
50.) Trash and Recycling Storage
Trash and recycling storage is important. Not all of us like to see garbage cans, either. So, creating a tall storage box with compartments for each can make for a simple woodworking project. Depending on the dimensions, you may be able to find boards that save you from having to make cuts. Just make sure that they are screwed together using wood screws to support the weight.
51.) Food Tray
Not every meal has to be eaten at a kitchen table. Whether watching the big game or enjoying your favorite show on the couch, we still need a reliable surface on which to eat. With some hairpin legs and a board of your choosing, you can have a beautiful, functional food tray in a few hours at the most.
52.) Workbench
Need a place to work on your favorite projects but don't want to shell out for a workbench? Create one of your own! Find a sheet of your favorite sturdy wood and some steel legs. With a few quick screws, you can have a simple workbench that gives you the space that you need to work on your projects. If you want to get really creative, you can build drawers as well to house all your tools.
53.) Plywood Cart
Retro is in and there may be no better way to acknowledge that style than with a plywood cart. You can add wheels if you like but they are not a necessity. Whether you want to create a simple station to store your drinks or something more complicated to show off your abilities, you can do just that.
54.) Laundry Bin Storage Station
Very similar to the trash and recycling storage options. We don't always want to see laundry baskets with all of our dirty clothes in them. So, by creating a bin, you can create a stylish storage option as simple as you want. There are not many easier DIY woodworking projects than this.
55.) Firewood Rack
Those that like to use firewood need someplace to store it. That can be easier said than done depending on the amount of wood there is and the space there is to store it. A simple rack — which means straight cuts — can work to keep your wood safely stored.
56.) Tiered Planters
Like to keep a lot of potted plants around your property? Why not make them look a little more stylish with a tiered planter? All you have to do is create a series of boxes that are staggered in size. It just means finding your favorite planks of wood and using finishing nails to create a rectangular shape for your plants to sit in.
57.) Barstools
Think about any barstool that you have ever seen. They really aren't that complicated and you can see that with this woodworking project. Get a few round dowels and work on your radius cutting skills to create the seat. Use a super strong adhesive to bring them all together for a quick, easy barstool.
58.) Bread Box
If you find yourself using bread a bit, you know that having an easy place to access it can be key. This brings us to the next easy woodworking project on the list. You can create a simple box that remains open or screw in some hinges and add a door for a more stylish look.
59.) Dish Rack
Though dishwashers have made life infinitely easier when it comes to washing the dishes, there are those who enjoy the quiet time spent washing the dishes. Which means having a space to dry them when finished. You can find small wooden rods, connecting them to simply cut legs to create a custom dish rack. Make sure to stain it or seal it to protect against water damage, though.
60.) Picnic Table
Like to spend time outdoors? What about hosting gatherings with family and friends? Seating becomes a premium, especially when food is involved. Creating a DIY picnic table is easy; you just need some screws and your favorite wood boards. Before long, you have the seating and table space that you need to host all of your favorite people.
Final Thoughts
As you can see, you don't have to be a veteran woodworker to create some pretty cool projects. You need a handful of tools — hammers, drillers, a miter saw — but those are all relatively cost-effective and are things you should have in your home workbench anyways. You can even create amazing and functional projects using scrap wood.
It takes a little bit of planning and patience but you can create almost anything that you can think of. And not long after that, you will begin to feel confident enough to take on even more complex woodworking projects.
When you start to feel greater confidence, there is no stopping you. Woodworking is about making precise measurements and taking the time to make accurate cuts. So long as you do not rush, you should be able to avoid major mistakes along the way. In the end, you will have woodworking projects that you can be proud of and show to friends and family alike.