What's Good for June 2016: What We're Reading Watching and Listening To This Month
Guys. The Fourth of July's just around the corner. The solstice has come and gone. You may not know it yet, but we are sliding inexorably downhill toward bleakest winter. In these moments of utmost despair, I find comfort in a good book, song, or bleary-eyed binge Netflix binge session.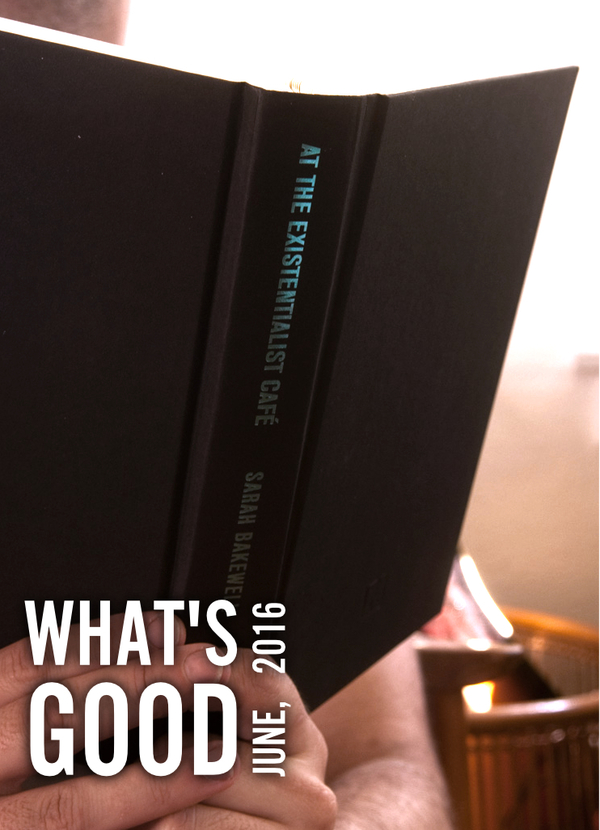 Here, without further melodrama, is What's Good on ManMade this month:
Reading
Chris:
I'm three-quarters of the way through "At the Existentialist Cafe" by Sarah Bakewell. It's a narrative non-fiction account-slash-summary-slash-personal reflection of the movement that spurned out of the relationships and work of Sartre, de Beauvoir, Camus, Heidegger and the phenomenologists, etc.
I minored in Applied Ethics, so I had to read a lot of the original texts. It's fun to be reminded why I chose to base all my end-of-the-semester projects on these guys. It doesn't read quite like a novel, but is certainly more spirited and fun than most philosophy. I took it on a recent plane trip, and never felt once like I was doing homework. Recommended.
David:
I've been starting up my summer exercise routine, so I've cracked into a copy of Spartan Fit, a 30 day routine to get you in shape for a Spartan Race. It's a complete plan including how to eat to build strength and trim up to race form. What I like about the author Joe DeSena is that he's frank, honest and one of the most diehard men I've ever read about. It's basically two parts inspiring and one part exercise plan.
Justin:
I'm mostly reading Alan Watts' Behold The Spirit: A Study in The Necessity of Mystical Religion which I bought at the Henry Miller Library over Memorial Day weekend. It's based on Watts' divinity degree thesis and sort of has to do with his attempt to reconcile his Anglican background with a more eastern, Buddhist approach to theology, while also encompassing his own mystical experiences. It's alternately a fascinating historiography of religious studies and also a fairly laborious read. The jury is still out on this one. Also enjoying a couple different books of poetry by Diane Ackerman, some chapters from Charles Taylor's A Secular Age, and 100 Years of Solitude.
Bruno:
On a bit of a Borges kick lately: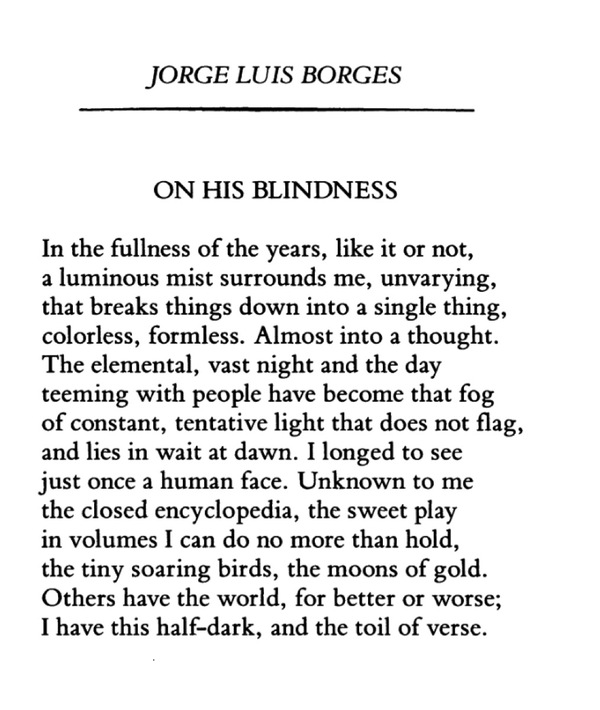 Along with this fascinating article on the great Argentine author's relationship to money.
Watching:
Chris:
Movies! Lots and lots of movies. Older ones. I'm taking a break from binging on full seasons of television. Feeling kind of exhausted by the format of season after season. My wife was out of town for ten days, so I went crazy at the library and brought home stacks of discs. I fell down a rabbit hole of great con movies – House of Games, Paper Moon, The Sting, Dirty Rotten Scoundrels, The Spanish Prisoner, Matchstick Men, The Brothers Bloom – and that spiraled into a bunch of older Mamet and heist pictures and theater-inspired stuff. Use your local library, dust off your DVD player. It's fun.
David:
Ah, the new season of Hell on Wheels has come up on Netflix and I'm almost through with it. It's a brutal, hard look at what life was like in the town that moved with the railroad as we cut tracks from coast to coast. Expect a violent, frank picture of what life was like with one foot in the civilized world and the other fully in the great frontier.
Justin:
I recently did a great double feature with a buddy of two movies I hadn't seen before for his podcast. The first one was Lenny, featuring stellar performances from Dustin Hoffman and Valerie Perrine. And the second was Martin Scorsese's 1987 screwball-noir After Hours. I'm a huge sucker for screwball comedies (Check out What's Up Doc?, Bringing Up Baby, and Arsenic and Old Lace). After Hours is a darkly funny movie that has such tasteful little surrealist touches that you'll find yourself wondering if you're dreaming this (mildly) bizarre movie. Oh also I finally finished Season 2 of Peaky Blinders.
Bruno:
I just watched Black Mass, starring Johnny Depp as an inimitably creepy, brutal, and yet, weirdly relatable Boston mob boss. Presumably the real Whitey Bulger was even crazier, meaner and more cold-hearter than his on-screen version, but it's sort of hard to believe.
Listening
Chris:
Last week was my birthday, and instead of buying me gifts, my wife and I have a tradition of going to the record shop and getting a bunch of albums to add to our library. This time, I found a bunch of weird old non-English pop from the 60s – like Thai psychedelic rock and French chamber pop. I dig listening to it, because I don't get distracted by the lyrics (since I don't understand them), just the sound of the jangly fuzzy guitars and reverb boxes and all that great warm analog recording of the era. In some ways – because it's such a direct ripoff of American and British music – it's almost a purer experience of the decade.
I can't really recommend any specific records on iTunes cause they're hard to find and in characters I don't understand, but if you haven't seen/listened to the soundtrack of Don't Think I've Forgotten, you must. It's about the Cambodian pop music industry from the late 50s before the genocide and destruction of culture under the Khmer Rouge. It's great. (Listen to this, too)
David:
With plenty of time in the car, I've defaulted to a few audiobooks and podcasts to pass the time. I've just finished the Maze Runner series, and am now moving on to podcasts from Gary Vaynerchuk and Dale Partridge as they unpack in two very different fashions what it takes to be an entrepreneur in a world run via social media.
Justin:
I've actually been listening to this guy (Caleb Hawley) a fair amount who I saw rock out a tiny show while I was in Minneapolis a couple of months ago. At the beginning of the show there was this one kid up in the very front who was like Jay Baruchel in Almost Famous — just a way over-zealous superfan who was freak dancing and shouting back all the lyrics at the band. However, by like song two or three I think everyone in the venue was doing the same thing. The singer/songwriter and his band absolutely won the entire room's affection and I really enjoy the blue-eyed soul vibe.
Bruno:
I'm sad to report I have nothing good to recommend in this category this month. Instead, here are the annoying-as-fuck songs that have been keeping me up at night, twirling around in my addled brain as I desperately try to think of ways to make them stop:
DO NOT, under any circumstances, listen to one of those songs.