The Tallest Mountain in the United States is Getting Its Name Back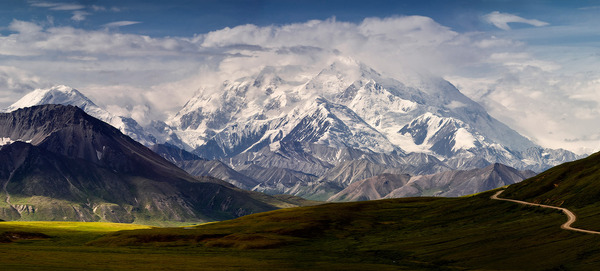 President Obama is visiting Alaska today, and before he leaves, he'll have renamed a mountain. That peak, the tallest in the United States with a summit elevation of 20,237 ft, has been officially known in the United States as Mount McKinley since 1917, having been dubbed so by gold prospectors in the late 1890s who wished to promote their favorite presidential candidate.
This week, the mountain will be officially designated Denali, meaning "the great one" in the Athabaskan languages of the Alaska Natives who live there, and the name that locals have used for the peak for centuries.
There's a whole big political debate surrounding the issue, include many decades of efforts to return the mountain to its original name, which have been thwarted by Ohio lawmakers, where President McKinley was born. You can read more here.
As someone who lived in Ohio for 30 years and now who daily, at least when it's clear out, gets to gaze an ancient, epic peak which, for hundreds of years, was known as Wy'east before it ended up with a rather uninspiring moniker named after some British admiral who never even visited the place, I'm completely fascinated by this whole process. Names don't make mountains less beautiful, but stories and traditions certainly do.
Read more at Gear Patrol: The Mountain Formerly Known as McKinley