5 Men's Style Staples to Help You Transition from Winter to Spring
The winter to spring is a time of contrasts: the days can be bright and sunny, but the air and wind still cool and bitter. Or the air warms up, but the fog and drizzle moves in, so that it feels like early summer but the trees are all still barren branches.
So, it's the still the season of layers, but lighter ones; flexible systems that breathe, look sharp, and still keep you warm and dry during days that span lions and lambs and showers and flowers and those sorts of things. Here are five staples to invest in now (or pull out from the back of your closet) that will still be useful as the season develops, and you can snatch again come fall.
1. Dark Denim: A dark, even "raw", pair of jeans can work better than chinos this time of year for one simple reason: you can wear them with anything. As spring happens, most of us might pull a little more and brighter colors into our wardrobe, and a dark denim goes with everything. You can dress it up if need be, and it'll match, in texture, color, and formality, anything that goes on your torso.
Just be sure to wear dark socks.
Pictured: J. Crew 484 Jean
2. Field Jacket: These are inspired by classic European farming jackets with a little bit of a militant silhouette, made of breathable waxed cotton or light wool. They're much lighter than a heavy snow jacket, but still weather resistant. Something rugged, without the bulk, that'll still cut wind and keep out moisture. Buy the right one now, and you can wear it every spring for the rest of your life.
Pictured: Orvis Woodside Meadow Jacket
3. Chukka or Desert Boots: These are lightweight, ankle-height boots that will still keep your feet dry in spring puddles or melting snow without the heft. Their origins are unclear (some say Northern African military [hence: dessert], some say British polo players), but these low-on-laces boots are a staple that can work any time of year, and especially well during these transitional seasons.
Pictured: Clarks Desert Boot
4. Heavy Duty Cotton Oxford Button Down: The tartan flannels of fall and big plaids of winter give way to simple, sportier shirts. These aren't the fine white pinpoint linens that you wear under a suit, but thick, button-color shirts made for layering. White is classic, blue has a collegiate vibe, and light gray is for getting dirty.
Pictured: Gap Modern Oxford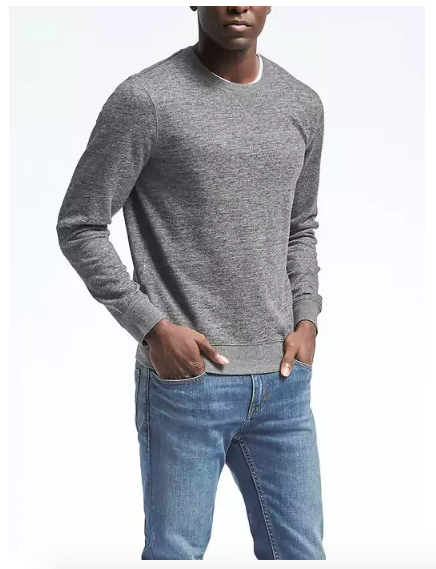 5. Crew neck pullover: This one's to help you get away from the earth tones of winter but avoid those Easter egg colored v-necks, which its either not time for yet, or you, like me, can't pull those off anyway. This can be a fine merino or a casual jersey knit; over a collar-shirt, it's great for a coffee date or casual meeting, and with a basic white t-shirt, they just look like what a guy should wear on a spring Saturday.
Pictured: Banana Republic Heritage Linen Terry Sweatshirt
[At top: J. Crew Mechanics Field Jacket] Originally published March 5, 2015