Staying Sharp: 9 Knives Every Man Should Own
A few months ago, in the midst of a day full of projects, I had a bit of an a-ha moment. I was in my workshop, using the table saw to slice up some Baltic birch plywood, when a timer on my phone went off, reminding me to take a break and go chop a bunch of vegetables to add to the slow cooked stock I was simmering in the kitchen. I few moments later I went into my office to check a reference book for my woodworking project, and on my desk was a cutting mat, a pair of tailors sheers, and a seam ripper. And I thoughts to myself, "Man…a lot of what I do is just using sharp things to cut raw materials up and then finding someway to put them back together again in a more interesting way."
So, with that notion in mind, I'm sharing some essential cutting tools that will help you do the job efficiently, accurately, and most importantly, safely. Here, the nine knives every guy should own for all sorts of creative tasks, whether in the kitchen, the workshop, or in the backcountry. No scissors or saws here; just a handle and a bracingly sharp blade.
In the Kitchen
1. 8″ chef's knife: [pictured at top] This is the kitchen workhorse that'll take care of the majority of slicing and dicing tasks. The most important thing here is to find a model that fits your hand and preferred position. Stored properly, steeled, and sharpened twice a year, a solid model will stand up to daily use and last a lifetime. An eight-inch size will work well for most adult men, but be sure to give it a test drive before buying.
2. 10″ serrated knife: Your go-to for slicing bread, roasted meats with browned crusts, assembled sandwiches, and soft fruits and vegetables like tomatoes and stone fruits or large amounts of citrus. Since it looks a saw, use a back and forth motion to help guide the serrated teeth through.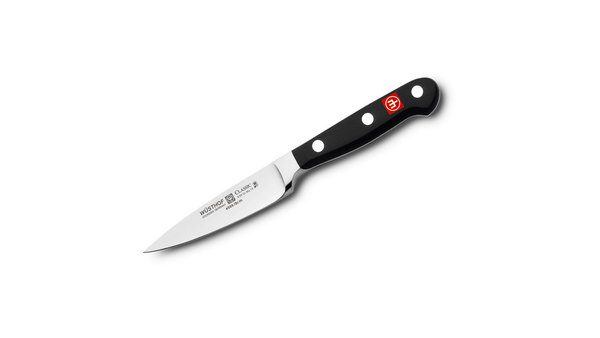 3. 3 1/2″ Paring knife: A small guy designed to be held in the hand while paring, that is, cutting, trimming, or peeling into small pieces while both the knife and food are off the cutting board. Just be sure to learn the technique before sliding sharp blades towards your thumb.
4. Boning or fillet knife: this style has a thin, curved blade made from flexible steel that allows you to cut around unlikely shapes, like the joints of a chicken, or the spine of a whole fish. You can do this task with a chef's knife or even a paring knife, but you'll get much cleaner butchery and work twice as fast with the proper tool. Plus, you can stash one in your tackle box if you're so inclined.
Practical and Creative Projects
5. Daily Pocket Knife: Over the last year or so, I've become a regular pocket knife carrier. I keep one with my other daily carry items – watch, wallet, phone, wedding ring, chapstick, etc – so I can be to grab it in the morning. I've found it's the sort of thing you don't think you'd need until you actually start to carry one, and you'll find you take advantage at least once a day. Nothing heavy or fancy here: just a lightweight option with one or two strong blades.
6. Multitool: For project heavy days, camping trips, or for an option to keep in your go bag, desk drawer, or glove compartment, we say go for a medium sized multitool with screwdrivers, openers, scissors, small files and saws, a wire stripper, and a small pair of pliers.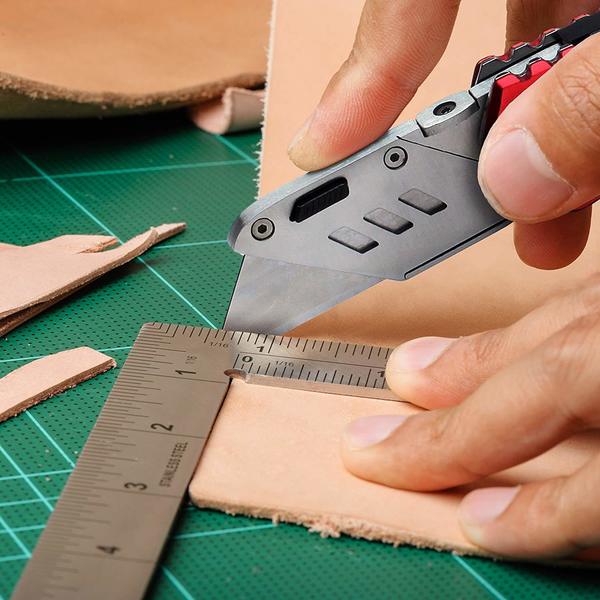 7. Utility knife: Intended for rough, straight cutting or heavy duty tasks, these "box cutters" have a replaceable, retractable blade and a hollow handle to store extras. The purpose is right there in the name: utility. Use for basically anything in the garage or workshop without having to worry about ruining the blade.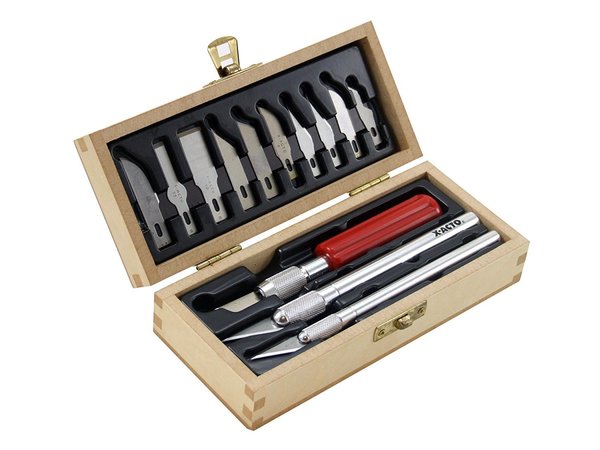 8. Craft Knife Set: So synonymous with its maker, X-acto, that the two monikers have become interchangeable. Probably my most used tool in both my workshop and craft studio/office, a craft knife features a thin flexible blade for accurate, precision cuts for small projects and curves, and is useful for picking up or peeling off adhesives and basically everything else. The classic metal #11 is standard, but in the last few years, X-Acto has been releasing much more ergonomic handles to prevent soreness on complex jobs. My personal favorite is actually bright pink, which, honestly, makes it super easy to find among the scraps. I'd bet have a craft knife in at least seven out of the eight rooms in my house.
9. Rotary cutter: This one might be a less-likely choice, but ManMade is a site for makers and crafters, and it has a sharp blade and a handle, so I'm going for it: every creative guy should own a rotary cutter. These are basically pizza cutters for paper, leather, fabric, and such; I even use one to score lines on woodworking projects. Coupled with a long straight edge, these are the most efficient way to get long, accurate cuts in a variety of materials. I've got at least two rotary cutter-shaped scars on my finger tips, so be smart with these.
What'd we miss? Please share your most used knives and cutting tools in the comments below.