ManMade Recommended: These are, Without a Doubt, the Best Headphones for Woodworkers
First came the radio. Turn it on, tune in the dial, and hope you'd have something listenable during the quiet moments. Then came the shop stereo, usually an old bookshelf system we didn't mind getting covered in sawdust. But for the last ten years or so, it's been all about the personal audio player…and for most of us, that means our smartphone. Why blast the tunes throughout a space, keeping up with loud machines and bugging those around us when you can have literally anything you want playing through your own set of earbuds?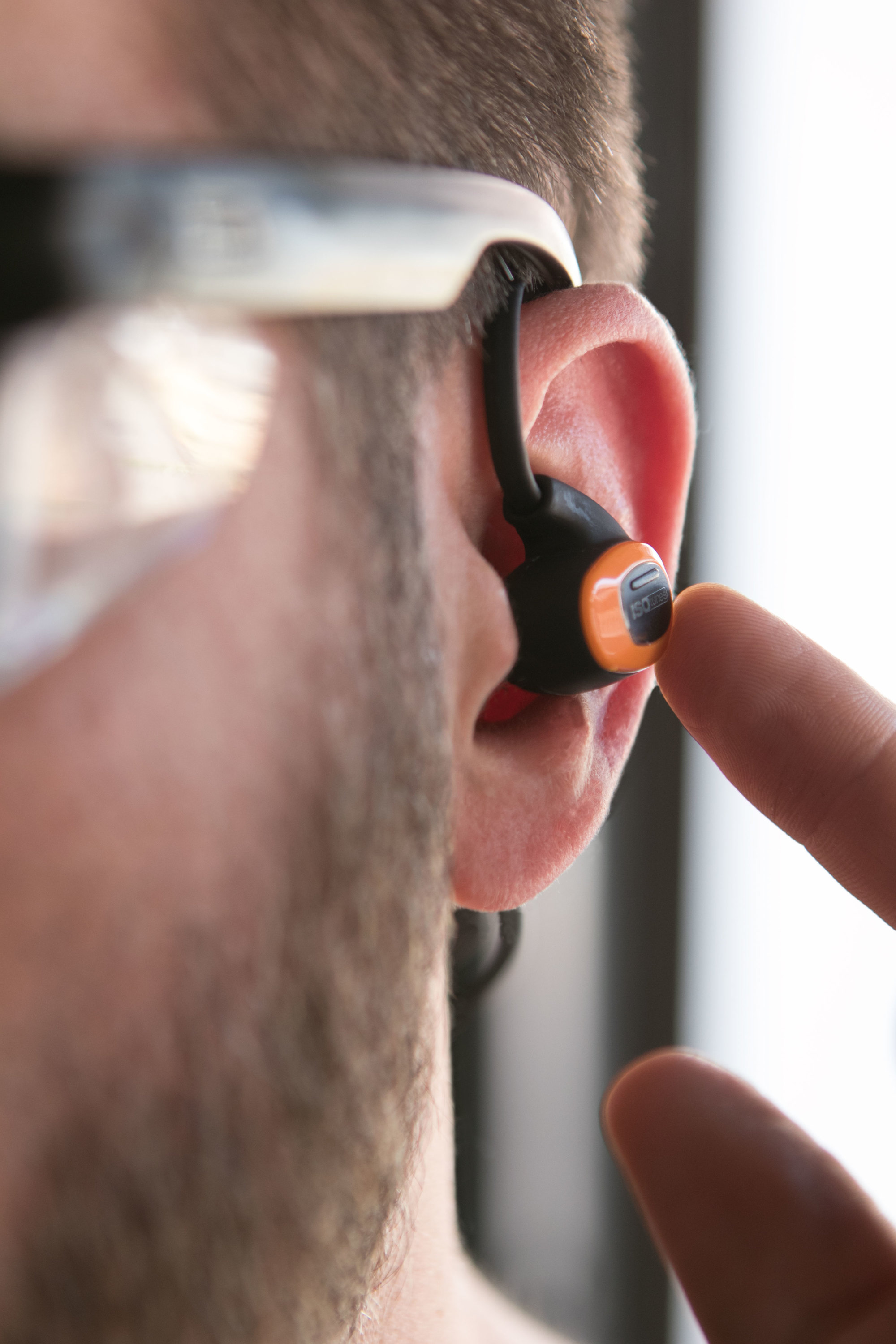 Whether you opt for music, podcasts, audiobooks, or digital radio, most DIYers and woodworkers have a set of earbuds plugged in during most parts of a project. The problem? If you use power tools, you still need to wear hearing protection to 1) take care of your ears and reduce loud exposure to noise and 2) hear your audio over the roar of the motors.
Most of us are familiar with the earmuff-style hearing protection over the earbud approach. It works (sort of), but the wires will lead to sore ears with a full day in the shop, and can make for a annoying, tangled mess, especially when coupled with safety glasses and a dust mask.
So, it seems inevitable that someone would introduce a new style of headphones to the market: earbuds for DIYers, that deliver the music and provide hearing protection in the same package.
Thankfully, that product is out there, and it's amazing.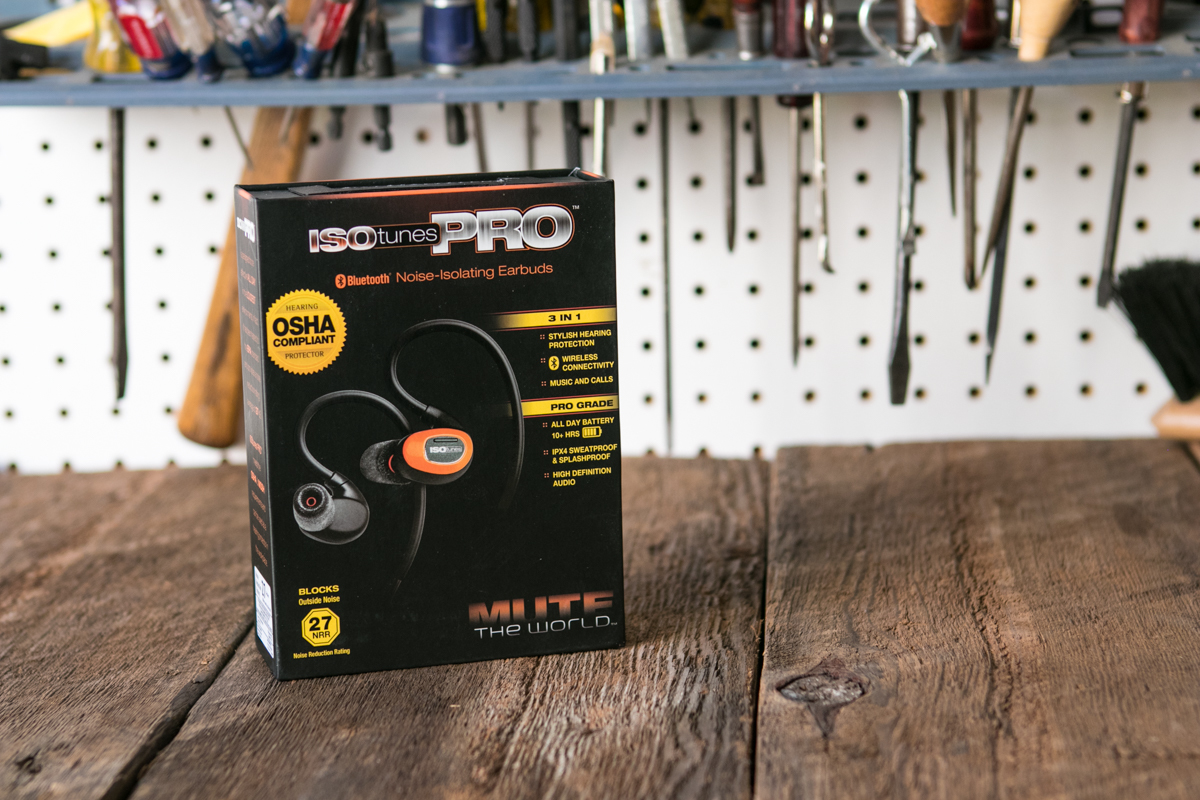 The brand is called IsoTunes, and they make a full line of headphones designed for DIYers, tradespeople, and anyone who wants a little music while they operate machinery.
How do IsoTunes Work?
Each pair is OSHA-compliant, professional-grade noise isolating earphones. This means they contain both audio deliverers and hearing protection in the same package. Basically, the driver (the little "speaker" that carries the music) is embedded inside a set of earplugs that will protect your hearing from high dB noises. This means both parts can fit inside your ear canals at once, providing both services simultaneously. Each pair also includes a background noise-canceling microphone, allowing you to take calls, talk to Siri, etc, even while machines are running.
IsoTunes features several products, including a traditional pair of heavy-duty wired earbuds that plug right into an audio jack. Run them inside your shirt for safety, and you're good to go. They cost around $30 and are a great deal for the services they provide.
Best Noise-Canceling Headphones for Woodworking
ISOtunes PRO Bluetooth Earplug Headphones, 27 dB Noise Reduction Rating, 10 Hour Battery, Noise Cancelling Mic, OSHA Compliant Bluetooth Hearing Protector (Safety Orange)
But where things really start to shine is in their set of Bluetooth headphones, which not only eliminate wires and complications but can talk to your phone (or whatever audio player) from as much as 30 feet away. This means you can work on a heavy-duty project or one where a lot of water is present, without being concerned about harming your phone.
IsoTunes sent me a pair of their signature IsoTunes Pro model, and I'm seriously impressed.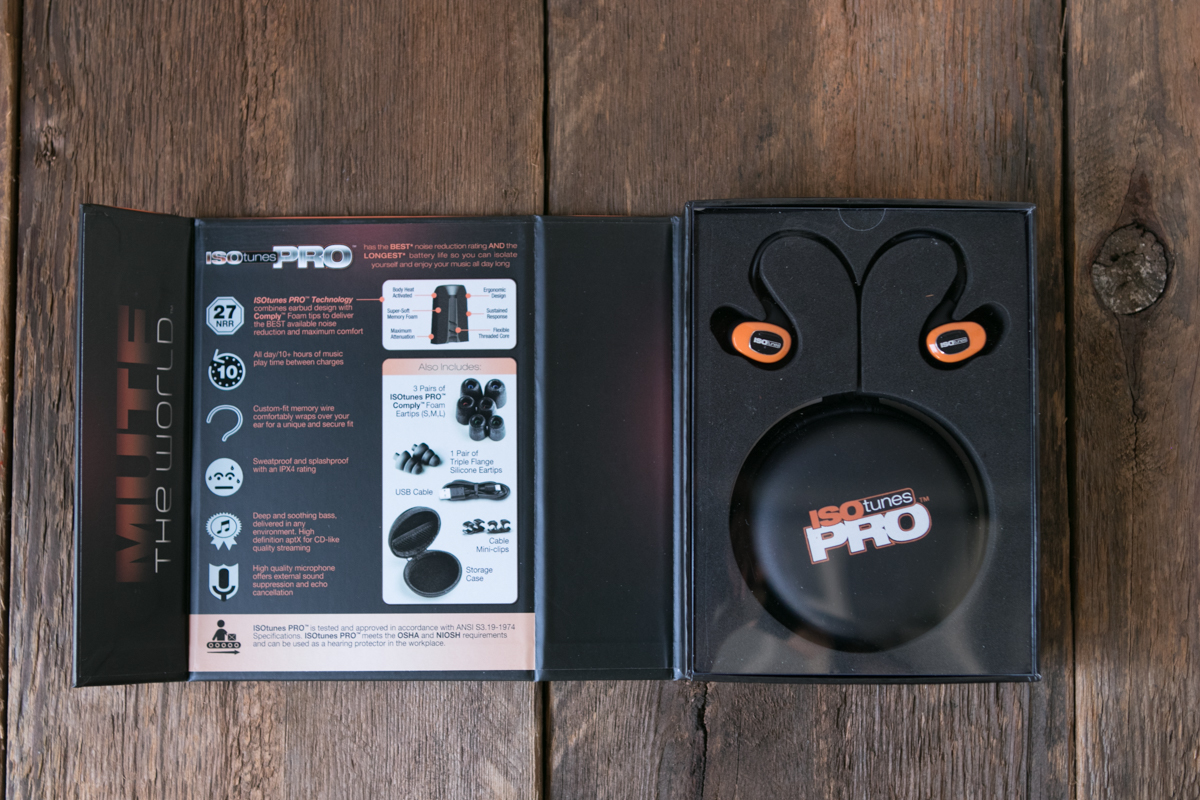 What Do You Get?
Depending on which model you order, the accessories are different, but all IsoTunes include OSHA compliant hearing protection, a background noise canceling microphone, a series of foam eartips for different sizes, a carrying case or bag, and a USB charging cord. They also include a traditional set of silicone eartips, which allow you to use the headphones without the noise-isolating properties. This is great for exercise, etc, when you need to hear what's going on around you, but can still benefit from the Bluetooth connectivity. In short – these can still be the only pair of wireless headphones you need for any activity. Bonus.
The Original Isotunes have a 4-hour battery life and simple accessories and features. The newer IsoTunes Xtra model feature a better microphone, an 8-hour battery, and higher quality drivers for better audio. And the cream- of-the-crop IsoTunes Pro have over the ear memory wire for super comfortable, a hard case, the best quality audio and microphone, better foam eartips, and a 10+ hour battery than means you can wear them all day in the shop or on the job.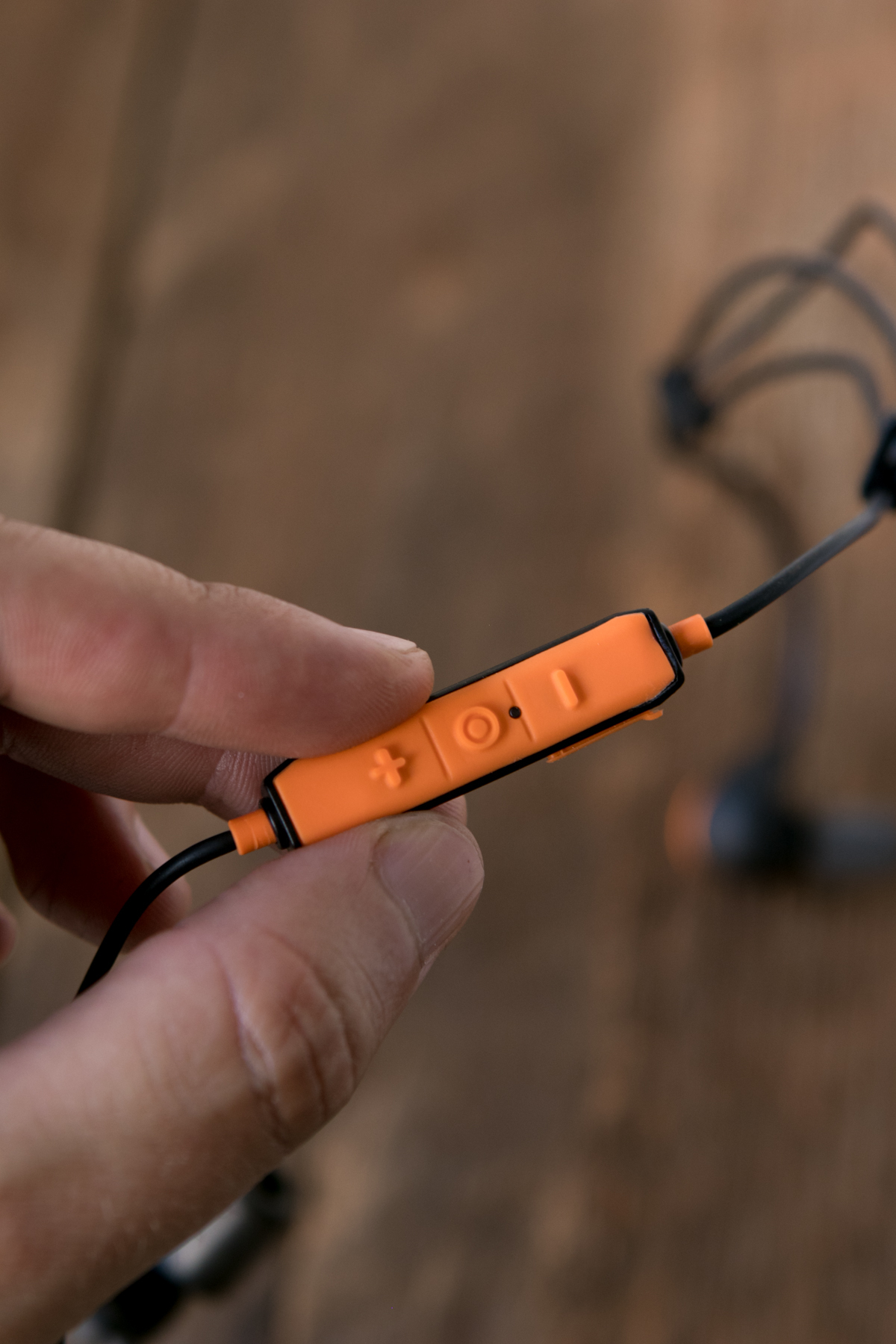 How Do they Work?
In short – they're great.
I've been using these exclusively for a month, while working on various projects from household chores to mowing the lawn to heavy duty shop days when the dust collection and tools are on all the time. The audio quality, at least in the Pro models, is quite good. It sounds better and clearer than my standard wired Panasonic earbuds I've used for the past several years. (Granted, those are only $15.)
The build quality is high, and I feel comfortable using them on anything. Relatively speaking, a woodworking shop/maker space is only a medium-duty environment, even with tablesaws and jointers, etc. But I can tell these would work fine in construction or industrial context. They even feature sweat and splashproof protection with an IPX4 rating. (I admit, I don't really know what this means, but I'd totally wash my car while wearing them.) I would have probably ordered the all-black, but I've come to like the orange accents – the visibility has helped find the headphones more than a handful of times.
I've had no problems with the Bluetooth connectivity. It works from more than 30 feet away for me, they connect when I want them do. The controls work, though you'll want to memorize the steps and LED sequences so you can get to the right setting when you want to. (I find this to be true with most Bluetooth audio devices and speakers, so no points against IsoTunes.)
I haven't run the battery dry yet, and I'm not sure I could. It features ten hours of talk/music time, which is a long time with natural breaks and pauses, and up to 240 hours of standby time, so its okay if you don't charge them every single evening.
Anything I Don't Like?
If I could change anything, I'd reconfigure the eartip sizes. They're all quite large, and this might be to guarantee that they'll fully fill your ear canal for hearing protection. Or perhaps they're imagining big burly construction workers, though Im pretty sure muscle mass isn't correlative with ear hole size. I typically can use both the medium and the large on other devices, but here, I can only fit the smallest size, and must compress it quite a bit to fit things in.
The other thing I'd change is the warning system. When you pause the audio using the action button, the earbuds continue to beep and talk to you, saying "you're phone is connected." I stop the audio regularly to do shop math, figure out the next step, or just when I need to concentrate on doing something well and I don't want to miss anything in my podcast. Having the robot voice come on to tell me the audio is connected is startling and unnecessary. If they've become disconnected (which they never do), I'd rather just figure that out myself when Im ready to play things again.
Both of these are small quips that would never stop me from buying these, nor recommending them.
Conclusion
I love them. There's nothing else like them on the market, and they deliver the goods in any industrial or workshop environment. I might even get a pair even if I did nothing but powered lawn care.
I only tested the Pro model, so its easy for me to say this, but I think they're worth the extra money over the Original. Especially if this is your first/only pair of wireless Bluetooth headphones, and you're looking for a versatile set in and out of the shop. For $30 more, you get more than double the battery life, better sound quality and microphone, the over- ear design (great for exercise) and the increased build quality and protection. The price between the Xtras and the Pros is only ten bucks. I suspect that will pay itself out well over the next few years. They're not inexpensive, but they are a great value. but if you run tools regularly and want to listen to music, it will be worth it again and again. But, you should choose what's best for you. If anything ever happened to these, I'd replace them with the Pro-level models, no question.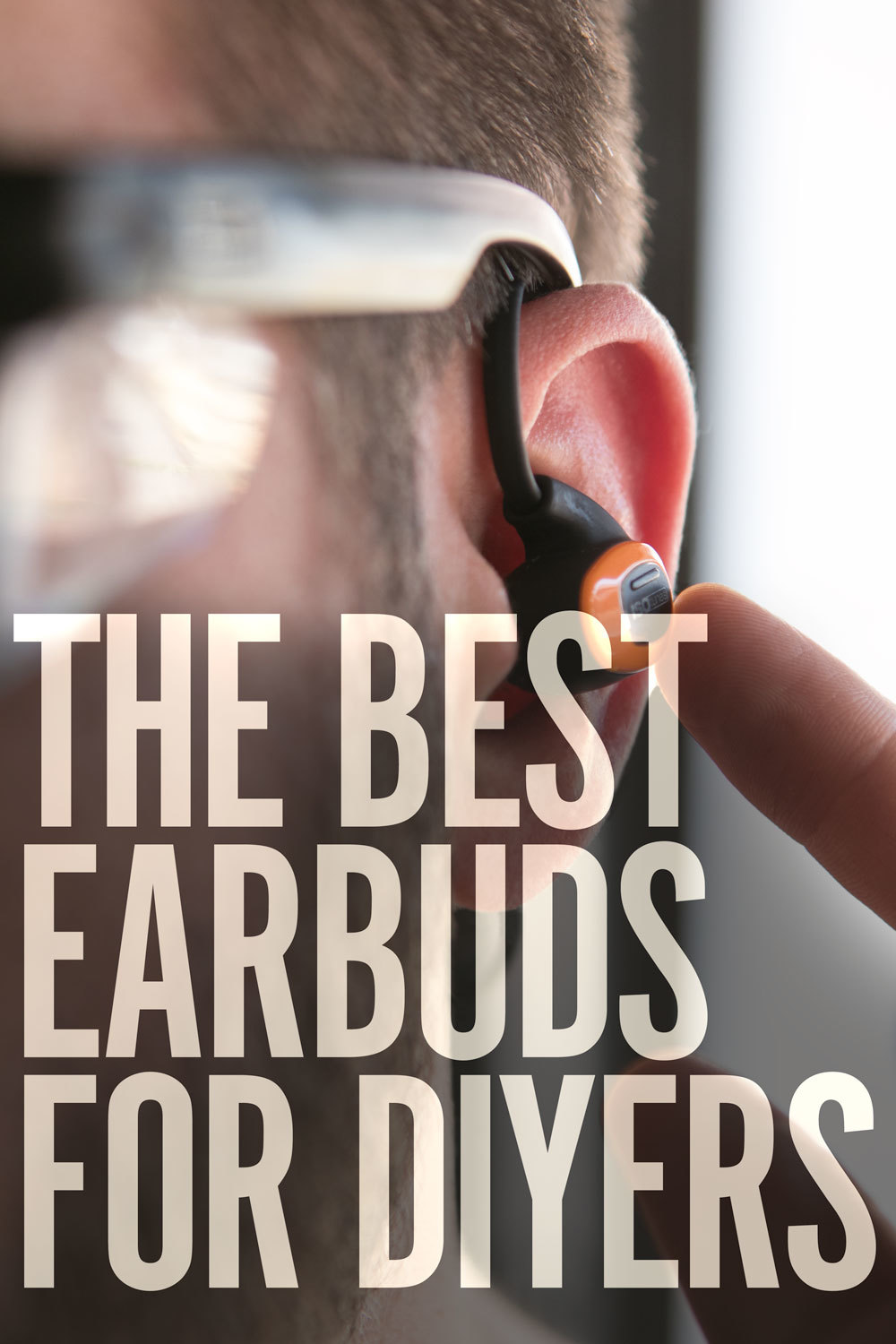 Thanks to IsoTunes for providing this product for review. All opinions are mine alone.