Okay, Let's Talk: What Do You Carry Every Day?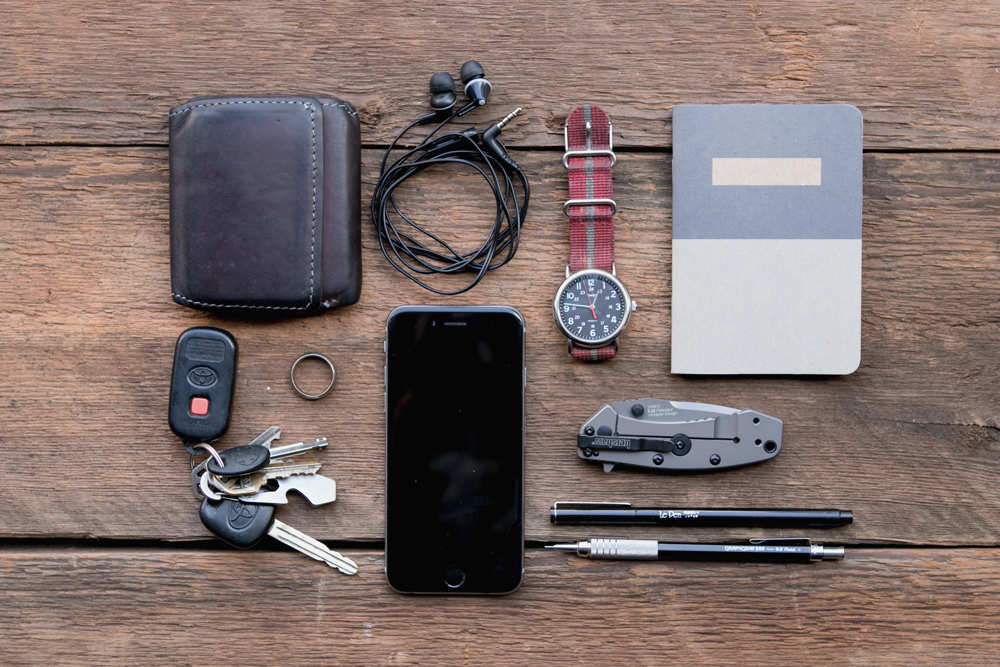 Yesterday afternoon, I was putting a load of laundry together, and I took out all of the various bits and items from all my pockets before placing my clothing in the basket. By the time I'd doubled checked everything for errant tubes of lip balm and bonus dollar bills, I had a pile sitting on my dresser that, when I looked down, simply ignited this thought in me:
Yep, there's all my stuff.
I don't require a lot of daily use items. I'm not a tactical guy, really, and I work from home, so it's not essential to always having everything I could possibly need on me at all times. But, when you think about, the stuff we keep in our pockets are probably the things we touch and use more than any other item in our lives. No, they're not as iconic as my favorite electric guitar, or more indispensable than my camera, or as fun to maintain as my road bike or to use as a sharp chisel, but these are the things I interact with more than anything else I own, except maybe my pillow.
So, I laid them out on my workbench and I snapped a quick pic to share what's made the cut, with the hope that you'll do the same. What do you keep on you as part of your everyday carry?
Clockwise from top left:
1. Wallet: Danner tri-fold (not currently listed on their website). I love this thing. Well-made, the right side, with just enough features. You can read the story of when I bought it here. My only dislike is the ID pocket is a bit too shallow, and my driver's license is never completely secured in there.
2. Headphones: Panasonic RPTCM125K ear buds. I've spoken before about my love for these things. I don't think you can do any better for less than $15. I have three pair in various places in my life, and will buy more when I need to.
3. Watch: Timex Weekender. This is as simple as watches get. Right now, the only watch I own is $20 Weekender I bought six years ago. I've thought about something fancier, but with all the stuff I do with my hands, something pricey doesn't really make sense for me. I keep saying I'm going to buy additional straps for this, but I still have just the one. Maybe saying I'll do it in this post means I actually will. Maybe.
4. Pocket Notebook: Scout Books. I quite like these, and like my wallet, they're made right here in Portland. They fit in both front and back pants pockets, and aren't too big for the inside pocket of a jacket. I use my phone for notes that I want to reference, but I like paper for ideas and communicating with others on the spot.
5. Pocket knife: Kershaw Cryo. Also from an Oregon-based company, this is the perfect everyday knife for me. It has everything I need, and nothing I don't. I can open and close it with one hand, and I love its satisfying locking mechanism. Its clip is solid, and it's the right size for fiddling with when I need something to do with my hands. I've honed the blade twice in the three years of owning it, and the steel seems to hold an edge excellently. Highly recommended.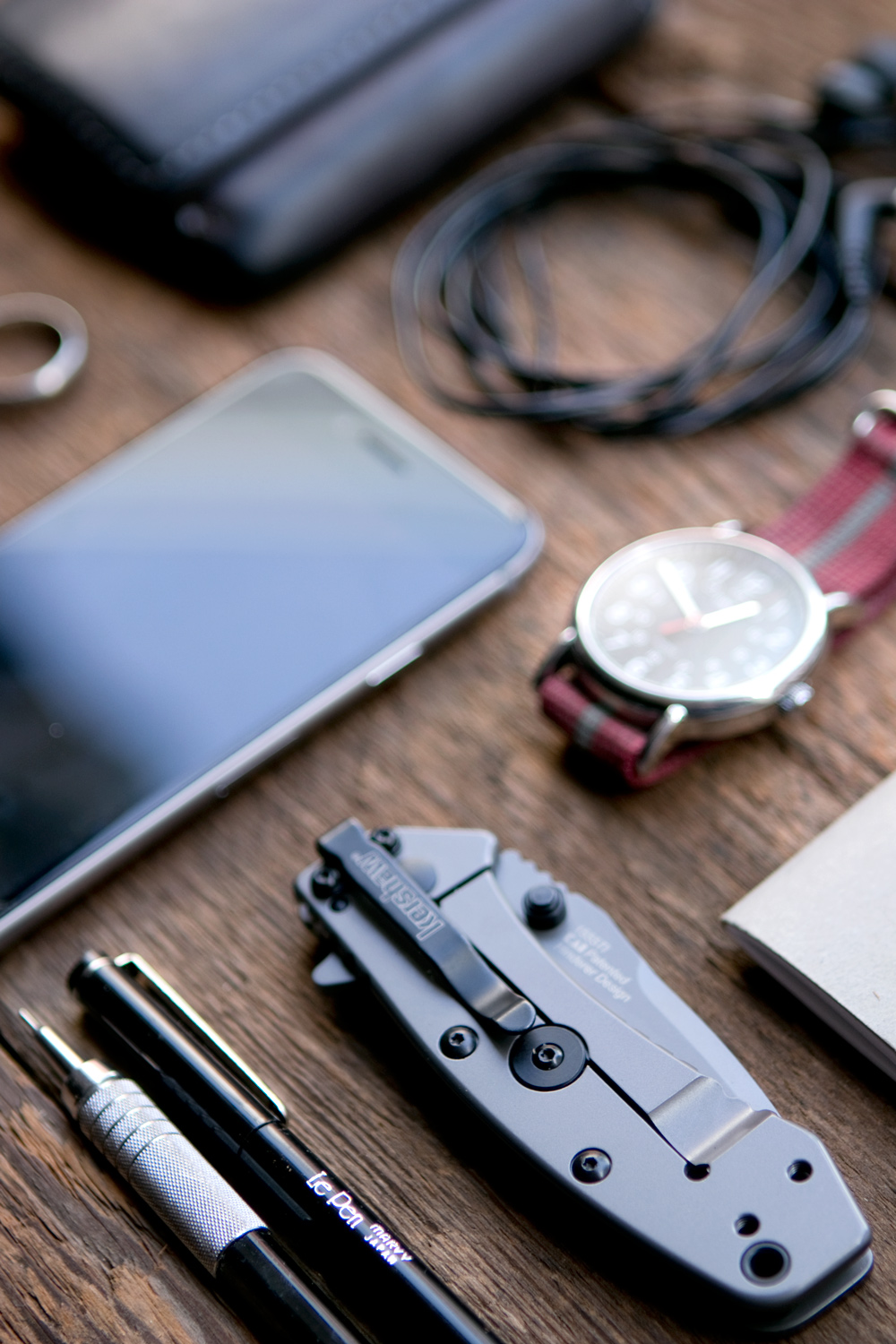 6. Pen: Uchida Le Pen. If I could replace every pen in my house with a Le Pen, I would. They're simply the right tool for every single job. They write on almost anything as well as a Sharpie, yet can make thin sketchy lines when asked. I mainly stick with black and red, but I like keeping a multipack around for color coded projects. Love 'em.
7. Pencil: Pentel Graphgear PG525 .5mm. A pencil that's fine enough for woodworking, but strong enough that it can actually draw on wood and not snap. I've had this single version of this for seven years; it's made it through three moves on both sides of the country. That I haven't lost it yet confirms how much I want it in my life. I paid like $8.00 for it years ago at an art supply store. Now that I see I can buy them for $3.33 I'm sorta tempted to get a dozen of them, but I'm pretty attached to the idea that I haven't lost this one yet, and I don't want to usurp it. Maybe when it finally gets misplaced, I'll buy in bulk. Until then, this is my guy.
8. Phone: iPhone 6. I don't really care about phone specs and latest models. I buy one, and I use it until I inevitably smash the screen (once), or planned obsolescence takes over and it stops functioning (twice). My phone is basically just a $x00 podcast machine and Instagram checker with email, so I'll never get one without a dedicated headphone jack. Adapters are just more things to break or lose. Having a camera on me at all times is cool. Once or twice a month, it takes or makes actual phone calls. Or not.
9. Keys: Currently on my key ring: house key, bike lock key, car key, car key fob, scooter key, Night Ize Doohickey. If I could have fewer, I would.
10. Wedding Ring: I bought mine on Amazon. It's titanium, super hard, looks better once it got all scratched up, and cost $11.00. When I'm not wearing it I keep it around my watch band so I don't lose it. I should remember to wear it more often.
So… that's what's in my pockets most days. What's in yours?