You Can Do This: A Young Man's Guide to Hosting Your First Thanksgiving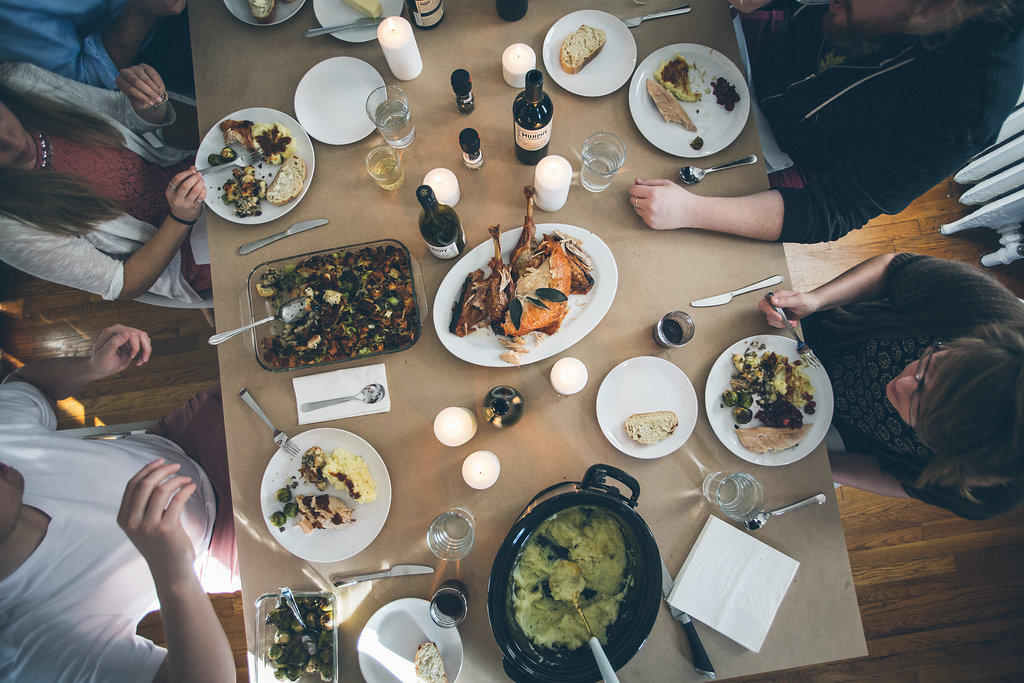 I'll admit it: when I was 24, and thinking about hosting friends for Thanksgiving for the very first time, I probably wouldn't have used a guide like this. For one thing, I was stubborn and willful, and liked to think I could figure everything out on my own (wrong!). For another, that was 2006, and the internet was a much newer, smaller place then: this type of guide probably wasn't out there.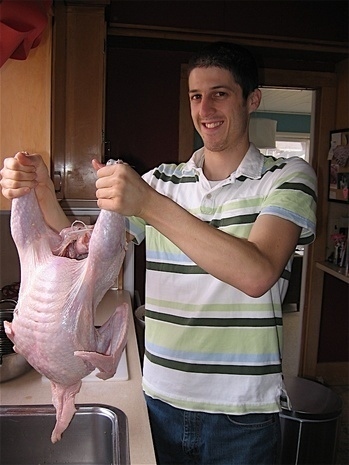 But you, my friends! You youngsters with your illogical catch phrases and shrug emojis and your ability to understand how to use Snapchat! You can be better! You can do what few young men before you have ever done! You can host an awesome Thanksgiving meal at your house, and it can look amazing, and you can even have fun doing it. C'mon, it's not going to be hard …
---
Dude needs to
learn how to cook
The idea for this post started earlier this fall, when, through a series of weird and fortunate events, it turned out that my little brother, Grisha, who's 24, was going to be moving into the house I lived in when I was his age. Grisha's awesome: he's funny, smart, and four inches taller than me, which doesn't bother me at all … not even one little bit…
But the one thing he's not so good at? Cooking. Eating, yes. Cooking, not really. And now that he has a steady girlfriend and nice new place to live, we thought it was about time this youngster grew some horns, rustled up a turkey and … well, the cowboy idioms seem to be getting away from me here.
Bottom line: dude needs to learn how to cook and entertain his friends in his new place. And a Friendsgiving dinner is the perfect opportunity. When the folks at Murphy-Goode winery offered to chip in with some of their excellent, affordable wine, we knew had a good thing going.
So, here's a plan you can follow, step by step, that will get you all the way from the basic prep work to the after dinner nap time, and impress all your friends with what a warm, welcoming host you are. Feel free to skip or substitute; the idea is to make this kind of entertaining easy and accessible. Here we go:
Wait, but, why?
Repeat after me: entertaining doesn't have to be painful. We're going to do things the simple way, with a focus on good food, good wine, and friends. But yeah, you do need to step it up a bit above pizza delivery and a twelve pack.
Why wine? Wine is designed to go with food. It's been doing it for thousands of years. It's simple, delicious, and everyone likes it. There's no measuring or mixing or buying extra stuff. It doesn't even need ice. Open, pour, enjoy. That's exactly the tone you want for a Thanksgiving with friends. No fuss, just a straightforward white with snacks, and a solid red with dinner, and everyone's happy. This is what we went with: Murphy-Goode California Chardonnay (2014), California Pinot Noir (2014), and California Merlot (2013).
By simple, we mean – don't go out and get a bunch of stuff you're only going to use once a year. You can make Thanksgiving work with the basics you already have, and a couple of inexpensive goodies that you can find easily.
What are your responsibilities?
At the risk of scaring away all my readers with that word, let's talk about what you need to have covered in order to make this a pleasant experience for your guests:
The main dishes: turkey, mashed potatoes, stuffing and dessert. Ask friends to bring the rest (side dishes, veggies, rolls, etc.)
The prep work: you make the house clean before the meal, your friends can help clean it up after.
Hosting: that means introducing people to each other, keeping the conversation going at the table, asking questions, listening. Have a good joke on hand in case things stall out.
You DON'T need a …
You DO need a …
Formal dining room, a giant dining table.
Place for everyone to sit
Dedicated, expensive turkey roasting pan you're never going to use

Real, cooked turkey (more on that later)

Multi-course

menu with hors

d'oeuvres

, soup, salad, and palate cleansers

Some ready-made snacks to hold people over until dinner's ready

Gravy boat

Boatload of gravy

Homemade pie with perfect crust

Sweet dessert to finish up the evening

Fancy formal centerpiece, or any special decorations
Simple way to set the mood: plain white candles and string lights
Do These Things, In This Order
Prep the food
Three days ahead: buy groceries and wine
Two days ahead: salt the turkey, make snacks, make cranberry sauce
Day before: set up the space, make stuffing, prepare dessert toppings
Day of: cook the turkey, mash the potatoes and keep warm, sit back and enjoy your time with friends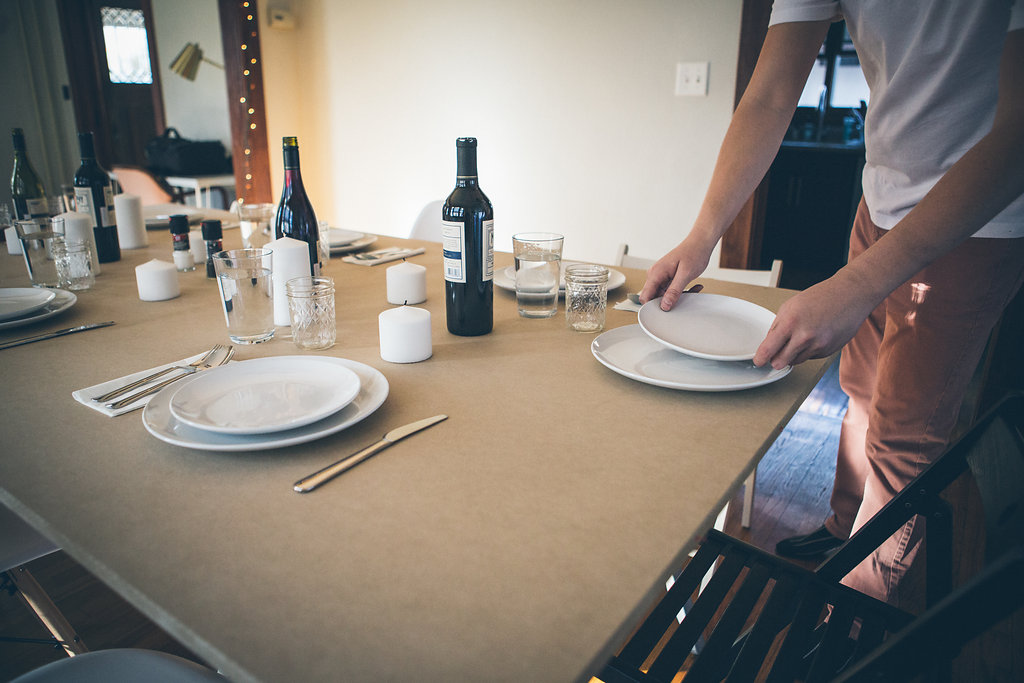 Set up the space
Ask everyone to bring a chair (no, they don't need to match)
Make a table with a simple sheet of plywood and sawhorses (more on that, below) if you don't have one big enough
You don't need special decor, the food is the focus. Add some candles and string lights to help set the mood, and good music does the rest (see our playlist below). Cornucopias need not apply.
Turn on the football game, but keep the volume off. Score-checkers will have the details they need, and no one needs to be on their phone all afternoon.
Get dressed
Yes, jeans are fine.
No, that t-shirt with the moth holes and ketchup stains isn't fine.
Be casual, but let your clothing show you give a damn. Trying tucking in your shirt.
Don't make people take off their shoes
Smell good (you've been cooking a turkey all day, try not to smell like it)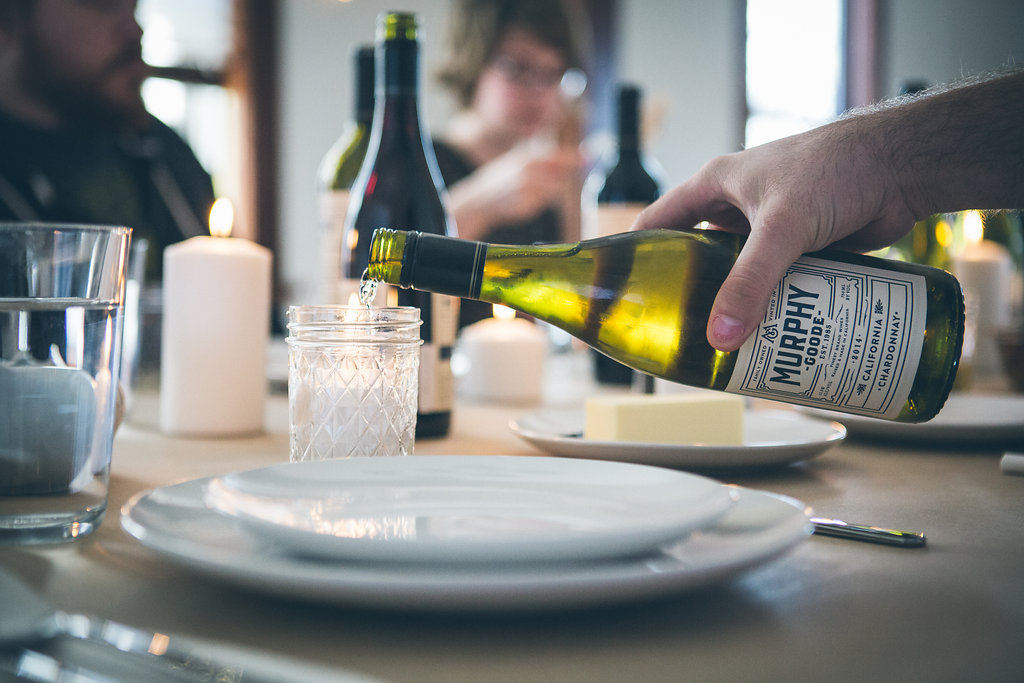 Have a great dinner
Make sure your guests have wine and plenty of water.
Be prepared to make a toast. The focus is simple: tell everyone how thankful you are to be spending this holiday with them. Done.
SLOW DOWN! Don't rush through it. Let the conversation get going.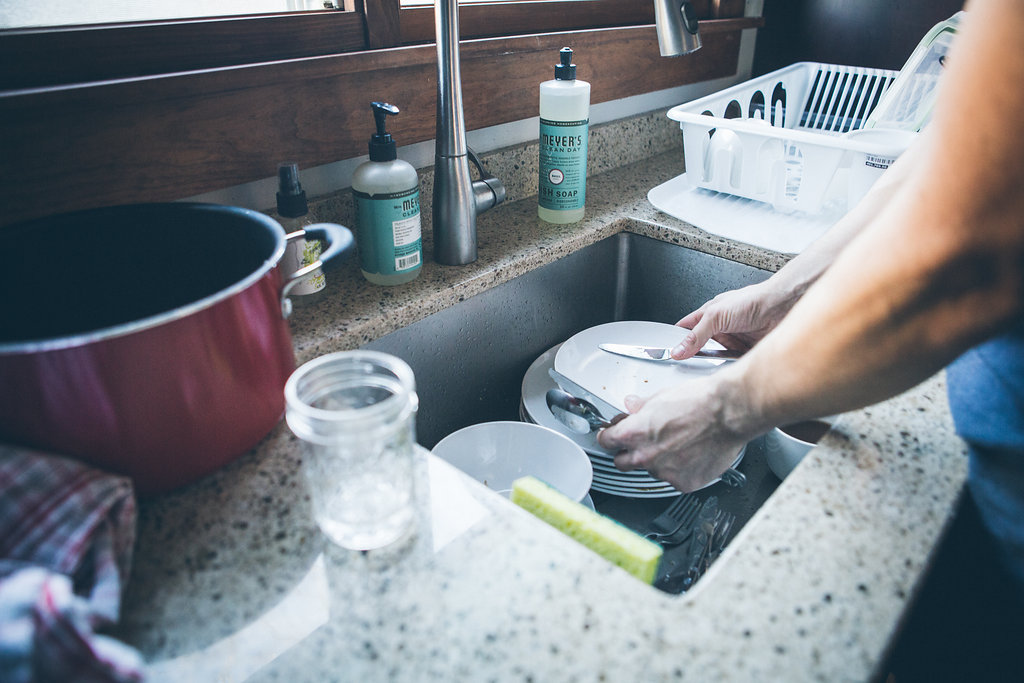 Clean up
Have plenty of food containers on hand for leftovers
If they're your real friends, your guests will offer to do the dishes. Just stand by with your wine and tell them where things go when they get put away.
Use recyclables wisely to save effort (the roasting pan, paper napkins, etc.)
The Menu
A simple roasted turkey can't miss, but since we were short on oven space, we did ours on the grill, and left the oven free for warming side dishes. Our starch isn't fancy, but it's reliable: Perfect Make-Ahead Mashed potatoes. To go with the protein we're adding a Classic Thanksgiving Stuffing with Sage Sausage, Walnuts and Cherries. And of course everything on your plate should be draped in a Red Wine & Cinnamon Cranberry Sauce.
Grill-Roasted Turkey
It's the centerpiece of the meal, but it's actually one of the simplest things to make if you prep ahead.
Ingredients:
14-16 lb. turkey
3-4 yellow onions
1 lb. carrots
1/2 lb. celery
1 apple
1 orange
Kosher salt
Pepper
Fresh sage
Steps:
Season the turkey liberally with salt three days ahead. Store covered in the fridge.
To cook, remove turkey and pat dry with paper towels. Rub skin with butter and sprinkle with black pepper. Stuff the cavity with halved apple, orange, and sage leaves
Preheat grill to 350°. Cover bottom of disposable aluminum pan with halved onions, rough chopped celery and carrots. Cover tightly with aluminum foil.
Grill until thickest part of thigh measures 160° F (around three hours). Rest for 30 minutes before carving.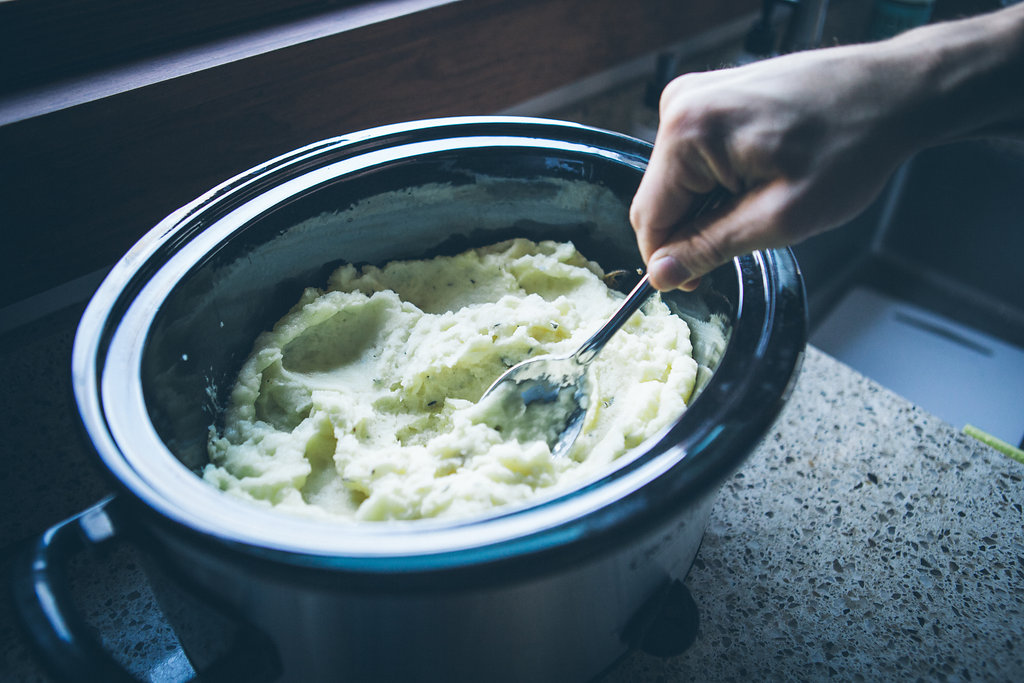 Perfect Make Ahead Mashed Potatoes
Make the recipe in the morning, and save some of the starchy water left from boiling the potatoes
Ingredients:
1 – 5 lb bag

Yukon

gold potatoes, peeled and cut into 2″ chunks
1 1/4 cup whole milk
1/2 cup half and half
2 bay leaves and handful of thyme springs
2 sticks of butter
Salt and pepper
Steps:
Place potatoes in a large pot. Cover with cold water 1-2″ above the top of the potatoes. Add a fat pinch of kosher salt. Bring the water to a boil, and cook until tender, about 25 minutes.
Drain potatoes, reserving one cup of the cooking liquid. Slowly heat the milk, half and half, herbs, and 1.5 sticks of butter in a sauce pan.
Pass the hot potatoes through a ricer or food mill, or mash with a hand masher. Do NOT use an electric mixer.
Pour the milk and butter mixture into potatoes, removing herbs, and stir to combine. Season with salt and pepper.
Butter the slow cooker
Cover, and keep warm on low for up to six hours. Stir frequently, and add

starchy

water and additional butter and cream to finish to proper texture.
Classic Thanksgiving Stuffing with Sausage, Cherries and Walnuts
We followed this recipe from Serious Eats for this one, and just added cherries and walnuts into the mix. It turned out amazing. I mean, just look at the pictures: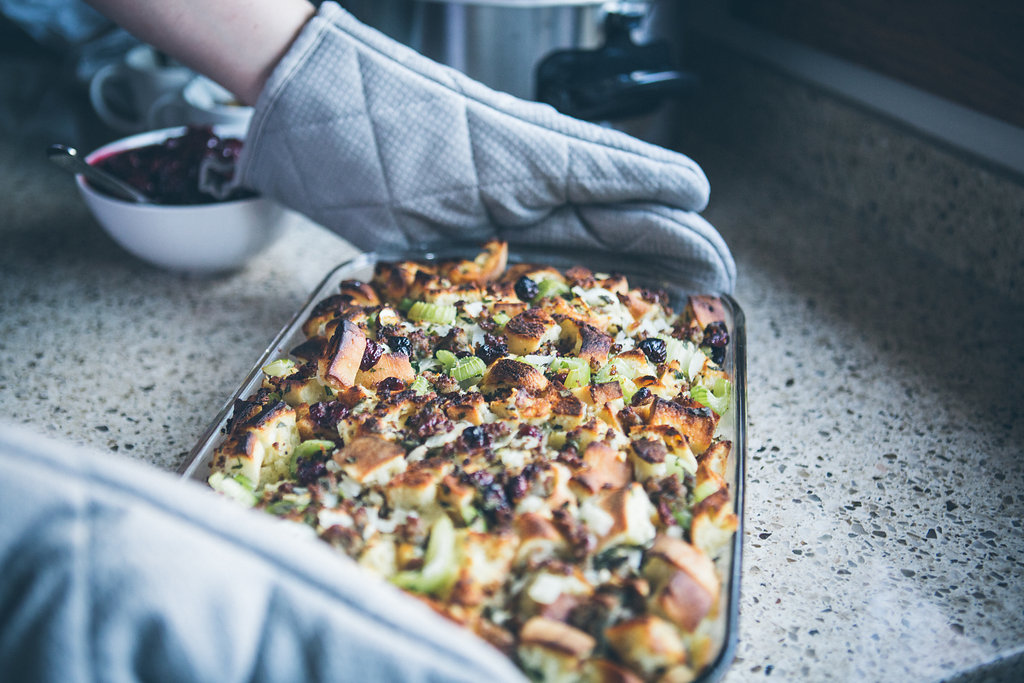 Sage Red Wine Cranberry Sauce
I can't write anything about this cranberry sauce without my mouth watering uncontrollably, and that would damage my keyboard. So I won't.
We're sharing th full recipe for the cranberry sauce over at Murphy-Goode's Goode Life Blog
While you're over there, check out a few of our past collaborations: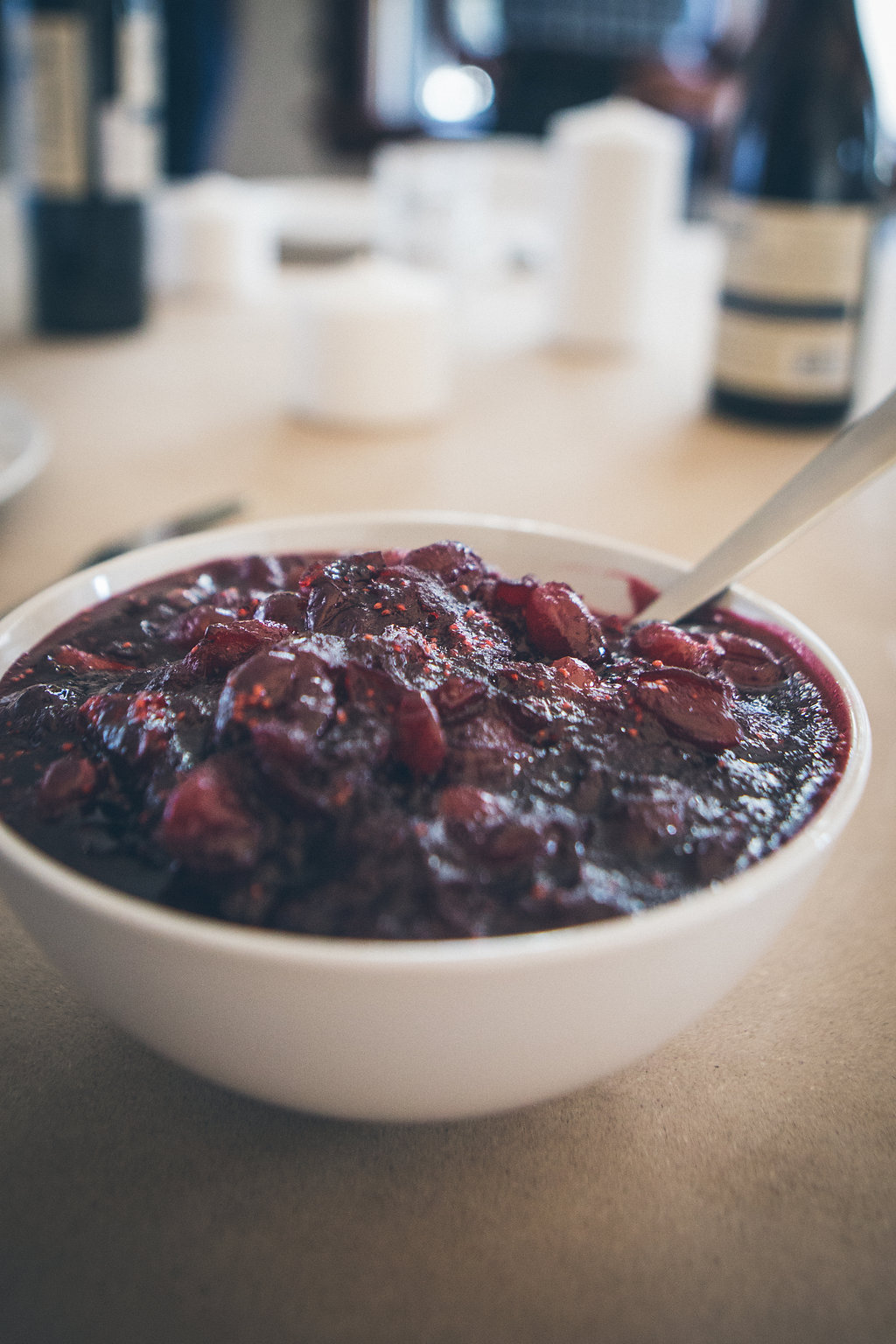 Ingredients:
1 lb cranberries
1/2 cup Murphy-Goode Pinot Noir
2 sticks cinnamon
2 cups sugar
1 1/4 cups orange juice
1/4 tsp. vanilla extract
Black pepper
Steps:
Combine the wine, sugar, orange juice, cinnamon sticks, and several grinds of black pepper. Bring to a boil and stir to dissolve the sugar, then reduce heat and simmer for 4-5 minutes. Add cranberries and vanilla extract, and simmer for 14-15 minutes, until cranberries start to burst and the sauce has thickened.
Autumn Sundae Bar
This is the easiest, most amazingly satisfying dessert you will ever make.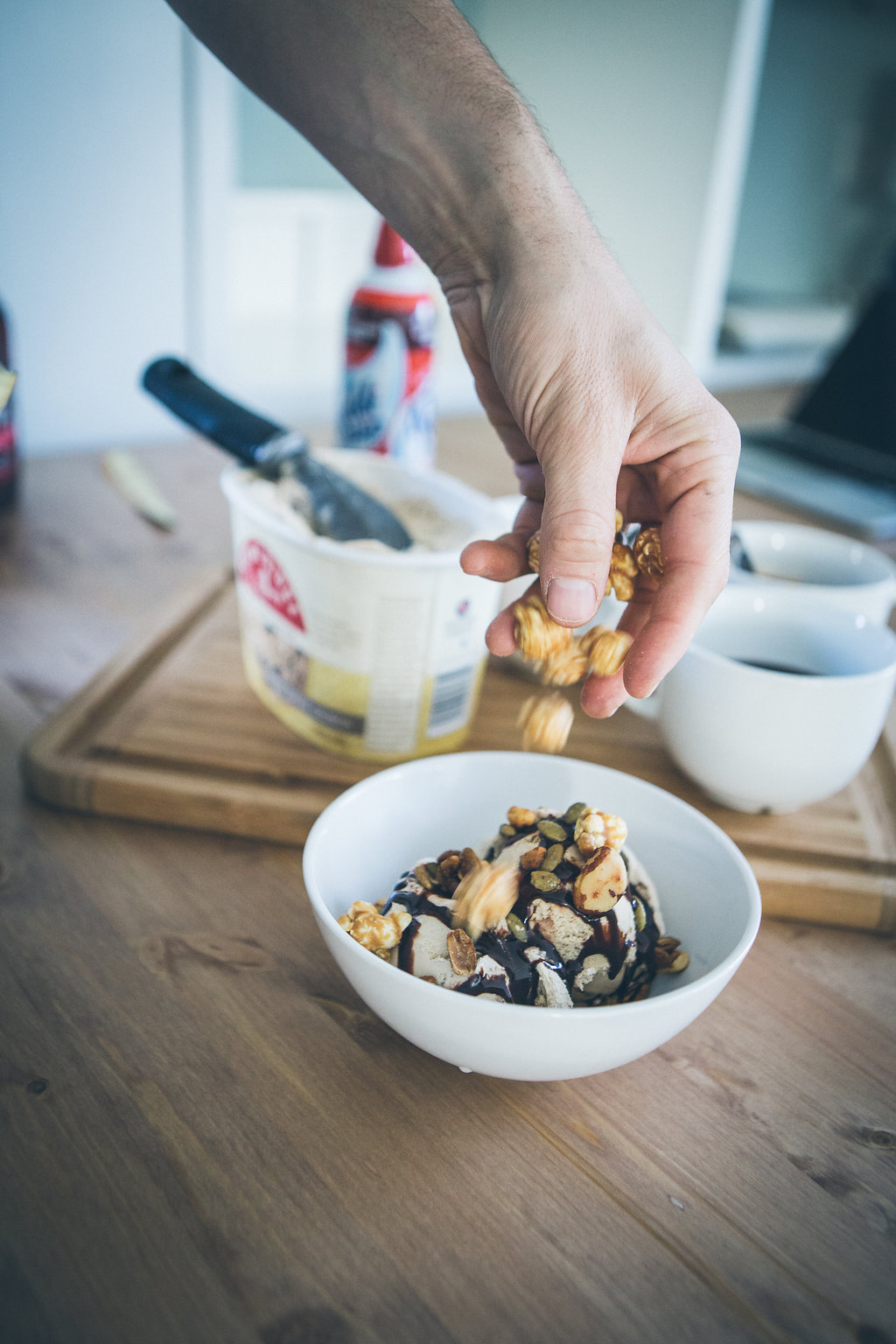 Ingredients:
Coffee ice cream
Salted caramel ice cream
Vanilla ice cream
Toasted pumpkin seeds
Caramel corn
Roasted mixed nuts
Chocolate syrup
Steps:
Toast the mixed nuts and pumpkin seeds in a dry skillet or in the toaster oven until golden brown.
Put all the

toppings

out and let people fix their own sundae!
A Big, Cheap Plywood Table
Head over to The Goode Life blog for more details on our quick, easy, improvised dining table solution.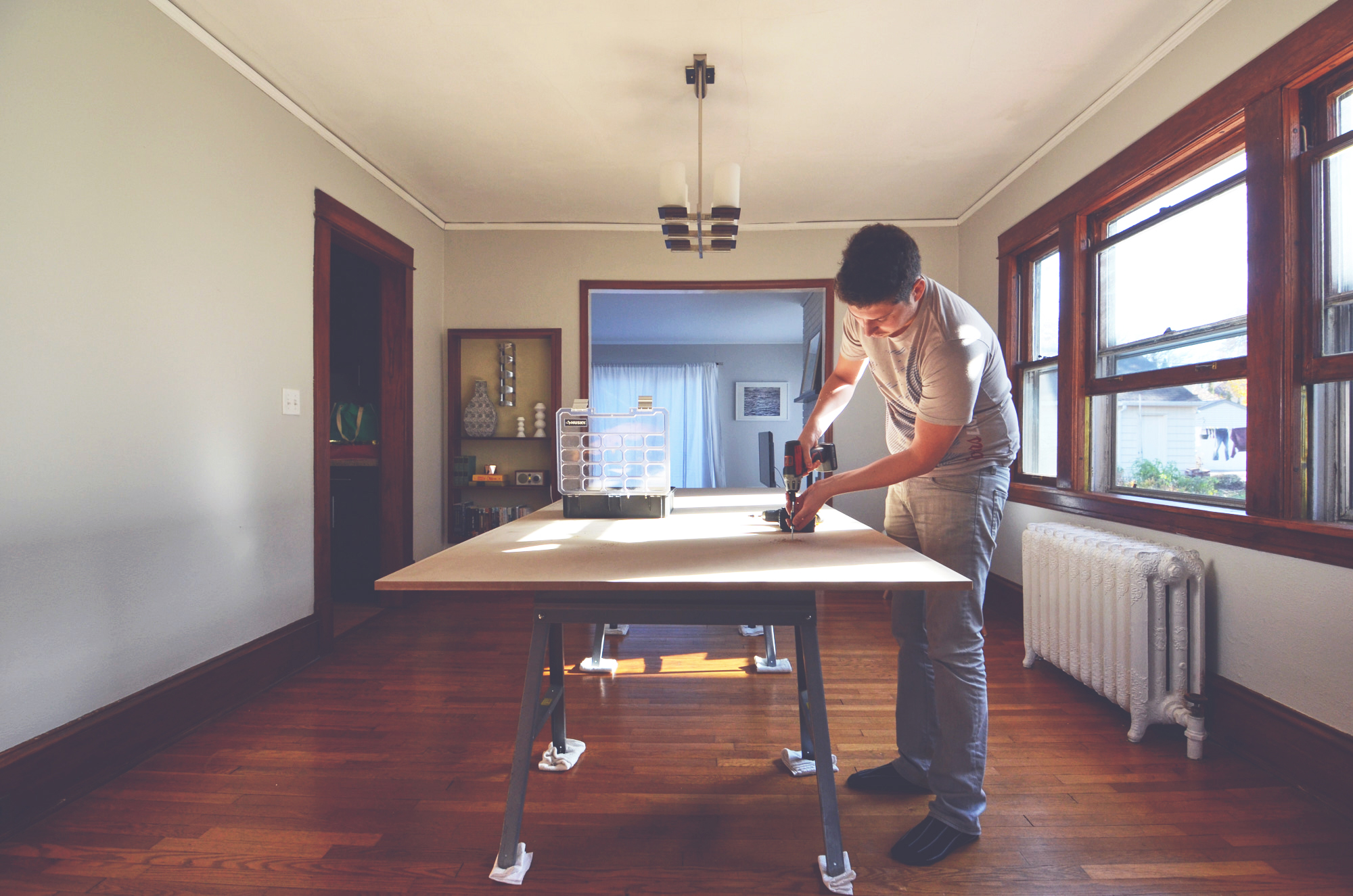 Music makes the world go round. Parties too.
My brother has great taste in music, so he pretty much had this part covered. Hook up a good Bluetooth speaker system, start the playlist, and then don't think about it anymore. If you're lucky enough to have an amazing local alternative music station, like we do here (thanks, The Current), dial it in and enjoy.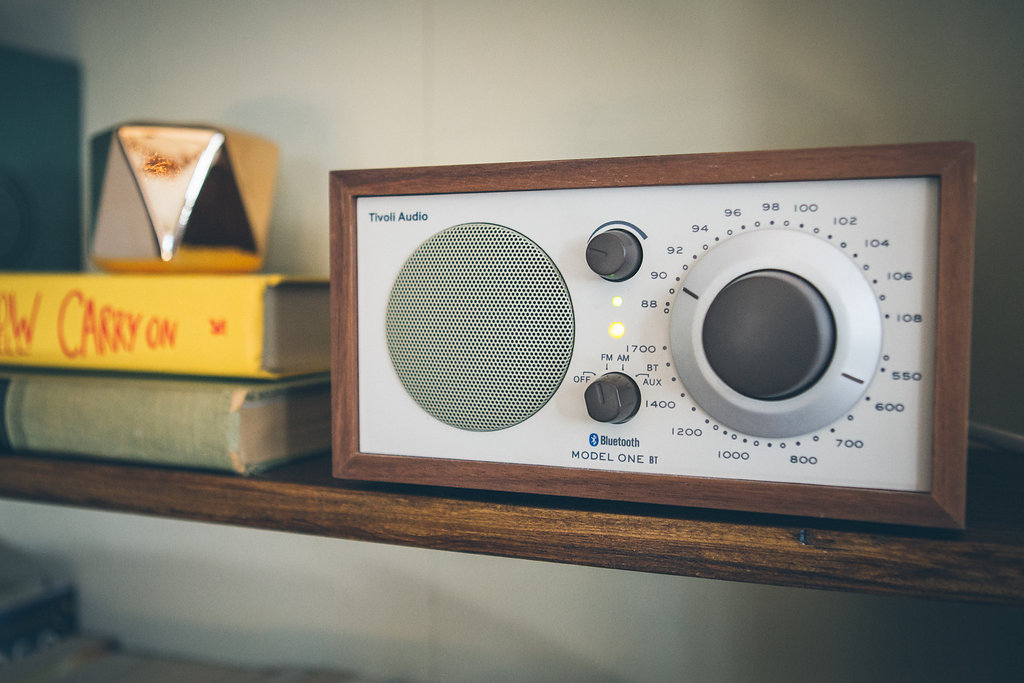 What about all those glasses and dinnerware?
Yeah, I don't blame you for wondering. Most young people just getting their own place aren't going to have a full set of dishes, or enough wine glasses or forks for everyone. A few suggestions:
A full set of dinnerware might be worth buying. An eighteen-piece set (service for six) in simple white is just $20 at IKEA. You might need to get two (we had eight guests), but trust me, you'll use them for years.
Ditto silverware: just $10 for a 20-piece set at IKEA. BUT! Check your local thrift shop first. Silverware doesn't really have to match (at least not for this kind of gathering), so you might be able to put together a workable set for less.
Serving dishes: Goodwill, my friends. Serving platters really don't have to match (in fact, I kind of think they shouldn't), and your local secondhand store will have hundreds of them, in all kinds of unusual shapes and comical prints (Dutch windmills seem to be a thing). Have fun with it, but you don't need to spend much.
Serving spoons: please make sure you have some. Serving mashed potatoes with the one remaining teaspoon in the drawer is kind of stupid. Again, thrifted is great. Borrowed is good too. Ask friends to bring some along.
If you don't have wine glasses, you don't need to rush out and get a full set. Mason jars will work just fine – they're cheaper, and practically indestructible. The 8 ounce quilted jelly jars are about the right size.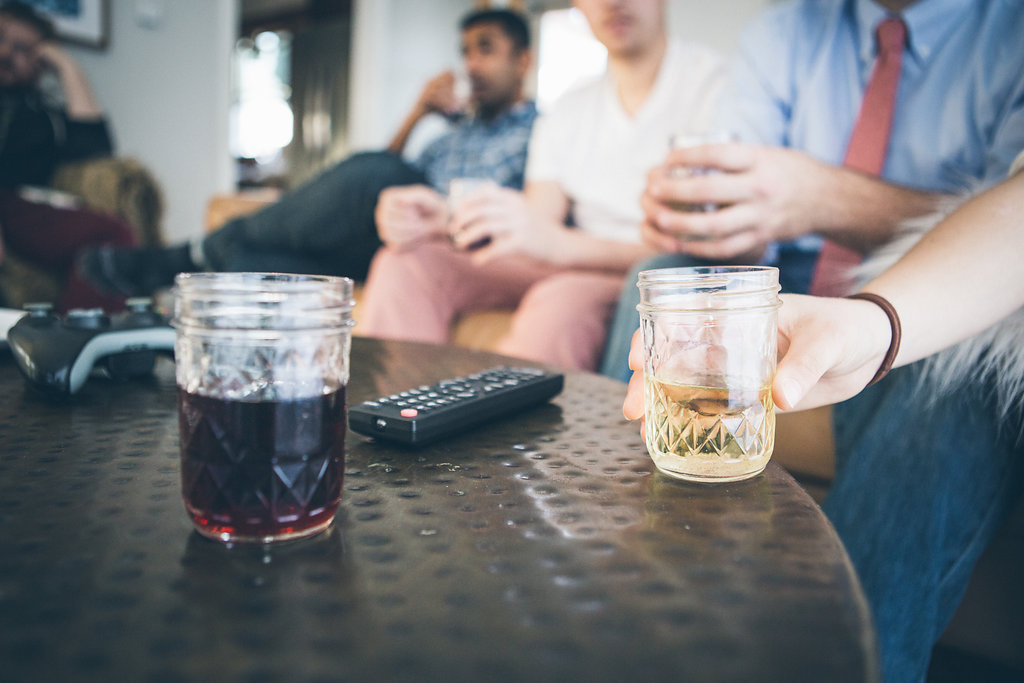 How to carve a turkey
You'll probably just Google this, but just in case, here's how:
Make a cut between the legs and the breast, and detach both drumsticks.
Pull off the wings (they should just break off)
Slice downward along the breast bone on one side, all the way through. Then slice up from the outside bottom of the breast, back up toward the center, until you reach your first cut. The whole breast will then come off as a piece. Move it to a cutting board, then cut into 1/2″ slices.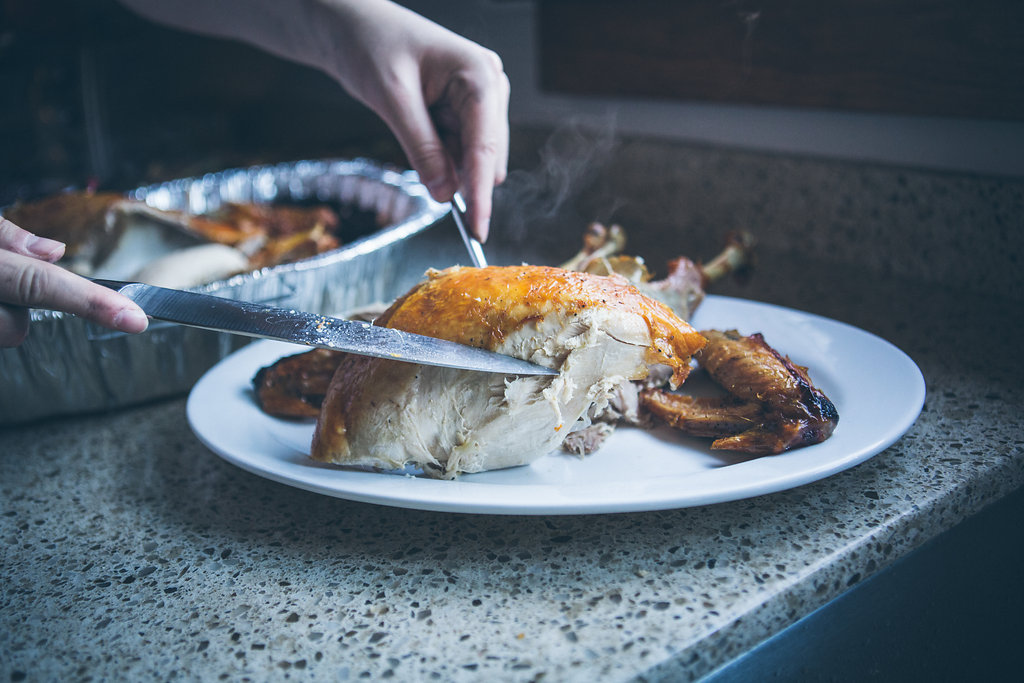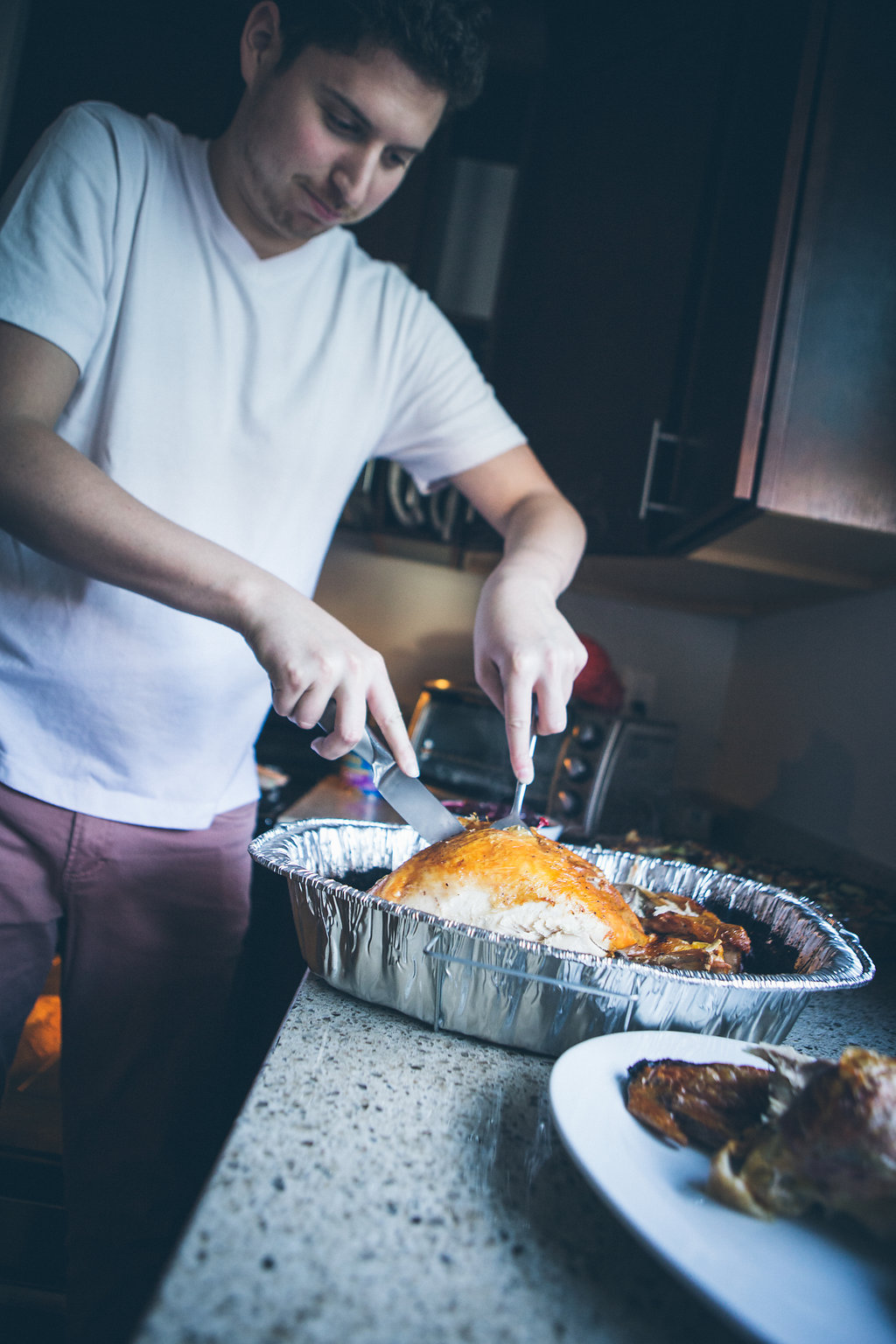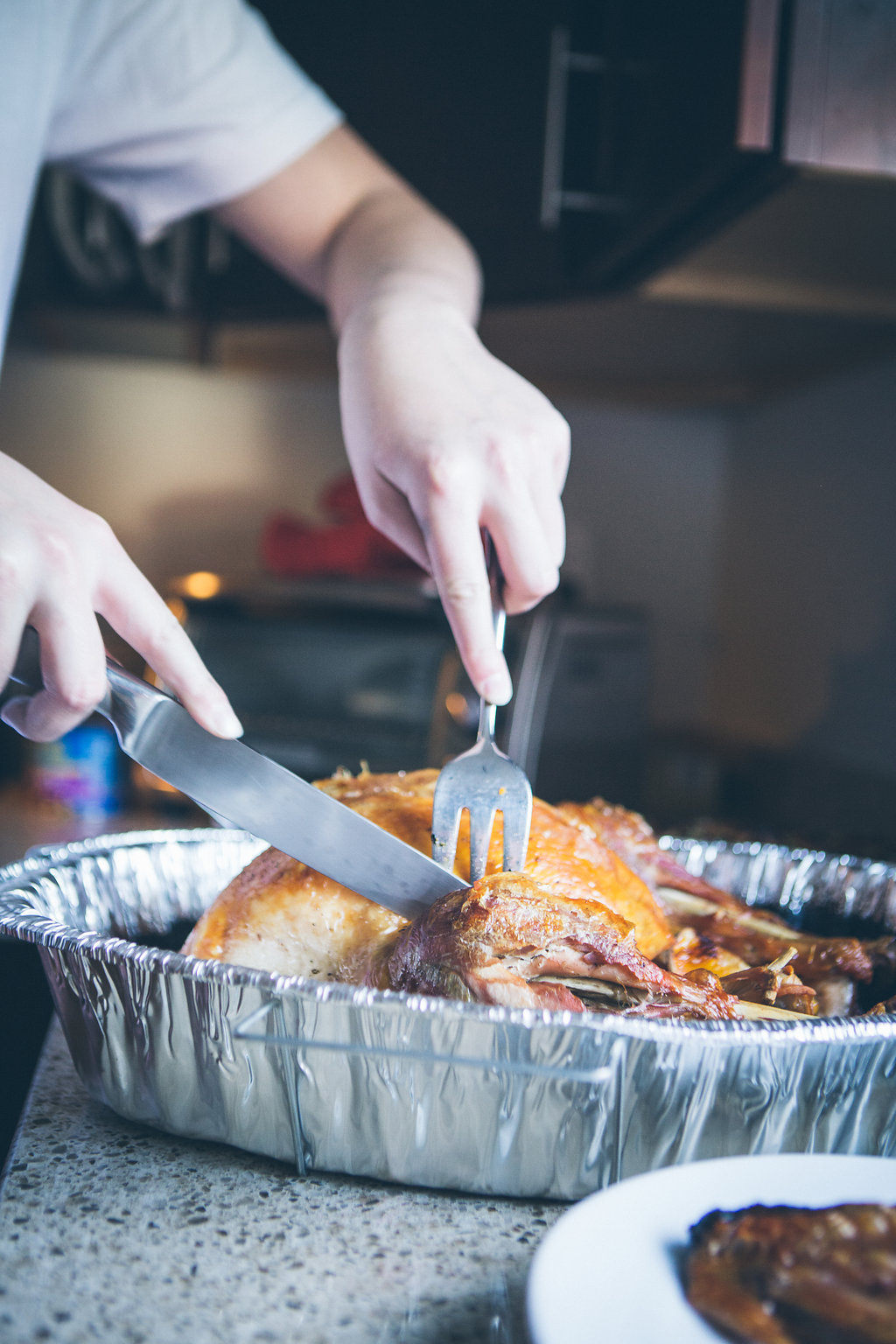 Wrapping it up
Entertaining isn't hard, but it's not without some effort either. And that's kind of the point, actually. Doing something special, that requires at least some extra effort, is exactly what holiday gatherings are all about. If we just got together and ordered pizza for Thanksgiving … well … ok, that would be awesome … but not every year.
When you make an effort, put in a little more work, and make an evening your guests will enjoy and remember, you're building friendships, and establishing traditions that will last for years. And that's something that's definitely worth doing.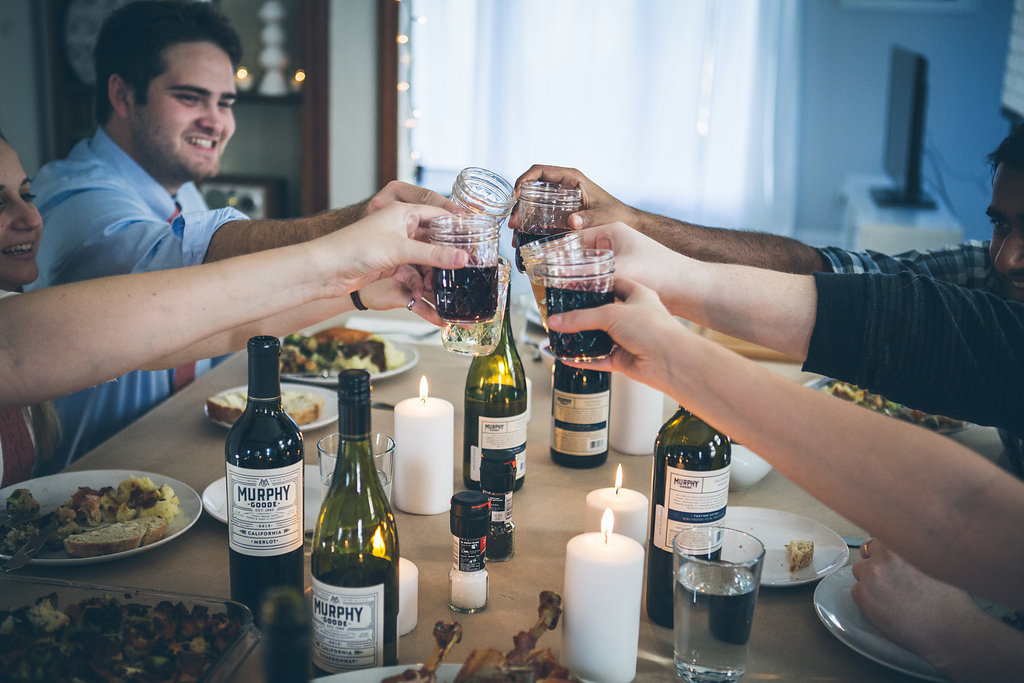 This post is sponsored by Murphy-Goode Winery, but all opinions are mine. Thanks for supporting the brands that support ManMade.