Upgrade: You Need a Quality Set of Shades
With spring around the corner, and plenty of sunlight in our future it's time to take about those glasses. Sure, cheapo glasses served us well in our 20s, but now we're responsible enough to get a bit more sophisticated. Here are a few reasons to upgrade those shades. I remember the first time I realized that quality lenses mattered. I was sitting at a cliff-side café overlooking Napili Bay on the far Northern side of Maui. Baking in the tropical sun was all I had on the agenda and I was soaking it in. As content as I was staring out at the crashing waves, I couldn't help but notice how happy the man at the next table was as he gazed out at the shimmering water. Breaking the silence, he said "want to see something amazing?" then handed me his Maui Jim sunglasses. I replaced my gas-station glasses with his on the bridge of my nose, and a whole world opened up in front of me.
The polarized lenses cut directly through the glare and I experienced a completely different view. A dozen of sea turtles were dancing in the waves, effortlessly surfing just below the surface through the bright green waters. That single experience turned me on to quality lenses in an instant, and solidified the difference that a bit of quality makes. If you're ready to make the leap to a quality set of shades, here are a few tips on what to look for:
The Technology: High-end sunglasses use multiple layer lenses, with polarization sandwiched in to block out the harmful UV radiation from the sun. This protects those domes and results in less fatigue over the course of the day. It also cuts down on squinting which is where those wrinkles are coming from. Cheaper brands only put a single layer of protection in and spend much less time on the lens construction. So even though they're both labelled "polarized" there really is a difference. The finish on a quality set of lenses is much more precise, resulting in a clearer set of glasses without distortion.
The Materials: Durable sunglasses just look better. The finish holds up better over time, and lighter more comfortable materials make all-day wear a better experience. The hardware and detail work is also much more durable so hinges and rubberized areas still look good and function well years down the road. The manufacturers are also sticking around, so replacement parts are much easier to come by when the need arises.
The Fit: We've all done it, squinting in front of that tiny gas station mirror to see how they look on our face. The fit is just a bit off, and we're suddenly aware of how one ear is a bit higher than the other. As simple as it may seem, the fit makes a difference, and upper end sunglass manufacturers take the time to get it right. Look for a set that doesn't pinch at the temples, rides well on the bridge of the nose, and are wide enough to keep the sun off when it's shining from the side.
My Favorite Sunglasses: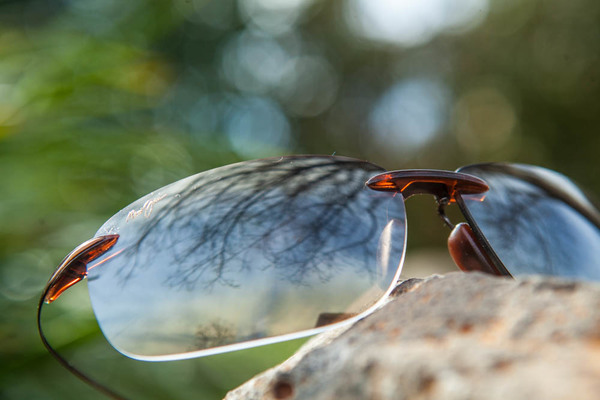 Maui Jim Olowalu $275: I have sported Maui Jims for almost 10 years, and they are some of the very best out there. Great for driving and water, the hinge-less design is a bit strange to begin with but you won't find a lighter, more comfortable frame. The lens to side connection has been known to fail, but it hasn't happened to me yet.
Native Sanitas $150: I have only had these for about 4 months, but they've really become a favorite set for me. The forward styling, light frames, and crystal-clear lenses are amazing, and they just look great. I'm impressed with how the styling looks just a bit classic, but still has the patterned design to fit comfortably with just about anything I'm wearing.
Revo Classic Square $90: These glasses aren't the lightest, or the clearest, but I still love to wear them when I'm dappering up. The thick black frames and mirrored blue lenses add a bit of heft and brightness to the duds, and folded up they fit easily in a chest pocket.
Now that you know, it's time to start looking around at a set of glasses you'll have around for a bit. Take your time and let us know what you get when you make the leap to step your sunglasses game up.