6 Healthy, Protein-Filled Snacks that Will Actually Make You Feel Full
Most of us start off January with healthy eating goals. Not diets, of course. Just smarter choices that counteract holiday excesses and get us back to feeling normal. And they work … for about the first two weeks of the month.
But by the time we get this far into the year, the old temptations have started again. All this calorie counting and vegetable crunching leaves you hungry, and no matter what that magazine article said, one quarter of a grapefruit and a pickle slice just aren't cutting it.
There's nothing wrong with snacking. We snack because we're hungry in between meals, and want to feel full. So, the goal, then, is to pick snacks that actually do make us feel full. To do that, you need a healthy balance of carbs for energy, and some protein and fat to get yourself sated.
To provide some healthy snack ideas and recipes, we teamed up with our friends at Yoplait. Their yogurt process begins with quality ingredients and ends with a delicious and nutritious snack. Yoplait only uses Grade A milk from cows that are never treated with artificial growth hormones, and their yogurt is packed with protein that will help you stop feeling hungry. You can find out more about all the products they have available at https://www.yoplait.com/products.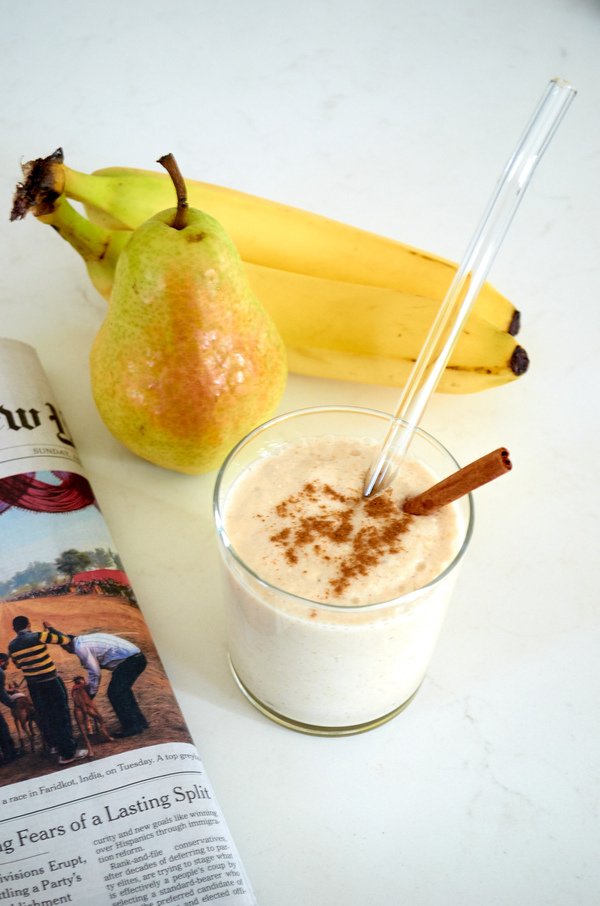 1. Pear & Banana Smoothie
Delicious winter pears and creamy bananas are paired with oats and Greek yogurt; this smoothie makes for a balanced breakfast or the perfect 3 o'clock pick-me-up. Enjoy it with our favorite glass smoothie straws.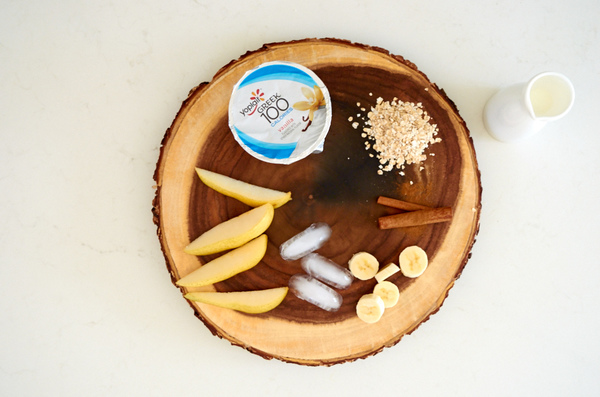 Ingredients
2 Bartlett pears cored and diced
1 frozen banana (you can use a fresh banana here, but the frozen banana makes for a creamier smoothie)
1 – 5.3oz. container of Yoplait Greek 100 Vanilla yogurt
1/2 cup. quick oats
3/4 cup 2% milk
1/2 teaspoon cinnamon + a pinch more for the garnish
5-6 ice cubes
Directions
1. Core and dice pears.
2. Break frozen banana into chunks.
3. Add all ingredients to blender and combine until smooth.
4. Pour into a juice glass (this recipe makes 3-4 servings) and garnish with cinnamon.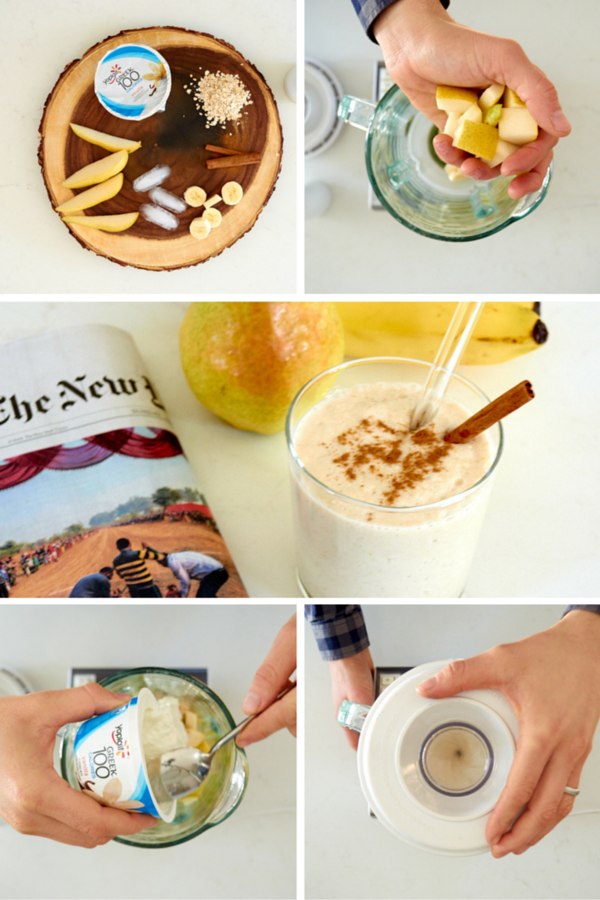 2. Peanut Butter, Yogurt, and Oat Protein Bars
This recipe is the perfect post-workout protein snack. Plenty of protein (from the yogurt and peanut butter), as well as fiber from the oats and hemp for long term energy. Adapted from this recipe from Healthy Green Kitchen.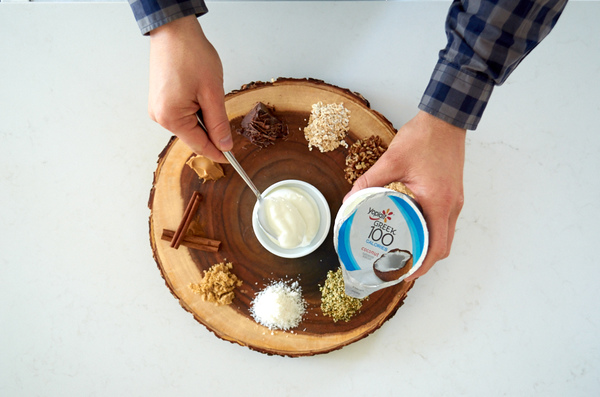 Ingredients
3 cups quick oats
1/2 cup hemp seeds
1/2 cup unsweetened shredded coconut
1 teaspoon ground cinnamon
1 teaspoon sea salt
1/4 cup organic brown sugar
1 cup Yoplait Greek 100 Coconut yogurt (about 1.5 containers of the Yoplait Greek 100)
1 teaspoon honey
1 teaspoon vanilla extract
1/4 cup organic coconut oil (melted so it's in liquid form)
1/2 cup chopped bittersweet chocolate
1/2 cup chopped pecans
4 Tbs. peanut butter powder
Directions
1. Preheat oven to 350° F. Grease a 9×13-inch pan with coconut cooking spray.
2. Combine all dry ingredients (oats-brown sugar) in a bowl.
3. In a separate bowl, combine wet ingredients (Greek yogurt – coconut oil).
4. Using a spatula, work the wet ingredients into the dry. Using your hands is inevitable.
Note: after making these, I realized it would make sense to lightly toast the pecans (or walnuts, or whatever you're using) first. Toasting them would take a little of their natural bitterness out, and give the bars a smoother flavor.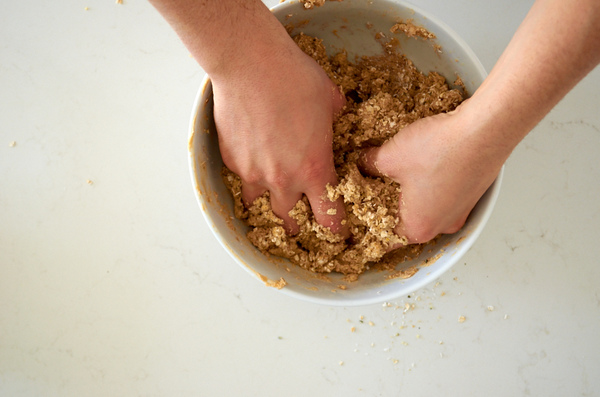 5. Fold your chopped bittersweet chocolate and pecans into the mix. Then taste it and determine whether you want to add more peanut butter or honey. When I tasted, the mix felt pretty sweet, but the final product weren't as sweet as I would prefer, so I'd suggest erring on the sweet side. Something about the baking process seems to temper the initial sweetness.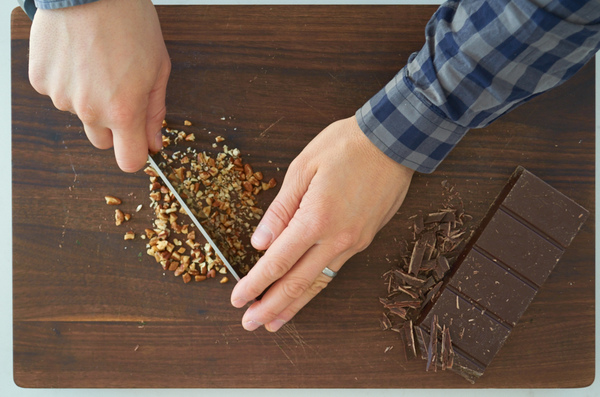 6. Once you're happy with the taste, add the peanut butter powder into the mix (the powder will add a slightly more nutty flavor).
7. Pour your mixture into a lightly greased 9×13″-pans and press it down until you have a uniform layer.
8. Bake for 15-20 minutes at 350° F.
9. Let the pan cool completely before slicing the mix into bars. Wrap bars in waxed paper and store in an airtight container in the refrigerator.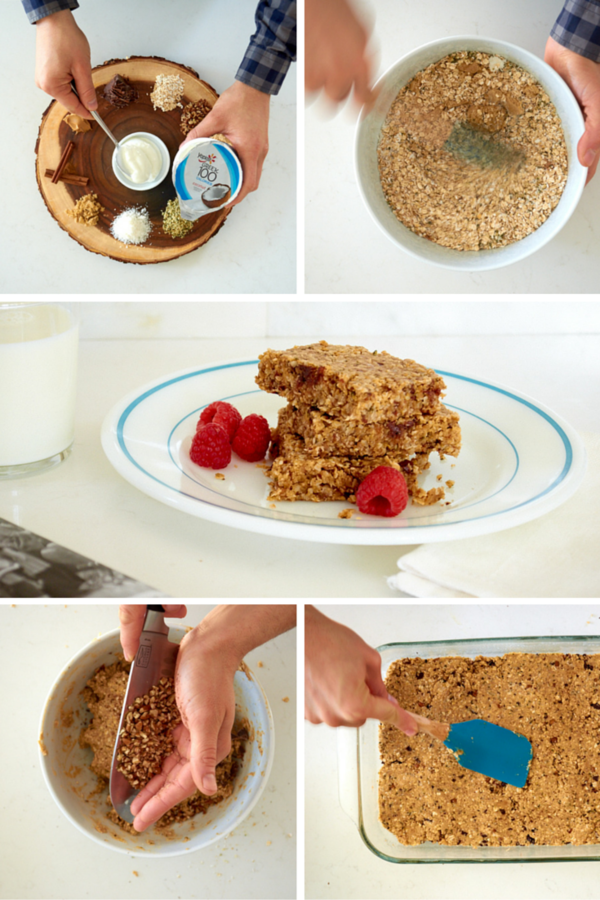 3. Spiced Roasted Almonds
Full of heart-healthy unsaturated fats, these spiced almonds leave you feeling full with only a handful. And guess what? The point of a snack is to get to you stop eating, not to go on munching indefinitely.
Ingredients
1 tablespoon olive oil or coconut oil
1 lb. whole raw almonds
½ tsp. ground cumin
½ tsp. dried thyme
¼ tsp. crushed red chili flakes
1 Tbsp. tamari (or low-sodium soy sauce)
1 Tbsp. Worcestershire sauce
Directions
Preheat the oven to 275° F.
Heat the olive oil in a large skillet over medium-low heat. Add the almonds and toast, stirring constantly, until lightly browned, about five minutes.
Add the cumin, thyme, and chili flakes, and stir to combine.
Add the tamari or soy and Worchestershire sauce and cook, stirring constantly, until the liquid has absorbed and reduced, about two minutes.
Place the almonds onto a sheet pan in a single layer, and roast in the oven for 15 minutes. Remove and allow to cool thoroughly (about 45 minutes).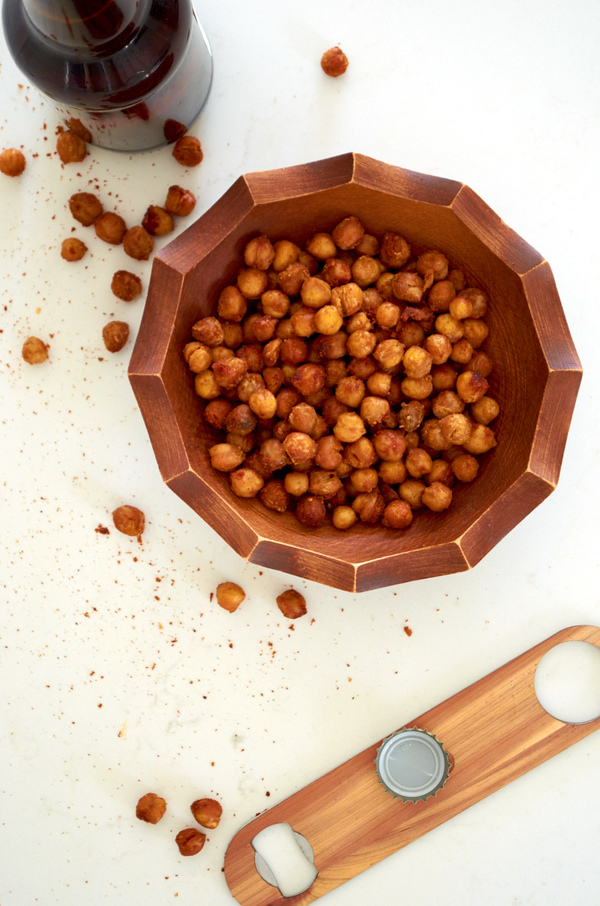 4. Crispy BBQ Chickpeas
These little bombs of crunch and flavor are packed with protein and will immediately cure your salt fix. Next time you find yourself lunging, zombie-like, toward a bag of greasy potato chips, think to yourself, "I could be eating healthy spiced chickpeas, instead." That, or brains…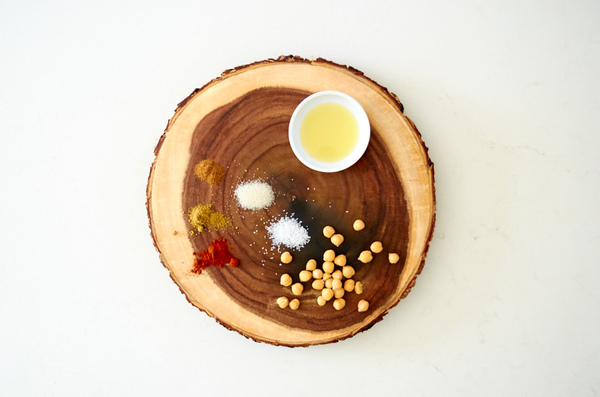 Ingredients
1 – 15 can of chickpeas/garbanzo beans
1 Tablespoon olive oil
1 teaspoon smoked sweet paprika
½ teaspoon ground cumin
¼ teaspoon sugar
1/2 teaspoon Kosher sea salt
Pinch of chipotle chile powder or cayenne pepper
Directions
1. Coat a baking sheet with parchment paper, and preheat the oven to 350° F.
2. Drain the chickpeas and rinse in a colander, then dry thoroughly with a kitchen towel.
3. Toss the chickpeas in a bowl with the olive oil to coat. Combine the spices and salt and sprinkle evenly, tossing to coat each bean.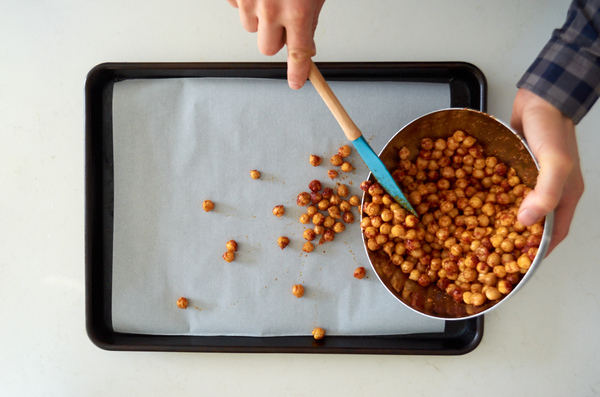 4. Transfer to the lined baking sheet, spreading to create a single layer, and roast in the oven for 45 minutes to 1 hour, shaking the pan halfway through, until chickpeas are crunchy.
5. Remove from the oven, and allow chickpeas to cool thoroughly (about 45 minutes).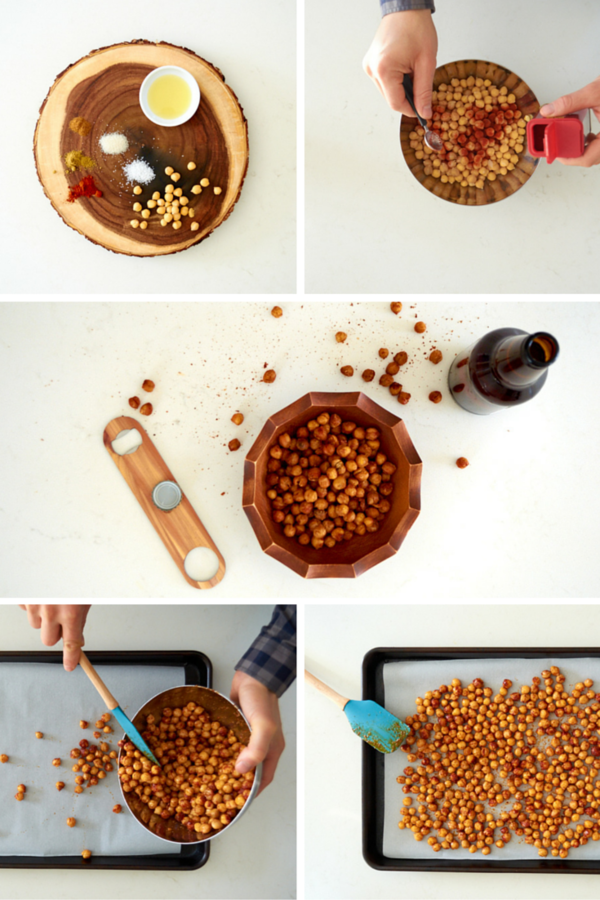 5. Blueberry Yogurt Mousse and Peanut Butter Dip
It doesn't get much easier than this fruit dip recipe. Tangy blueberries, creamy peanut butter, oats and spices combine to make a sweet and healthy dip that's perfect for apples.
Ingredients
1 – 4oz. container of Yoplait Greek 100 Greek Whips! (blueberry, in this case)
2 Tbs. peanut butter
2 Tbs. quick oats
1/4 tsp. nutmeg
1/8 tsp. ginger
Sliced apples
Directions
Combine the dip ingredients, yogurt mousse through ginger, in a bowl. Mix well. Slice apples and you're ready to enjoy!

6. Whole-Grain Pretzels and Spiced Yogurt Dipping Sauce
A surprisingly good alternative to chips, a one ounce handful clocks in at only about 100 calories per serving. The protein in the yogurt dip helps you to feel full and feel like you're enjoying something substantial.
Ingredients
½ cup Yoplait Greek 100 yogurt, plain
½ tbsp. extra virgin olive oil
½ tsp. caraway seeds, crushed with the side of a knife
¼ tsp. ground coriander
1 tsp. raw sugar
½ tsp mustard powder
1 tsp. smoked hot paprika
Fresh thyme, chives, and grated lemon zest, if you have them
Salt and lots of black pepper to taste
Directions
Combine the yogurt with the olive oil and the spices in a bowl and stir thoroughly to combine. Season with salt and pepper. Top with fresh herbs, lemon zest, and a splash of olive oil, and serve with pretzels.
Looking for other ways to stay healthy this year. Check out the ManMade health and fitness sections. For more tasty and healthful recipes, follow along with Yoplait on Facebook, Twitter, Pinterest, or with the #YoplaitHealthySnacking hashtag.
This post is sponsored by Yoplait. Thanks for supporting the brands that support ManMadeDIY.