Best Value in Booze: What's the Best Rum under $25?
There are times to try new things. Times to taste different flavors, experiment with products, seek out something you've never encountered before…And sometimes, you just want to know what the best option is. The easy choice. The go-to. The everyday variety you know will work when you need it, and rely on every time.
Throughout the next few months, ManMade is seeking out the best affordable bottles of a variety of spirits that work well in your home bar, but know you can grab at the store the next time you head to a friend's house or a party.
And now, we set our sights on rum. Rum, like tequila, is often sold in a variety of styles and ages. The distilled product is bottled brand new, crystal clear as young as vodka, and sold as white or silver rum. The same liquid is aged in bourbon, sherry, or brandy barrels for two to five years and becomes gold or amber rum. Dark rum tends to be made from molasses caramelized sugar cane, and aged for much longer periods in heavily-charred barrels. Spiced rums and tropical flavored rums come full of a bunch of abstracts and chemicals, and are gross. If you want an infused rum, it's super easy to make your own at home.
So, which one should you be drinking? Maybe it's because it's winter and not the warm sipping nights of summer in Barbados, but our vote goes to the versatile and flavorful amber rum. And for value, you simply can't beat Plantation Rum Barbados 5 Year Reserve.
As the bottle details, this product originates in Barbados, where it's aged in American whiskey barrels for five years. Then, it's transported to France where it's finished in Cognac barrels before bottling.
This is a rum that worth sipping and, since it only costs $18-22, worth mixing as well. In the glass, it smells like leather and a bit basement-y, like an antique or used book store. (In a good way). It tastes, at least to me, of lots of dried orange and vanilla, with some natural vanilla and spice flavors from the bourbon barrels. It's somewhat sweet, which ends up making it more palatable. The longer it sits in the glass, more cinnamon and clove appear, providing a nice spiced spiciness.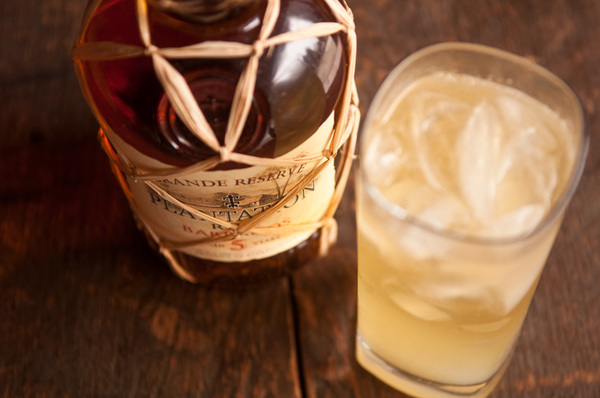 Mixed with some bitters and sugar into an Old Fashioned variation, it holds up well, and shines even better in a simple shaken daiquiri or Lime Rickey with soda. It has a nice butter note that makes this perfect for enjoying while its dark and cold out, pretending that it's not.
The Plantation line, owned by the French Cognac Ferrand, also makes an excellent Original Dark Rum from Trinidad and Tobago that sells for a few bucks less, but it's not as easy to find at retail shops. Either one will do you very, very well. Not bad for $20.
Give it a shot this week, and let us know what you think in the comments. Cheers.
For more in our Best Value in Booze series, check out these great bottles!