Best Value in Booze: What's the Best Irish Whiskey under $25?
There are times to try new things. Times to taste different flavors, experiment with products, seek out something you've never encountered before…And sometimes, you just want to know what the best option is. The easy choice. The go-to. The everyday variety you know will work when you need it, and rely on every time. Throughout the next few months, ManMade is seeking out the best affordable bottles of a variety of spirits that work well in your home bar, but know you can grab at the store the next time you head to a friend's house or a party.
Now that it's officially fall, it's time to put away the gin and tequila of summer, and embrace the ultimate cool weather spirit: whiskey. Over the next few weeks, we'll be sharing our favorite picks for a variety of whiskey styles (bourbon, Scotch whisky, etc), but today, we're starting with a lesser known type, at least in the U.S.: Irish whiskey.
And for the best value bottle, my vote goes to: Kilbeggan Blended Irish Whiskey, which costs around $23 – 27. It's not the cheapest out there, but provides an awesome value and a great balance between price point and flavor. At the price, it's around $1.05/oz, or $2.10 for a standard 2 oz. dram. So, two bucks a drink… you can't get that at your local watering hole.
Kilbeggan is named for St Bécán, one of the Twelve Apostles of Ireland from the 6th century, who founded a monastery in the community where the distillery resides. It's technically the oldest licensed distillery in Ireland, founded in 1757. The original building has an interesting history. Here's what Wikipedia says:
The economic depression of the 1920s and 1930s took its toll on [the distillery]. In 1947 it was put up for sale and the successful bidder, the Transworld Trust, involved fraudsters from Switzerland and Austria…On 19 March 1954 production ceased at the distillery. It closed closing completely in 1957 and the building began to fall into disrepair. Twenty five years after its closure, the community of Kilbeggan restored the distillery and opened it to the public as a whiskey distillery museum. Cooley Distillery bought the license to produce Kilbeggan and Lockes Whiskey, and later took over the museum along with opening a new working distillery in Kilbeggan.
Today the distillery is known as Kilbeggan Distillery, and includes a…19th-century waterwheel that is in working condition. The distillery can also be powered by a steam engine, which is in working condition but rarely used. It was installed to allow the distillery to continue operating in times of low water on the river.
Whiskey production recommenced in 2007, the year in which the distillery celebrated its 250th Anniversary. One of the two Copper Pot Stills that is being used in Kilbeggan was made in the early 1800s and is the oldest working Pot Still producing whiskey in the world today…In 2010 Kilbeggan became a fully operational distillery once again, with the installation of a mash tun and fermentation vats.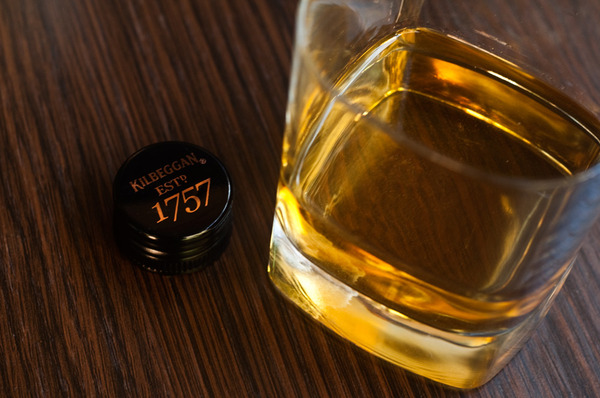 As for the product itself, it's good. Quite good; especially at two and some change a glass. It has a notable nutty, oily flavor and texture, which is real plus. It's not very sweet, but has the richness of honey and deep malt flavor. It's quite dry, which reads as complexity. It takes particularly well to a small splash of water to open it up; it helps to bring out the fullness of the flavor profile. Without the water, it just kinda tastes like a not-very-sweet bourbon (which isn't a bad thing; it's just not Irish whiskey).
I don't drink my whiskey on the rocks, so I don't know how well it reacts to ice, but I think this guy would be delicious in a simple cocktail or highball; I recommend trying it with ginger beer or apple cider and a squeeze of lemon.
Give it a shot this weekend, and let us know what you think in the comments. Cheers.
For more in our Best Value in Booze series, check out these great bottles!