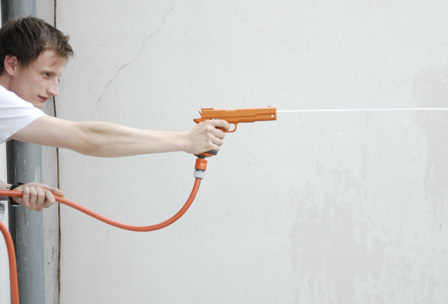 Squirting someone with the garden hose will: 1) never stop being fun, and 2) never stop being funny. The mantra "its only water" can aid in getting away with a lot, no? Imagine how much MORE fun it would be to soak your mates with a water pistol with an infinite reservoir and gusto for days.
German speakers, help me out: "Der Garten lebt…nicht mehr lange – eine ironische Anspielung auf die Garden Gun 5.1, die mit Ihrer Munition aus Wasser mehr Leben bringt als Ihre Artgenossen. Die gegensätzliche Qualität von Wasser – Quell allen Lebens – in Kombination mit einem der totbringendste Erzeugnisse der Menschheit, führt zu einer bewusst ironisch-spielerischen Anwendung."
I wonder what the prior to 5.1 releases entailed.