How to: Make a Set of Custom Wooden Cufflinks
For most men, cufflinks are one of those accessories that are seldomly used, but when you need 'em, you need 'em. You can buy custom cufflinks from anywhere between $20 to hundreds of dollars…or, you can make your own masculine, custom cufflinks for $5. This is an incredibly simple project that took about 25 minutes to make and, if I may say so myself, they look pretty great.
Materials and Tools Needed for Custom Cufflinks: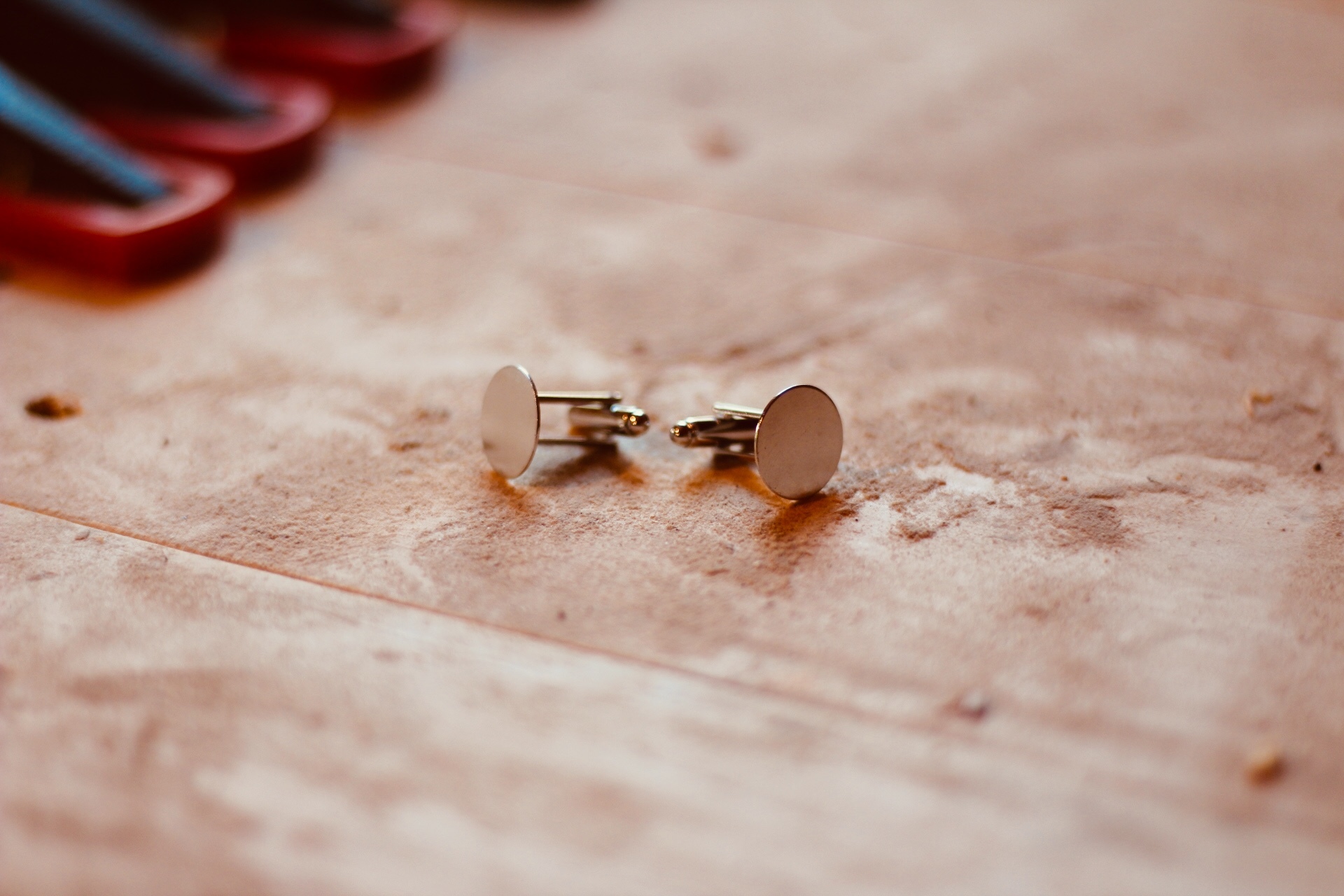 1. You can buy your blank cufflinks online in a variety of different widths. I chose 15mm, which is on the larger side, but I was really happy with my choice.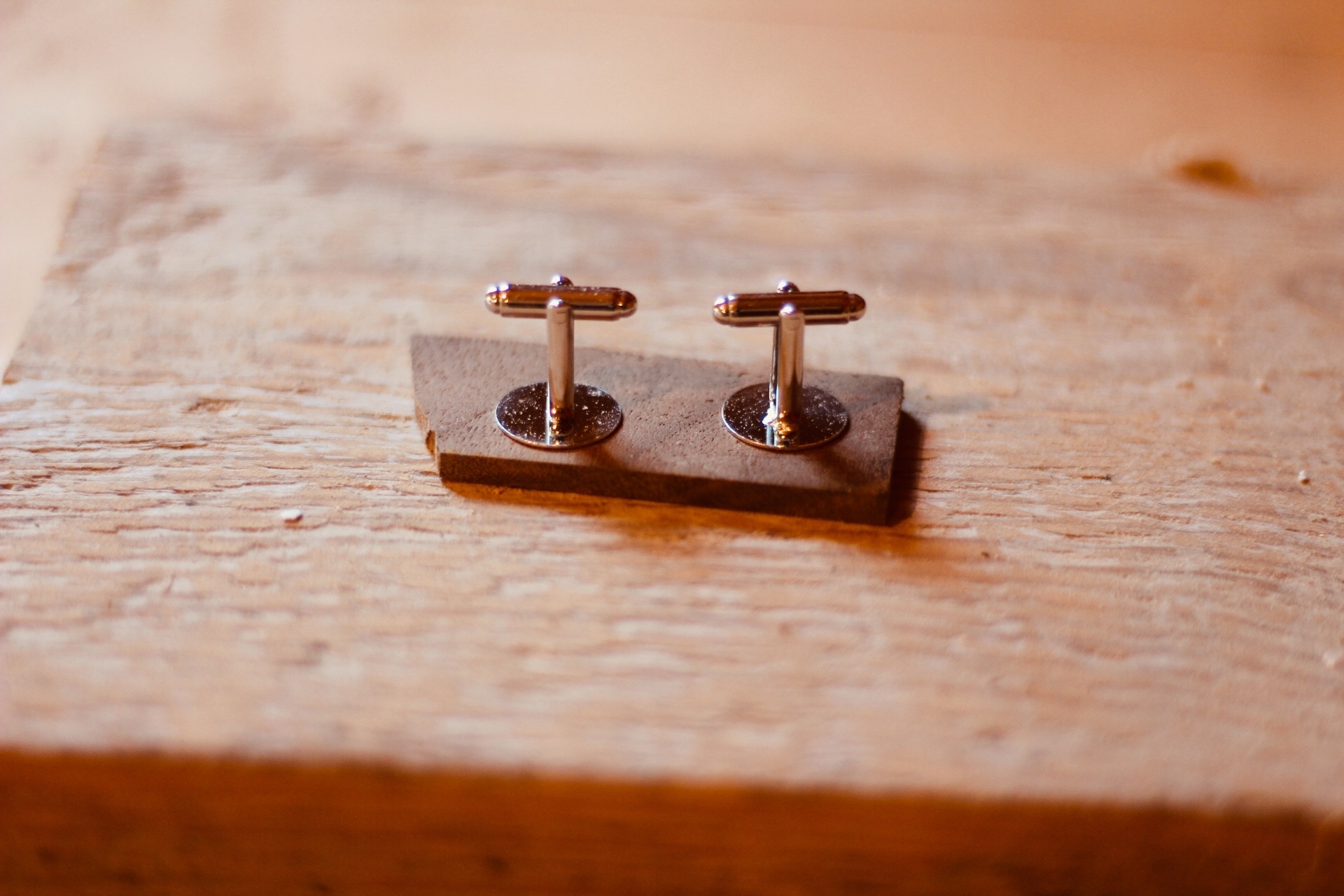 2. Find a thin piece of your favorite scrap wood. Walnut is my favorite wood and I have plenty of scraps laying around my shop. Also, the dark brown color of walnut matches really well with my brown leather dress shoes, belt and watch. If you're going through the trouble of dressing up for any occasion, you might as well match and look your best!
If you don't have any scrap wood lying around, you can order small blocks wood with striking grain sold as "pen blanks" for turning pens on a lathe. It's a great way to get pieces for a reasonable price, and without having to buy a large board.
3. Use super glue to attach your cufflink blanks to your piece of scrap wood. I used 320 grit sandpaper to lightly scuff the face of the cufflink blanks before gluing them to the scrap wood. Scuffing the face of the metal gives addition surface area for the super glue to adhere to and creates a stronger bond. The super glue is dry within minutes so you don't have to wait long before moving on to the next step.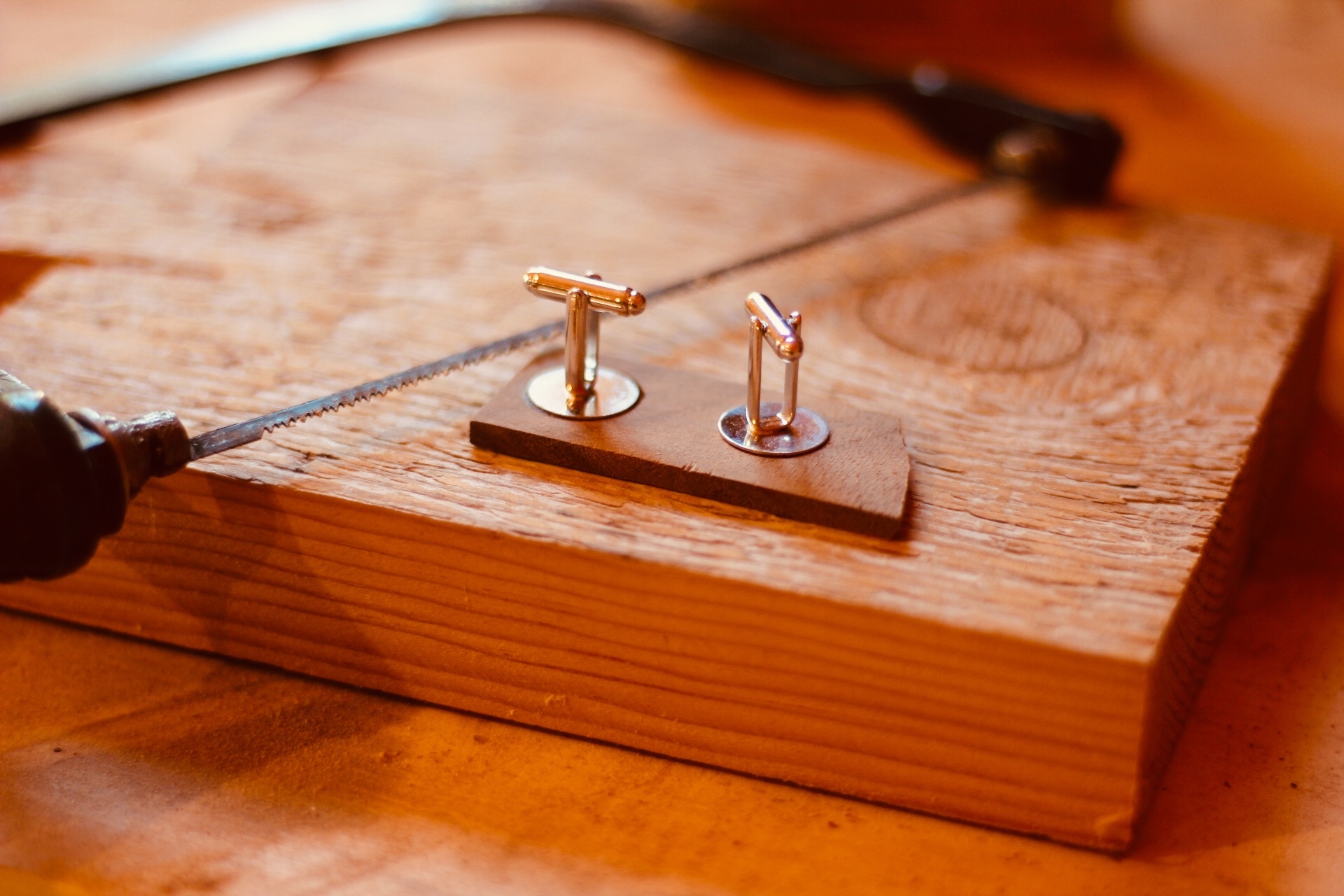 4. Use a coping saw to cut out your shape of choice. You can use your creativity to cut any shape you want. I chose a classic square because I wanted a simple and timeless look.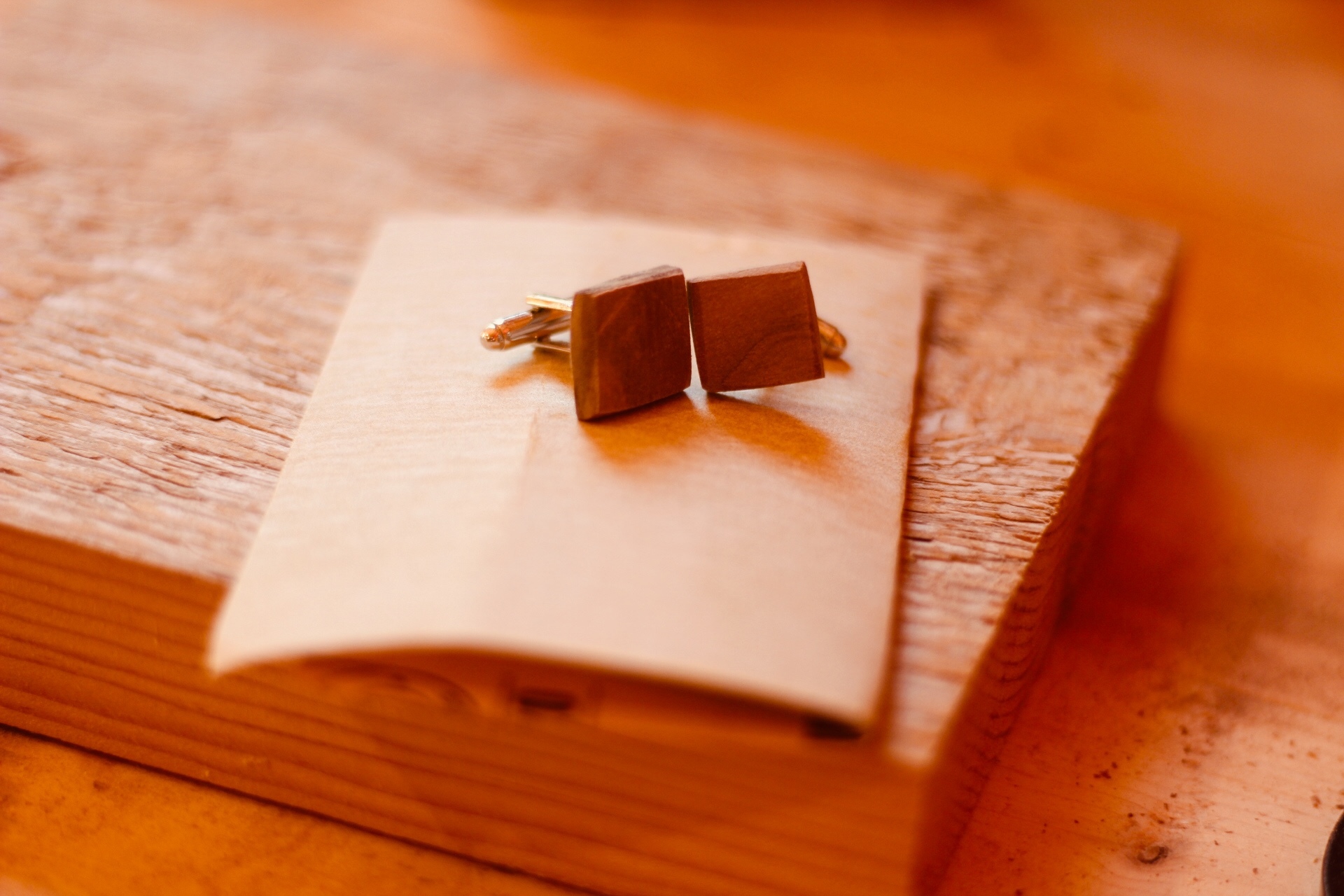 5. Once you've cut your desired shape, sand the surface and sides of the wood. I used 320 grit. Simply put your sandpaper flat on your workbench and then turn your cufflinks upside down and sand by hand. You can use your sandpaper to give a slight bevel to each of the custom cufflinks. You can make things perfect and even here, but I went for more of an organic looks to echo the material choice.
6. Use wipe on poly to make the cufflinks pop. A small dab of the poly on a clean rag will be enough to finish both cufflinks.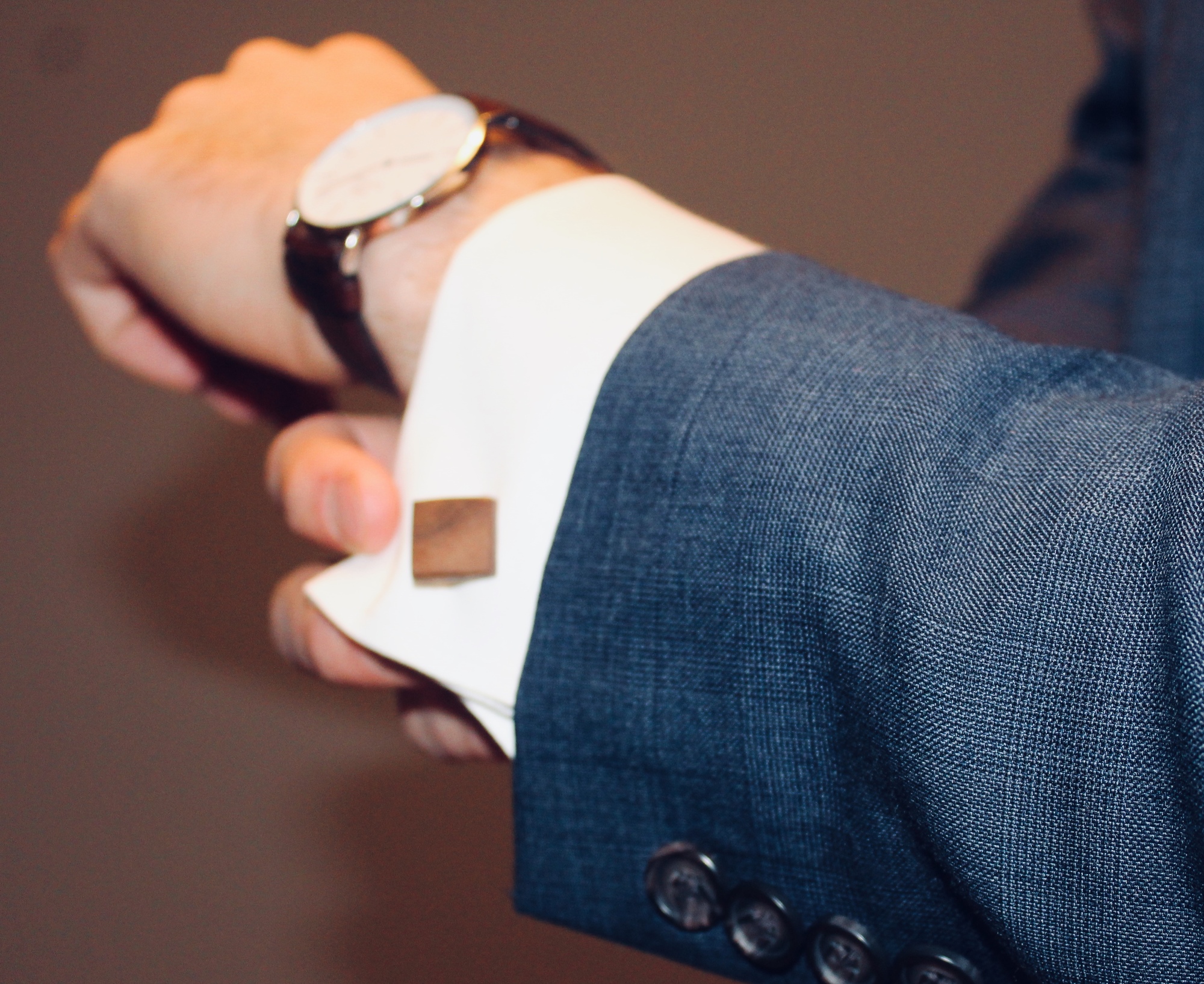 Creating these manly, custom cufflinks was a simple and easy project. It doesn't require any special power tools and it only takes about 25 minutes to make. You could customize them even further by adding your initials with a wood burning kit. So instead of buying something, go out and create your own personalized cufflinks!