How To: Make Your Own Moleskine-Like Notebooks.
In the era of smart phones, tablet pcs, and very useful, well-designed computer-based to-do apps, there's still something quite organic and almost human about scraping a pencil across the fibers of a piece of paper. So, even the most wired-up creative set still keep a notebook around – for speed, accuracy, and sometimes, inspiration.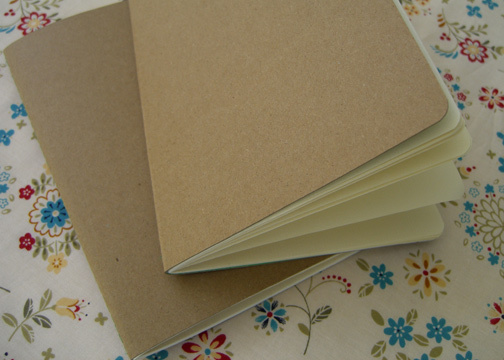 The Moleskine has become the standard, due in large part to a clever marketing approach at the Barnes and Noble superchain, who entice would-be highbrow superstars to use the same notebook used by Picasso, Matisse, and Hemingway. But despite their beauty, Moleskines are ludicrously overpriced. And…we never buy what we can make. Ellen from The Long Thread has come up with an excellent handmade notebook, which uses recycled materials, but keeps the Moleskine-like sewn binding, so they pages still lie flat!
Materials
cereal box
paper
thread
rounded corner punch
paper cutter
painter's tape
Ever made your own notebooks, sketch pads, or planner? Tell us about it in the comments.