8 Truly Extraordinary Whiskeys Under $75
Look. We love a solid, affordable whisk(e)y roundup. We've certainly written our share on ManMade: see here, here, here, and here. But there are times in life where "good enough" isn't… those times where you're really to spend a little more to experience something seriously amazing.
And that's when you look for one of these bottles: highly rated, extremely enjoyable, and still a good value for what you get. These aren't $200-300 collector bottles, but definitely a step up from the second-to-bottom shelf when it's really time to celebrate. Think of this way – a 750 mL bottle is, essentially, sixteen 1.5 oz servings. Even if you spend all $75, that's only $4.60 a pour. At a hotel bar, these would go for $10 – $20, plus a tip.
Here are our faves. Note: there are no Japanese whiskies in this list. I'd love to learn more there, but it's simply not a category on which I can speak with authority.
1. Bruichladdich Port Charlotte The Peat Project (Scotch Whisky) – $60
What happens when a distillery who specifically features "unpeated" on their flagship product tries their hand at a smokier whisky? Pure magic. Elegant, complex, and heavily peated to perfection. This is a truly excellent value at around $60.
2. The Irishman Single Malt Irish Whiskey – $55
Loads of fruit flavor and vanilla dominate the nose, and the palate allows cereal grains, granola, and toasted nuts to shine through. It's a major upgrade from the more common blends, and worth experiencing at least once.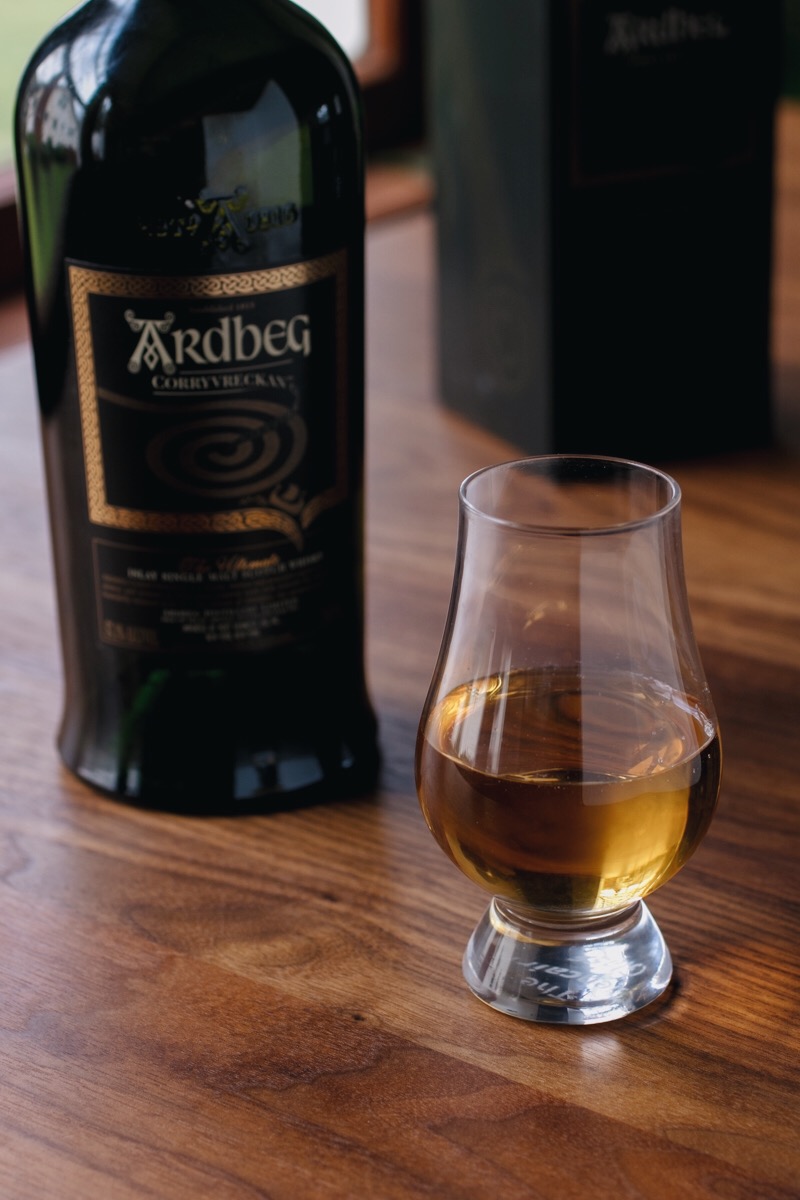 3. Ardbeg Corryvreckan Scotch Whisky – $75
To my palate, the standard Ardbeg 10 ($50) is all smoke and no fire. The aroma is outstanding, but the whisky itself disappears once out of the glass. But Ardbeg's premium bottles are all stunning. My favorite is the Corryvreckan, named for a local whirlpool, and the deep, dank flavors are there to match. Beautifully balanced.
4. Knob Creek American Rye Whiskey – $30
A complete steal at $30. While Knob Creek's standard straight bourbon packs some flavor at 100 proof, it pales in interest to their (relatively) recently released rye. It has loads of the spice rye whiskeys are known for, but still makes room for fresh herb and plenty of barrel-y oak flavor. Save the Rittenhouse for your Manhattans; all this needs is a drop of water to be a perfect glass.
5. Glen Moray 15 year old Single Malt Scotch Whisky – $55
Last year, Glen Moray released a new line of age statement whiskies, and, while I've only tasted the 15, I've been seriously blown away. (There's also a 12 and an 18 year). This is a Speyside aged in both bourbon and sherry barrels, providing a lovely balance of sweetness and spice. What's most impressive here is the finish: it is perhaps, the longest I've ever experienced…like a final guitar chord that's strummed and continues to ring out well after the band has left the stage.
6. Elijah Craig Barrel Proof (Kentucky Bourbon)- $60
This release won Whisky Advocate's "Whisky of the Year" in 2017, and I couldn't agree more. Here, the general sweetness of Bourbon is matured into actual flavors: specifically, salted caramel and old-timey toffee. At the same time, it's surprisingly savory. And very, very fun to drink.
7. Stolen Whiskey – 11-year-old American Corn Whiskey – $35
This is an interesting one. They get points for creativity alone – it's a corn whiskey that's extra aged with additional "smoked" barrel staves inside the casks. These additional staves are toasted on every side, so there's maximum vanillians and char from the wood. The results are like eating breakfast around the campfire: roasted coffee, molasses on johnny cakes, bacon, and even a bit of Frosted Flakes (in a good way). It's a singular experience, and at $35, one that's definitely worth trying
8. Rogue Dead Guy American Whiskey – $40
Rogue is one of the oldest craft breweries in Oregon (my state of residence), and while I have opinions about their beer and general presence in our tourism industry, I can't say a bad thing about their foray into whiskey. It's freaking delicious. It's quite citrusy, and almost has a "full mixed cocktail in a sip" flavor that I can get behind. It's distilled from the same malted barley from which they make their beers (they must certainly have dedicated relationships with local Northwest Farmers), and aged right next to the Pacific Ocean. In this way, it might be one of the closet American analogs to Scotch, and the seaside taste is there, just enough.
What's your favorite "next level" bottle? Please share in the comments below.