Everything You Need to Cook Amazing, Flavorful Food with a Cast Iron Skillet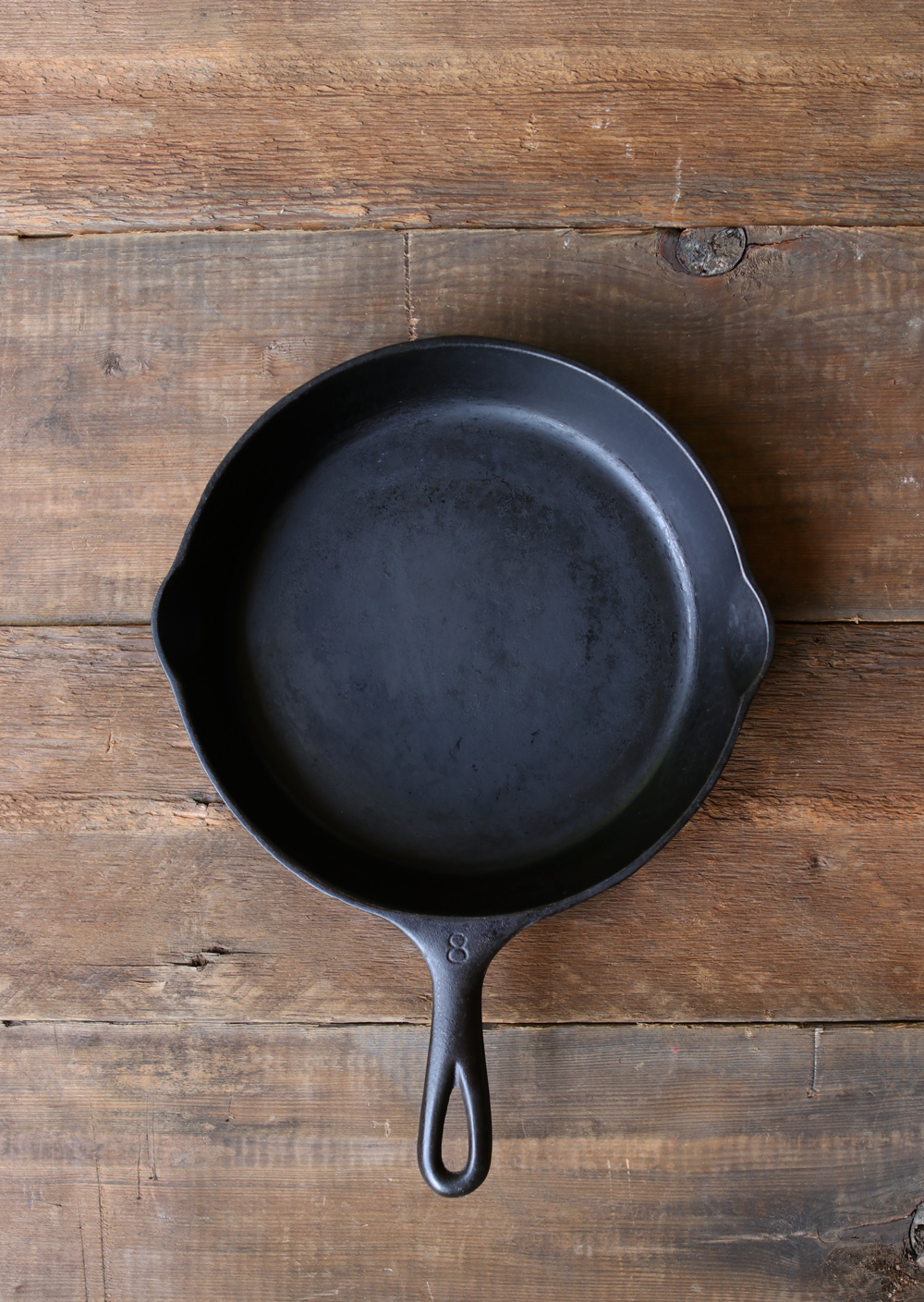 A few weeks ago, we had a couple of friends over for dinner, and the husband joined me in the kitchen as I was finishing up some carrots I'd blackened and blistered then finished in the oven.
"Oh, you like your cast iron skillet?" he asked.
"Like it?" I replied. "I have three of them, and I use 'em as much as possible."
He was a little surprised at my response, and me by his. He'd said he and his wife had registered for both a large skillet and a dutch oven for their wedding, and received both. But once they got them home and unboxed, they could really figure out how to season them, how to clean them, or how to care for them. This, of course, broke my heart a bit, and I vowed that if he brought them over sometime, I'd help him get them ready to go, and show him what they could do.
So, whether you're just getting started in the wonderful, flavorful world of cast iron, or you'd like to move beyond special occassion meals and use these as your daily cookware, there's just a few things you should know, and keep around, for smooth, non-stick, generation-lasting success.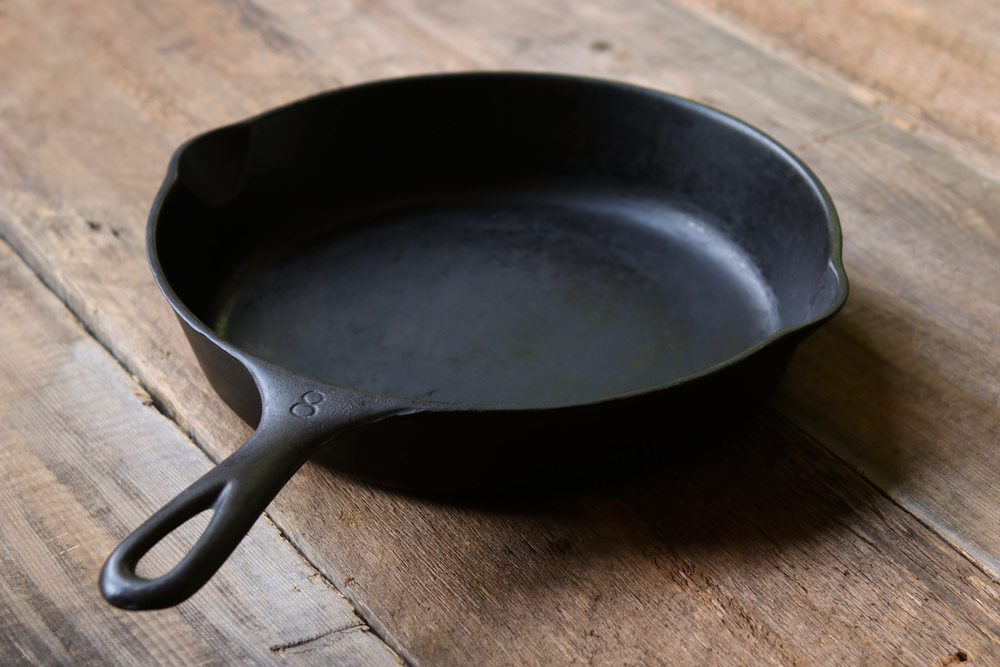 1. The skillet: Obviously, if you don't have one, you're going to need one. Truthfully, I prefer buying used cast iron cookware from vintage shops and flea markets. Made in the heyday of this style of cookware, older skillets are made from super high-quality ore from Pennsylvania, West Virginia, and my own homestate of Ohio, cast into the right shape, and then, most importantly, ground down on the inside for a much smoother cooking surface. Brands like Griswold, Vollrath, and Wagner are the king here.
But, there's nothing wrong with starting with a new skillet either. You could spring for the very high-end Finex from Portland, OR, or simply go with the standard: a pre-seasoned 12″ skillet from Lodge. Once you've got a larger model, consider a medium as well; I find I use my 8″ and 10″ models most of the time when cooking for two people. (There's a chance it's actually because they're on top of the stack in my pantry).
ManMade Recommended: Lodge 12-inch Cast Iron Skillet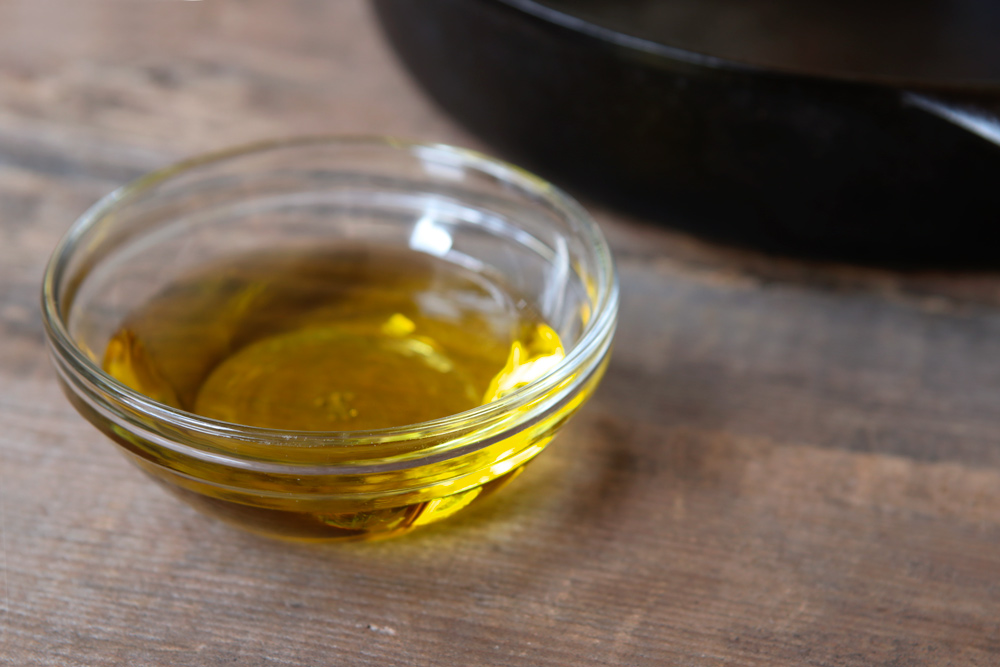 2. Flaxseed Oil: There are several ways to season a skillet: lard, vegetable shortening, beef tallow, etc. But the recent work of scientists and extensive testing recommends something the early cast iron users wouldn't have had access to in the kitchen: food-grade flax oil. It creates an extremely secure bond with the metal, resulting in non-stick layer that can stand up to anything. There's no reason to use anything else.
ManMade Recommended: Puritan's Pride Organic Flaxseed Oil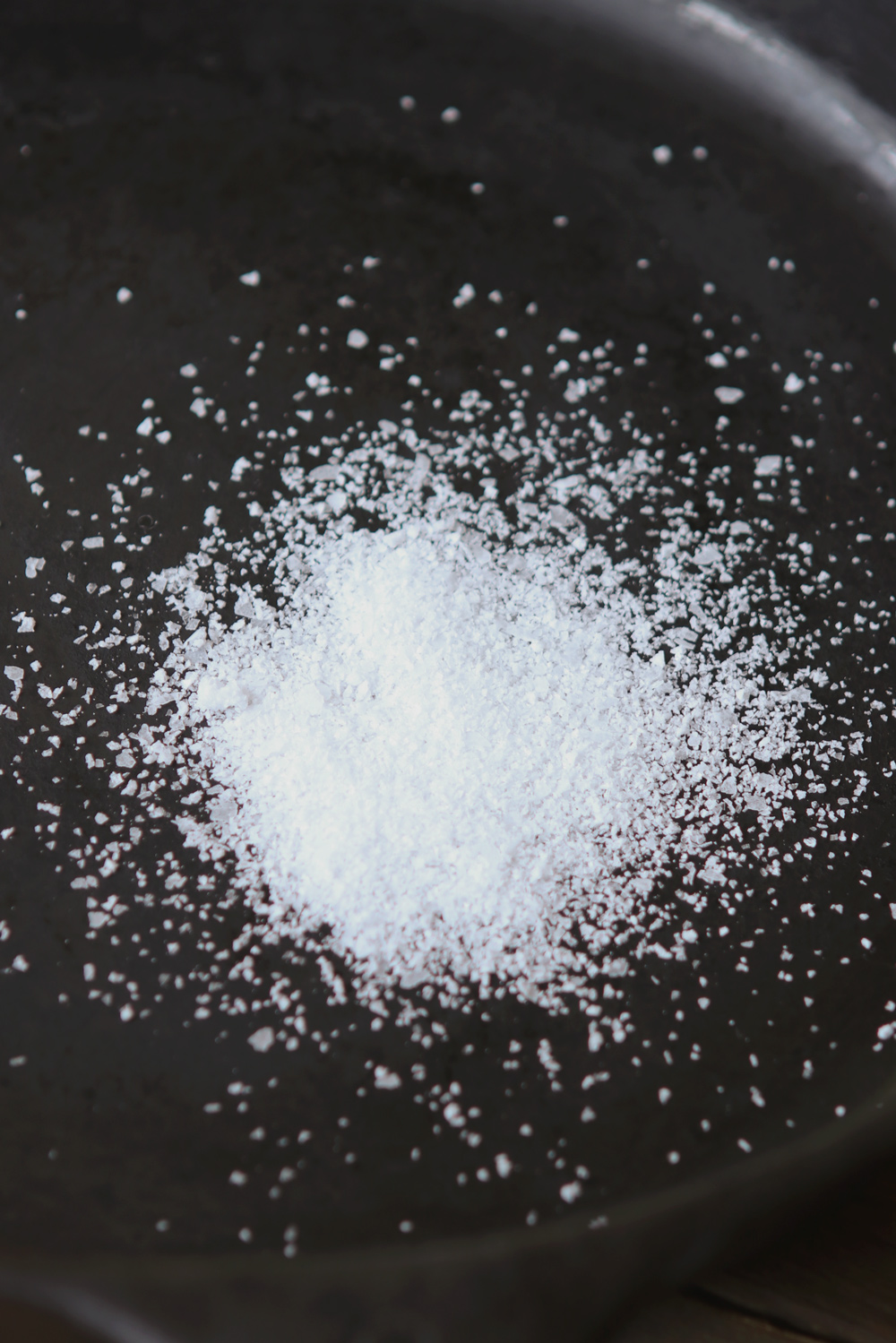 3. Kosher Salt: A lot of the mystery surrounding cast iron revolves around: if you can't use soap, how do you get the stuck on food and oil out? The answer: you abrade it away. A tablespoon or so of coarse salt and a paper towel will remove almost all the crusty bits and absorb any remaining oil, especially if you can attack it while the pan is still warm and the drippings liquid. A quick rinse in water, and you're ready to dry and oil and put it away until next time.
ManMade Recommended: Diamond Crystal Kosher Salt, 3 lbs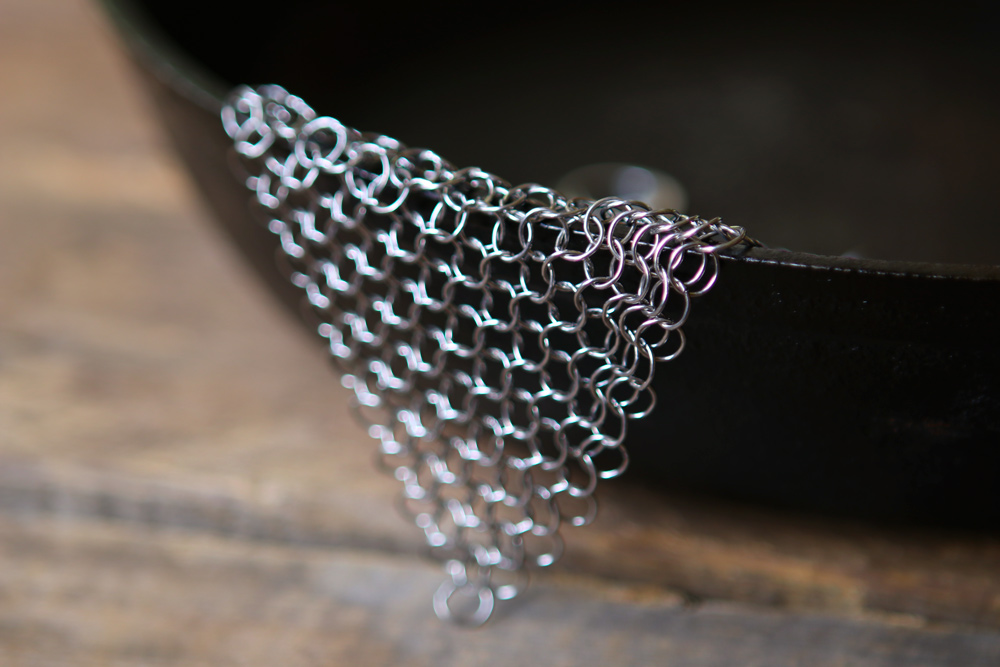 4. Stainless Steel Cast Iron Scrubber: You can use a nylon bristle brush or sponge on cast iron without harming the surface, but, as anyone who's ever done it can attest, it will become black with iron and likely saturated with grease and little bits without soap.
The answer: chain mail. This brilliant little $15 device is a stainless steel wash cloth that will help your pan become spick and span, and look just as fresh after a rinse. If it gets particularly built-up, just toss it in the dishwasher.
ManMade Recommended: The Ringer – The Original Stainless Steel Cast Iron Cleaner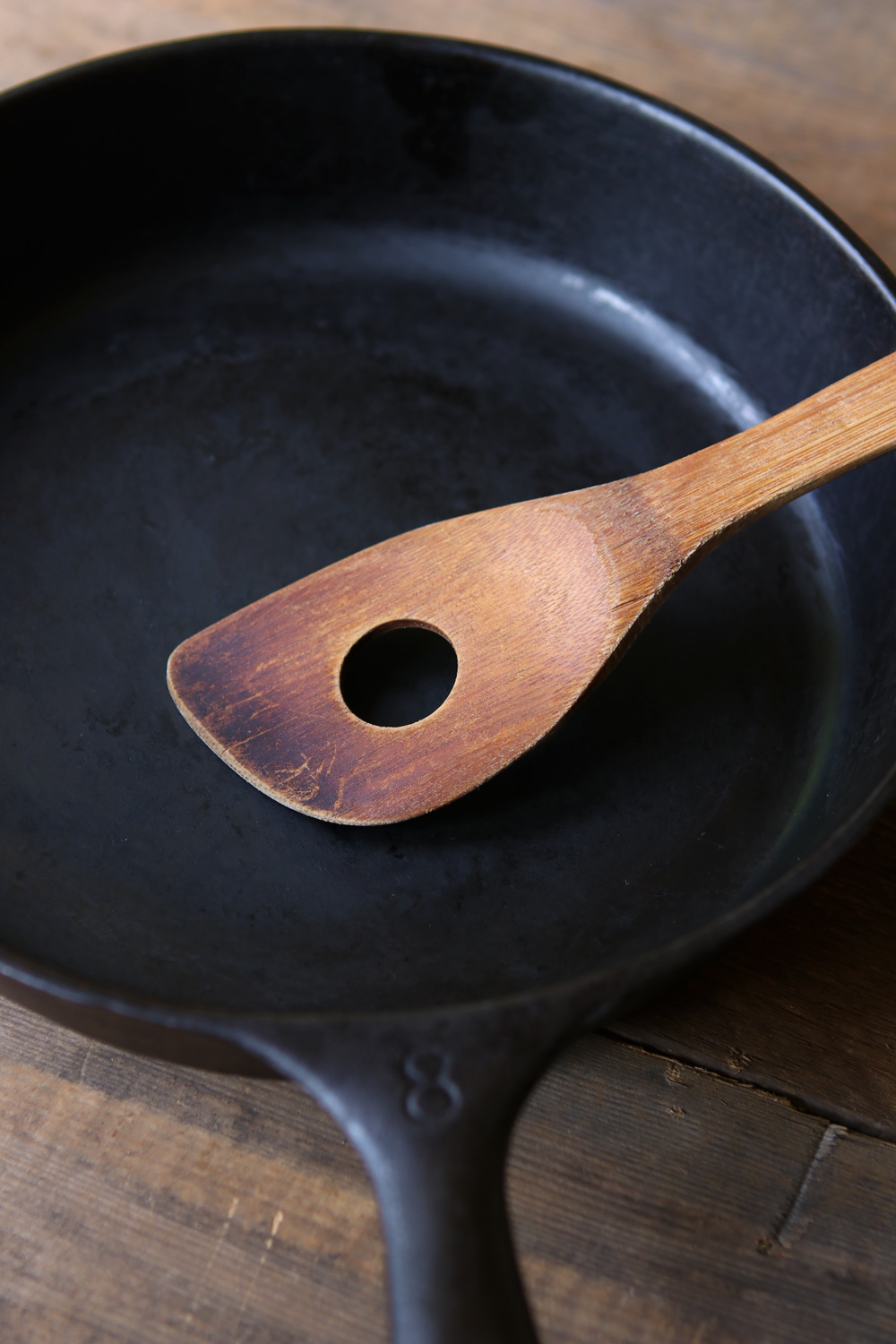 5. Wooden Utensils, Turners, Spatulas, Etc. – You can use metal on a well-seasoned skillet without ruining the surface, but you don't have to. I've been using the same set of bamboo utensils and a pair of tongs on every pan I have – iron, steel, copper, and non-stick, for ten years, and I don't prefer anything else. Use what you have, or grab a totally affordable set online.
6. Handle mitts: In my kitchen, these serve two purposes. First, they help protect your hand when moving a skillet out of the oven. Secondly, and somewhat related, they serve as a reminder to you and anyone else in your home that the handle of that pan is hot, and should not be grabbed without protection. Love them; use them daily.
ManMade Recommended: Lodge Striped Hot Handle Holders/Mitts, Set of 2
7. Heavy-duty Trivets: One of cast irons greatest strengths is its ability to go from oven or stovetop directly to the table for serving. To protect the table, I like to use at thick trivets, and sometimes I'll double them up. I like these simple round cork ones from IKEA, but you can use whatever you have around. Just make sure the pan is at least 1/2″ off the table to prevent heat from potentially damaging the finish.
Bonus: Infrared Thermometer: This is by no means necessary, but it's a fun tool that can help you turn out better tasting food. It's a simply a thermometer that takes the temperatures of any surface via a laser, and I love mine. The model shown is a Kintrex I received for Christmas five or six years ago, but here's a simple sub $20 version that should work just fine.
There you go. No mystery, no magic. Just some simple tools, and a little attention to detail. Now go cook something amazing.
Like this post? Please share it on Pinterest!