How to: Build a Beautiful Bluestone Patio in A Single Afternoon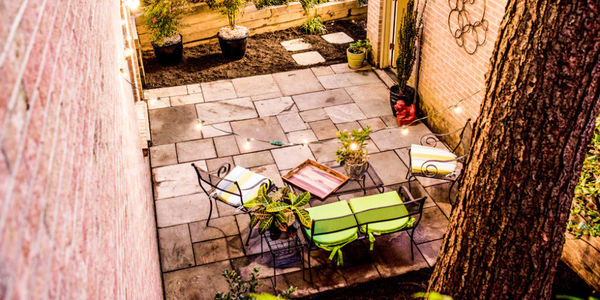 Peter Martin found himself with a dilemma. He had a great, new, adult apartment in Brooklyn but his backyard was little more than a 20' x 18' concrete slab with a drain in the center. And that wasn't going to fly. After weighing concrete's reliability against brick's throwback aesthetic, he and his wife decided on the subtle beauty of bluestone to make their dream patio come to life.
Now a patio like this is going to be gorgeous in the backyard as the designated space for cooking and dining, but it's a particularly good solution for people with closer urban conditions who may not have a grassy yard. Carrying and setting bluestone is no joke; it's a respectable solution not only for its hue but also for its solidity and heft. That said, with a bit of grit and determination, Peter and his buddy were able to put together the entire patio in the course of a single afternoon. And if you follow their guide on PopularMechanics.com, you can too.